45th Wedding Anniversary Gift Ideas for Parents
Last Updated on 12 months by admin
45 years of togetherness is an outstanding milestone a couple can reach. It calls for a celebration, whether a grand party or a simple family dinner. Kids can honor their parents with a thoughtful 45th wedding anniversary gift. Choosing a gift can be confusing, especially when you want to give something out of the box. Do not worry, as we have made a long list of presents that you can look at. You can give your parents flowers, a symbol of love and togetherness. Another excellent gift can be sapphire, a bluestone that resembles a strong bond of 45 years.
MORE POSTS: 25th Anniversary Gift Ideas for Parents
45th Wedding Anniversary Gifts for Parents
Let us quickly hop on to the gifts you can present to your parent's 45th wedding anniversary celebration.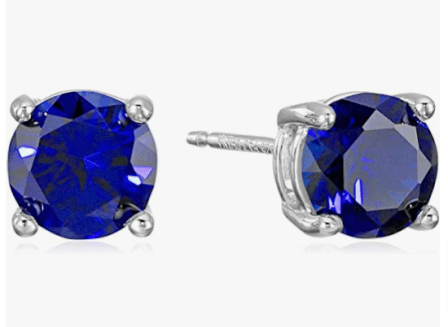 These earrings will make your mom blow away in surprise. The jaw-dropping studs feature a pave diamond halo. These can make any outfit more attractive as the color goes well with many shades of clothing. The best part is that its body is composed of recycled metal to make you feel good about this gift.
Custom gifts have always been the best of all times. You do not necessarily need something expensive to impress your partner or parents. A customized and thoughtful gift can also win their heart. It will be exactly what this custom canvas sign will do. You can add a variety of things on the canvas that are especially important to your parents as a couple, like the date of their wedding. This custom sign canvas will make a forever place in their room with other photo frames and paintings.
Watches have been an excellent gift to men of all ages. Over time, the design and style of watches have changed, but this gift remains constant. Why not give your dad this brilliant sapphire crystal watch on his 45th wedding anniversary? The watch has a silver wristband and a sapphire crystal on the body. The blue-toned hands of the watch make it a perfectly polished accessory for him. It will remind your dad that he has spent so much quality time with your mum, and a lot more is yet to come.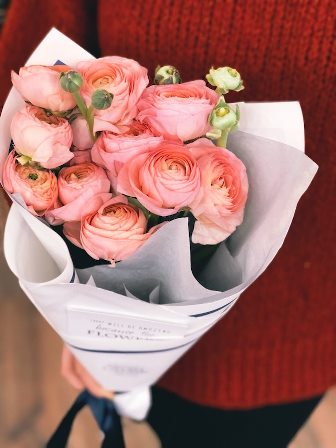 A bunch of flowers is a must on the list of 45th wedding anniversary gifts for parents. Flowers have been the symbol of love and romance since times unknown. No celebration can be complete without beautiful flower decor or a bouquet as a gift. Must include a flower in the bouquet: the Blue Iris, as it is the traditional flower of the 45th wedding anniversary and symbolizes faith and hope. Other flowers that will delight your mom and dad are Wisteria sapphire and blooms of Iris Sapphire Gem. You can customize the bouquet as you want and also add a nice note to it.
What about a flower vase along with a bouquet? It is a perfect combo to gift your parents on their 45th wedding anniversary. You can match the color of the vase with that of the flowers to go well with each other. Else, you can also match the vase with the rest of your furniture. Your mum will love to keep that vase on the kitchen table or foyer. Vases come in various styles, designs, and corrugated textures with a bit of contemporary architecture.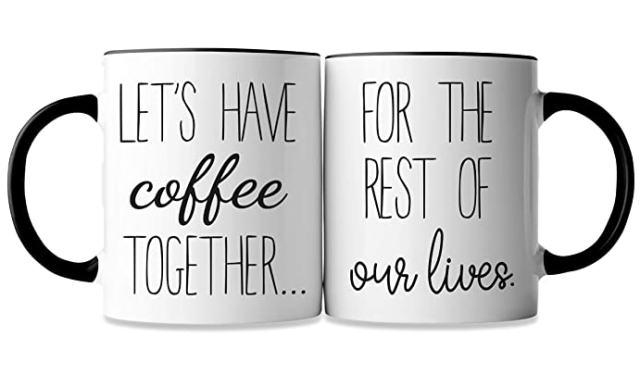 Your parents have been drinking tea or coffee together every morning for the last 45 years. Those madly in love with each other will appreciate getting a new mug set to drink coffee in. You can customize these mugs in various ways. You can get their parents' names or photos printed on the mug, or you can also print some quotes for them. You can also customize the handles of the mugs in a heart shape.
A romantic vacation to Croatia
The best 45th wedding anniversary gift for parents is a romantic trip to the bluest city on the globe: Croatia. Your parents will enjoy the celebrations on this incredible Pag Island. You can plan a three-night and four days staycation for them to relax and spend time with each other. While you were growing up, your parents always took you along for a trip on every vacation. Now is the time for them to go on a trip alone, similar to their newlywed years.
What about a cozy gift on their anniversary? A weighted blanket will stimulate the happy hormones serotonin and reduce cortisol levels. They will get away from all the stress inside these heavy throws. Your parents can cuddle on the couch or bed under this blanket. Such hugs increase melatonin, making them feel more relaxed. It is composed of cotton fabric, so breathing under the blanket becomes easy. Again, you can personalize this gift as you like it. They will remember the good old times when they would sleep wrapped in each other's arms.
Your father will love blue cufflinks. He may wear it every day or only on special occasions, but he cannot resist these. It is an affordable gift that will outshine his tux or suit. The blue color of the sapphire is so attractive and can make any outfit more eye-catchy. You can get your mom the sapphire blue stud earrings and your dad these cufflinks. These will match in color, and your parents will love to twin on their 45th wedding anniversary celebrations.
You can treat them with a relaxing spa day as a 45th wedding anniversary gift for parents. Just imagine a spa session followed by a candlelight dinner at a rooftop restaurant. Sounds more than perfect. A spa with a warm water Jacuzzi will be the cherry on top. A range of services at the spa will make them feel renewed. If they love water, you can also book an in-water massage session. Select a spa with natural habitat to make the experience more rewarding.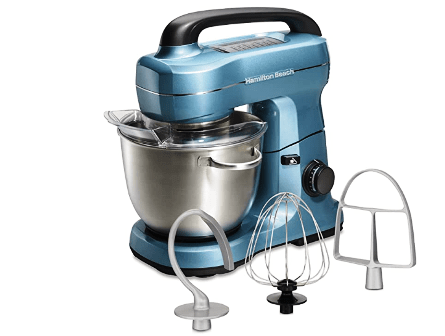 All mums love a gift for their kitchen, and yours can never be an exception. Make her kitchen vision come true with a stand mixer. To make it an appropriate anniversary gift, buy a deep blue one or something that matches the other furniture or walls of your kitchen. She can decorate her favorite collection on the stand, including her precious crockery, beater, dough hook, whisk, and mixing bowl. It includes 10-speed settings of varied types to match perfectly with the craft. She can bake delicious cookies, cakes, and bread.
A throw pillow is another customizable gift for your parent's wedding anniversary. It will be a lovely display in the home, and you can place it on the couch or the bed in their room. You can get a set of three, five, or more such pillows. Your parents can have a good time decorating their home and room together. These come in different shapes, sizes, and colors to choose from. You can get a floral print to go well with the bed sheets or something that matches the couch. If you want something special for their room, get their photos printed on it in a heart. A matching bed sheet will make a perfect gift combo.
The world has some brilliant aquatic bucket-list destinations for vacations. But The Great Barrier Reef remains on the top always. Book your parents four excellent nights at a luxurious eco-resort at a beach near the Great Barrier Reef. The activities of interest there include scuba diving, spearfishing, and snorkeling. Seeing the vibrant Great Barrier Reef will be a once-in-a-lifetime opportunity for them. They will see an abundance of marine life on this remote island. The island follows practices and norms to protect its aquatic life.
Sapphire blue wine glasses
Do your parents love to share a glass of wine? If yes, then why not give them sapphire blue wine glasses? Start the celebrations of their 45th wedding anniversary with these gorgeous wine glasses. The rich blue shade is perfect for matching the ambiance of a party or a romantic dinner for the couple. Later on, these can be displayed in a china cabinet or on the dining table. They will be a stunning addition to the home decor.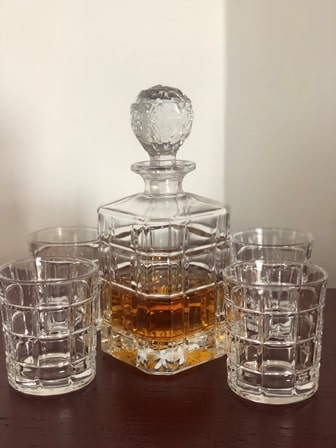 Does your father like to drink whiskey? If yes, you can consider this 45thwedding anniversary gift for your parents. He can flex this decanter in his friends' group and can display this art piece in his office, bar, or workplace.
Crystal Champagne Glasses
Along with an engraved whiskey decanter, get him these crystal champagne wine glasses. These have a gem inlay. It is another addition to his bar or collection of drinks. An outstanding gift for your proud father for being married for 45 years to his lady love.
There are only a few options for gifting jewelry to men. If you want to present your dad with an accessory that matches your mum's jewelry, you can consider this. This silver commemorative has a sapphire with gemstone inlay. He will happily carry this with him to places or proudly keep it along with his other prized possessions.
A sapphire photo scrapbook
The 45th wedding anniversary is an ideal time to remember all the beautiful moments lived together. Spending almost half a century with each other means creating so many memories. A personalized sapphire photo scrapbook is an excellent way to look down memory lane. It is a way to make your parents nostalgic about their love. With colored photographs, you can leave a message or note on each page. A blue sapphire cover will look good on this present. Leaving a personal note on the first page will leave your parent's eyes wet.
Sapphire and Diamond Ring
You can get a sapphire and diamond ring for your mom and dad as a 45th wedding anniversary gift for your parents. The elegant blue sapphire stone featured on the ring will make your parents blown away in happiness. The stone is set on a twisted band of diamonds. It will be a beautiful accompaniment to the wedding bands that they already have. You can recreate their wedding day, where they both exchange rings, sit on their knees and express their love to each other.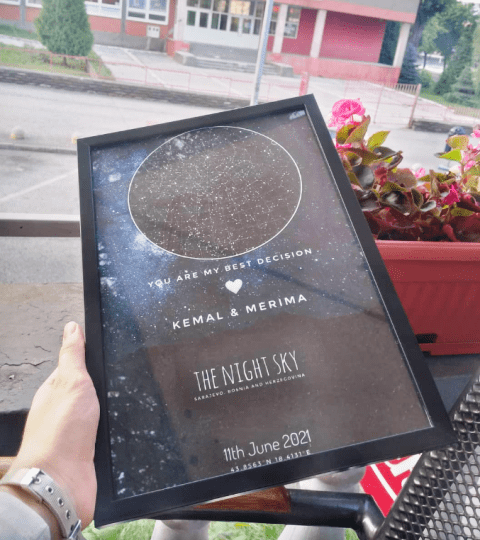 Here comes another customizable home decor item as a wedding present. Due to its thoughtful appeal, custom maps of starry nights have become a popular gift option. Pick a vital date for your parents, like their wedding date or the day they first met. Then, get stars from that special night printed in rich royal blue color for the 45th wedding anniversary theme of sapphire. Include a sweet message in the gift. One suggestion is "Our stars from 45 years ago."
Another traditional gift idea for your parents is money clips. Your mom and dad will appreciate this if they do not have one or if the old ones are spoiled. Get clips with sterling silver and sapphire accents to make them suitable for a 45th wedding anniversary present. It will hold all the cash together, and they can store it properly in drawers or cabinets.
Gifts with pictures are always impressive. You can look out for a local artist and make a photo canvas as a 45th wedding anniversary gift for your parents. A couple of photos on a large canvas with a blue theme will leave them mesmerized. They can display it in their room or the hall of the house. They will love a realistic painting of their photograph.
You must speak directly from your heart to convey gratitude to your parents for being together for 45 years. A custom desktop plaque will express your sentiments to them. The personalized gift will show love directly from your soul.
The gift will make your parents see the stars on the reel. You can book a two-night stay in a luxury castle for your King and Queen. All the rooms will give a fantastic sea view and have been decorated with fine oil paintings. The hotel has restored its original glamour with antique pieces for decor. The best part about this staycation is a personal stargazing night on the grounds of the castle. It will add some real magic to their wedding anniversary night.
Sapphire blue tie or sweatshirt
Who does not love a new defined wardrobe? Your parents will love it too. Get them matching clothes and accessories. Instead of buying them yourself, you can also give them a private luxury shopping experience. It is some serious retail therapy. Also, shopping around for each other will mean a day filled with so much fun. The appointment will start with a discussion of personal tastes. The shopper will dedicate his time to helping them select the most sought-after brands in the fashion world. Your parents will in no way step away from this experience.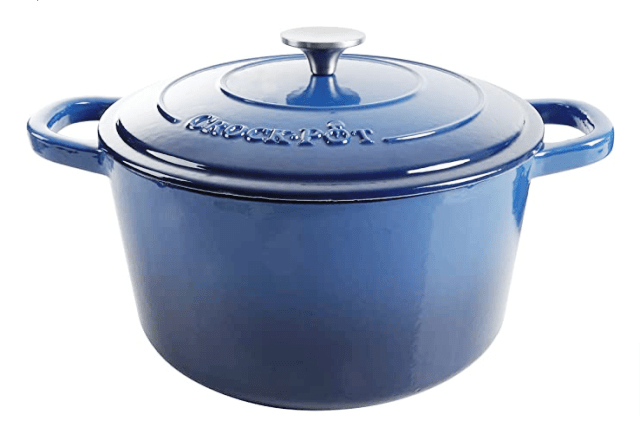 Do your parents love to cook together? If yes, gifting them a Dutch oven is a great idea. To make this an appropriate present for their 45th wedding anniversary, buy a sapphire blue one. After so many years of marriage, kitchen gadgets do need an upgrade. So, visit the nearest electronic markets soon to buy this excellent present for your parents.
Blue Leather Handbag and wallet
Do you want to give your parents something they can use every day? Buy a leather handbag for your mum and a leather wallet for your dad. These bags are in-style these days, and your parents can twin them while going out. The best part is that the bag has three compartments and a detachable strap. Also, the wallet has enough space for notes and cards.
Handmade gifts carry the most love. You can make origami items for your parents that can decorate their room. Like, make paper birds for the love birds.
Final Takeaway
At this point, we can say that you must have found the best 45th wedding anniversary gifts for parents from this long list. The list of presents never ends, and you can always be creative with customizable ones. Lastly, congratulations to your parents on this momentous occasion.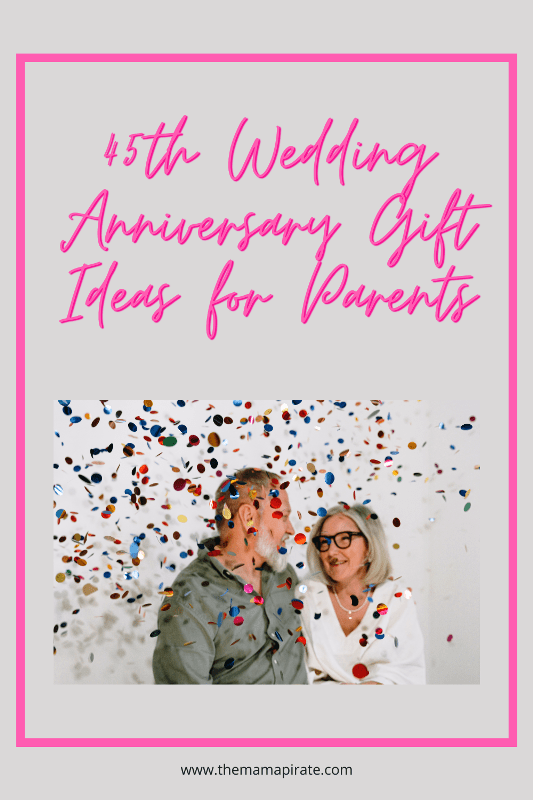 MORE POSTS: 50+ Funny Anniversary Questions for Parents