25 Unique 25th Anniversary Gifts for Parents
Last Updated on 1 year by admin
Staying married for 25 years is a significant achievement that should be celebrated. It is a good idea to give gifts to friends on this momentous occasion. To commemorate the occasion, special products can be personalized. You can buy items just for the wife or the husband, or you can buy items in pairs. We've compiled a list of products and items that you can purchase and then personalize to give as 25th-anniversary gifts. These become treasured keepsakes brimming with feeling and love.
Are you planning to commemorate your parents' 25th wedding anniversary? But how do you know what to give them? Who doesn't want to stand out? Many couples decide to throw a small party and invite a few close family members and friends to celebrate this special occasion. This kind of party, intended for visitors, can be challenging, especially when looking for a gift for this event. You are all aware that selecting Marriage anniversary gifts for parents can be difficult.
MORE POSTS: Best Christmas gift ideas for an 18-month-old boy
25th Wedding Anniversary Gifts for Parents
Everyone wants to leave their mark on history in their own unique way. So, with these gift ideas, you can celebrate your parents' marriage silver jubilee.
1. Photograph on Wood
One of the most lovely 25th Wedding Anniversary Gifts for parents. Get your parents' photos carved on wood, with a heartfelt message that they will remember for the rest of their lives. Such gifts are suitable for special events such as an anniversary. On Amazon, you can purchase a photo of wood.
2. Dinner Date
Who says there is an age limit for dinner dates? People of all ages can enjoy dinner dates throughout their lives. Allow your parents to relive their youth by celebrating their 25th wedding anniversary in exactly the same way they did their first. A wonderful way to elicit memories of happy times past.
Pro Tip: Cooperate with a decent hotel in your city to reserve a two-person table ahead of time. The table by the pool will be more affectionate.
3. Vacation Package
Nothing beats a travel package if your parents enjoy traveling and exploring new places. Of course, they may have chosen to give up on their dreams of visiting any destination due to your studies, exams, and a variety of other factors. This is the time to show them that you are mature and capable of handling situations. If you have a lot of money, you could think about giving them a vacation package to their favorite destination. There are numerous travel agencies that can provide you with reasonable and cost-effective local, national, and worldwide packages.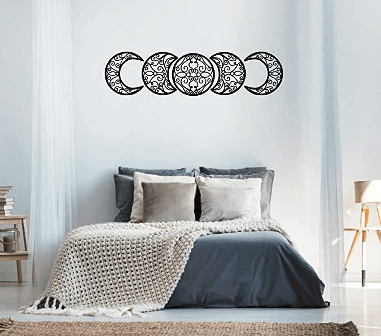 4. Decorative Wooden Wall Craft
Give them a set of lovely wall hangings that they will treasure for the rest of their lives. It is available on Amazon.
5. Couple Wrist Watches
Another lovely anniversary gift idea for your parents is a pair of watches. A great way to remind them of all the good times they've shared in their lives. You can consider purchasing any brand, but Titan makes the best couple of watches. You can purchase online or at a nearby Titan store.
6. Jewelry or 25th Anniversary Bands
If money is not an issue, you can decide to purchase your parent's jewelry such as rings, chains, and so on. You can purchase jewelry from a reputable jewel. There are numerous brands available.
7. The Silver Family Tree
The silver family tree is a timeless present that you can give your parents. It involves your family members. The silver metal piece is designed in the shape of a tree with branches. Each branch has a small heart with the name of a family member on it. This is a great 25th-anniversary gift that the couple will appreciate because it is very personal.
8. Champagne Bottle with Personalization
One such stunning champagne bottle will be the anniversary toast. The bottle is adorned with bows and beads to make it stand out. The 25th wedding anniversary is the ideal time to give a gift. The 25th wedding anniversary personalized gift for couples is a sparkling gift that is beautifully packaged. The bubbly gift is ideal for the anniversary celebration party.
9. Cake for a Wedding Anniversary
Purchase a lovely, sumptuous personalized 25th wedding anniversary cake for your parents. A lovely wedding anniversary present! Make certain to purchase their preferred flavor.
10. 25th Anniversary Bisque Porcelain Figurine
The Bisque Porcelain Figurine, 25th Anniversary is also a lovely perfect gift for your parents. Purchase it from Amazon.com. You can think of a cute and beautiful gift item for your parents' 25th wedding anniversary.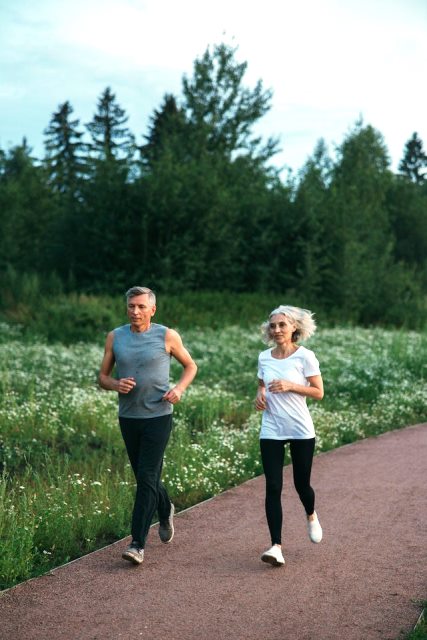 11. Set of Fitness Watches for Both
A collection of fitness watches is an excellent anniversary gift for your health-conscious parents. They nowadays can keep track of calorie burn and other details in order to remain motivated to stay healthy and fit. Purchase it online!
12. Set of two coffee mugs
A pair of coffee mugs can be a lovely personalized wedding anniversary gift for your parents. It's a mug set that connects. The handles can be shaped like hearts. The silver heart in the mug is appropriate for the occasion. The mugs are emotional because they come as a set and can be used by both parties. The ceramic mugs have colorful prints on them.
13. Wind Chime Made of Metal
As a 25th anniversary gift, consider this lovely metal wind chime. The couple's name is printed on the wind chime. You can also include the anniversary date. These metal wind chimes are ideal for the traditional silver metal anniversary.
14. Silver Rose
This silver eternity rose is made of metal. The silver rose inside a beautifully lined box is lovely and makes an excellent keepsake. This demonstrates your devotion to your parents, and the eternal rose is a fitting symbol. The silver rose is intricately crafted, as is the box that houses it.
15. Personalized Couple Caricature
Hire a professional to create a caricature of the couple. You can frame this caricature and give it to the couple. Anniversary greetings can also be written on the caricature. You may include a picture of the couple's children or activities that they enjoy. Because these frames are one-of-a-kind, they make a sentimental gift.
16. Plan a Party
If you want to commemorate their anniversary, plan a get-together. This is a pleasant surprise, and a great gift would be a surprise prize. In case they enjoy gatherings and spending time with friends and family, receiving them together on this occasion is the best possible gift.
17. CDs with modifications
Of course, you're familiar with their favorite songs. They may indeed enjoy the songs that they danced to at their wedding 25 years ago. A custom CD with their continuing to exist as well as old favorite songs is a better option. To make it more appropriate for the 25th anniversary, the box itself or the cover must encircle silver essentials.
18. Custom Waterpaint Portrait
You can commission a custom sketch portrait of your parents from an artist. Pick an old picture from their wedding and have it sketched out to make it a surprise. This will undoubtedly make your parents nostalgic and fall back in love with each other.
19. Photo Album of Their Journey in life
If your parents had a love marriage, reminiscing with them on how they met, their favorite memories, the difficulties they faced together, and anything else about their voyage will be the most thoughtful gift you could give them.
20. Spa Gift Basket
Every parent should have at least one day off to relax. Treat them to something extra special with an all-inclusive spa basket as an anniversary gift. Keep anything that is needed, as long as it is free of chemicals and will be useful to them. Include a few of their absolute favorite products. This one-of-a-kind gift is the best anniversary present that children can offer to their wonderful parents.
21. Self-Made Card
A thoughtful homemade gift is frequently appreciated by proud parents. And this is the most thoughtful gift you could give your parents. This card has a lot of quilling on it, which helps to improve its overall appearance. With a calligraphy pen, write the text that needs to be on this card. It allows you to upload pictures of your parents.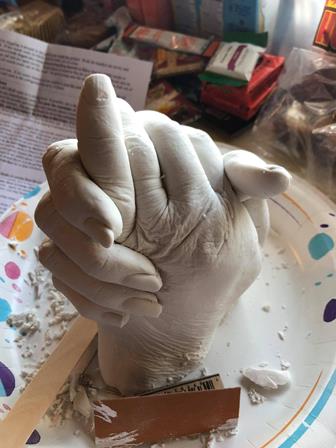 22. Hand Casting Kit
Such hand-casting kits are currently extremely popular, and almost every newlywed couple enjoys such activities. Why not give your parents something that is not only cute but also trendy right now? The most charming gift for one's parent's wedding anniversary.
23. Candle scent gifts that are cute and humorous
Candle scents are beautiful, sweet, and very feasible. Your parents will enjoy the relaxing effect, and it will not cost you much.
24. Parents' Personalized Cushions
Romance dies slowly with age and growing children, but don't let your parents put their wedding in the back seat. With cute personalized cushions, they can loosen up with the idea of having each other and appreciate the sweetness of their relationship.
25. Movie Ticket Surprise
Purchase evening show tickets at a movie theatre near you. Also, please give these tickets to your parents. In addition to the movie, you can reserve a table for them at a restaurant. This will be an extremely thoughtful gift because it will allow them to spend some quality time together.
The Last Line
So, above are the 25 best 25th wedding anniversary gifts for parents that you should think about purchasing on your parent's anniversary to make them feel special on their special occasion.
MORE POSTS: 33 Best Birthday Gift Ideas for a 27-year-old