If you are a garden lover like me you probably spent a lot of time in your garden. In my garden, I have different types of plants from flowers to medicinal plants. Last summer I have developed a vegetable garden in my backyard.
Now, I am planning to build a small decompose pit near my vegetable garden. I have also included varieties of vegetables in my vegetable garden.
When I was doing all these I had to go through a lot of works. Though it is fun for me to spend time in the garden I have limited knowledge about soils and plants. I had literally spent hours on laptop searching simple answers like best soil for cabbage, perfect time for watering a plant.
One of my friends suggested that I should check for apps that can help me taking care of Vegetable Garden better. Nowadays you can get an app for any day to day problems. After long searching, I came up with some cool gardening apps which can be used to build a vegetable garden.
Some of the apps mentioned here are used by me and others I found useful to mention their names.
Why you may need an app for your vegetable garden?
It is difficult for a beginner to manage everything as you will have less knowledge about plants and soils.
An app works as an assistant and can guide you in designing, planning the vegetable garden.
You do not need a separate notebook to keep a recording of your garden plants.
Getting access to weather information becomes effortless, no need to waste time searching on google for specific information on plants.
Garden Planning
When you plan a garden, you should know certain things about the garden soil, garden plants, and season for the plants.
We can make it easy by diving it into parts. The planning becomes simple if you keep in mind of the followings-
Choosing the Best Soil and Seeds for your Home Vegetable Garden
It is very important to choose the best soil and seeds for your garden. Choosing the best soil and seeds will minimize your efforts on plant care and will maximize the harvest.
You can take help of tools like soil testing kits like XLUX Soil Tester Meter to detect soil moisture, pH and light. Soil should be perfect according to the vegetable plant requirements. Broccoli grows in full sun, moist, slightly acidic soil. Similarly, all vegetable plants have their own soil type for better growth.
That was for choosing the best soil for a plant. While choosing the seeds too we have to be strict. Vegetable plant seeds are available both online and offline. But I would recommend purchasing from local vendors as you can see with your eyes the conditions of the seeds.
While choosing the seeds for your garden keep in mind about the zone where you are living and the sunlight that falls on your garden. Having a seed catalog helps a lot from choosing seeds. I always choose organic or heirloom seeds for my vegetable garden.
Taking Care of your Vegetable Garden
Just Sowing the seeds is not enough to get a healthy vegetable garden. You need to spend time removing weeds and other parasites growing in the garden.
Watering the plants on time is essential for plant growth. Vegetable plants like cucumber and spinach drink a lot of water. We need to water them frequently for the best harvest.
Information about Weather and Season for Vegetables
This information can be gathered either online and from books. But I prefer to take the help of mobile apps.
Mobile apps are handy and they are always updated with the latest weather reports. Apps like When to Plant, Garden Plan Pro gives you information from 5000 weather stations across the US.
From the above lines, we come to know that garden planning is not an easy task. It requires time and knowledge about plants, soil, and weather. We can take the help of mobile apps to process our works fast. Some of the best garden planning apps I have shared with you.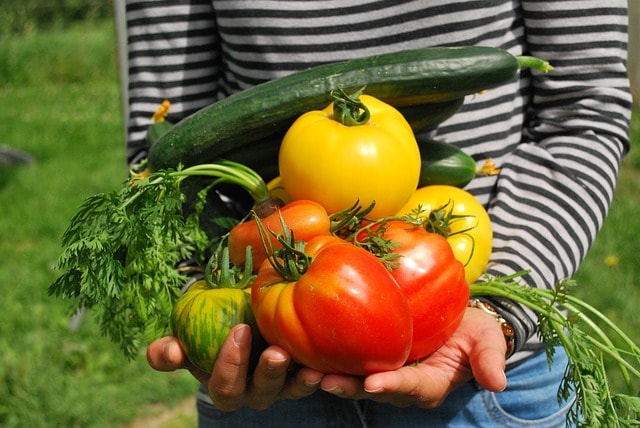 Garden Answers
Garden Answers app is developed by a San Diago Based company, this app helps to identify any plants and their probable disease just by clicking a photo of the diseased plant. They have included more than 20,000 plants in their database. The main purpose of the app is identification but can be used for identifying diseases too.
You can ask questions to garden expert through Garden answers app and they will reply to you the best answer which makes fighting with a pest like drinking a glass of water.
When I looked into their database, I found that they have included many vegetable plants in the list. Though the app is not daily use it helps when required. The app is available both for Android and iOS.
Veggie Garden Planner
The Veggie Garden Planner gives you arranged information for planning and designing your own home vegetable garden.
Features:
1. The app works in the freemium model and Before you purchase you can enjoy all the features at no cost so that you get the assurance to buy the app.
2. In your vegetable garden, there will be many plants, who will keep track of them and their bad neighbor plants. Choosing the best combinations of vegetables to grow in a strict land can give productive time yield.
3. After you choose the vegetable plant, the app will show sowing/harvest times in the tabular form. It will also show interactions exist between vegetables.
4. Using Patch Plan Editor find good/bad neighbor plants at your fingertips.
Plant rotation can easily be managed with Veggie Garden Planner. Rotating plants with seasons will make the soil suitable for the next sowing.
When To Plant
This app is not just for vegetable growers, anyone who loves growing herbs, fruit, cover crops, flowers; When to Plant will give information on best planting times. The app uses a database of almost 5,000 weather stations across North America to calculate the best time for growing.
Features:
1. The app will calculate Planting dates from your ZIP code information and a weather report of that area.
2. The app has Full growing information for more than 120 vegetables, herbs, fruit, cover crops, and companion planting flowers. You can comfortably choose the best vegetable in different seasons.
3. A stack of information on each plant like best soil type and sun requirements, sowing instructions, harvesting time.
4. Few other features are- create a list of plants in alphabetical order or with the growing season. Set favorite plants to get quick access to the pieces of information. Through the app, you can easily access to National Weather Service long-range forecast maps (US only).
Garden Plan Pro
An award-winning App featured in Apple's introductory video at the World Wide Developers Conference in June 2014, this app can help you to Plan perfect vegetable, herb and fruit garden on your iPad or iPhone.
Features: 
1. The flexible garden design feature of this app lets you design a garden of any shape. You can add single plants, rows, blocks or SFG squares and rearrange them until you get your dream garden.
2. The app has information about 190 plants with thousands of varieties available in the US, Canada, UK, Ireland, EU, and South Africa.
3. The app shows you how to rotate crops season wise adapting your area.
4. The Garden Planner app connects to 5000 weather stations helping you find the perfect time to sow, plant and harvest them. You can record this information as a chart in the app.
5. The free online service provided by the Garden Plan app sends emails twice a month telling what needs planting from your garden plans.
6. They have a blog section that educates about how to plan, start seeds, avoid pests and produce a bountiful harvest.
7. Find plants that can be grown in your area, once you harvest a crop you can plan for the next sowing directly from the app.
Download for MAC or PC |Download for iPhone and iPad
Grow Planner
As the name says this app lets you sketch a dream vegetable garden on your iPhone or iPad. I could not find the android version of the app, let me know if found the Android version of the Grow Planner.
Features: 
1. Specify the dimension of your vegetable garden and Add multiple beds in your garden layout. Then you can choose crops from a total of 140 crops including vegetables, fruits, herbs, flowers, and cover crops. Thanks to the Grow Planner app that it has information on each plant about the sun and soil requirements of the crop, sowing advice, frost tolerance and more.
2. As I have already mentioned the app allows to make a virtual garden and in that garden, you can add rows of plants. The app will calculate the number of rows or plant you can grow according to your garden dimensions.
3. The app is the best companion for US and Canada growers as it can detect 5,000 weather stations across the United States and Canada to calculate recommended planting times. When you create a plan the app schedules everything for you like sowing time, harvesting time, etc.
4. Linking Grow Planner to an online account can make save your time as the app will set automatic reminders to your phone.
5. You can search seeds from vendors available online. If you are online the app can provide gardening content from Mother Earth News magazine, about garden pest control, how to maximize harvest, how to control weeds, and more.
6. You can plan more than one garden in the same app and this helps in crop rotations. Effortlessly swipe between two plant seasons with more than one garden plans in the same app.
Gardroid – Vegetable Garden
Your dream for a kitchen garden can become real. Gardroid can help you harvest own vegetables by providing useful information. This app is a gem for vegetable growers.
Features:
1. When we choose a new vegetable plant, we generally have less knowledge about the plant, Gardroid will help to choose Suitable sowing and harvesting periods according to the vegetable plant.
2. Temperature plays a great role in plant development, you should know the best timing to sow. Gardroid gives you information about temperature and sowing time.
3. Tips for your plant care like right sowing depth, row distance, and spacing between plants.
4. You can track the progress of your vegetables and set notifications for each plant in your garden which is incredible.
5. Gardroid will help you with the probable harvesting time with a calendar, how cool is to cook your own fresh vegetables and enjoy it!
The premium version of the Gardroid is ad-free and has many other included features.
My Vegetable Garden GLEYCO
This app is for all the categories of a vegetable gardener from beginner, amateur, to expert. Using My Vegetable Garden, vegetable garden management becomes effortless.
Features:
1. The key feature of this app is that it has countless vegetable plant's detailed information.
2.Using "vegetable editor" one can add its own vegetable which is not available in the app plant list.
3. There is also a moon calendar, this will help to grow your plant according to the moon cycle. The app has a virtual plot of land where you can plant your seeds and you can play as if you are in your garden.
4. The interesting part of this vegetable gardening app is that it fully works offline.
Vegetable Garden Ideas
One another cool gardening app is Vegetable Garden Ideas. This app has many unique features that make it stand out from others.
Features:
1. The app has One hundred best Vegetable Garden Ideas with different designs. You can plan your own design choosing the best idea. The app lets you consider where and how you grow the right vegetables.
2. We do not know many things about our vegetable plants like green beans and peas can add nitrogen to the soil, If we use heavy fertilizer(I do not recommend at all), we should avoid planting corn, pepper or tomatoes in the same place for two or three times in a row. These types of information available on the app can helpful for careful choosing of vegetable plants in your garden.
3. The Vegetable Garden Ideas app will help you to maintain the distance between plants and choosing the best plant for different seasons. For example, tomatoes are best to plant in June and in August they become leafier occupying more space of the garden.
Well, this application will lead you to find ideas in designing vegetable gardens at home with an easy and useful course. You can find hundreds of Vegetable Garden ideas in this App, so you can choose what you think best suits your needs.
Bottom Lines
Before building a home vegetable garden a little research is needed. If you take help of technology things become easy. Watering time, soil conditions, vegetable seasons are some subjects you need to learn a little bit. This will help you in the long run. Nowadays everything is available free online. A small Online course is something that you can opt for if do not want to waste time searching the internet. When I started my vegetable garden I learned everything by myself and there were only a few apps and software available online. Apps I listed here will be beneficial for you to start your home garden. I will be updating the post from time to time with new apps.
Also Read: