Best Foods in Bora Bora: Must-Try Dishes and Local Specialties
Last Updated on 2 months by admin
Have you made a plan for Bora Bora and wondered about its cuisine? Let's discuss the Best foods in Bora Bora below in this article.
Bora Bora is a small island in French Polynesia. The island is almost 11.3 square miles, so you can travel it entirely within one year. You will see green peaks everywhere around the island, which slopes down to lagoons and reefs. You can view various aquatic animals in the reefs and lagoons.
Apart from natural beauty, you will find various luxurious hotels in Bora Bora. The cuisine on this island is mouthwatering. The local food you will get is a mix of French, Polynesian, and Asian cultures because of various people coming over to the island and having settled for many years.
The article discusses the Best foods in Bora Bora. So, keep reading this article to learn more about some of the exciting cuisines in Bora Bora.
Popular Foods in Bora Bora
If you want to experience this place, then you must try its local food. Food is the prime attraction of this island. But some dishes on this island can be expensive because of the cost of the imported ingredients. So plan your budget accordingly and enjoy the local food of Bora Bora.
We are discussing below some of the best dishes in Bora Bora.
1. Poisson Cru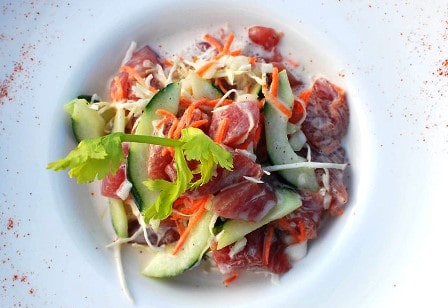 If you love to eat fish, then you must try Poisson Cru. The raw fish, mainly Tuna fish, is marinated using lemon juice and coconut milk. The lemon juice helps to kill all the microorganisms like bacteria from the fish.
The coconut milk adds a sweet flavor to the fish. The fish is served along with salad, usually comprised of tomatoes, cucumber, and onion. You will find this dish in so many restaurants in Bora Bora. It is a good dish for both local people and tourists.
If you have come for the first time to this island and love to eat fish, then you must try Poisson cru.
2. Poulet Fafa
You must try another exciting cuisine if you don't like to eat seafood. Poulet Fafa is made from chicken.
The local people of Bora Bora use the underground oven for cooking a few foods, and poulet Fafa is one of them. The chicken is marinated with coconut milk, garlic, and onion.
The meat is wrapped in the spinach leaves and then cooked underground for a few hours. It is served hot along with some fruits or vegetables. Some restaurants even serve salads along with the dish like onion, cucumber, and tomato.
3. Kato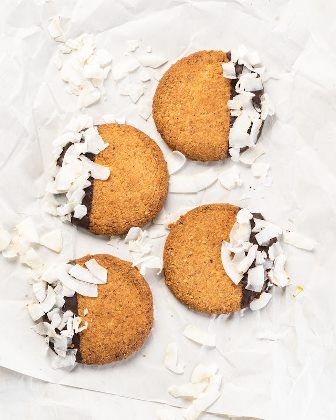 Do you want to enjoy some snacks in Bora Bora? If yes, then you must try Kato. It is a biscuit that mainly comprises coconut milk. Most of the restaurants will serve Kato along with coffee.
4. Fafa
If you are a vegetarian, then you must order Fafa. It mainly comprises the leaves of the Taro plant.
5. Fafaru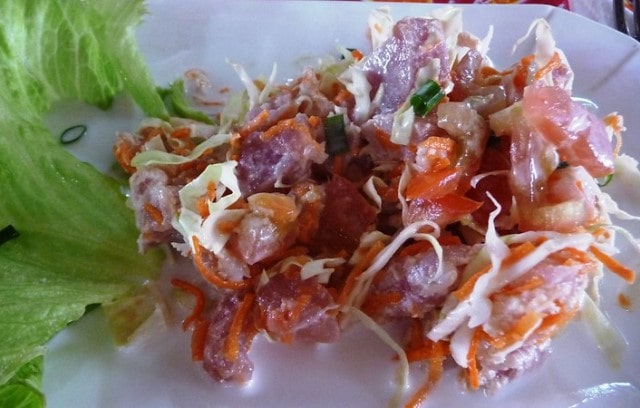 Fafaru sounds the same as Fafa. But don't get confused. Both are two different dishes. The Fafa is wholly made for vegetarian people, whereas Fafaru is a seafood cuisine that mainly comprises Tuna, parrot fish, crushed shrimp, and crabs.
It has a very different and pleasant aroma which can attract many tourists. If you are a seafood lover, try Fafaru in Bora Bora.
6. Chevreffes
Do you like shrimp? If yes, then try Chevreffes. The shrimp are cooked with vanilla and coconut milk. The dish has a delightful aroma that can attract any shrimp lover.
7. Mahi Mahi Dish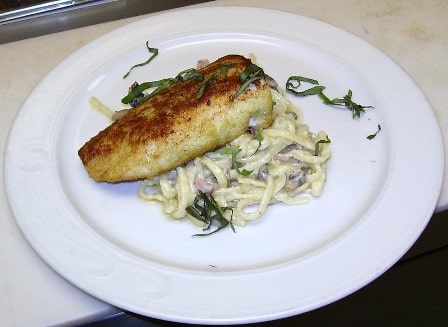 Mahi dish is made by using the vanilla sauce. The vanilla which is used in this dish is grown on this island.
8. Sushi
Sushi is a south Asia dish prepared with fresh fish and rice. The people catch fresh fish from the water and prepare sushi.
9. Rotisserie Pork
The fresh pork is cooked with slices of pineapple. It is a local dish and one of the most delicious dishes on the island. If you are a pork lover, then you must try this cuisine.
10. Trio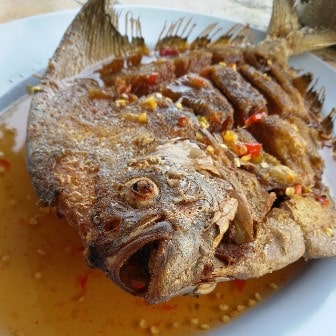 The trio is another good cuisine for fish lovers. It mainly comprises Tahitian fish and includes flavors of vanilla and lime.
11. Casse Croute
Are you looking for a sandwich? If yes, then you must try Casse Croute. It mainly comprises the meat of either huma, roasted pork, or Tuna and some vegetables like cucumber and tomatoes. Both local people and tourists usually enjoy it.
Local Deserts Of Bora Bora
There are some unique deserts of Bora Bora that you must try. We are listing them below.
1. Po'e
Po'e is a famous pudding in Bora Bora that comprises locally grown papaya, mango, and banana. There will be coconut sauce on the top of Po'e to increase the taste.
2. Firi Firi
Firi Firi is a doughnut that is shaped like the number 8. It is usually served along with coffee. You have to dip the doughnut in coffee and then eat it. It tastes fantastic and can be your favorite right from the first bite.
Traditional Drinks Of Bora Bora
There are some famous drinks on this island that you must try, along with your favorite cuisines and desserts. We are listing some of them below.
1. Pape Haari
It is coconut water and cheaper than other drinks on this island. Pape Hari is also good for your body. So, if you want to quench your thirst and don't have much budget, you should purchase this drink.
2. Hinano Lager
If you are an alcoholic lover, then you should try Hinano Lager. The beer has been brewed on this island for more than 50 years. Hinano liger mainly comprises flowers in South Pacific and hence its name.
3. Maitai Cocktail
It is another popular drink in Boro Boro. It is a fruit rum with orange curacao, almond, and lime juice flavors.
Best Restaurants In Bora Bora
1. Blood Mary's
Blood Mary's is quite a famous restaurant in Boro Boro and has been there since 1970. Most celebrities usually visit this restaurant for either lunch or dinner.
You will get all types of famous local food and drinks in this restaurant. They offer light meals in the afternoon. So, if you want a heavy meal, visit this restaurant to have dinner.
The best thing is to select all the fresh fruits, vegetables, and fish caught by the fisherman in front of them.
The interior of this restaurant will give you a beach vibe. You will find thatch roof and sand in this restaurant to provide a perfect island look.
2. Snack
Snack is a small cafe where you will get local food at a lower price. So, if you don't have much budget, visit this cafe.
3. Roulottes
If you have no budget and want to eat local food in Bora Bora, then visit Roulottes. It is a food truck where you get almost all local food at low prices. The best thing is all the food is tasty, delicious and fresh.
This food truck does not change place from time to time. So it becomes easier for tourists to find them.
4. Tamaraa
Tamaraa is a restaurant where you will get primarily Tahitian food. Apart from the food, you can enjoy singing and dancing while having lunch or dinner.
5. Le Corail
Le Corail is a famous Boro Boro restaurant that has existed since 2013. If you want to impress your partner, you should visit Lecorail with her.
It is an aromantic restaurant where you will have a good dining experience. The seafood and Black Angus Rib steaks are mind-blowing in this restaurant.
6. Lagoon Restaurant By Jean Georges
This restaurant is built over the lagoon, and you can enjoy the fish swimming in the water while having dinner. You will get both French and Asian cuisine in this restaurant. They are a bit expensive, but once you taste the cuisine in this restaurant, you will surely crave more.
7. La Villa Mahana
It is another famous restaurant in Bora Bora where you will get five famous French cuisine plates.
The seating arrangement is quite romantic in this restaurant. So honeymooners usually visit this restaurant.
The hotel's interior is Mediterranean style, and the walls have Polynesian artwork. The scented candles and classical music in this restaurant will surely be an unforgettable experience for you
8. Matira Becah Restaurant
Matira Beach restaurant is an open-air restaurant with French and Japanese cuisine. You can have your lunch or dinner on a great patio.
Wrap Up
Bora Bora is quite famous for its local cuisine. The French-style dish mended with fish, fruits or vegetables is incredible and mouthwatering.
You will also get food mixed with different cultures. But unfortunately, only a few fruits and vegetables are grown locally. They have to import various things for which the food cost is a bit costlier. But you can find some cheap restaurants in Boro Boro.
So pack your bags, outfits, and swimsuits, and visit Bora Bora. It's quite a romantic island, and you can enjoy mouthwatering cuisine and various exciting activities on this island.
MORE POSTS: A Gourmet Journey in Hongdae: Your Ultimate Food Guide