Last Updated on 6 months by admin
Hongdae is a region in Seoul city near Hongik University which is a popular fine arts university. This place used to be a hub for indie musicians and other artists. Now, art performers can be seen in underground clubs, bars, coffeehouses, and on the streets. Many rock bands like Crying Nut, and No Brain were also born here in Hongdae.
Hongdae is now the epitome of the youth subculture that has been rooted in the minds of the local youths. Arts and cultures from the western world have also been influenced here by big brands. But, indie designers local-made clothes and street art can be seen in this funky district of Hongdae.
Apart from art and culture, the foods of Hongdae are also popular in Seoul. Traditional street foods and Korean foods with international touch are must-try for a tourist. Let's see some of Hongdae's best foods and drinks to enjoy.
What to eat in Hongdae?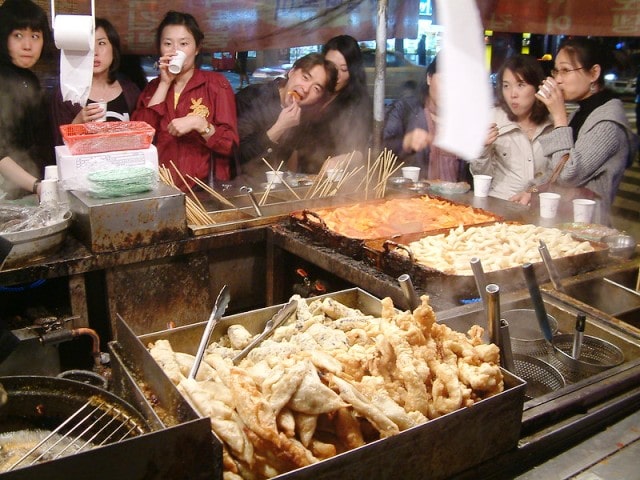 Hongdae's must-eat foods are Tteokbokki, Samgyetang, Makgeolli, donburi, Bibimbap, and Kimchi jiggae. You can find delicious food steaming in roadside stalls. Hongdae also has big restaurants, and bars serving these traditional dishes.
If you want to enjoy some authentic drinks from Korea definitely underground pugs near the Hongik University of Hongdae. Tourists from different countries never miss the traditional drink of Makgeolli(Rice beer).
Kimchi jiggae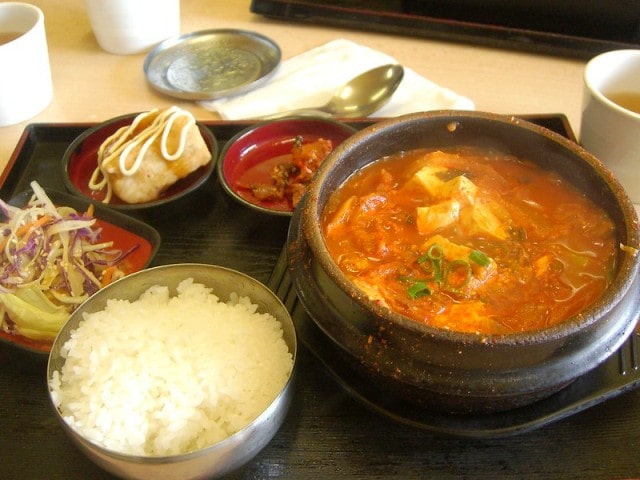 If you love spicy foods you will definitely love Kimchi jiggae. It is prepared by simmering fermented vegetables(Kimchi), pork belly, seafood, scallions, onions, and diced tofu. Kimchi or fermented vegetables are the main ingredients and diced tofu is added mostly. Personal preference lets add different items like seafood and pork meat.
Naengmyeon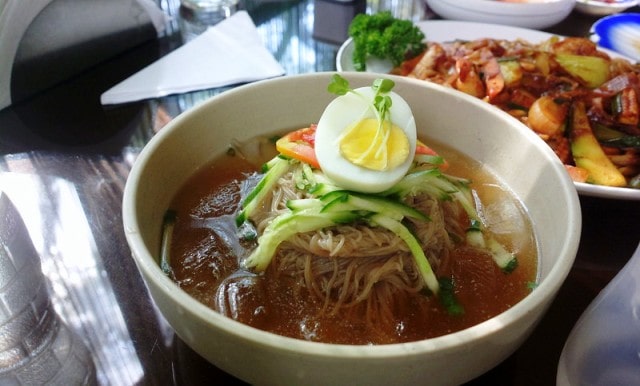 Naengmyeon is a Korean handmade noodle dish made from flour and starch of various ingredients. These ingredients are buckwheat, potatoes, sweet potatoes, and arrowroot starch. It is served cold with tangy broth, topped with radish, cucumber, and egg.
Bibimbap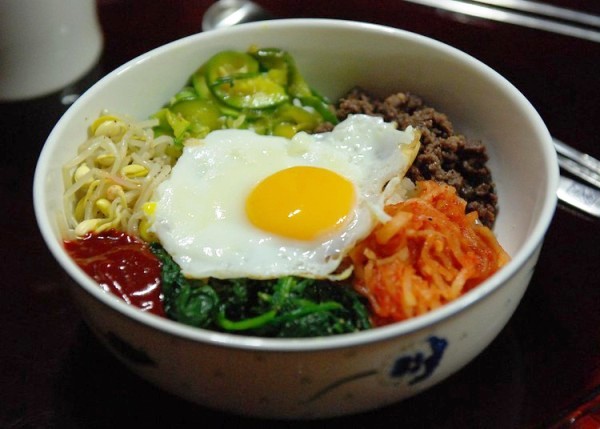 A bowl of rice topped with Kimchi, soy sauce, beef, and a fried egg. You can not imagine Korean foods without this dish. Some also love to add thick chili paste. All the ingredients are mixed before eating to have mixed of all flavors. This dish has different variations according to the region and availability of items.
Banchan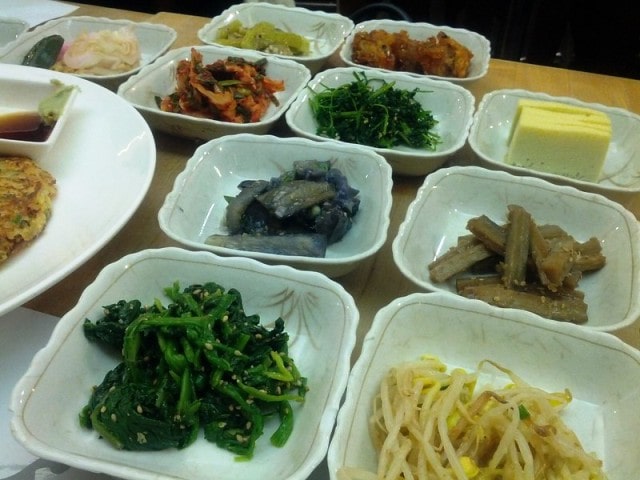 Banchan is the name of a collective of small dishes consisting of cooked rice, soup, Freshly made kimchi with lettuce, Stir-fried kimchi often with pork, stir-fried vegetables, stir-fried with sauce, seasoned eggs steamed in a hot pot, pancake-like dish, pickled radish.
Makgeolli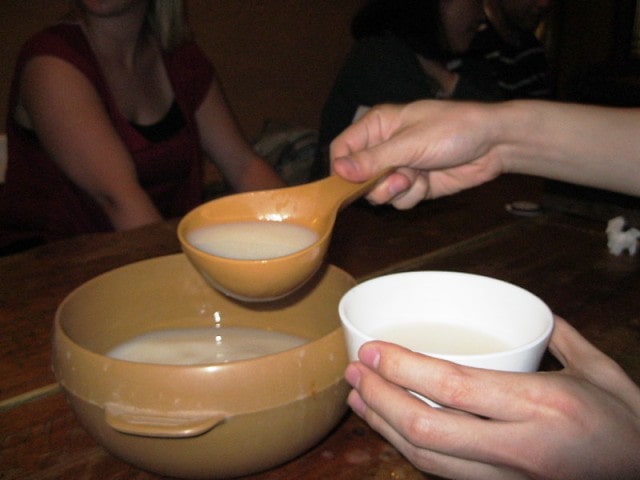 Makgeolli is a Korean alcoholic beverage made from fermented rice. The viscous rice wine tastes slightly sweet, tangy, bitter, and astringent. People love to spend time with friends in pubs, and bars drinking Makgeolli. It is prepared by mixing boiled rice with yeast, and water with a starter culture called nuruk. This amazing-looking white creamy-looking beverage contains about 7 percent of alcohol.
Samgyetang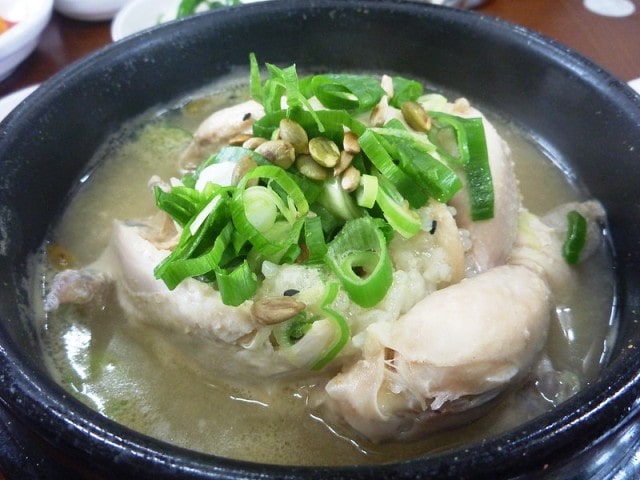 A powerful proteinaceous meal for summer days served warm with a seasoning of chopped garlic and onions. A whole young chicken in the bowl and the powerful herb ginseng are the main ingredients of this dish. One of the healthiest foods to try in Hongdae.
Kimbap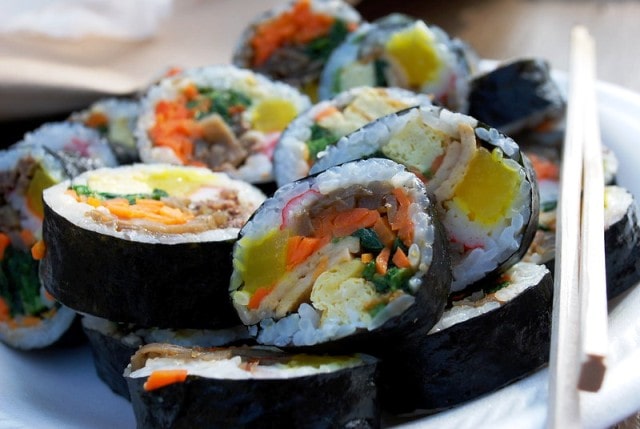 Kimbap is prepared with rice, vegetables, meat, and other ingredients like onion, garlic, and chili wrapped in gim-dried sheets of nori seaweed. Then it is sliced and served with Kimchi and danmuji.
Read other travel-related posts:
Hongdae Street Food Guide: What To Taste?
Tteokbokki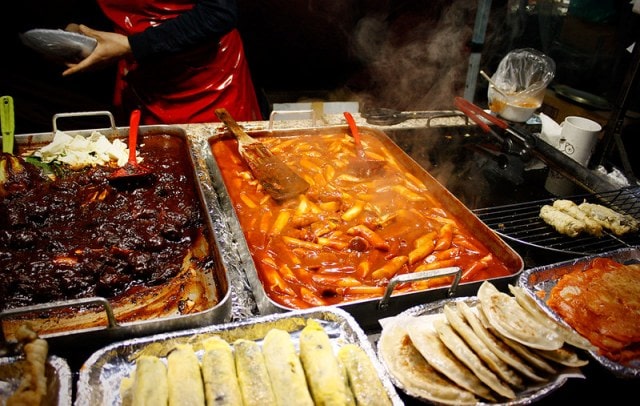 A popular dish in Korea is made from long cylindrical rice cakes. Ingredients like fish cakes, boiled eggs, and scallions are also paired with Tteokbokki. You can choose either to season it with chili paste or soy sauce. The nonspicy one also called the royal court version is prepared with rice cakes, sirloin, sesame oil, soy sauce, scallions, rock tripe, pine nuts, and toasted and ground sesame seeds and seasoned with soy sauce.
Tteokbokki is also widely eaten in homes and rice cakes can be purchased in packets in semi-hydrated form. With improvisation new dishes like Tteokbokki with seafood, cream and curry are also cooked.
Bindaetteok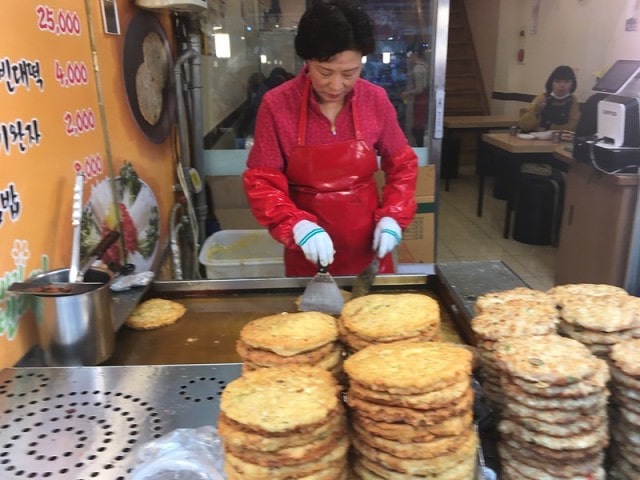 Bindae-tteok is a popular street snack in Seoul made from mung beans. It is prepared by grinding soaked mung beans and vegetables, meat, chopped scallions, garlic, and chilies added to it. Then the mixer is made flat and round shaped to fry in a pan with a considerable amount of oil. It is usually served with a dipping sauce made from soy sauce, vinegar, water, and ground pine nuts.
Churro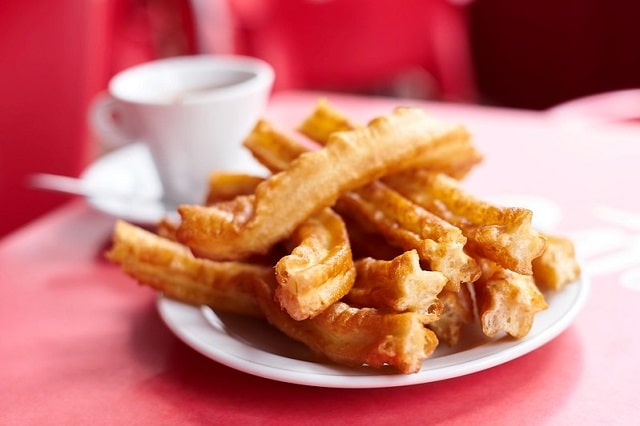 The cream-filled Churro in the streets of Hongdae you can not deny as a morning snack. They are traditionally made in Spain, Portugal, and now have become one of the most loved snacks in many Asian countries. Churro is served with chocolate, and peanut cream. The sweet soft snack melts in the mouth instantly.
Fried Squid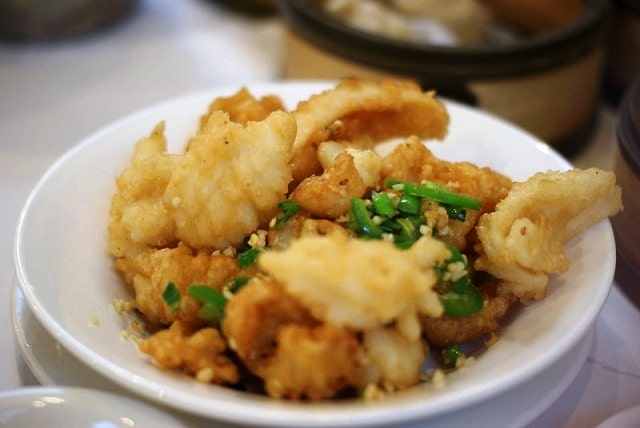 You can find a variety of seafood in Hongdae. But, fried squids are something that should not miss in the streets of Hongdae. They are fried in the sizzling oil either dipped in flour or soy sauce. And then served hot with chopped onions and green chilies. Put sea salt or black salt according to your need and have them. The taste surely you will not forget anytime.
Donburi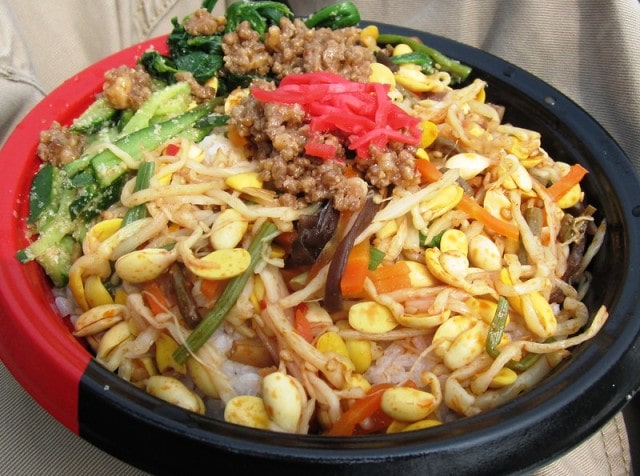 Donburi is a traditional Japanese dish and the word donburi literally means rice bowl dish. It is also popular in Hongdae of Seoul. Boiled rice is topped with vegetables, eggs, fish, meat, onion, and garlic. Ingredients may change according to the season and availability of vegetables. Sauce like soy sauce and chili sauce is added by some.
People like it very much as it is readily available in street stalls and one full bowl can fill anyone's stomach. You may see people waiting in lines for 10 to 20 minutes for donburi.
Bottom Line
Korea has a very rich culture. Their cuisines have the influence of natural ingredients. If you visit South Korea and happen to visit Seoul. Do not miss this place called Hongdae close to Hongik University. This place is known for its urban culture infused with indie artists performing in bars, pubs, and streets. And the food here is at the next level. Eating in the street stalls and trying Tteokbokki, kimbap is a must for you.
YOU MAY LIKE: