How to Pack Toiletries in Checked Luggage?
Last Updated on 12 months by admin
When traveling to any location, packing toiletries in a piece of checked-in luggage might be very difficult for you. It would be better and optimum for you if you could carry a complete skin care and protection kit. The honest fact is that there is no room for you to carry everything to where you are traveling. But you can learn to travel with the required essentials and liquids that are mandatory for your vacation trip. This article defines how you can travel with your toiletries abroad.
Can you carry toiletries in your checked-in carry-on?
Absolutely! You can carry your toiletries and other essentials in your checked-in side bag, but you need to take care of the liquids you arrange for yourself. You should be careful while packing because you must carry all of them via any mode of transport and ensure that they do not spread within your baggage and spoil other carriage essentials.
If you are traveling, you should check out the transport guidelines mentioned for carrying liquids so that you are not stopped or harassed at boarding and that you sail past the security check without any hassle.
What toiletries can you carry in your checked-in luggage?
You can carry toiletries of your choice in your checked-in baggage, but above all, you need to follow the TSA guidelines before carrying them. It means you can only carry those limited liquids in one-quarter of a plastic bag or the zip lock bag. Moreover, none of the liquid boxes or bottles you carry should be above 3.5 ounces.
MORE POSTS: Things to do in El Nido Palawan Philippines
How to pack liquid toiletries in checked-in luggage?
If something causes problems to the travelers (primarily females ), it should be packing toiletries. It includes everything like conditioner, shampoo, facial cleanser, facial moisturizer, body lotion, hair spray, hair oil, lotion, mouthwash, serums, laundry and many more things that come in paste, gel or liquid forms. That is eventually a long list of items and is never-ending if you keep packing them one after the other. However, packing all your liquid toiletries can also create a mess because they might spill out and damage your clothes and other items, and things might go wrong. Below we will mention some tips you can follow to carefully fit your toiletries in checked-in luggage and ensure that they do not create any mess to other materials inside your luggage.
Cut items into small sizes.
The list of toiletries mentioned above is very long and would have been never-ending if we had stated more items one after the other. However, if you have to fit all of them in one place and become a packing master, you need to cut short items and pack them efficiently.
You can cut out mouthwash items. Your vacation trip will be temporary. So you can always return home and get your mouthwash back, but you won't want to spoil your trip due to a liquid mouthwash.
Hair spray would be the best option for you if you can manage your hair effectively. In such a case, you need not have to carry all the hair items like shampoo or conditioner to maintain your hair during your vacation.
Also, you can work out with your hotel soap, shampoo and conditioner that would cut your hair essentials. You would not have to worry about carrying them in your checked-in baggage.
Also, keep an option to pick up the liquid items after reaching the destination. At this time, you won't have to carry them all the way long to your destination. Even if you have to spend some more money or leave them half empty at the hotels, it is way better than taking the risk of carrying them in your baggage, which might spill out and damage other clothes and materials.
You should also keep an option of taking a carry-on with you to your location so that if your checked baggage is lost, you do not lose everything altogether. You can also carry some required essential liquids in your carry-on luggage instead of taking them in your checked-in baggage.
Search for two-in-one materials instead of carrying two items separately.
Another effective way of reducing toiletries in your checked-in baggage is to look for materials that will serve numerous purposes. You have to find items that can serve the purpose of both shampoo and a conditioner rather than carrying both of them.
Instead of taking facial moisturizer, sunscreen and foundation individually, you can take a BB cream that will serve the purpose of all three. Also, some liquid products claim to work as mouthwash, paste, laundry wash, shampoo and many more. All these can cut a number of liquid toiletries, and you do not have to carry all of them altogether. Moreover, you will also not have to face any hassle at the time of security check-in.
Repack everything before leaving.
Repacking your liquid items and gels before leaving has several benefits.
You can put them separately in leak-proof containers and prevent any problems with the items if they spill out during your travel.
Moreover, repacking them also cuts excess weightage, and you can carry more items in that space.
Make sure to follow the travel guidelines before traveling abroad so that you do not face any hassle during traveling.
Consider transferring your liquid toiletries to spill-proof items.
Most liquid items, be it shampoo, gels, or any other items, are packed in travel-sized bottles. However, these bottles do not offer the surety of preventing leaks during traveling. For such a reason, it is better to spend some bucks on purchasing spill-proof liquid gel bottles and carrying your liquid toiletries in them so they do not spill out during travel. You can also transfer the specific amount of product you wish to carry with you.
When flying in-plane, the higher air pressure tends to pop out bottle caps or create enough pressure to leak out. Therefore, you must consider spending some amounts on travel bottles so they do not leak due to higher air pressure conditions. Nalgene travel bottles prove to be worthy of use during your travels because they are available in specific sizes, and you can carry the desired amount of toiletries with you on your trip.
Remove wasted weight and space caused due to unnecessary packing.
Consider repackaging because you can save immense weight and space instead of preventing leakage. You must think about it. Instead of carrying facial creams in a large container, you can carry them in a small jar. When traveling, you should always consider cutting on unnecessary liquid toiletries that will occupy enough space. Find out quick ways and determine the methods that can make you a packing master overall.
Take a piece of carry-on baggage.
Pack only the items necessary to take in your travel and carry liquid toiletries in small jars so that you do not face any problems while traveling. Remember that if you are carrying travel-sized bottles, you should not carry more than a 3.4 ounce or 100 ml bottle in your carry-on baggage.
If you pack 3.4 oz bottles for carrying your moisturizer, you might be overpacking yourself. However, a standard travel-sized bottle might be more for carrying your liquid toiletries. Take smaller items and cut back on the wasted weight and space essential during your vacation.
MORE POSTS: List of Bathroom Essentials for First Apartment
Checked in baggage.
Whatever you do, do not try to pack oversized containers in your checked-in baggage. A couple of big bottles can increase your bag weight, which should not be some full-sized containers you might carry on your trip.
When there are so many restrictions on check-in baggage and the luggage size, the smallest subtraction on the liquid toiletries can make an enormous difference in the amount of money you need to spare at the airport check-in. For extra bucks, you would not want to pay extra for your checked-in baggage.
Look for solid versions of the liquid toiletries.
Most liquid items like gels, mouthwashes, shampoo, conditioners and many more, there are some solid products as well. In such a case, you would not have to worry about leakages or spills within your luggage during travel.
While solid shampoos are not a good option for everyone, yet you should opt to carry them during your travel if you are well suited to solid shampoos. You can also choose solid conditioners if you can comply with them and also use solid soap bars that will prevent the risk of spilling.
Apart from these options, you can also spend some bucks on other solid toiletries like solid mouthwash, toothpaste, perfumes, tablets, laundry soap sheets, solid lotions and many more. Above all, you should think that every small amount of your packing you can manage will matter a lot.
Share your liquid toiletry space with your travel buddy.
If you have a travel partner who utilizes minimal liquid toiletry items during their travels, you can use their luggage to keep your liquid things if required. This is an excellent option to carry excess toiletries during your travel. If you are traveling with a family, instead of filling your checked-in baggage space with extra liquids, you can share the same thing with yourselves.
Look for a variety of carrying options.
You can find numerous carrying options other than checked-in baggage and carry-on luggage so that you can fit in your liquid toiletries. But above all, ensure that you comply with all the rules and regulations of travel so that there is no hassle at the time of traveling.
Do wet wipes count in liquid toiletries?
Wet wipes count in solid products, and they do not count on liquid toiletries. You will not face any restrictions while traveling if you are carrying wet wipes.
How should you consider packing liquid toiletries in your luggage?
When you carry liquid toiletries with your luggage, even in small-sized or mid-sized case containers, you should prefer to keep them in a particular place so that they do not damage other products. A good toiletries bag will be practical for your travel because it will categorize your materials efficiently. They will also act as a protective barrier to prevent potential leaks from your liquid toiletries.
If you have spent some money on travel-sized items, you should also consider spending some bucks on reusable zip lock bags to keep them and for added security. On the other hand, if you plan to keep your liquid items in carry-on baggage, you should purchase small travel boxes.
Every bit of space and weight for your luggage matters when traveling to a destination. Mix and match and keep the materials to maximize all of them in a one-quarter plastic bag. Again, Nalgene is a quality product for packing creams, mouthwashes, laundry wash and other items.
MORE POSTS: 100 Best Travel Instagram Bio for Influencers
List of liquid toiletries that you can carry with you during your travel.
There are some liquid products that you must carry along with you during your travels.
Skincare products.
You can carry a moisturizer with SPF 30 to limit your skin care products on the trip. Also, carry a travel-size bottle and keep this moisturizer product within it. Also, you can choose to carry a skin regimen kit for taking care of your skin during your travel.
Hair care products.
Instead of taking liquid hair care items, you can carry solid shampoo or liquid shampoo in liquid bags. Along with a solid shampoo, you can also carry a solid conditioner. If you are not willing to carry any of these two items, you can also carry a hair spray to protect your hair during your travel days.
Makeup products.
You can carry concealer combos or long-lasting concealers, or foundation packs. If you wish to cut down on your makeup products, you can carry a mineral foundation that will occupy significantly less space.
Eye Makeup.
A decent and affordable eyebrow pencil with a quality eyebrow gel is better than carrying ordinary gels and pencils. Good tubing mascara also effectively cuts down on your eye makeup products. If you consider an eyeshadow, you must carry a retractable eyeshadow stick. Apart from saving space, there are fewer chances of breaking if you carry a retractable eyebrow stick.
Lip products.
Keep things simple with a flattering lip gloss. Also, you can use an ordinary lip balm instead of carrying something huge, occupying less space in your checked-in baggage.
Miscellaneous liquids and toiletries.
Travel is the best excuse for using up your remaining kinds of toothpaste and other samples that you receive from the dental clinics. Though it would save some bucks, try to carry them inside a small travel bag so that they do not spill out during your travel duration.
Packing light items inside the checked pieces of baggage is possible. Pay attention to the guidelines, so you do not carry extra while traveling. Also, try repacking your bag before leaving to cut off items you feel you are carrying uselessly.
Final Words
Figuring out how to limit liquid toiletries when traveling with your checked-in baggage can be a challenge. Things that work for some people might not work for you as well. Also, you must be a packing master to use minimal liquid items while traveling. There are numerous solid toiletry options available that you can carry instead of carrying liquid items. While purchasing small-sized or mid-sized carrying bags, try buying a zip lock bag to ensure that even if the fluid materials leak, they do not spread out and damage other items inside the baggage.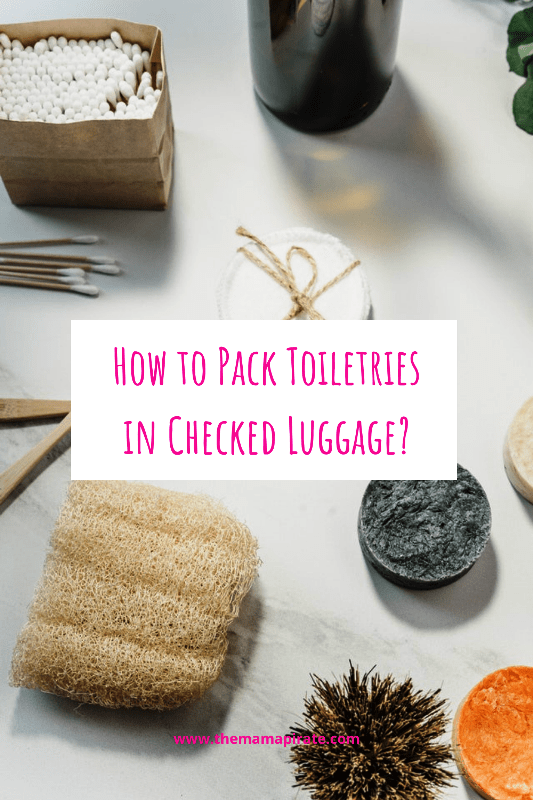 MORE POSTS: 31 Must-have travel essentials for a baby