9 Fun Things To Do In El Nido Palawan Philippines
Last Updated on 6 months by admin
You are now planning a trip to the Philippines, great then. Surely, EI Nido should be on your list. This post will give you a brief overview of Things to do in El Nido Palawan Philippines.
El Nido is a small and idyllic destination that is composed of more than 40 islands and islets. Each has its own unique geological formation and is located at the Northern end of Palawan which is about 5 hours of drive from the capital, Puerto Princessa. The Islands are full of amazing limestone karst cliffs, beautiful white sand beaches, many dive sights, and unspoiled nature.
The turquoise waters, hidden lagoons, and dark caves make the island hopping in El Nido's number one attraction. So we must begin our list with island hopping.
1. Island Hopping in EI Nido's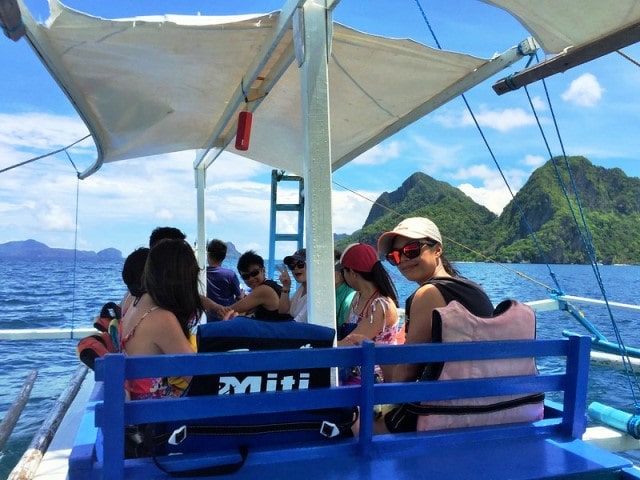 As we already told you that Island Hopping is the biggest attraction in El Nido. There are 4 main tours offered by all agencies namely A, B, C, and D. You will see the signs everywhere after the time you arrive here. So let us brief you about these main tours.
Island Hopping A: It contains mainly visits to Lagoons. Starting from small Lagoon, Big Lagoon, Secret Lagoon till 7 Commando Beach and Shimizu Island.
Island Hopping B: It contains a visit to most of the caves. Some famous islands are Snake Island, Pinagbuyutan Island, Cudugnon Cave, Entalula Island, and dark Cathedral Cave.
Island Hopping C: This is the favorite part for most travelers as in this tour we pay a visit to the beaches. Some famous attractions are Helicopter Island, Matinloc Shrine, Secret Beach, Star Beach & secret Hidden Beach.
Island Hopping D: This tour is to Cadlao Islands. Famous places are Pasandigan Beach, Nat Nat Beach, Buccal Beach, Cadlao Lagoon, and Paradise Beach.
2. Boat Party in the El Nido
Imagine a boat, free-flowing unlimited booze, an international crowd, with music, sunshine, island hopping, and a beachside barbeque. Isn't this amazing?, that's all you've got yourself on the El Nido Party Boat. It is Run by many people from South Africa and California, you can get on the boat for a full day of island hopping, swimming, snorkeling, singing, and dancing.
But the most interesting part is that the full day tour costs only 2500 PHP ($50 USD) with everything included. Although it is a little costlier as compared to other island tours, we promise you won't think twice about the cost when you're out there in the water. This is a must do thing in El Nido.
3. Dive and get yourself PADI Certified
El Nido's beaches are rich in marine life and that is why there are more than 30 dive sites here, which are ranging in depth from 6 meters to almost 30 meters. One must experience the life underwater and also you can get yourself certified by PADI Open Water Certification.
They offer a course that lasts 3 days and will cost you $400 USD each which includes a day of theory and exam and a total of 6 dives both in confined water and open water. If you don't want to get your certificate, they still do introductory dives. So one can try it out.
4. Explore Nacpan Beach on Motorbike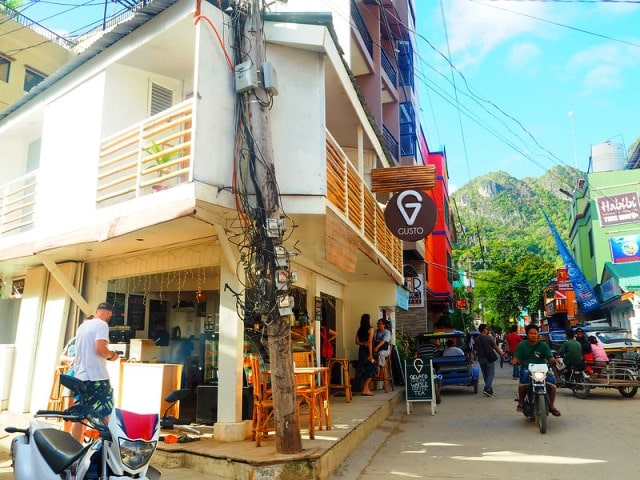 Nacpan Beach has made it to the top 10 beaches in the world. One should choose a sunny day to visit it otherwise if you choose a rainy day then you wouldn't be able to experience the beach as you would have imagined. There is a 45-minute ride to Nacpan which is one in itself a great journey that takes you through the countryside of Palawan. You have two options either rent a motorbike which will cost you 500 PHP, $10 USD, or can take a shared shuttle from the town.
But if you choose to ride a bike then you should be extremely careful about driving as there are some places in between which requires your attention. For eg, there are many dirt roads and high bridges. So drive slowly and with a cool mind. Always remember to Wear a helmet.
5. Zipline your way down to Las Cabanas Beach
If you're here in El Nido and you love to thrill then head to Las Cabanas Beach and go on this amazing journey through a zip line. Believe me, it would be the most memorable moment for you. Just pray that the weather remains sunny on that day because it will be impossible during the rainy season. It is an amazing journey at an efficient cost of 500 PHP ($10 USD). If you try that don't forget to come back to our website and share your experience in the comment section below.
But if you are not interested in island hopping (Rare case), don't worry there are many things to do in EI Nido aside from island hopping also. So below we provide you with things to do in El Nido when it's raining. Because it makes island hopping almost impossible when it's raining as one will not be able to enjoy it to the fullest.
6. Watch the Sunset at Republica Bar
Republica Sunset Bar is a famous place to be during sunset. After a tiring day, It is one of the most breathtaking, colorful sunsets that you see in El Nido. Don't worry if you missed the sunset then you can get there early in the morning around 5:00 AM to grab yourself a seat at the front of the bar and watch the sunrise. They also sell Spanish tapas and jugs of sangria at the bar.
7. Enjoy Different Cuisines
Food is one of the most important factors when traveling. Because if we don't get proper meals it will ultimately lead to a bad travel experience. But here in EI Nido, there are ample choices for you. It's so much fun to explore different restaurants/cafes to try different flavors out there. Although El Nido is a small town there are numerous places to eat, you definitely won't get bored eating in this little town of the Philippines.
8. Treat Yourself with a Massage
Island hopping is exhausting and your body needs some relaxation time. Therefore after a tiring day who doesn't love a good massage? Right? There are hundreds of massage parlors along the main strip in El Nido and the cost varies accordingly. For eg, a cheap Swedish massage here will cost you 400 PHP which is around $8 USD.
9. Rent a Kayak or Paddleboard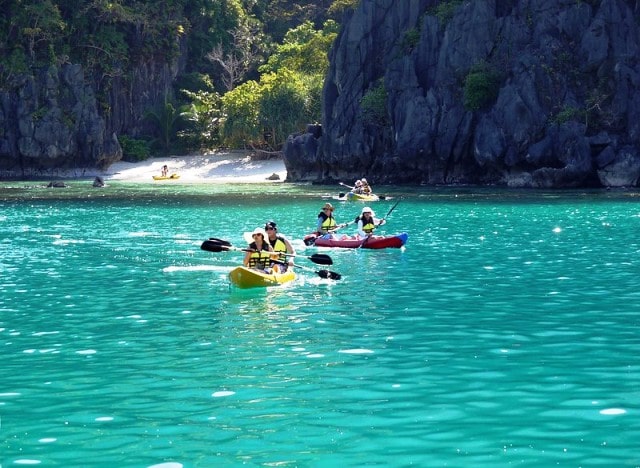 Another great way to get out onto the water is by Renting a kayak or paddleboard from El Nido. If your tour company has a kayak, you must use it. It is a great experience. But recently the government has banned most of the kayaks or paddleboards, to preserve the history of EI Nido.
But If you still want to move out yourself from El Nido beach, you can rent normal kayaks with clear bottoms from Art Cafe on hourly or full day rentals. Per Day will cost you around 1000 PHP or $20 USD, whereas half day will cost you 650 PHP ($13 USD) and the hourly rate is 250 PHP ($5 USD).
There are not many things to do in EI Nido at night other than a bonfire and Enjoying a Comfortable Sleep at some hotel or inn.
So, now how many days do you need to explore the basics of EI Nido?
Although EI Nido is a small town, it has a lot to offer. So we recommend that one needs at least 4 days to explore the basics of what it has to offer.
Island hopping alone can take up to 2-3 days and you should keep 2 days to explore the culture and visit some tourist attractions within the town. so plan accordingly.
Some Tips When Traveling To El Nido
You should buy yourself a "dry bag". They are sold all through the town, you should bargain. These bags will come in handy on all your island hopping tours.
As there is only one ATM on the island with a maximum withdrawal limit of 10,000 per transaction and a 200 ($4 USD) fee. so remember to keep some cash before only.
Every place takes cash apart from a small handful of restaurants, so you should not be dependent on cashless payment methods.
The best time to visit is from the month of December to May because the skies are clear and there is minimal chance of rain.
The power goes off at least 3-4 times a day sometimes for 30 minutes or up to a few hours, so don't forget to keep power banks with you.
Try and book a hotel with a generator so you can still use your A/C and fan when there is no electricity. This is one of the most important tips, as humidity there can lead you to illness.
The average cost of a meal out there is 200-350 PHP which is around $4 – $7 USD. The local food is slightly cheaper at 100 -150 PHP ($2 – $3 USD). So eat according to your interest because health is more important than money.
Many places offer you happy hours like bars, restaurants, etc. There you can get 2 for 1 cocktail. Usually, it is between 4:00 pm – 6:00/7:00 pm.
WIFI and phone signal are stronger in El Nido as compared to anywhere else in the Philippines.
You should hold onto your ETDF ticket number. This is the Eco-Tourism Development Fee and you will require this whenever you do an island hopping tour. It costs around 200 PHP ($4 USD). So remember to take it everywhere you go.
You shouldn't feed the monkeys at Snake Island as they tend to bite you. So be careful.
Where to stay in El Nido Palawan?
El Nido is heaven for backpackers, and travelers. Here you can find cheap hostels to five-star hostels to stay.
It is always good to research before visiting a new place. Here we have compiled a list of cheap hostels and expensive hotels/resorts for you to stay in El Nido.
Get a Comfortable Sleep at a Hotel or Inn
El Nido offers you a huge range of accommodations from serious budget-friendly to secluded luxury resorts. So it totally depends upon you, what accommodation you choose. There are many budget hotels and inns which we will recommend for budget travel. Some things which you need to take care of are that sheets are cleaned daily, the beds are comfortable, the location should be great, the staff should be accommodating and the bathrooms are clean.
Here in EI Nido, Rooms start at 1200 PHP for a double room with a fan ($24 USD), and a room with AC costs you 1800 PHP ($36 USD). You can book online but if they are not working then you will have to email them directly to make a booking.
Cheap Hostels in El Nido
Our Melting Pot: They provide basic breakfasts, hostel grade Linen and a guide for island hopping. The staff here are friendly and you can expect to meet a lot of fellow backpackers staying together.
Mad Monkey Nacpan Beach: This hostel is located near to beach which adds more importance to the hostel. You can have BBQ grilled on the beach and can play beach volleyball with other hostelers. They also provide free shots in the bar at the evening DJ party.
Hotels/Resorts in El Nido
El Nido Beach Hotel: Overlooking the sea, El Nido Beach Hotel is within 1.9 km from Corong Corong Beach and 19.5 km from Nacpan Beach in El Nido, featuring a 24-hour front desk, an on-site restaurant, and a garden.
Cadlao Resort: Situated in El Nido, Cadlao Resort provides 3-star accommodation, as well as an outdoor pool. It offers complimentary Wi-Fi, massage services, and laundry facilities.
We can conclude that EI Nido is a great place for adventure and nature lovers. If you are one of those just give this place a try and you will thank me later.
MORE POSTS: How to Pack Toiletries in Checked Luggage?