7 Best Child Carrier Backpacks for 5 Year Olds
Last Updated on 6 months by admin
Hiking or trekking involves a lot of joy, and you get time to spend with nature. But all the joys are shattered when you take your little kid with you. The little legs of your kid will feel tired soon after walking a few distances and carrying a stroller while hiking is even quite challenging for parents.
But just because you have a kid does not mean you will not step outside or stop going hiking or trailing. Fortunately, there are numerous child carrier backpacks available in the market.
You can choose a good child carrier backpack and enjoy hiking or other outdoor activities happily with your kid. 
The article lists some of the best child carrier backpacks for 5 years old. So, keep reading this article to learn about child carrier backpacks so you can purchase them for your kid and enjoy hiking or trailing with them.
What Things Should I Look For While Purchasing A Child Carrier Backpack?
You need to look for a few below things while purchasing a child carrier backpack.
1. Weight
Weight plays an important role when purchasing a child carrier backpack. It would be best if you always bought a lightweight child carrier backpack, which will be easier to carry while hiking or trailing.
2. Comfort
Comfort is another factor that you need to take into account while purchasing. When buying a child carrier backpack, you must consider shoulder padding, straps, and waist belts.
3. Ease Of Use
The backpack carriers which you intend to purchase should be used easily without any issues. If the product involves complications, then it is obvious that it will be used less effectively.
4. Sitting Position
The backpack carrier which will buy must have a high sitting position so your kid can comfortably sit and enjoy the World without any obstruction.
5. Storage Capacity
Carrying numerous bags while hiking is not possible for most of us. You must purchase a child carrier backpack with storage options to carry water bottles, snacks, or other essential items during hiking.
6. Price
Price even matters a lot. But don't compromise quality with the price. Try to purchase a good quality child carrier backpack to last longer.
7. Size And Weight Limits
You need to check the size and weight limits of the manufacturer and ensure that your child will fit into it before purchasing any backpack carrier.
8. Hydration Packs
Your child can feel thirsty while hiking or trailing. You must ensure that the carrier backpack you purchase has hydration slots to keep a water bottle that can quench your thirst while hiking.
9. Cockpit Of The Child
The cockpit of the child is the place where the child sits on the backpack carrier. It includes padded areas that need to be breathable to prevent your child from overheating on summer days. The cockpit should also be equipped with 5 point harness, which you can easily access.
10. Sun And Rain Protection
Harsh sunrays or rainfall can make your child sick. You must always purchase a backpack carrier equipped with a sunshade and rain cover to protect your child from different weather elements.
What Are the Best Child Carriers Backpacks For 5 Years Old?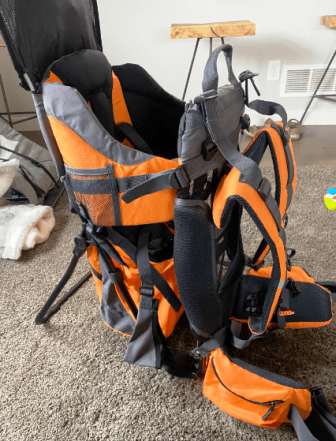 Kids love to see waterfalls, lakes, or mountains for the first time. But carrying your kid hiking can be a tough job. 
Well, you can purchase the LuvdBaby premium hiking carrier bag pack. It has a padded cocoon with safety straps and stirrups for your child's comfort. The raised cockpit of the bag allows your child to enjoy or see different things of greater height without any hindrance.
The Luvd baby hiking child carrier backpack comprises a sunshade and rain hood, which you can use to protect your child from weather elements like harsh sun and rainfall. Again when the weather becomes normal then, you can remove the hood. Your kid can sleep after you walk for several miles. The bag has paddings so that your kid can comfortably sleep while hiking.
The material of the backpack carrier comprises Ripstop polyester material, and it is waterproof. The Luvd baby hiking child carrier backpack is durable, i.e., it will last many years.
You will find a lot of pockets in this backpack carrier. For example, you will find a full pocket where you can find hot things hot and cold things cold in it. 
There are net pockets where you can keep some essential things. The best thing about net pockets is that the thing kept inside them are visible and can be used immediately. There is even a 5 L storage place in the bag to keep big items.
Features
Polyester Linning
Strong aluminum frame.
A lot of pockets
Insulated pockets
Height is adjustable
Color options like black/ grey and orange/grey
It can carry a child of a maximum of 40 pounds in weight.
Includes diaper changing pad
Pros
Light
Adjustable
Great value for money.
Cons
Some customers say that the strap slips a lot.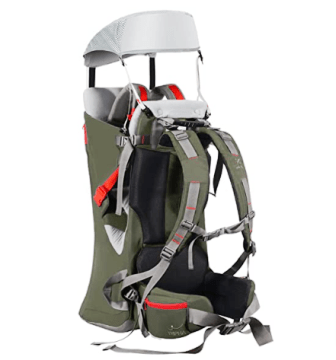 Most people usually have back aches after traveling long distances with their baby. But fortunately, the WIPHA backpack carrier is designed to save you from backaches even after traveling long distances with your child.
Your child's weight is distributed uniformly, i.e., on the shoulder, waist, and belly, which is a good advantage of buying this bag. Additionally, the straps are well adjustable, which is comfortable for parents.
The seat on the backpack carrier for your child has ample space and soft paddings to increase the comfort of your little one.
You will also find a foldable sunshade to protect your child from harsh sun rays while hiking. The best thing is that the sunshade can be folded and kept in a zipper when not used.
The bag has ample storage space to keep various essential items. There is even an insulated pocket in the carrier bag pack to keep food items for your child, like milk. There is a seat belt that prevents your child from falling off. There are cushions in the front and back for more comfort for your child. These cushions can be easily removed, and you can wash and clean them.
Another great thing about the WIPHA backpack carrier is that it has a strong aluminum frame, which supports your child well.
If you are satisfied after buying this product, you can return it within 90 days, and the money will be fully refunded. The WIPHA brand even offers a complete one-year warranty for 100 percent satisfaction. 
Features
Lightweight
Maximum load capacity is 50 pounds.
Height adjustable
Soft paddings
Lightweight
Insulated Pocket
Large storage 
Pros
Durable
Adjusted straps
A lot of room for storage.
Cons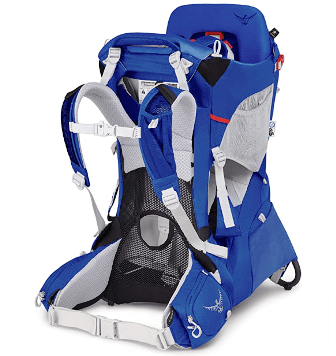 The Osprey Poco Plus child carrier backpack has a ventilated mesh back panel with an adjustable torso. There is even zippered hip-belt pocket with a safety mirror to keep various essential things, including snacks, close to your hand.
There are even dual stretch mesh pockets on the side of the bag for keeping toys and bottles. You will find adjustable and removable stirrups which offer leg support to have blood circulation effectively. 
The sunshade of the Osprey Poco plus child carrier backpack has a sunshade that protects your child from the sun's harmful ultraviolet rays. There is an external hydration sleeve where you can keep a 1.5 L reservoir. But you need to buy it separately.
Features
Adjustable and removable stirrups
Lightweight aluminum frame
There is a sunshade for UV protection.
Removable and washable drool pad.
Adjustable torso
Comprises of polyester
Machine washable
Pros
Sturdiness
More storage
It has foot holders for the child.
Cons
Some customers say the straps are a bit narrow, which causes discomfort.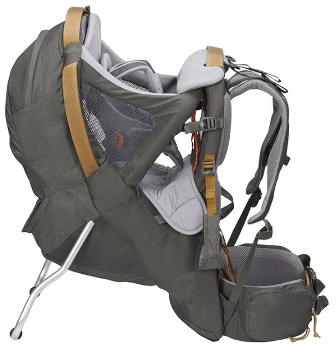 The best thing about Kelty PerfectFIT signature series child carrier is that it is easily adjustable by both moth father and mother. There is a sunshade that will protect your child's skin from harsh sun rays.
You will find 5 point safety harness and padded aluminum roll cage in this backpack carrier, enabling you to travel without any worry on hilly terrains.
A large zippered pocket with internal stretch pockets stores various essential items like toys, water, snacks, and many more.
Features
There are 5 points adjustable harnesses for the rider
A lot of pockets
Have sunshade
Comprises of nylon
Weight – 6lbs 6oz
Maximum weight -48lbs
Pros
Comfortable
Lightweight
Durable
Good storage
Awesome quality
Cons
No hydration Compatible.
Torso length is too big on small adjustments, which can be uncomfortable for a few customers.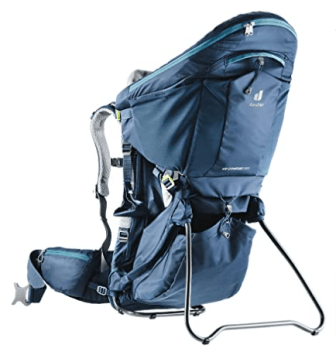 Are you feeling difficulty while taking your little child on any outdoor adventures? If yes, then you must purchase this backpack.
It comprises of air comfort mesh back system which provides good ventilation. The frame construction of the backpack carrier is durable and flexible. The spring steel provides good load distribution and ventilation between the wearer and the pack.
The Deuter backpack carrier is well adjustable, allowing the best comfort and fit. There is even an integrated sunroof that you can use to avoid harsh sun rays from falling on your kid. 
You will also find a soft pillow that your child can use and comfortably nap on any outdoor activities. There is a rearview mirror on the Deuter child carrier backpack to visualize your child on the back.
Features
Height adjustable child seat and footrest
Sunroof
Removable strap
Rain cover deluxe
Rearview mirror
Padded hip belt
3 Outer pockets
Maximum weight – 48 pounds
Comprises of nylon
Pros
Easily adjustable
Easier to carry even if you have a heavy child.
Sunshade is a good perk in this backpack carrier, allowing a comfortable nap for a child.
Cons
Some customers say that the product has a terrible chemical smell.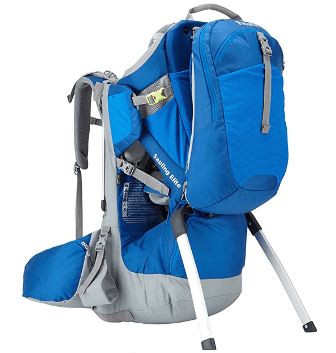 Most people need help taking in their kids and doing daily activities like hiking. You can purchase a Thule sapling child carrier backpack, which is safe and comfortable for your child.
The back panel of the carrier backpack is fully adjustable. There is even a hip belt that provides a good fit, and you can comfortably carry your child without any issues. There is a sunshade that protects your child from harsh sun rays while hiking. 
You will also find mesh pockets, a removable backpack, and a zippered compartment store to keep essential items like water, rain gear, and many more. Simultaneously, you can find two zippered hip belt pockets to keep your child's favorite toys, snacks, or gadgets.
Features
Weight capacity – 48lbs
Height adjustable seat
Removable stirrups
The back panel and hip belt are easily adjustable.
Hydration reservoir sleeves.
Pros
Durable
Lightweight
Incredible storage
Lots of storage
sturdy
Cons
No side pocket for a water bottle.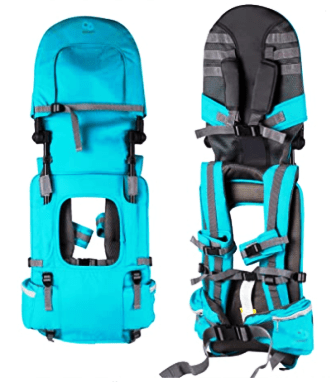 The Generic backpack carrier is versatile and provides all sorts of comforts while carrying your child. It enables you to comfortably have your child for more extended periods. The wide paddings and the adjustable waist belt of the backpack carrier reduce the weight of your shoulders while carrying your child during hiking.
There are even double-side safety buckles and ankle straps for increased protection. The backpack carrier comprises of sturdy lightweight metal frame and 600D oxford cloth which is breathable.
The shoulder and waist straps of the Generic hiking backpack carrier are ventilated, and it helps in keeping your child cool and safe.
The backpack carrier weighs only 3.9 lbs and is ideal for children from 1 to 5 years old. The maximum weight it can accommodate is 55 lbs.
Features
Adjustable straps
Lightweight
360-degree adjustable backrest design
Comprises of 600 D oxford cloth
Maximum weight accommodation is 55lbs
A lot of pockets
Pros
Compact
Lightweight
Durable
Cons
Conclusion
Hiking or trailing with your child is quite tricky. But you can purchase a good backpack carrier for your child and go for various outdoor activities.
We have listed above the best child carrier backpack for five years olds. You can purchase any of them and take your child hiking.
MORE POSTS: How to Store Bags and Backpacks at Home?