(Last Updated On: April 12, 2023)
Most of us got mesmerized by the idea of showering outdoors on a beach vacation in a hotel or Airbnb. So why not replicate that feeling by making an outdoor shower enclosure in your home? You can use it to clean up after spending hours in the garden, washing off your dirty feet, or rinsing your dog. Outdoor shower enclosures offer immense luxury from your home comfort.  
According to a report, residential properties with outdoor shower enclosures sell at more than double the price of normal abodes. Outdoor showering can range from a mounted shower head to fancy accessories. The styling possibilities of outdoor showering enclosures are endless. Thus, finding the perfect one can be quite stressful. To save time and reduce tension, we have listed some of the most mesmerizing showering enclosure ideas for your outdoor renovation.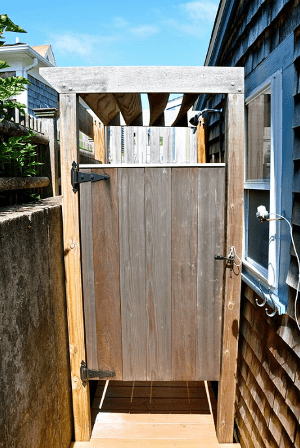 You can make your primary bedroom special by extending it to an outdoor shower enclosure while keeping it casual and grounded. This way, it will remain private. Only you and your partner can access it whenever necessary. You can install copper faucets and wield nail heads into the bulkhead walls for the hooks. 
An outdoor shower enclosure does not have to occupy enormous space or be the focal point in your home. If you want to install an outdoor shower for its performance and functionality, you should concentrate more on the showerhead and skip all unnecessary accessories. You can put up a sleek black shower head against a white brick wall. This contrast will soothe your eyes while showering after a hectic day.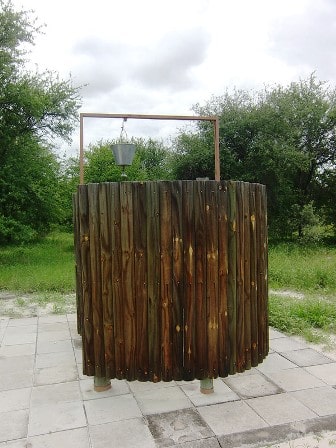 The contrasting stone and wooden materials combine outdoor showering enclosures and create an outstanding effect. The shiny brass shower head shines bright against the dark wood stains. Thus, experiment with surprising combinations and various finishes when planning to create an outdoor shower.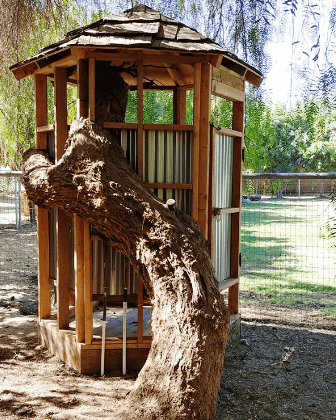 You can elevate the pool segment of your house with an outdoor shower house. You can create this gazebo with concrete tiles to blend well with the stucco. Also, optimize the drainage system for the rainy season. You can include a changing room, a bathroom, and a shower in this swimming pool pavilion.  
Privacy wall for outdoor shower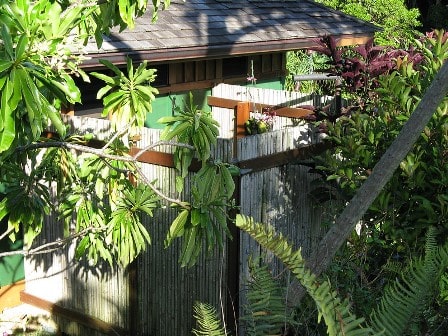 You can combine the natural elements with the outdoor shower in the backyard. This wooden wall will allow complete privacy while maintaining an earthy aesthetic. You can also put some plants around the basin to complete this serene outlook. 
This outdoor shower enclosure idea is ideal for rinsing off the coastal sand after early morning surfing in the ocean. You can achieve beach vibes by installing white walls for the shower, brass fixtures, and adding several tropical lives to the enclosure.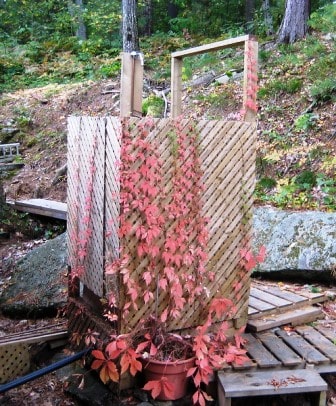 You can put up ivy plants with the help of trellises to create a private space for an outdoor shower. It is unnecessary to build it by blocking the beautiful dappled light and the views. You can also paint the trellis partitions dark green to blend well with the ivy. A workbench with a plant and a stone pedestal for storing shower supplies will enhance the feeling of the garden. This entire environment will give you a feel like having a shower in an open forest. 
The outdoor shower enclosure with a waterfall shower head will give you a feeling of bathing in a rainstorm. With a wooden door and stucco retaining wall, the outdoor shower enclosure will feel like a private retreating space. You can use native plants for decorating the landscape and fit in some hooks for hanging the clothes and towels.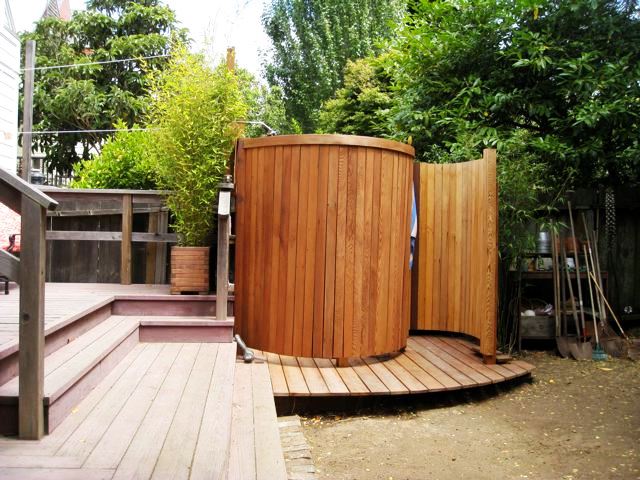 You can use an outdoor showering kit for building enclosures with cedar wood. Cedar wood is a good agent to hold against the weather and water. It is also great for resisting mildew and mold. You can hang a bright and soft curtain in the enclosure to add some privacy with style.
You can build a stall in the concrete corner next to a cozy nook. The cushions in the lounge section will steal the entire spotlight, and the shower will remain minimalist and discreet.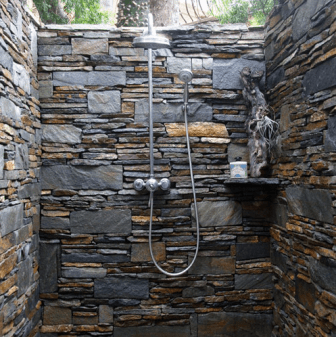 If you have no idea about an outdoor shower enclosure, you might walk straight past it. A gorgeous textured floor of stones, cobblestone walls, and a distressed wooden beam will blend to create a rustic-themed outdoor showering enclosure. Small yet simple designs like a rock soap rack, vintage bronze shower head, and wooden windows will keep this enclosure stylish yet simple. 
You can install an outdoor shower enclosure with clay or patterned handmade tiles. It will make the entire enclosure super special. The white and blue pattern with copper fixtures will give you beach vacation vibes.
If your home is very close to the ocean, you can have a swimming pool adjacent to an open air shower enclosure that will look into the sea. You can install floors with stone tiles with dappled light and an oval skylight to provide partial sunlight protection. However, it should block the entire sunlight completely.
Shower accessories inspired by nature
If you are more inclined towards plants, this is the best option for your outdoor enclosure. The shower will be apt for rinsing off muddy garden clogs, cooling on a hot day, or washing off dirty hands. You can also create a pergola for additional privacy.
Double is always better than a single, especially when it is a question of showerheads. You can add a laidback and minimalistic look by installing slightly tilted showerheads. It will also create a cool factor for the entire environment. 
Your outdoor shower head will get dreamier with Mediterranean designs like open floors, handmade tiles, enormous copper tubs, and brass showering fixtures. The spacious showering area should be massive enough to support several people simultaneously, making it ideal for a pool party.
Copper fixtures for outdoor showering enclosures are an outstanding alternative for numerous reasons. Copper is easy to work with and is exceptionally durable. Copper accessories get better with time due to the natural patina development from the design point of view. 
The outdoor showering enclosure should be well-built with slatted walls to promote perfect airflow. The thatched roof will also assist in regulating the heat all year round. 
You can frame your outdoor showering enclosure with a beautiful wooden pergola. The showerhead with intricate tiling will assist the fixture to be different and remain the focal point in the enclosure. You can also create a non-slip, easy-to-use surface with weathered brick pavers. If
you are only planning to rinse off the dirt after swimming or post-hiking, keep all the designs super simple. Create a slatted floor with a no-fuss showerhead and easy drainage systems.
Outdoor showering enclosures always offer less privacy than indoor ones. But a well-crafted wall will create a quiet little nook to enjoy your shower in the sunshine. It will be your secluded area for a peaceful shower, no matter how nosy your neighbors are. 
You can appoint a designer to create wall art with paint and stencil instead of tiles. The designers seal the cedar with white paint and apply other colored paint to make the design. You can apply water-based paints to prevent trapping any moisture beneath them. It will also prevent any peeling or cracking of the painting. 
You're mistaken if you think outdoor showers are all about shower heads. You can also set up a bathtub in your outdoor enclosure. You can decorate it with wooden wall enclosures allowing the occupant to enjoy the breeze. You can also take design cues from the surrounding, like installing a clean white tub with moody hues and organic textures.
The garden outdoor shower enclosure
You can convert an old spigot into a garden outdoor shower enclosure. It can remain covered by two trellises with beautiful vine plants. This entire setup will give you a close feeling of showering in a garden. You can use the strong wooden wall slats as towel racks.
Sometimes intricate details can make a shining outdoor showering enclosure. Rainfall showering fixtures and flagstone patio stones can convert the shower inside into a relaxing oasis for the user. You can also hang some wall planters outside to add a finishing touch. 
Pool outdoor shower enclosure
You can create an outdoor shower enclosure near your pool with chrome fixtures, stone floors, and white walls to deliver a laid-back feeling. The high-mounted shower head will give a clean bath even for tall guests. 
Corrugated steel Fixtures
If you want to install a super durable shower enclosure, always use corrugated steel fixtures. It can stand against high wind and extreme weather. Since there is no organic material in the steel sidings, there cannot be any mildew or mold formation inside it. 
You can keep the plumbing simple and things tidy with outdoor showering enclosures. You can optimize your outdoor area with towel hooks and an in-built bench. It will fit best with modern house aesthetics. You can create a crossover between a bath and a mud room. 
The outdoor shower enclosure with greenery, flowers, and fresh air is the most serene experience you can have while bathing. You will have a stunning chance to connect with nature and appreciate its beauty. The stone shower heads will add a vintage touch to your home whenever not in use.
MORE POSTS: Best RV Room Addition Ideas
Things to consider before installing an outdoor shower enclosure
It is careful to not leave any gap in the outdoor shower enclosure where you can trip over or drop your soap. You can have an in-built box with pebbles that will have a messaging effect on your feet. Besides these, you can consider the following aspects while installing outdoor showering enclosures.
The first to consider before installing an outdoor shower enclosure is where to fit the tiny shower. It is necessary to build a secured enclosure to maintain privacy. You can create an open-air shower, walls, and roof like a bathroom stall. You can also build an elaborate outdoor showering enclosure with cement blocks. It is also possible to create a combination of greenhouse and shower enclosure where it will be easier to water your plants while showering. 
With an outdoor shower enclosure permanently for all seasons, you can never use it all year round. You can add a tiny outdoor shower house in your home where you can shower in the summer and heat yourselves up in the winter with a little wooden stove. The wooden stove also acts like a heater providing hot water during the winter.
Have you considered how and where your outdoor shower enclosure should drain the water? You can run an outdoor shower with a French drain and a tiny makeshift septic system. You can build a drain field with rocks and hoses that work like those in the septic tanks. But before this, ensure that your abode is not in a locality where code enforcement restricts gray water drainage into the ground.  You can face legal notice and penalties for breaking the local regulations and codes. Thus always research well before starting the installation. It will answer your questions like what type of soil your area has. Will it drain the water naturally? Is it necessary to create a platform for the outdoor shower?
Do you want to carry water to your outdoor shower enclosure or want water lines in it? Both alternatives are viable based on your location and necessities. Some people also use a garden hose sprayer as the shower head to conserve water. 
Wrapping it up
Now that we are at the end of this article, you must have got clear ideas about various outdoor showering enclosures. Just check out which ones are suitable for your locality and surrounding and create the most beautiful and helpful outdoor shower enclosures for your home. Research well, consider all the aspects, and set up your dream outdoor shower area. 
MORE POSTS: How To Paint Cabinets Without Sanding?