9 Best Leather Recliners for The Money
Last Updated on 2 months by admin
Spending time on a reclining chair after a tiring day is quite relaxing. These chairs provide not only a comfortable seat but also a space where you can take a nap for a few hours. Leather recliners can provide a cozy feeling in comparison to ordinary recliners. 
They even add lavishness to your room. Investing in good quality leather recliner chairs is wise as they will last longer, provide comfort, and resist wear and tear.
But choosing a high-quality recliner is quite challenging. Various styles and options are available in the market, which can confuse you.
The article discusses the nine best leather recliners. So, keep reading this article if you plan to buy a leather recliner for your home.
What Things Should I Consider Before Purchasing A Leather Recliner?
1. Space
The most important thing you must consider is space. Leather recliners usually take up more space when reclined. So think about the space where you are going to keep the recliner. 
Additionally, take measurements of the doorways to ensure that the recliner can get inside the room quickly. Leave the space 3-5 inches from the wall and recliner head.
You can take a photo of the entire room and show it to the salesperson so that he can give an idea about the fabric colors that match the room. Discuss the size of the room and the space where you have decided to keep the recliner with the salesperson.
2. Material
Leather is one of the best choices when buying a recliner, mainly if you have kids and pets at home. These fabrics are easy to clean in comparison to other fabrics. However, there are different fabrics, too, like velvet and microfiber.
3. Cost
The price of the recliner usually begins from $250 and can go up to $5000.If you wish to purchase an average recliner, it costs $500 to $2500.Adding accessories and other features can then expand the price. Massage recliners or fully powered recliners are usually costly.
4. Type Of Recliners
There are various types of recliners you will find in the market. We are listing some of them below.
Two position recliners have two positions, i.e., reclined and upright position. The two-position recliner will instantly become flat when you release the foot lever.
You have to push this recliner back to make it flat. These recliners dont have footrests. So if you purchase a push-back lever, you must compromise on the footrest.
If you wish to purchase a recliner at a low cost, then buy a rocker. It serves two functions, i.e., it can become flat and rock upright. It is mainly for those who want to sleep while rocking their chair. You can even make your babies sleep in this rocker recliner.
Powerlift recliners are usually more expensive compared to other type of recliners. It is entirely motorized, which means it can push you from the chair and make you stand. It benefits people with disabilities or who face difficulties in standing up.
Do you want to relax after a tiring day? If yes, then purchase a massage recliner. It will deeply massage your tissues, which cannot be achieved through human touch. The massage recliner will knead and vibrate your body parts, and you will feel completely relaxed.
4. Size
The size of the recliners matters a lot. Small recliners are usually 39 inches in width or less and can easily go inside the doors of apartments. Standard recliners are 40 inches in width. It is the size you will see in almost all the furniture shops. 
Oversize recliners are 50 inches in width or more. They are mainly designed for heavy people and hence take up more space. You will need approximately 3 feet of space in a room to accommodate an oversized recliner to avoid scratching on the wall when it is flat.
MORE POSTS: How to Care for Leather Bags at Home
What Are The Advantages Of Having A Recliner?
1. Improves Your Posture
People with backache problems find it difficult to sit straight. But sitting in a reclining chair takes the pressure off your spinal cord and thus helps to improve posture.
2. Reduces stress
Most people lead a stressful life because of work pressure, financial problems, etc. Sitting in a reclining helps to reduce stress, which can positively impact your life.
3. Improve Blood Circulation
Do you have poor blood circulation? If yes, then recliner chairs can help to improve it. When you recline, you keep your legs higher than your heart which helps to enhance blood circulation. It is beneficial for people suffering from coronary heart disease or diabetes.
4. Provides Relief From Aches And Pain
When you recline, it takes pressure from your joints and muscles and relieves aches and pain.
5. Improves breathing
If you are suffering from respiratory problems like asthma, using a recliner chair can be pretty beneficial. It takes pressure from your chest and expands the lungs, improving breathing.
6. Easy To Clean
You can easily clean reclined chairs. It is especially true for leather recliners. You have to wipe the dust with a wet cloth simply.
7. Watch television
Sitting upright positions and watching television for a long time can put pressure on the spine. But with a recliner, you can sit in a reclining position. It will comfort your spine, and you will have a great time watching television.
MORE POSTS: How to Clean Mold Off of a Leather Jacket
What Are the 9 Best Leather Recliners?
Leather recliners are the most comfortable furniture and can give you the feeling of a luxurious sofa. The recliner design has changed features and materials over the years. If you purchase a good quality recliner and keep it in good condition, it will last approximately 15 years.
Most people want to relax on a comfortable chair after a stressful and tiring day, and buying a leather recliner can serve the purpose.
We have listed the nine best leather recliners below, and you can choose among them.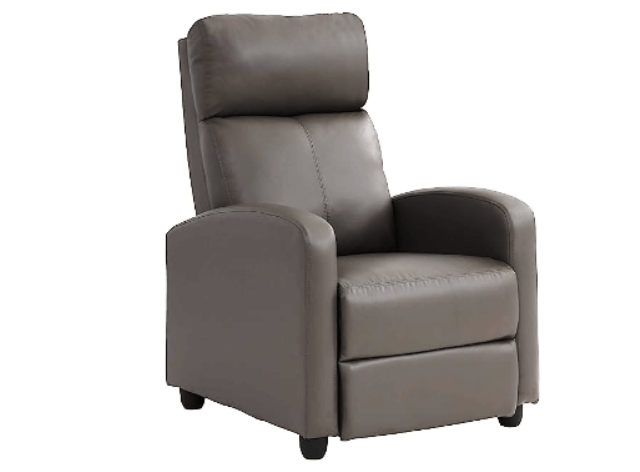 You can sit on the FDW recliner chair and push back if needed. The recliner chair serves two purposes, i.e., reclining back and foot extension, which will help relieve stress and anxiety. 
You can put this recliner chair in your living hall and enjoy watching television. Sitting on this recliner chair can fully relax your mind and body. You can even use this recliner chair in your business or pub. Everyone will surely ask you to relax for some time on this chair. The sleek, modern, and sophisticated design will impress everyone. 
The legs and frame of the FDW recliner chair are made from hardwood, which is durable and adds strength to the chair. Another great benefit of using this recliner is that The pillow back cushions of the chair provide stability and comfort to the chair.
Another great thing about this recliner chair is that they are easy to install. You dont need any single tool to install it.
You must first line up the bracket grooves so that the chair back and seat will connect. Now screw the four legs of the chair, and you are done.
Features
Wood frame material
Weight of the recliner – 53 pounds
39.76 inches in height
27.16 inches width
34.25 inches depth
No tools are required to install
Widely use
The maximum weight recommendation is 330 pounds
Pros
Durable
Waterproof
It gives a sophisticated look
Cons
The reclining part does not sit in place, i.e., it can let your feet down.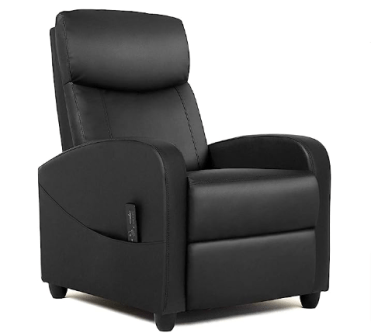 The Smug Store massage recliners are best to keep in the home theater, bedroom, or living hall. The slim and stylish recliner will give your room a modern look. Additionally, the recliner will provide a massage, which helps relieve stress and anxiety after a tiring day.
 It comprises high-quality PU leather, which you can clean easily. The recliners offer two excellent options, i.e., foot extension and reclining back. These features are perfect for destressing your body. The back of the leather recliner can be adjusted from 90 to 160 degrees so that you can read books or watch television or take a nap comfortably. The Smug Store leather recliner will push back quite easily and stops at a comfortable reclining position.
Another great feature of this recliner is that it can adjust the padded footrest according to your comfort. You will observe that the padded food rest is supported by metal.
The Smug Store massage recliner has plastic feet; hence, your floor will not get scratched when moving from one place to another.
If you purchase this recliner and don't like any features after that, you can return it. The company offers 36 months replacement facility, which is a good thing.
Features
Comprises of Faux leather
Wide curve armrests
Protected footrests
Plastic foot
Maximum capacity – 25lbs
Steel framed hence provides proper flexibility
The height of the seat is 17.3 inches
Thick padding
Seat depth: 20 inches
Seat width: 19.3 inches
Easy installation
Pros
The massage function is excellent in this recliner
No tools are required during installation.
Sturdy
Fits easily in apartments
Good fabric
Pleasant vibration.
Cons
Some people say that this recliner is a bit smaller than anticipated.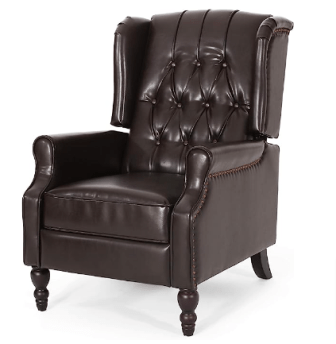 The classy Christopher Knight home leather recliner can give a sophisticated look to your room. You can keep this recliner in almost any room,e, bed, living room, or office. 
The brown color of this recliner will go almost with every furniture sets. You can simply sit on this recliner, lean back and relax for a few hours. The footrest will immediately pop out so that you can keep your foot in the desired spot.
The padded cushion of this recliner is firm, soft and can give you coziness while sitting or lying flat. The high back of the recliner provides good lumbar support. So, if you have backache issues, this recliner will work well for you.
The legs of this recliner chair are made from birch wood which is sturdy and durable. The four legs provide a strong foundation for the leather recliner.
Features
Color -Brown
Cushion seats
Birch wood frame material
Weight of the recliner -69.45 pounds
The recliner can be adjusted to 135 degrees.
Seat cushions with high-density foam.
You can manually push back this chair.
The chair is 34.5 inches in width and 41 inches in height.
Pros
Easy assembly
The recliner is smooth and sturdy.
It Looks expensive.
Attractive design.
Easy to clean
Cons
Difficult to recline and unrecline.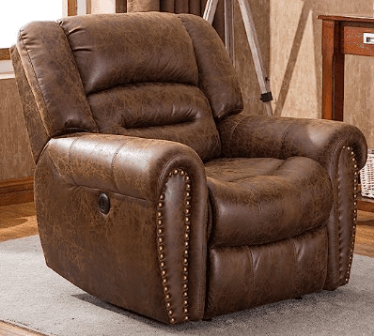 The electric reclining system in this chair is quite beneficial for physically challenged and diseased people. It has USB charging port on the right side that helps charge any devices within reach. The leather is even breathable and easy to clean. 
The overstuffed pillows on the head and back can be used for various purposes like reading books, watching television, etc.ANJ offers one year warranty to customers. So, if you find any damaged or missing parts of this recliner after purchasing, you can exchange it within one year.
Features
Leather -Faux leather
The frame comprises alloy steel
Item weight -99.21 pounds
Electric recline system
Long lifespan
Easy to assemble
USB charging port present on the right hand of the chair.
Comfortable armrest
Durable metal frame.
Easy to clean.
Maximum weight recommendation -300 pounds
Seat height -18.3 inches
39 inches in height
39 inches width
Pros
Soft and comfortable
Good reclining positions
Smooth motion
Cons
The chair is unsteady.
It may not be suitable for tall people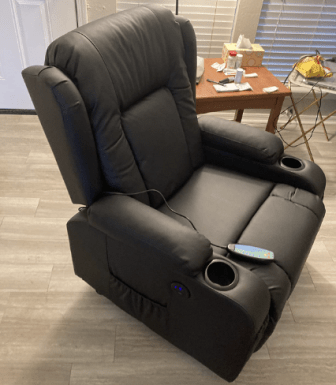 The versatile electric power lift recliner is perfect for your living space. Its design and features will attract almost everyone. Additionally, it gives a classy look to your house. You can operate this chair with the push of one button. You will find a button on the sides of the chair with which you can tilt forward or recline in this chair.
The electric power lift recliner is equipped with various exciting features, i.e., remote control and three massage modes aiming at the high or low intensity of the lumbar, thighs, and lower legs. There are even heat settings that will provide warmth in your lumbar area.
The recliner chair has a USB port where you can charge wireless devices. There are even side pockets near the arm of the chair where you can keep books or novels and utilize them while sitting in a reclining position.
Features
Maximum weight capacity -330 lbs
Weight of the product -100 pounds
34.6 inches width
41 inches in height
Sturdy
Equipped with three massage modes
Power lift design
Pros
Easy to assemble
Equipped with massage modes and hence wholly relaxes the body.
Soft cushion arms
Easy to clean
Excellent massage and heating functions.
Cons
Some customers find massage functions a bit cheap.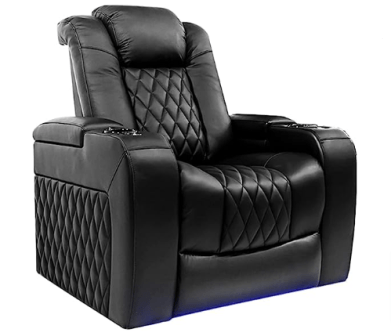 The durable foam cushions of the Valencia Tuscany recliner will provide comfort while sitting. You will find top-grain Nappa 11000 leather on both seat and armrest surfaces which is quite soft and smooth to the touch. You can keep this recliner in the home theater room, undoubtedly adding a luxurious look.
It includes a power headrest and lumbar support to adjust cushions according to your spine shape. So individuals with back ache problems will get relief while using this chair. You will find a USB port in this recliner to charge small nearby devices.
 Additionally, this recliner has a deep arm storage compartment and LED-lit cup holder, which is quite an attractive feature. The wall-hugging design lets you stay within 5 inches of space from the wall.
Features
Item weight – 157 pounds
Maximum weight recommendation -300 pounds
37.5 inches width
43.5 inches height
40 inches depth
Diamond stitch leather.
Powered recline
Powered lumbar support
Powered headrest
Wall-hugging design.
Pros
Easy to assemble
Provide comfort
Leather quality is excellent
Motor movement is smooth and swift.
Cons
Some customers find difficulties in switching off the lights on the control buttons.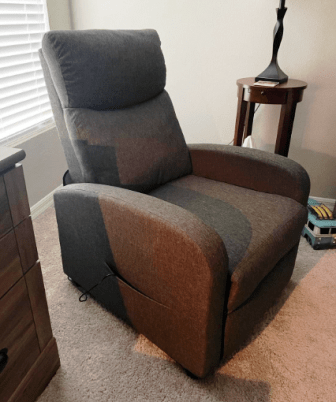 The Zunmos recliner chair has foot extension and relining back features, which will relieve your stress and anxiety. The recliner chair can be adjusted from 90 to 160 degrees.
 You can sit on this chair upright, recline with your feet up, or nap by lying flat on this recliner chair. You can keep this recliner chair in your bedroom, living room, or home theater. You can keep this chair not only in your home but also in business places.
The Zunmos recliner chair has a massage function that can deeply massage your tissues and provide relaxation. It has eight massage modes, two vibration choices, and adjustable intensity. There is one massage mode that will give comfort to your spine. So, if you have back pain problems, you can utilize this recliner chair to relieve back pain.
This recliner chair comprises good quality PU leather, a high-density fill sponge, and a wooden frame to add stability and durability.
Features
Weight capacity -275lbs
Easy installation
Comfortable backrest
Steel frame
34.25 inches width
38.58 inches in height
Maximum weight recommendation – 275 pounds
Designed with eight massage modes
Pros
Massage lumbar within control.
Easily move the recliner chair
Quite easy to clean
Sturdy
Provide all sorts of comfort
Cons
Some customers say the footrest will not return to its original position after using the recliner chair for a few weeks.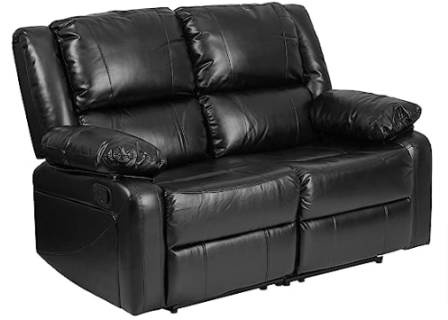 If you have traditional furniture and now thinking of changing it, then recliner chairs will work fantastic.
 They add style to your house and provide all sorts of comfort. You can purchase the Flash furniture double reclining sofa for your home. The best thing about this recliner is that you can quickly assemble it. It can accommodate a maximum capacity of 300 lbs.
 The contemporary style of this recliner will fit well in your living room, den, or basement.
You need to pull the recessed lever for reclining, and it will provide good neck and lumbar support.
Features
The weight of the recliner is 100 pounds
Seating capacity -2
The height of the seat is 17.5 inches
The recliner is 56 inches wide and 38 inches in height.
Arm height is 8 inches
Plush padded arms
Pros
Easy to assemble
Provides comfort
It will feel more expensive than the actual price.
The leather is of good quality and provides comfort while seating.
Sturdy
Cons
The depth of the recliner was a bit short for some people.
The Barca Lounger Longhorn II leather recliner comprises 100 percent top-grain leather and wooden legs.
You need to push the chair gently, and then you can sit in a reclined position and watch television. The nail trim of this recliner just looks outstanding.
Features
Maximum weight recommendation – 285 pounds
The recliner weight is 110 pounds
Classic style with a solid pattern
Roll arm style
41 inches wide
40 inches height
38 inches depth
One-year warranty on manufacturing defects.
Pros
Looks classy
Comfortable
Leather looks gorgeous
Easy to set up.
Cons
Some customers say that the back of the recliner does not stay in the desired position.
Conclusion
Leather recliner chairs provide comfort and are good for your health. It reduces aches and pains and gives complete body and mind relaxation. 
Another great advantage is that leather recliners are pretty easy to clean. You just have to wipe the dust with a damp cloth, and it will be clean.
We have discussed the above nine best leather recliner chairs and the advantages and disadvantages of buying the chair. You can buy any of the leather recliner chairs and give your room a luxurious and classy look.
MORE POSTS: 5 Best Leather Conditioners for Cowboy Boots