Best Window Tints for Home Heat Reduction
Last Updated on 4 hours by admin
Window tints also called window films are laminate films that can be installed on car windows, office windows, or home windows. These tints or films are made of polyethylene terephthalate (PET) a type of thermoplastic polymer resin of the polyester family and is used in fibers for clothing, containers for liquids, and foods.
There are advantages to using tint on the window. Window tints can protect us from harmful radiation, and heat and also provide privacy.
Window tints can be categorized on the basis of their uses, and composition material. Common window tints are dyed, pigmented, metalized, ceramic, or nano for different uses.
MORE POSTS: Best Leather Conditioner for Jackets
How to install window tints at home using a DIY kit?
You can also install window tint at home using a window tint DIY kit. A DIY window tint kit generally comes with a Rubber Squeegee with handle, one Squeegee with Fabric Felt, one Scraper, one Contour Tint Squeegee, one Conqueror Squeegee, one Block Squeegee, one Film cutter or trimmer, one window cleaning solution with a spray bottle.
Gila Window Tint Installation DIY Kit
This is a simple DIY window tint kit from Gila. It has everything that you need to install any window tint at home. This kit includes one ready-to-use spray solution bottle for window cleaning, a lint-less cloth, one Tint film trimmer, and one hard card squeegee. Check the price on Amazon>>>
Time needed: 30 minutes
It is super easy to install a tint using this DIY window tint kit at home. Follow the below steps to successfully install the tint.
Make sure everything is clean.

Clean the window surface properly. Make sure no corners and edges are missed. This step is very important. If you do not clean nicely, the tint will come out after a few days. Now clean with a lint-free cloth. Old clothes like t-shirts are best for this. Do not use window cleaning products with ammonia that may react with window tinting adhesive.

Measure and cut the window tint size.

Measure the size of the tint you require and cut using the film cutter or a scissor provided in the DIY kit. Keep one or two inches longer than the window size which can be trimmed off later on.

Spray shampoo solution onto the window.

Spray the baby shampoo mixed with water on the window. Take about 5ml of shampoo for a 300 ml spray bottle and mix it with water. Cover the entire window surface.

Install the tint on the window surface.

This is the main part of the process. Expose the adhesive part of the tint from a corner. Take the help of someone to place the tint on the window. Start from a corner. Carefully remove all the adhesive parts and completely cover the window.

Squeeze with a rubber squeegee.

Spray a little shampoo over the tint that will make the squeegee glide easily. Start pressing with a rubber squeegee from one direction to another.

Trim off the extra film from the edges.

Using the film cutter provided in the DIY kit, carefully trim off the extra film from the corners and edges. Clean the window as you normally do and voila all is done!
MORE POSTS: Best plants for window boxes all year round
Watch the video if you are struggling with any steps explained above. You can also comment below I will help you.
MORE POSTS: Best leather conditioner for cowboy boots
List of Best Window Tints for Home Heat Reduction
Normal window glass can not protect us from heat waves. A window tint film blocks infrared rays and reduces the heat waves indoors. Besides keeping your home cool, other advantages of a window tint film are providing security(prevents accidental glass break), privacy(as most tints are dark), protection from UV light, and glare-free surface. Along with these advantages window tint with beautiful graphic design adds beauty to normal window glass.
Coavas Static Clings Opaque Vinyl Privacy Window Tint
Blocks harmful UV rays and allows only soft lights. It is also opaque that no one can see through from outside. Recommended for office and home.
PROS
Blocks UV rays and protects interiors from heat.
Provides privacy because of the opaque film.
Reusable and glare-free.
Gila Privacy Black Static Cling Residential DIY Window Tint
This tint film blocks about 58% of outside sunlight. Best for those who want privacy as well as protection from heat and UV rays. Gila window tint film is easy to install using a DIY window tint kit.
PROS
High-quality material at an affordable price.
Reduces glare.
Protection from UV rays.
VELIMAX Static Cling Dark Window Tint
This window tint film is non-adhesive and works for complete privacy. If you want to block 100% light from outside this is the best tint. Apart from privacy, protection from heat is one more advantage.
PROS
Reusable design can be removed and reused.
Non-adhesive tint film.
Best for Room Darkening and Heat protection.
One Way Mirror Film Daytime Privacy Static Window Tint
This one-way mirror film blocks 85% of infrared rays to make your home cooler than a normal window. It also blocks harmful UV rays and protects indoor furniture.
PROS
Static and Non-adhesive.
A high-quality film that protects from UV and infrared rays.
Daytime one-way mirror.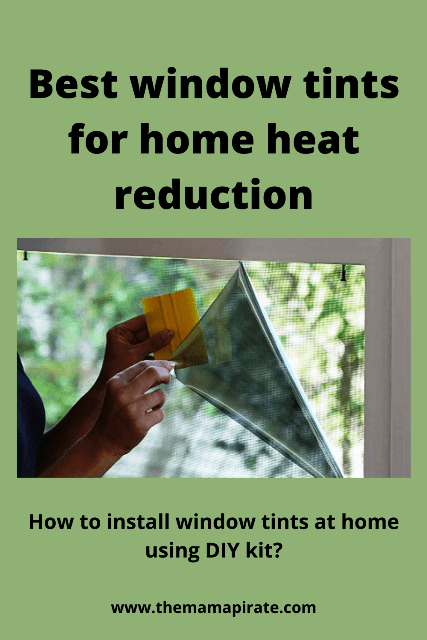 Best Window Tints for Heat Reduction
MORE POSTS: How to clean mold off of a leather jacket?