15 Free Things to Do in Corpus Christi
Last Updated on 4 months by admin
If you have plans to do something in Corpus Christi for an upcoming vacation or weekend getaway, it is time to get out your pens and write down your ideas. Whether you are new to Corpus Christi or mostly a local, this Texas Gulf Coast city offers museums, parks, botanical gardens and nature, outdoor recreation, water sports, the Corpus Christi Bay Trail, and long stretches of untouched wilderness. Natural golden sand with underlying emerald Gulf of Mexico green tones has something to offer everyone. Below are some ideas for free things to do in Corpus Christi, Texas. 
Top Free Things to Do in Corpus Christi
Corpus Christi is located about 223 miles south of San Antonio. It is also known locally as the Texas Riviera and is located on Corpus Christi Bay and Nueces Bay. The nearby Aransas Bay, Copano Bay, and Laguna Madre are also easily accessible. With such access to the ocean, you can find great seafood. The area has casual and fine-dining restaurants, cafes, and beach bars. There are various opportunities for deep-sea fishing as well.
Are you wondering what Corpus Christi is known for? It's the wind. Corpus Christi is a great area for windsurfing, kite surfing, and sailing. The windsurfing world championships are held there. From beaches and bays to downtown Corpus Christi, we've rounded up a wide range of Corpus Christi attractions, activities, and fun things to do.
1. USS Lexington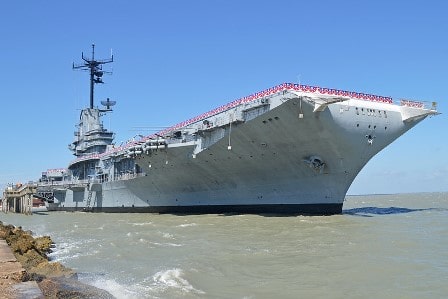 USS Lexington entered service in 1943 and was a major part of the Pacific Theater of World War II. She played an important role as a fighter carrier at Pearl Harbor in the 5th Fleet. Its dark blue color made it a striking camouflage to deceive the Japanese military, giving it a special nickname: blue ghost.
Today, the USS Lexington is well worth decommissioning after her successful career and has been found in Corpus Christi Bay since 1992. The museum educates travelers about the history and function of naval warfare and aviation while showcasing its history and heritage. Plus, there's a flight simulator, a special escape room, a 3D movie, and a virtual battle station.
With five different itineraries for self-guided tours of the USS Lexington, there's no shortage of ways to explore its 1,000-sq ft interior. Attraction spots include the command center, crew quarters, flight and hangar decks, the forecastle, and several vintage aircraft. Specialized tours, such as Paranormal Hunting Tours and Overnight Camping Tours, give access to even more parts of the ship.
2. South Texas Music Walk of Fame
The South Texas Music Walk of Fame is alike the Walk of Fame in Hollywood but on North Water Street. It was established in 2004 as a gift from the owner of the Water Street Oyster Bar. It originally had six stars on the South Texas Music Walk of Fame, but it has grown and now has 93 stars. All of these stars represent the names of legendary musicians from South Texas. A variety of restaurants are also available around this sunny courtyard. The Corpus Christi Visitor Center and Executive Surf Club are steps away. 
3. South Texas Botanical Garden and Nature Center
Nature lovers on board should visit the 180-acre South Texas Botanical Garden and Nature Center. It is one of the best Corpus Christi attractions for exploring nature. Parrots, reptiles, butterflies, and hummingbirds soar, fly, and crawl among the vineyards, orchids, and rose gardens at the South Texas Botanical Gardens. Visit tropical and desert-themed gardens and greenhouses, relax in butterfly huts and hummingbird gardens, and stroll nature trails.
The South Texas Botanical Garden also has sensory gardens you can explore with your five senses. It is designed as an educational tool. Guides help visitors discover textures, scents, colors, and even edible flowers throughout gardens and nature centers. Located on the main street of S. Padre Island Drive, it is perfect for its proximity to the coastal town of Corpus Christi's nature centers, attractions, and activities. It features an on-site restaurant, pool, fitness center, billiards room, barbecue facilities, and a terrace.
4. Corpus Christi Center for the Arts
The Corpus Christi Art Center is an art gallery on North Shoreline Boulevard. It was founded in 1972 to promote local artists and keep art alive in the diverse Corpus Christi community. The Corpus Christi Art Center covers an area of ​​25,000 sq mt and is visited by nearly 200,000 people annually. Here you can also browse and purchase intriguing works of art. The Corpus Christi Art Center features several art installations, paintings, ceramics, and photography. You can also visit the Barry Brown Clay Studio inside the art center. They offer free clay art courses for beginners to advanced artists. 
5. Padre Island National Seashore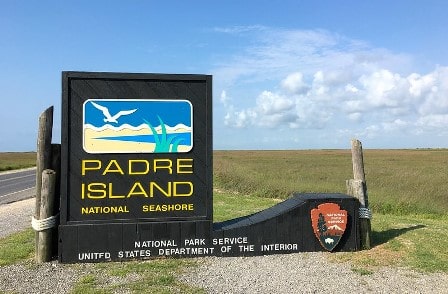 Are you looking for a great getaway or beautiful vacation spots this weekend? One of the most delightful and beautiful spots off the coast of Corpus Christi is Padre Island National Seashore. The 110-mile-long walled island is undeveloped and ideal for tourism. There are 130,000 acres worth of dunes, beaches, and grasslands. The island separated the ultra-saline Laguna Madre from the Gulf of Mexico and was historically owned by four nations.
It was established in 1962 and sits just above the Central Flyway, one of the bird's most important migratory routes. It's the perfect spot for avid birdwatchers, with the chance to glimpse about 380 bird species—many endangered species and marine life, such as sea turtles. Of course, the big attraction of Padre Island National Seashore is the beach activities. You can swim, windsurf, scuba dive, see sea turtles, cruise, or rest and relax on the sandy beach with a book and an umbrella. Corpus Christi Science and History Museums
Go to the Corpus Christi Museum of Science and History for fun and learning. The Harbor Bridge, American Bank Center, Hurricane Alley Waterpark, and Corpus Christi Harbor are nearby. There are exhibits on local South Texas history, prehistoric predators, Spanish shipwrecks off the coast of Texas, railroad history, coastal ecology, and earth science. There is also a 5,000-sq ft exploration area, especially for kids. Walk, feel, and discover to your heart's content. Visit the Xeriscape Gardens before leaving the Corpus Christi Science Museum. 
6. Harbor Bridge
This beautiful arch bridge connects downtown Corpus Christi with Rincon Point, also known as North Beach. Enjoy unobstructed bay and stunning sky views on this iconic bridge. The breathtaking bridge and majestic architecture make it a popular tourist destination. The local government announced the plans to demolish the bridge after the new and improved bridge is completed in 2023. Afterward, you'll find this iconic bridge only in photographs and books hidden in the local museum.
7. Corpus Christi Bay Trail
The scenic 9-mile Waterfront Walk connects many of the city's attractions. Pass the South Texas Art Museum, Harbor Playhouse, several parks, Corpus Christi Marina, Anderson Amphitheater, and Museum of Science and History. You will also see sailors, windsurfers, and kiteboarders. There is a waterfront trail, perfect for taking in the scenery and relaxing with a picnic. The trail begins at the South Texas Art Museum and leads to Texas A&M University-Corpus Christi at the southern end (the Texas A&M Hiking and Biking Trail).
8. Texas State Aquarium
The most amazing thing to do in Corpus Christi is to visit the Texas State Aquarium. Since 1995, the aquarium has been a non-profit facility showcasing the amazing wildlife of the Caribbean Sea and the Gulf of Mexico. With a mission to rehabilitate, rescue, and protect marine animals and to educate guests on the importance of this mission, the aquarium offers diverse programs, many exhibits, and a wealth of information.
The Texas State Aquarium has numerous exhibits. Of particular note is the Living Shores exhibit, which features information on Corpus Christi's Lake Madre and one of the state's greatest touches in the pool experience: a crab and seahorse exhibit. Atlantic bottlenose dolphins live here, and you can see them underwater. There's the Floating Phantom, which is home to nettles and jellyfish.
If you are interested to see animals other than fish, you can watch a variety of raptors performing acrobatics at the Horn Wild Flight Theater inside the aquarium. Plant lovers will love the reef flower gardens, home to moray rays, green moray eels, and tarpon. There's also a splash park, wildlife programs, and a children's fossil dig.
9. Texas Surf Museum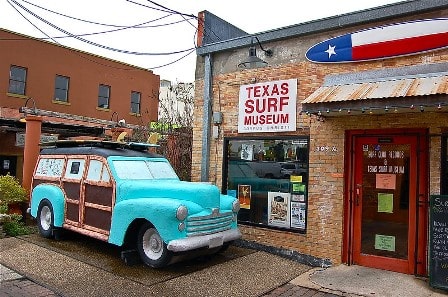 Texas surf culture comes alive at the Texas Surf Museum. The museum's mission is to educate and encourage visitors about surfing culture, the fun and health benefits of the sport, and conservation efforts to protect the waterways of the Texas Gulf Coast. After learning about surf culture, grab a bite to eat at the Executive Surf Club, Water Street Oyster Bar, Lucy's Snack Bar, or La Playa by the bay. The Residence Inn by Marriott Corpus Christi Downtown is a pet-friendly hotel near Texas Surf Museum, American Bank Center, and McGee Beach. It offers a swimming pool, fitness center, bar, and free Wi-Fi.
10. McGee Beach
McGee Beach is a family-friendly beach on Shoreline Boulevard. Calm, algae-free waters are perfect for an afternoon swim with loved ones. Children will have an outstanding time in the gentle sea waves. McGee Beach is also beautiful for sunbathing, fishing, boating, and other water activities. You can also play volleyball on the well-maintained sandy beach. There is no admission fee to enter McGee Beach, but you can rent jet skis, cabanas, umbrellas, and chairs on the beach. McGee Beach is also close to some of the city's best hotels and shops, making this location even more appealing.
11. Serena Museum
The queen of Tejano music, Selena Quintanilla Perez, is an iconic Grammy Award-winning Latin pop artist who rose to become the world's top charting artist in her genre at a young age. She recorded four albums in her lifetime but was murdered by her fans at 23, more specifically, the former president of a fan club dedicated to her. Since she died in 1995, her career has been admired, respected, and remembered by many.
In 1998, her family opened Selena Her Museum to complement her studio, Q Productions. The museum showcases portraits, famous costumes, gold and platinum albums, the story of Selena's life, the red Porsche she loved, reproductions of her studio, awards, and her influence on the music scene. Fan or not, this is one of her not-to-be-missed things in Corpus Christi. Don't forget that when you're done, you can walk to the seawall at Seaside Memorial Park to see the memorial bronze statue called "Flower Observatory."
12. Aransas National Wildlife Refuge
Visit the Aransas National Wildlife Refuge for Corpus Christi's outdoor attractions and fun activities. It is part of a barrier chain of islands along the Texas coast, far from farms, ranches, and longhorns on the mainland. Go waterfowl hunting, pier fishing, hiking, and biking on 115,324 acres of designated trails on the southwestern side of San Antonio Bay. 26 miles of roads allow you to explore the area by car. Climb the lookout towers and lookouts for a bird's eye view of the Aransas National Wildlife Refuges reserves, bays, and marine life.
Established in 1937, the Aransas National Wildlife Refuge is home to American alligators, Kemp's ridley sea turtles, burrowing owls, spotted ducks, and endangered Sarus Cranes. If you want a hotel near Aransas National Wildlife Refuge, close to Rockport Beach Park and Fulton Mansion, Hampton Inn & Suites, Rockport Fulton, is a good choice. It features an outdoor pool, laundry facilities, and a fitness center and includes free Wi-Fi, complimentary breakfast, a microwave, a compact refrigerator, and a coffee maker. The Lighthouse Inn at Aransas Bay is another good option near Aransas Wildlife Refuge. A restaurant, pool, business center, gift shop, and outdoor seating area are on site. You can choose a room with a water or pool view.
13. Whataburger Field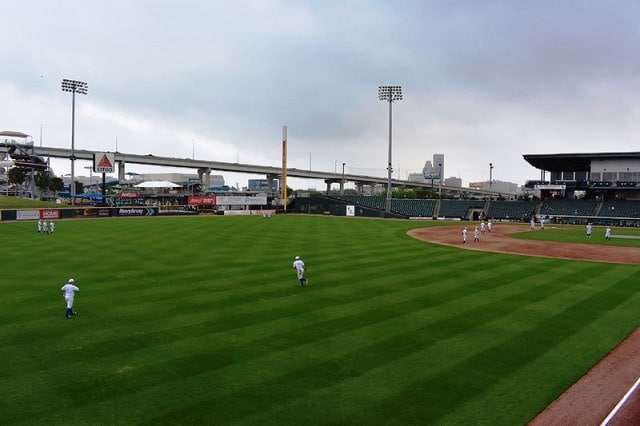 Whataburger Field is the premier playground in the city and one of the coolest local attractions for sports enthusiasts and entertainment seekers. This field is a baseball field and was completed in 2005. It has 7,000 seats, a kids' park, a youth baseball field, and a VIP lounge. Its design tributes history with small Easter eggs, such as using an antique cotton press as a scoreboard.
A minor league baseball stadium, Whataburger Field is home to the Houston Astros, a Double-A Texas League affiliate known as the Hooks. It has various additional facilities in Corpus Christi Port, including an air-conditioned Cotton Club recreation area, a climbing wall, several basketball courts, and even a trampoline. Numerous stalls sell crackers, beer, hot dogs, sandwiches, peanuts, pretzels, sodas, burgers, funnel cakes, and more. 
14. Horses on the Beach
Do you love horses and are looking for a way to do something related to these amazing equine creatures in Corpus Christi? Check out one of the most fun activities in this Texas town, Horses on the Beach. They offer various horseback riding experiences and adventures for all types of people, allowing you to explore the city's attractions while on horseback. It has well-trained animals and knowledgeable and experienced guides to ensure nothing goes wrong. For those with riding helmets and other safety equipment, it's a quiet and easy way to explore the seaside town.
15. The Padre Island National Seashore on the Gulf Coast 
Nestled between Mustang Island and the Padre Island National Seashore on the Gulf Coast, Padre Bali Park is a seaside attraction with miles of beach. The park's 440-m tall Bob Hole Jetty offers fishing for grouper and brown trout. Enjoy a light meal at Mikel May's Beachside Bar & Grill next to Bob Hall Jetty. You can get a golf cart on rent and explore the Gulfside location at Bob Hall Jetty. Camping facilities include 100 paved RV sites and 12 tent areas. Shower houses, plumbing, picnic tables, and free Wi-Fi are provided. It has 2 bedrooms, 3 bathrooms, kitchen, living room and dining area. This beautiful holiday home offers an outdoor pool, terrace, and free Wi-Fi.
Conclusion
Corpus Christi offers so many free attractions and things to do that many travelers have this place on their bucket lists. So, do not delay any more. Grab your luggage and come to this beautiful country with your loved ones. Happy vacation! 
MORE POSTS: Where and What to Eat in Bora Bora (Food Guide)