List of Kitchen Essentials for New Homeowners
Last Updated on 11 months by admin
Having the appropriate kitchen equipment is necessary to prepare any meals. But when you want to buy cookware for your new pantry or improve the equipment quality, you will see it is not at all an easy task. Besides, when you begin your cooking journey, you have confusion regarding what to choose and what is the best cookware. But as you spend more time in the kitchen and prepare foods, you will know which tools you need and which do not.
So, do you have a new home? Do you want to decorate your kitchen with beautiful and essential kitchen tools? Here we have tried to make the task simple for you as you can navigate the kitchen essentials with ease by finding what you require right away. So, why waste time? Let us dig into the versatile, high-quality, durable, and affordable kitchen tools list. But before this, you must understand the meaning of kitchen basics essentials. 
What do you mean by kitchen basics essentials?
When it comes to the kitchen basics, it is all about kitchen tools, equipment, and gadgets. These are tools and gadgets we use for our day-to-day cooking. These include knives, chopping boards, utensils, electrical appliances, and the list never ends.
Kitchen essentials checklist
Before you delve into the details of kitchen essentials list, look at the below checklist. It will help you to prepare a list based on your requirements.
Kitchen Cookware List
Saucepan
Frying pan
Baking sheet pan
Sauté pan 
Roasting pan
Grill pan
Non-stick skillet
Wok 
Splatter guard
Large stockpot 
Baking dishes
Dutch oven
Stockpot
 Kitchen Appliances List
Gas oven
Induction oven
Microwave oven or OTG
Refrigerator
Toaster
Coffee Maker
Blender 
Immersion blender
Griddle 
Kettle
Rice cooker
Juicer
Food Processor
Electric frying pan
Electric griller
Kitchen Utensils List
Spatula 
Shears 
Zester
Grater
Vegetable Peeler
Measuring cups
Measuring spoons
Tongs
Potato Masher
Ladle
Knife sharpener
Trivet
Colander
Rolling pin
Pizza Cutter
Wisk
Bottle opener 
Ice cube trays
Set of bowls
Mixing bowls
Garlic press
Corning Ware
Eating Utensils List
Plates
Glasses
Wine glasses
Spoons
Teaspoons
Forks
Knives
Steak knives
Cups
Coffee mugs
Bowls
Food trays or serving platter
Kitchen Knives List
Bread knife
Boning knife
Chef's knife
Utility knife
Paring knife
Kitchen shears
Steak knife set
Carving knife
Cheese knife
Kitchen Tools List
Wax paper
Parchment paper
Can opener
Tinfoil
Cutting board
Drying rack
Drip tray
Kitchen scale
Salad spinner
Meat thermometer
Baking sheets
Turkey baster
Pots and pans
Pizza pan
Cooling wire
Oven mitts
Cooling mat
Standing mat
Splatter guard
French press
Sealable containers
Sharpening rod
Kitchen Cleaning Essentials List
Broom
Duster
Mop
Microfiber cloths
Pot scrubber
Recycling Bags
Garbage bags
Garbage can
Magic Eraser
Rags
Windex
Vacuum
i-Robot
Cupboard liners
Swiffer or duster
Kitchen Supplies List
Paper towel
Napkins
Dishtowels
Sponge
Dish soap
Cleaning gloves
Cling film
Chip clips
Ziploc bags
Dishrags
Scrubber
Ice cube tray
Kitchen fridge magnets
Stepping stool
Whiteboard
Tea Steeper
Meal planning sheets
Reuse-able straws
MORE POSTS: Best Leather Conditioner for Jackets
Kitchen essentials for new homeowners
So, enough of the introduction and equipment list, now it is time to look at the essential tools you must stock in your new kitchen. With this list of 53 kitchen essentials, you will be ready for every midnight craving and dinner party that comes your way.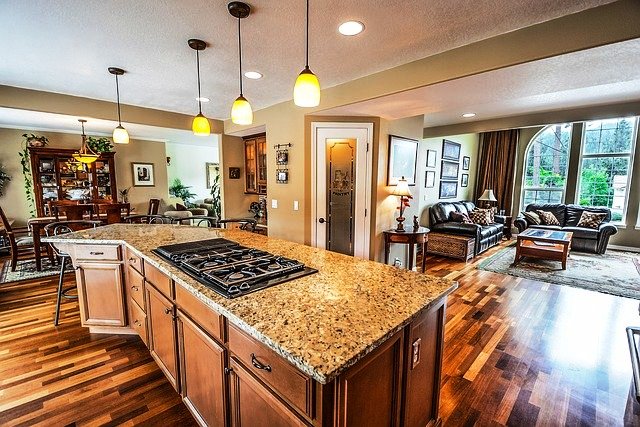 1. Kitchen utensils essentials for new home
1.Chef's knife
Though these knives are the best friend of chefs', you can overlook the fact and invest your money in it. It can be your ideal companion also, as these tools are heavier, sharper, and you can chop and cut with ease and comfort. The carbon-plated stainless steel blade will stay sharp even if you use it frequently. Besides, these knives are easy to hold and control, and you will get a better grip while cutting or chopping. Therefore, it is must-have kitchen equipment for your new pantry. 
2. Knife set
Though you can use a chef's knife, you also need to purchase a knife set to do any job. You need to find a set with a paring knife, a serrated knife, and honing steel. Besides, you will get a knife set that comes in a block. It is better and preferable as you can store it in the drawer without taking much space. With a knife set, you can cut and chop fruits and vegetables as per your comfort.
3. Vegetable Peeler
To make delicious foods, you need to peel many vegetables. Therefore, having a vegetable peeler is necessary. Besides, you can cut out the risk associated with a sharp knife. Your fingers will appreciate it later. In addition, if you have one, it will never take much space as you can keep it in your kitchen drawer. Therefore, it is a vital pantry tool that will help you to peel the potato, cucumber, and many other veggies. 
4. Grater
Graters are one of the essential kitchen tools that are good for everything. You can grate cheese and fresh fruit zest to decorate your fancy dish. You will get various grating sizes so that you can do any grate-related things with one piece of equipment. On top of all, these items are very affordable and require less storage space also.  
5. Kitchen shears
Do you want to open up the packaging and trim fat from meals? If so, then nothing is better than a kitchen shear. You can do these tasks comfortably, efficiently and avoid using sharp knives. Besides, you can also snip away herb stems, trim the crust off a pie, and cut up an entire chicken with the assistance of this versatile pantry tool. But while purchasing, always look for one that is dismantled for cleaning. It will help you avoid hinge build-up.
6. Tongs
It needs only a few bucks to get a tong, but it is one of the essential kitchen tools that help your cooking significantly. You can turn chicken breasts and legs and many other things with a tong. You can also use it as serving equipment as it is a perfect alternative to your fingers. But while purchasing one, select a cheap pair of metal tong as it offers durability.
7. Whisk
One of the famous, preferable, and essential kitchen tools is the whisk. You can utilize it to mix dry or wet ingredients, stir eggs for omelette or frittata, and emulsify a vinaigrette. You will get sturdy metal whisks in various shapes and sizes. But always select a mid-sized one with a handle as you can do everything with this and fit comfortably in your hand. However, many people use an electric hand blender for mixing food ingredients or stirring eggs. But why consume electricity when you have this little pantry equipment.
8. Microplane
A Microplane is another useful pantry accessory that helps you to garnish an appetizing dish. You can add thin sprinkles of orange zest to a fish dish or Parmesan over a pasta dish with this little tool.
9. Colander
You can wash fruits, boiled foods and drain pasta and veggies with this versatile kitchen tool. You will get ceramic or metal-based colanders that are sturdier than plastic. It is preferable equipment as you can keep it on the edges of the sink with ease and use it when you need it. 
10. Spatula
The spatula is a modern and versatile kitchen equipment that offers multiple services. A high-quality plastic spatula is crucial for tossing, flipping, and serving different delicious food items. You can use it for preparing egg omelettes, roasted vegetables, puffy pancakes, sauteed meats, baked salmon, and the list never ends. Besides plastic, you can also buy a silicone spatula for folding egg whites into a cake batter, swirling frosting onto a cake, or scraping out the food processor. But always be careful while selecting one, as you need to ensure that the spatula is silicone, not rubber. If you purchase a rubber spatula, it might melt in high heat. 
11. Slotted spoon
You will get this tool made of metal or wood. It works like a tiny strainer that can remove solid staff from liquids efficiently. For example, you can pull small pasta noodles and potatoes from boiling water without much hassle if you use a slotted or perforated spoon. 
12. Silverware
You should at least keep four of each kind of silverware. It means you need to purchase spoons, forks, butter knives, and steak knives for your kitchen. They look nice, and your guests can eat delicious dishes comfortably by using them.
13. Dinnerware
Just like the silverware, you should also keep dinnerware in your pantry for at least four people. If you purchase a dinner set, you can use it as plates and bowls. Besides, you need to select one by verifying whether it is dishwasher and microwave-safe or not. 
14. Can opener
People often face difficulty opening a can during cooking. In such cases, a can opener might be an ideal friend for them. Besides, you also can keep it in a drawer. But make sure that your selected can opener does not lead to hand cramps. 
15. Corkscrew
Apart from the can opener, it is also a must-have kitchen tool if you love to drink wine. This little tool can help you to open up wine glasses without harming your hand. 
16. Cutting board
It is a must-have kitchen tool. You can never imagine cooking without this equipment. High-quality and stable surface plastic or wooden cutting board is essential when it comes to cutting or chopping veggies for your food. Besides, a sturdy wooden board will safeguard your knife from dulling. 
17. Oven mitts and pot holders
During cooking, you want to protect your hands from burning and keep the kitchen surface clean. For this, nothing is more beneficial than having oven mitts and potholders. You can hold heated cooking items with ease as these items are composed of high-heat-resistant silicone.
18. Potato masher
Some people ignore the usefulness of a potato masher as they have a bulky shape and take up much space in your kitchen drawer. But it is an outstanding tool and helps you in many ways. It has different names also, like tater masher, pea masher, bean masher, or crusher. You can use this kitchen accessory to crush soft food for recipes like apple sauce, mashed potatoes, or refried beans. So, if you ignore its size and appearance, you can utilize it to make many food items. 
19. Salad spinner
A salad spinner is the best buddy for many people when it comes to having a crisp salad. People also refer to it as a salad tosser. You can use it to wash and remove additional water from salad greens. There is an application of centrifugal force for separating the water from the leaves. It also enables salad dressing by clinging to the leaves with no dilution.
20. Garlic press
Like others, you also feel frustrated to peel and press garlic, right? In such scenarios, nothing is better than having a garlic press. This kitchen tool presses garlic cloves through its tiny holes, and you can extract the garlic pulp, juice, and oil from the garlic. But, clean this equipment adequately unless it will not work effectively. It is so as some garlic pulp might remain on the press, and they also dry quickly. 
21. Knife sharpener
You frequently use your knife for cooking purposes. But if you do not take proper care of its blades, you cannot cut or chop salads and veggies finely. After all, keep your knives sharp to make cutting jobs effective. For this, you should purchase a knife sharpener to keep the blades sharp and effective.
22. Ladle
This kitchen tool is essential as you can use it for serving liquid food recipes like stews, sauces, or soups. 
23. Trivet
A trivet is nothing but a heat-resistant pad. You can place hot dishes and cookware on it and protect your table from burning. They are not only functional but fashionable as well. 
24. Splatter guards
A splatter guard is a kitchen tool that you can place on top of skillets during high-heat cooking. It will help your stovetop from splattering hot oil and food.
25. Large spoon
It is another super versatile tool that helps you scoop, stir, and serve most dishes. You can locate multiple alternatives from metal and wood to plastic and nylon. But it is advisable to buy a nylon one as it tolerates high heat, does not pick up food stains, and is easy to clean. 
26. Measuring spoon set
You should keep a set of measuring spoons if you do not have the perfect chef-like fingers and can pinch up a perfect half-tablespoon ingredient. So, locate one with simple-to-comprehend measurement labels and a ring. The ring will enable you to dismantle the set, and you can clean individually with ease.
27. Measuring cup
Apart from a measuring spoon, it is also an indispensable kitchen tool. A measuring cup will help you to melt butter and chocolates and pour them into other ingredients. Besides, you can measure flour quantity while baking cake efficiently. So, why bother about the quantity mistake? Buy this pantry equipment and use it accordingly.
28. Kitchen scale
Kitchen scales come in handy when you want to measure your cooking ingredients' weight. They come in two versions- digital and analogue, and you can select any depending on your preference. You can measure anything you desire on a kitchen scale. But they are beneficial for separating quantities of meat.
2. Kitchen cookware essentials for new home
1. Saucepan
A large and high-quality saucepan is quintessential for making soup, pasta, boiling potatoes, or corn. You can purchase a smaller saucepan of 1.5 or 2.5 quarts for boiled eggs or prepare oatmeal and rice. Besides, you can buy a 5- or 6-quart size for other cooking purposes.
2. Sheet pan
It is a fabulous kitchen tool for baking cookies. Besides, you can cook chicken with vegetables, foil-wrapped fish fillets, roast veggies, and deep-dish pizza. On top of all, you can clean them without wasting time and effort.
3. Skillet
Every kitchen requires a skillet. You can do many things from toasting sandwiches and fried eggs to ground veggies and beef with this versatile equipment. You can buy a cast-iron skillet as it can evenly heat to high temperatures. It also retains heat for a longer duration than other skillet types.
4. Dutch oven
You can call it a perfect alternative for a slow cooker. A dutch pan can go on the stovetop or in the oven with ease and allow you to sear meat and slowly cook a stew for hours in a low oven. You can also utilize it as a saucepan and bake bread. So, there is no doubt that a dutch pan is vital kitchen equipment for modern days.
5. Stockpot
You can boil potatoes, make soups or stews, and cook spaghetti sauce with the assistance of a stockpot. They can hold heat and are durable as they are thick, sturdy, and made of multi-layered design. But when purchasing, remember to select one that has a lid and is at least 6-quarts in size.  
6. Grill pan
Grill pans have achieved popularity in modern times. You can make barbecue or can get grill marks on sandwiches and roasted fish. Though it is not a barbecue, you can use it with ease. Besides, you only require a stove top element for this. So, it eliminates the need for gas, propane, or charcoal.
7. Sheet tray
This essential kitchen tool offers many services. You can make pizzas, cookies, and other recipes with a high-quality sheet tray in your oven. Apart from this, you can also slide a sheet tray under more extensive dishes like baking trays as a fail-safe for errant dripping. These tools are large, strong, and long-lasting as well.
8. Strainer
A strainer is a kitchen tool you hate for not considering until the exact moment you require it. For example, when you face difficulty draining noodles by using the lid. You can strain solid stuff from liquids with ease with this must-have pantry equipment.
9. Prep bowls
It is necessary to have a variety of mixing bowls in your new pantry. You can buy metal or glass-based bowls as they are less porous than plastic. They also never pick up food stains or odors. You can keep chopped salads, oil down vegetables, mix cake ingredients, and many other things with this versatile equipment. 
10. Casserole dishes
You can never imagine serving some delicious recipes without using casserole dishes. You will get these items in sets and in different sizes to meet all your needs. 
11. Aluminum foil
You cannot ignore the role of aluminum foil in your kitchen. They help you to wrap vegetables, raw meat, and cooked food. Besides, this versatile genius also allows you to cover casseroles to protect them from burning. You can think of it as duct tape for cooking purposes. So, purchase this affordable and space-saving kitchen tool to get these advantages. 
12. Parchment paper
You can protect things from sticking to the bakeware by using this efficient kitchen equipment. You can cover your nonstick cookie sheet to keep it looking new for longer. Besides, you can bake perfect cookies also.
13. Serving platter
Having a serving platter is imperative in your kitchen as you can use them more often than you imagine. You will need to get the meal from the stove to the dining table. Besides, these are perfect for serving snacks and coffee. You can enjoy your favorite Netflix binges and eat snacks from this accessory. In addition, they look pretty and can increase your table's aesthetic value when you invite your guests.
3. Kitchen Appliance essentials for new home
1. Toaster
For anyone who loves bread, English muffins, bagels, or Pop-Tarts, a toaster might be their ideal friend. Besides, it is a valuable kitchen appliance for everyone. After all, the pantry feels all-too-bare without it. But while buying one, you must select one that has wide slots. It enables you to cook thicker bread pieces and bagels.
2. Toaster oven
For many people, a toaster oven is essential kitchen equipment. By using it, you can bake potatoes, roast veggies, bake small pizzas, and even bake cookies. It is affordable too and takes up little space in your pantry.
3. Microwave
A microwave is one of the imperative and serviceable kitchen appliances you can have in your pantry. You can take out frozen food and put it into a microwave to eat it instantly. Besides, this kitchen essential is ideal for those nights when you do not feel like cooking. Every reputable microwave has pre-build food directions so that you can cook meals by just mixing the ingredients. For instance, if you want to taste an omelet, you need to take a bowl, mix the ingredients and put the bowl into a microwave. After some time, your omelet is ready to eat.
4. Coffee maker
Are you a coffee maniac? If so, then what is better than having a coffee maker in your kitchen? With this appliance, you can bypass instant coffee, and it will also keep you aloof from having to purchase coffee all the time. 
5. Blender
If you want to make tomato or onion puree and finely chop veggies, you need to keep a blender in your new kitchen. You can also make tasty milkshakes for your kids by only adding the ingredients to it. This item comes in different price ranges and consumes less electricity also.
6. Immersion blender
This handheld kitchen appliance makes blending a hassle-free task. All you need to do is push a button, and you can blend smoothies, pestos, and soups with ease. Besides, you can handle it much more comfortably than a traditional blender and take up less space.
7. Slow cooker
If you want to invest your money in one countertop kitchen appliance, you should purchase a slow cooker. You can utilize it to prepare everything from chicken wings to pot roasts. Not only this, but you can make them with ease as you only require to chuck the ingredients in and wait for some time. 
4. Kitchen storage essentials for new home
1. Plasticware
Homeowners never imagine their kitchen with plasticware. You will need containers to preserve your food in your kitchen and refrigerator. If you purchase a plasticware set, you will get a multiple-sized container. It will help you to keep everything you want like snacks, biscuits, salads, and the list goes on. 
2. Zip-top bags
A box of resealable bags will never bother you as these are versatile kitchen items. You can use them in the freezer, refrigerator and pack your lunch for the office. In short, their uses are endless. 
3. Silverware organizer
Sometimes you might not find a spoon or a fork. In such cases, you can use a plastic organizer for finding a spoon. 
4. Plastic wrap
A roll of plastic wrap is essential for your kitchen. You can wrap leftover foods and pizza dough with this. 
MORE POSTS: 5 Best stain removers for leather car seats
5. Kitchen cleaning essentials for new home
1. Trash can
Having a trash can is imperative for your kitchen as this versatile equipment helps you put your cooking trashes in a secluded container.
2. Trash bags
Apart from trash cans, trash bags are also essential. You can use them to store and transport garbage when the requirement arises. 
3. Recycling bin
You might be wondering if having a trash can is enough. But you should keep a recycle bin to keep your kitchen and environment clean. 
4. Kitchen towels
No kitchen is perfect without a set of kitchen towels. You can use them for drying utensils, cleaning up messes, washing your hands while cooking, wiping down counters, and also makeshift potholders with ease in a pinch.
5. Sponges
Though many people ignore the importance of sponges, these are some of the essential kitchen cleaning equipment. You can clean your dishes, utensils, and countertops with this cost-effective item. 
6. Liquid soap
The modern kitchen is never complete without a liquid dishwasher. You will require dish soap to wash cutleries, dishes, and other utensils. All you should do is take some drops of this soap and use a scrubber or sponge to clean them effectively.
7. Cleaning spray
You will get many cleaning sprays out there. But you need to select a multi-surface spray. It enables you to do many things like cleaning your appliances, kitchen floors, and counters with ease.
8. Cabinet liners
These are essential for your kitchen drawers and shelves, as they can help you keep the interior space clean. 
9. Broom
Sometimes your cooking stuff might fall on the floor. In such cases, having a broom is beneficial as you can clean the mess effectively without much hindrance.
10. Timer
You can never overlook the importance of timing when it comes to cooking. It is so especially when you prepare multiple food items together as you need to keep track of each recipe. Though you will get a timer on your smartphone or while cooking in a microwave, you can have a separate one for your convenience. 
11. Instant-read thermometer
Sometimes you get confused about whether the meats have cooked well or not. To clear your doubts, you can purchase an instant-read thermometer and cook your meat adequately.
12. Baking dish
It is another must-have kitchen tool that helps you bake a sweet sheet cake or a hearty casserole. You will get baking dishes in multiple colors. So, pick one by matching your dishes. 
MORE POSTS: 8 Best Heat Activated Grill Cleaners
Factors to consider before buying kitchen essentials
Building a new kitchen or renovating the existing one is a big undertaking. It is not easy to decide the exact kitchen equipment you require when in stores. After all, stocking a pantry follows the same logic as packing for a campaign trip. That is why you should prepare what to buy. Remember, kitchen tools vary in function, and therefore, you need to choose them accordingly to get full benefits. 
Besides, spend as much as you can afford. Hence, before picking out new equipment, always make sure you have done your digging and know what you are getting yourself into. There are numerous factors associated with purchasing kitchen tools. If you want to learn them, look at the below segment. Here we have provided a handful list of all the essential factors you should consider before buying kitchen essentials. So, let us delve into the section without wasting time.
It is one of the fundamental things that you should take into account. The equipment size matters a lot when buying. The size is reliant on one's requirements. It should match the needs, which you have as far as cookery is concerned. For example, if you make food for many people, you need to select enormous equipment to accommodate sufficient ingredients. Therefore, while purchasing, look at the size to buy the best kitchen essentials.
It is essential to select equipment that is not complex as they have to be user-friendly. Buy tools that are clear and can optimize their advantages. Therefore, you need to comprehend how the tools work before buying them.
Even though the kitchen essentials or tools need to be functioning, they also need to resemble the theme you have set for your pantry. You will find some equipment that can match your kitchen theme. However, you will discover some that can never look beautiful in your galley. As a result, you should look at the theme and pick tools accordingly. If you carefully do this, it will ensure harmony in the kitchen.
Kitchen equipment comes in different sizes. Some of them can take up a lot of space in your pantry. Therefore, before buying, think of essential tools that you need without taking up space. Pick the smaller versions to save space. 
Before you select and buy kitchen essentials, you should determine your needs. For instance, if you want domestic equipment, they cannot handle daily usage and lead to many unexpected problems. But commercial ones can tolerate excessive use. Hence, choose them depending on your need and suitability.
You will find multiple kitchen essentials on the market and online with materials ranging from stainless steel, aluminum, copper cast iron, and so on. But while purchasing, you need to contemplate the material that offers durability. For example, when buying range cookers, select ones that are composed of carbon steel. It is so because this material heats up and cools down faster and makes the equipment reliable to use.
It is a crucial factor to look for. When buying kitchen essentials, you need to select anything safe. For example, textured and non-slip material like silicone is suitable and secure for peelers, whisks, and knives as you can grip them better with wet hands. You also need to select tongs that are 12-inch long. It will help you bypass burns from spitting oil. Besides, always choose spatulas that are long, heat-resistant, and pliable. 
In addition, you might know that working with electrical kitchen tools around water can be dangerous. 
Hence, while purchasing, you can pick cordless appliances. Many electrical appliances offer a child lock feature to protect your baby from unfortunate accidents. While buying, select appliances like refrigerators, microwaves, and others with this technology. If you consider all these safety issues, you will get a complication or accident-free kitchen. Therefore, before buying your kitchen essentials, always look at safety.
The quality of the tools you select is another crucial factor in buying kitchen equipment. It is so because this aspect defines the overall performance of the equipment. It is especially vital for electrical appliances as the better quality offers a safe, secure, and durable use experience. But the quality also impacts the price significantly. That is why you need to select the best possible quality you can afford.
It is one of the primary considerations when you plan to buy pantry essentials. You will find some expensive equipment. Therefore, it is necessary to select them depending on your budget.
You do not want to spend dollars on maintaining your kitchen essentials. Hence, you must buy tools that are easy to maintain and need less care and attention. 
When it comes to buying kitchen equipment, rather than centering on the up-front costs, you should pay attention to future expenses. Many people purchase cheap kitchen appliances, but they can run up an electric bill more than others. As a result, they have to pay more money on bills continuously. Therefore, always look for energy-efficient kitchen appliances that are not too expensive and never increase your electric bill. Besides, verify the energy-efficiency rating while buying one. 
You must make sure that your selected kitchen tools are ideal for the ever-changing requirements of cooking. For example, sometimes you wish to make some unique recipes, and for this, if you cannot use your kitchen essentials, you are simply wasting your money. Therefore, you need to buy modern equipment, and you can utilize it for years.
It is always beneficial to review the warranty for new kitchen equipment. It enables you to see what the maker will and will not cover if something goes incorrect. It also helps you to determine if buying the tools is worthy or not. When you cannot decide what to purchase between two similar equipment, the warranties might assist you in selecting the best one.
So, before making your purchase, contemplate the above factors. All these will guide you adequately, and you will get the best pantry essentials for your new kitchen.
Final words on kitchen essentials list for new homeowners
To wrap up, you can never ignore the importance of these kitchen essentials. These versatile tools are essential and will help you to make delicious foods. But remember that not every piece of equipment is beneficial for you as you do not require them. Therefore, before choosing and buying any tools, you must consider the above factors. But first, you need to make a checklist of your necessary items. Without it, you can never know which is essential and which is not. So, make a list, look at your kitchen theme, space, and purchase the tools accordingly. It will not only assist you in making tasty foods, but you can also increase your kitchen's aesthetic value significantly.
Read more posts on Home Improvement:
Read more posts on DIY