16 Best Floor Lamps for Living Room Decoration
Last Updated on 11 months by admin
A well-lit house defines a lot about its buoyant aura. If you have a home with expensive and lavish furniture, it is nothing without adequate lighting. You need to understand that your living room is where you stay to relax after a hectic day. Thus, it is imperative to light the place up to increase its aesthetic value and soothe your mind.
Lamps for the living room are best when it is modern lighting settings. When you purchase one, you can use it for many purposes. Whether you want light at your coveted spot, near your bedside, or any other area of your beautiful place, you can always go for a lamplight. These versatile and modern lamps give your room a classy and aesthetic touch. Besides, unlike many other bulky lights, they also take tiny space, and as a result, you can manage your living room space with ease. Therefore, you can see why these lamps for your pretty living room are an outstanding combo of style, elegance, and function. So, enough of the introduction, now it is time to look at some of the best lamps for living rooms so that you can buy the best one for yourself.
Wooden Floor Lamps for Living Room
In addition to tripod floor lamps, wooden floor lamps are versatile and help you decorate your space. They can enhance the appearance of a room and create the right lighting conditions. Besides, having the best wooden floor lamp can have a powerful effect on your mood and overall style of the place. You will get them in different shapes and styles, which will add a warming touch to your living room. Below we have shared some of the best wooden floor lamp products to help you.
1. LUSTORM Wooden Floor Lamp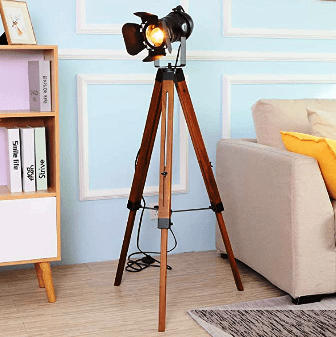 If you need a wooden floor lamp to decorate your coveted living room, you can consider this product from the brand LUSTORM. This easy to assemble floor lamp offers ambient lighting, and you can also adjust it 180 degrees up and down and 360 degrees left or right as per your convenience and need. The light is also compatible with different smart light bulbs. This product is stable and can protect the floor efficiently, as it features three legs in the bottom with a pad. On top of all, it also has a foot pedal switch enabling you to switch on or off very conveniently. Also, the 3500mm/11.5ft extended cord allows you to place the lamp anywhere as per your requirement. You can set it near your sofas, seats, side tables, and beds.
2. Brightech Maxwell Floor Lamp
The Brightech brand comes with a modern wooden floor lamp. It is unique as it comes with bookshelves and high-end LED bulbs. Due to this feature, you can not only manage your living room space conveniently, but you can also save floor space. You can also use the lamp to display art and plants as well. The lamp also supports smart lighting assistants such as Alexa and Google home. As a result, you can turn on and off the floor lamp or adjust the brightness with no difficulty. Not only this, but the LED has 20k hours of life. The lamp has a 9.5 Watt, 800-lumen power-saving bright LED bulb. It is beneficial as you do not need to replace the bulb. Besides, it also consumes less energy than many other floor lamps.
3. Adesso Hudson Floor Lamp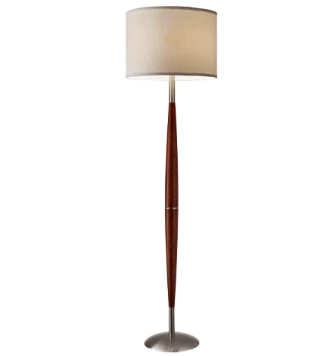 This wooden floor lamp from Adesso offers a drum-style shade as it has a lamp that features a compact and sleek design. The body is composed of Marple eucalyptus, and the base is of satin steel. As a result of this look, you can set the lamp into any area or corner of your living room without taking up much space. Besides, this urban-style lamp is compatible with fluorescent light. The company manufactures it with a three-way switch, working efficiently, and the lamp is also smart outlet compatible. Therefore, you can purchase this wooden lamp to offer your living room a significant amount of light.
4. Sunmory Floor Lamp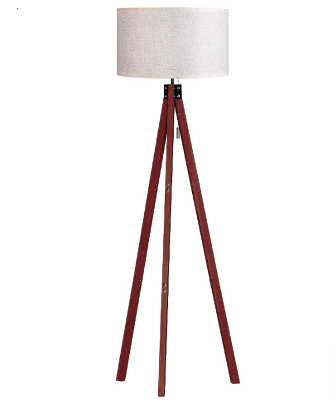 Manufactured with a three-color temperature bulb, this floor lamp from Sunmory is versatile, and you can fix it in any room with ease. This lamp is made of high-quality wood material and uses a rope pulling switch design that offers convenient and hassle-free operation, especially if you place it near the bedside. Besides, the snap-in linen lampshade is more powerful and has openings at both ends to generate an excellent lighting atmosphere. In addition to all these, you can also adjust its legs, and the product is durable.
READ MY POST: 5 Best Pet Hair Remover for Laundry
Tripod Floor Lamps for Living Room
Tripod floor lamps are one of the best innovations when it comes to lighting up your beautiful living space. Its wide stance and warmth generate a welcoming milieu that feels homey. So, let us take a look at some best-selling tripod floor lamps.
1. Brightech Bijou Tripod Floor Lamp
This 9.5 watts tripod floor lamp from Brightech is a versatile product that can light up your beautiful living room adequately. This lamp offers a polished and contemporary look, and you can get it at a much more affordable rate than you think. Besides, the harmonious design includes a balance of angular lines and soft curves, making the item desirable for people. In fact, due to this design, the lamp fits with almost every piece of furniture.
2. Isloys Tripod Floor Lamp
Constructed of high-quality material, this tripod lamp from the brand Isloys can be your living room's ideal friend. The manufacturer designed it by blending a rustic, traditional, and artistic flair touch. Due to this, the lamp easily fits with different interiors, be it modern and mid-century or contemporary and vintage. Besides, you can adjust the legs as per your requirement, and you can also install it without much hassle. Therefore, if you want a tripod floor lamp to decorate your living room, you can consider this while purchasing.
3. Divine Trends Tripod Floor Lamp
This tripod floor lamp from Divine Trends comes with a moveable wheel fan light. It can enhance your living space beyond your imagination by offering the place a cozy look. The elegant finish, sturdy frame, and stable metal base also enhance the interiors of your abode. Besides, it also comes with a 3.5 Mtr extended wire that has an in-built on and off switch. So, it not only enhances the appearance of your living room but also offers the convenience of usage.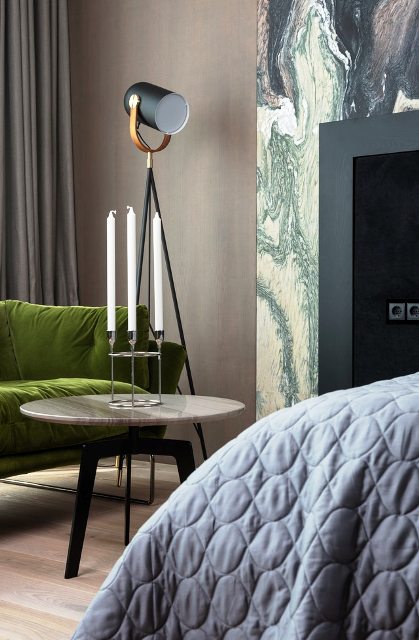 READ MY POST: Buying Guide for Doona Infant Car Seat Stroller
Modern Looking Floor Lamps for Living Room
You can use these lamps in several ways, from adding a touch of style to enhancing the mood by incorporating ambient floor lighting. So, to keep in mind the versatility, consider the below items while shopping for a modern floor lamp for your living area.
1. Tolomeo Floor Lamp
Manufactured in Italy, this floor lamp is composed of aluminum and a fully adjustable structure with a weight steel base. The frame has polished aluminum joints and tension control knobs as well. A unique feature is that you can rotate it 360 degrees. Besides, you will get multiple finishes to select from. This floor lamp also offers an incandescent light option which means you can dim the light according to your need.
2. LALISU DIY Lampshade Floor Lamp
This floor lamp is unique as it offers a DIY Lampshade that lets you design your own cloud lampshade pattern. The lamp also provides diffused ambient illumination. The product includes the paper for cloud lampshade for crafty folk. In addition, the LALISU DIY Lampshade Floor Lamp comes with three metal legs and a 6 ft power cord. Besides, you will get three temperatures of color.
3. LEONC Minimalist Modern Floor Lamp
This minimalist modern floor lamp is ideal for decorating your living room. The alluring translucent fabric diffuser covers the lamp's dimmable light source, making it preferable among people. Besides, the polycarbonate shade has a cast iron base and a white polyester fabric diffuser that also helps you to enhance your space with ease by getting durability. In short, the product is simple, modern, and sophisticated as it uses cutting-edge technology and high-quality materials for construction and design.
4. NIOSTA Adjustable LED Floor Lamp
This metal floor lamp from Benzara is a great thing to decorate your living room and enhances its aesthetic value. It efficiently provides ample lighting and lights up your place a soothing one. The design is also helpful to increase the interior beauty as the matte all-black metal finish offers a beautiful touch to this item. Besides, the flexible lighting illuminates where you require it. You can also adjust its head as per your need. In addition to all these, this floor lamp can save up to 80% of electricity as it features 12W energy-saving LED bulbs.
5. Brightech Logan Floor Lamp
If you want to decorate your living room with a modern floor lamp, then you can try this item from Brightech. This floor lamp is composed of a sleek metal arc and black marble base, efficiently helping you get an aesthetically pleasing living room with ease. The adjustable arm length and foot pedal switch make it convenient for usage. Besides, the 9.5W LED bulbs consume less energy and assist you in saving your electricity bills.
6. Dawson Modern Brass Metal Floor Lamp
Dawson comes with this modern floor lamp that you can adjust between 32-inch to 54-inch. Constructed with a broad 10-inch foundation, you will get a 20-foot boom arm as well. On top of all, it comes with a rotational on and off switch, and the lamp contains 60w LED bulbs.
Vintage Looking Floor Lamps for Living Room
Vintage floor lamps are also a versatile innovation for those who love a trendy and vintage look. These lamps go along with any corner of your place and offer an elegant look with adequate lighting. These lamps are constructed with a hinge and efficient design, and you can make it easy to focus the light where you wish. That is why you should look at the below items before you settle for one.
1. Elegant Designs Vintage Floor Lamp
If you are looking for a vintage yet modern floor lamp to decorate your living space, then this product might be your ideal friend. It is a vintage brass floor lamp that is easy to install and mount. The product is made with crystal and iron, is durable, and weighs only half kilograms. Due to this, you can move it with ease.
2. Decor Therapy Bronze Floor Lamp
This floor lamp from the renowned company Decor Therapy offers a vintage and artistic look and is compatible with all interior décoration designs. It means it goes along aptly with a different type of furniture and provides an elegant look. The bronze floor lamp comes with a Round Bell softback faux silk fabric shade.
3. Stepeak Vintage Floor Lamp
The brand Stepeak comes with this vintage floor lamp suitable for your living room decoration. The ergonomic design, high-quality metal frame, and durability make it popular among people. It also features an E-26 holder wire with an on and off switch and an E26 LED Bulb. On top of all, the item offers easy installation also.
How to Choose the Best Floor Lamp
Before purchasing a floor lamp for your place, consider the below tips to get better results.
Scale it down
First, you should understand what you need and the proportions of light. This step is to select the proper scale of the lamp so that the light efficiently illuminates the rest of the living room.
Choose the material
For floor lamps, metal is the best material. It is so because metal is durable, and you can easily customize it with different styles and features. Apart from this, you can also select from wood, glass, copper, and marble. However, you should pick a material by considering your interior.
Pick a location
Location plays a crucial factor in placing the floor lamp and getting the best lighting. After all, a properly placed lamp can convert a dark corner into a cozy one. Therefore, you should pick the best location to take complete advantage of these versatile devices.
Wrapping it up
All the products listed above are bestsellers, and all these will help you offer your living area the much-needed appearance. So, these are some of the best floor lamps to look for to decorate your coveted living room. Therefore, consider the above, determine your choice, and go for the best one to make your place more beautiful.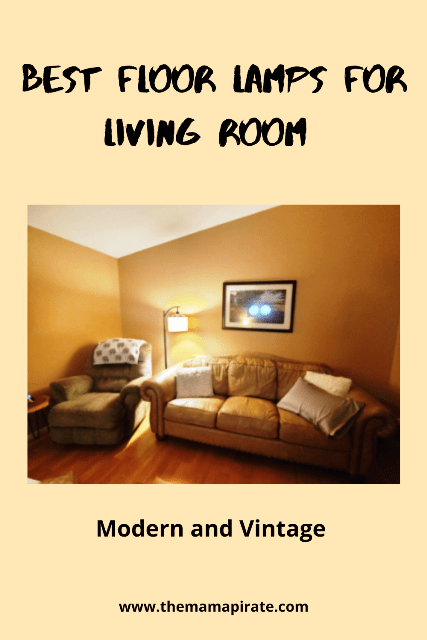 YOU MAY LIKE MORE REVIEWS: