(Last Updated On: November 18, 2023)
If you want to have lush indoor plants but aren't able to get enough natural light, you can still have lush greenery by using a grow lamp. Whether it's for seed germination or cutting propagation, a grow lamp can provide year-round plant care, even in poorly lit or dark environments.
Choosing LED grow lights is a better option because typical LED lights might not provide plants with the light they require. They provide the light that is necessary for human vision. The broad spectrum of blue and red light that grow lights provide is exactly what plants require to flourish. We have examined dozens of alternatives, taking into account factors like kind, color temperature, wattage, size, and power, to find the finest grow lights. Continue reading to learn more!
Grow Light Types for Indoor Plants
There are many types of grow lights:
LED: These lights produce little heat and are energy-efficient.
Incandescent: These lights consume more energy due to their high heat output.
Fluorescent lights: These lights offer a full spectrum of light for plants and are available in several formats.
HID (high-intensity discharge): This type of grow lamp is better at replicating natural light than other grow lights.
10 Best Full Spectrum LED Grow Lights for Indoor Plants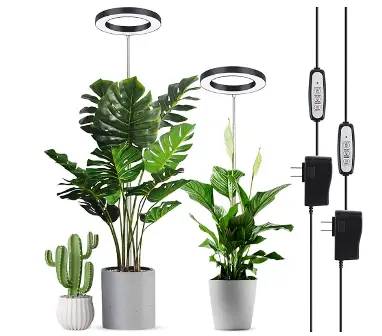 1. LORDEM Plant Grow Light
Anyone looking for a flexible indoor grow light can go right with this portable light. The two black grow lights are made with high-efficiency diodes that have an output of more lumens and 72 LEDs. It emits all the wavelengths that are perfect for different types of plants, including tomatoes, monstera, succulents, orchids, and herbs, at every stage of growth. With its three circular time options (four, eight, and twelve hours), the plant light will automatically switch on and off each day on your selections. Your plants will receive daily attention from the plant light, whether you are away on business or vacation.
Align the telescopic rod with the grow light panel, bury it in the ground, plug in the electricity, and activate it. It's that simple to use. You're done! Because of the extremely long cord, you may use the grow light for both hanging and non-electric plants. Use this amazing product to aid in the rapid growth of your plants!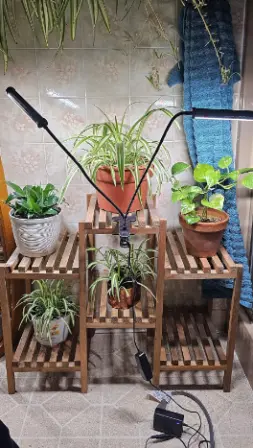 2. GooingTop LED Grow Light
Ten Red and seventy-four White LEDs are present in this light. This growth lamp, which was expertly created for indoor garden plants, is comparable to noontime full-spectrum sunlight. Additionally, it has a color rendering index of up to 95 and produces gentle, flicker-free light, making it an excellent choice for a reading lamp. This growth light has a timer function with three options: four, eight, or twelve hours. The timer is based on a 24-hour cycle starting from the moment it is set.
You can position the growth light in any direction to give your plants the optimal lighting angle and meet the cover surrounding the plant. Thanks to its flexible gooseneck and sturdy clamp. An AC power plug or a USB can power it. This 2-foot-radius light emits a soft yellow illumination that's perfect for caring for established plants or starting seedlings. It is a two-arm grow light.
3. Grow Lights from JUEYINGBAILI
The whole spectrum of this light, which ranges from 380 to 780 nm, allows plants to absorb all the light they require. Even with 200 LED light beads, you won't have to worry about overheating. It is due to the fin-type heat dissipation construction, which is safer and more effective at swiftly dissipating heat. This plant light allows you to program it to turn off automatically each day based on your preferences. It also looks after your plants whether you are away on vacation or at work.
The improved timing controller improves plant growth time estimation while also resolving issues with the previous timing offset and traditional model failure. With its 360-degree gooseneck adjustment, you can position the plant growth lamps in any direction to provide your plants the optimal lighting. It is a four-arm grow light that covers your plants from all angles.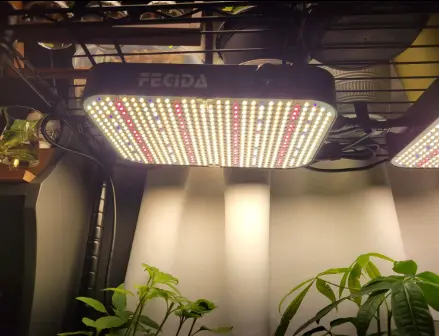 4. FECiDA LED Grow Lights for Indoor Plants
This full spectrum indoor grow light has high energy efficiency using 588 pieces of premium LEDs. It is significantly more powerful than other small grow lights while using only 65 watts of household electricity at 100% brightness. With the dimming knob on this hanging grow light, you can easily change the brightness to suit your plants' needs. Additionally, you only need one outlet to connect up to four multi-light units together using the power cord included in the package, and each light can be dimmed separately.
This plant grow lamp has vents in the LED board and a silent built-in fan. Longer LED lifespan and improved air circulation are attributed to robust cooling systems. Excellent material, lovely appearance, and convenient packaging provide you with a first-rate purchasing and usage experience.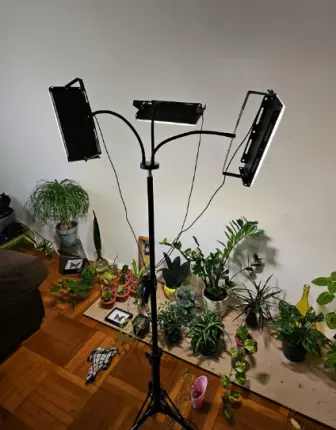 5. LBW Grow Light for Indoor Plants
In search of something elegant? If so, this dual-head indoor grow light for your plants is the last one you need to hunt for. With its flexible twin-head design and tall, steady tripod platform that can be extended from 15 to 63 inches, this indoor grow light offers a greater illumination area for tall and large plants. Its gooseneck further adds to its versatility. With the ability to adjust its height and direction of illumination, the grow light is perfect for a wide variety of plants in every stage of growth.
With its three switch settings, you may turn on one light, the other light, or both of the LED grow lights independently. Additionally, it features six brightness settings so you can satisfy the lighting needs of your plants at different times without having to worry about burning them.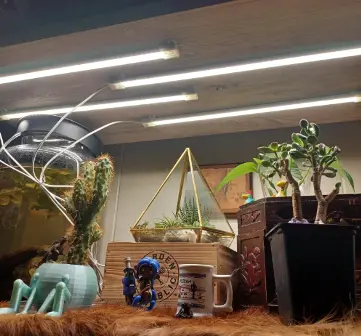 6. LED Plant Grow Light Strips
Do you want to mount the lights anyplace on the furniture, bookcases, roof, or just about anywhere else? Light strips that grow on these plants can be placed anywhere. Adhesives are applied on the reverse of each strip so that you may attach them to any surface over the top of your houseplants. It is most appropriate for those who like to add minimalist lighting to their décor. It offers modes for auto-on and off. You can automatically turn on and off the lights by programming them after a certain amount of time. There are five different dimmable settings to select from.
Are you concerned that liquids from your children or pets will contaminate the lights? Because these strips are waterproof, there's no chance. Four very simple-to-install strips are included in each set. The product is composed of aluminum and measures 15″L by 1″W by 2″. It is inexpensive and requires only 40 watts of power.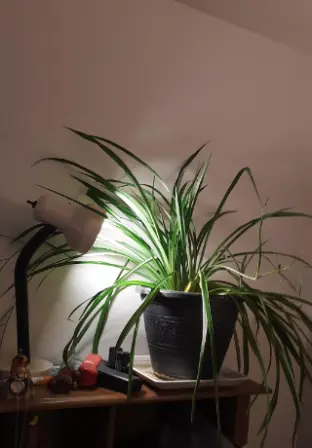 7. Briignite Grow Light Bulbs
A19 full spectrum grow lamp features a red/blue light spectrum yet looks 4000K white to the human eye. Similar to natural sunlight, ideal for all growth stages of leafy greens, herbs, tomatoes, cucumbers, and peppers. 1000LM of 180-degree brilliant light output is produced by A19 LED plant grow light bulbs. High-light transmission LED grow bulbs enhance plant absorption more successfully.
All common E26 sockets will fit the E26 Base. It is the only fixture that can be found to accommodate this bulb. This e26 grow light bulb fits standard-size fixtures with ease of installation.LED sunlight bulbs provide less heat, making the temperature ideal for your plants. Utilize aluminum and plastic to construct a cooling system with improved heat dissipation.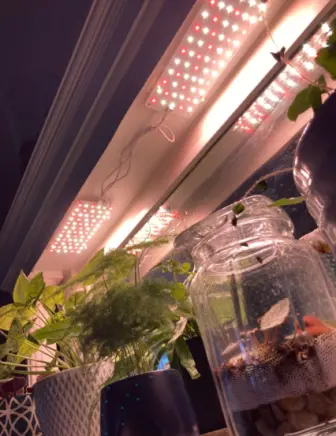 8. DOMMIA LED Grow Lights
Four brightness levels may be adjusted on the Dommia plant grow lights: 25%, 50%, 75%, and 100%. You can adjust the PPFD to perfection for your plants at every growth stage, thanks to the dimming. This lamp's 6000-lumen range offers enough light for your indoor plants to flourish. To cover a greater growing area and provide uniform and effective lighting coverage for indoor growing, you can connect up to 4 pieces of plant lights in series. You can use DOMMIA indoor grow lights under cabinets, on plant stands, in grow tents, and on grow shelves.
One panel of the LED grow lamp is 10.5 inches by 3.5 inches by 0.05 inches, an incredibly tiny profile for discrete installation and little aesthetic effect. It integrates seamlessly with your indoor plant shelf or greenhouse cabinet, making it ideal for concealing and enhancing a fashionable setup without the need for large lights. Similar to natural sunshine, DOMMIA plant lights for indoor growing emit all wavelengths between 380 and 780 nm. These wavelengths have a major effect on plant germination, flowering, fruiting, and the synthesis of chlorophyll, which is necessary for photosynthesis.
9. SANSI LED Grow Light
This fashionable choice comes in various colors and sizes and is simple to install. It includes a customized full-spectrum, full-lifecycle supplemental lighting program spanning the 400–780 nm visible range. Ra is the color rendering index, which is extremely near to 100. It is infinitely close to natural light, suited for all stages of plant growth cycles, and efficiently encourages plant growth while enhancing crop quality and output.
The entire shell material reaches the WF2 anti-corrosion grade, which is more dependable and durable. It has low IR and less heat radiation, preventing close-range plant burns. The reinforced insulation makes the lamp safer and eliminates the risk of electric shock.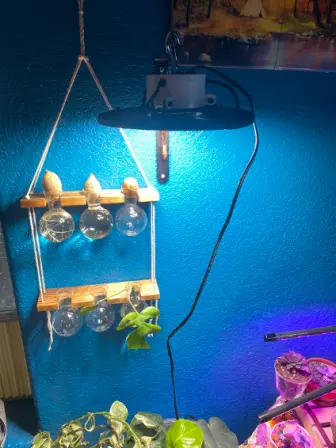 10. OOOLED Grow Lights
With its plant grow light spectrum consisting of 3000K and 5000K red light, 660nm infrared light, and 730 nm light, the 80-watt compact UFO-shaped grow lamp for seedlings can give the ideal amount of light for various plant growth stages. This 80-watt grow lamp is incredibly energy-efficient, saving electricity costs and providing plants with the necessary amount of light intensity.
The plant growing lamps are perfect for small space grow operations, such as a grow tent, because of their compact size and UFO-shaped form. It is simple to hang the light from above the plants because of its small form. The superior LED chips in the seedling grow lights have a 50,000-hour lifespan, so long-term use is guaranteed without any issues. It's simple to set up and operate these plant lights. Everything needed to hang the light above the plants is included in the hanging kit that comes with it. Furthermore, the light's integrated switch makes controlling it simple.
How to Invest in Full Spectrum LED Grow Lights Like a Pro
Always decide on the top grow lights by considering the factors below.
The amount of power your plants demand is determined by their specific light requirements, size, density, and other external factors. For best development, most experts advise 40 watts per square foot. Additionally, grow lights may have a label that reads "photosynthetic photon flux density," or PPFD, which describes how much light the lights emit. The majority of plants grow best in the 200–900 PPFD range, depending on their maturity level.
It takes the right kind of grow light with the right color temperature for seedlings and plants to flourish. It is often between 2,700 and 7,000 Kelvin, which is comparable to natural sunlight, according to Trautz-Awot. Overly high color temperatures have the potential to harm plants by reducing photosynthesis. Furthermore, if it is too low, plants may produce fewer fruits or flowers as their growth slows down.
Certain grow lights work better for vibrant, healthy foliage, depending on the kind of plants you have. Fluorescent lights, for example, are perfect for low-light plants like peace lilies, cabbage, and snake plants. All types of plants can benefit from LED lights, but they work best for flowers and vegetables like tomatoes, cucumbers, and orchids because they emit blue and red spectrum light. For herbs, fruits, or flowering plants, HID lights work best.
Consider the number of plants you need to cover as well as the location of the plants when choosing the size grow light you require. Choose a lighter and more portable light if you intend to move it. It might matter less if it will remain in one place. Make sure there is space for it to function properly, and it won't bump into any furniture, drapes, or other objects wherever you intend to place it.
The intensity of a light bulb or fixture determines how much light it emits. When it comes to LEDs, this is typically expressed in lumens. Your light bulb will appear brighter and emit lighter if its lumen count is higher.
How will you know whether your plants require extra light?
It could be time to add more light to your living area if your plants look good in the spring and summer but suffer the rest of the year. Houseplants can be revitalized, and outdoor pots that are overwintering can be kept alive until the following growth season by adding a few hours of light during the winter. It can also assist some plants in fruiting and flowering. Here are some indicators that your plants require lighter because stressed plants have issues:
· Fading or dying leaves.
· Smaller leaves than usual.
· Novel illnesses and pests.
· Lanky and tall development.
· Plants with variegation lose it.
To what extent should plants be lit by grow lights?
To prevent overheating, you can place grow lights at least two feet away from your indoor plants. However, it will vary on the wattage and light wavelengths. Since they usually produce less heat than fluorescent and LED lights, they can be positioned closer.
Conclusion
Standard LED lights can grow indoor plants, but they usually don't provide enough power or light intensity to encourage the growth and blooming of your flora. Grow lights provide strong, full-spectrum lighting that includes warm red and blue light. It is essential for photosynthesis and the development of flowers and fruits in your plants. With our top selections, we hope you'll find a grow light for your plants!
MORE POSTS:
Best Free Plant Care App For iPhone
7 Best Leaf Scoops for a Beautiful Lawn
9 Best Kid's Garden Kneeling Pads of 2023
Resources: 
https://www.kindledgrowlights.com/pages/full-spectrum-vs-red
https://plantophiles. com/plant-care/best-houseplants-artificial-light/