14 Best House Cleaning Schedule Apps of 2022
Last Updated on 1 year by admin
It's a boring job to clean a house. The majority of us prefer to not do it because it's a time-consuming task. However, you can find many house cleaning schedule applications on your device to finish your house cleaning task quickly. It would be almost impossible for anyone to believe that the house cleaning schedule applications can be beneficial for organizing your entire residence. All you need to do is just click once to mark to-do cleaning task lists and make schedule checklists, and these apps will enable you to do your cleaning plan. You can find a lot of house cleaning scheduling apps on the internet. It can be difficult to choose the best amongst them.
MORE POSTS: How to Deal with a Messy Child
Below are the top best house cleaning schedule apps you can use.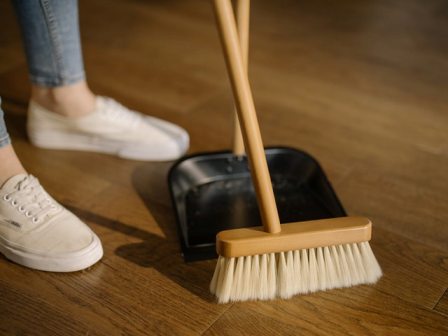 Spotless
If you are worried about your endless house cleaning checklist, download the Spotless app now. This household application will enable you to maintain the cleanliness of your house. It helps you to organize many home spots, including your bathroom, cooking area, living area etc. The spotless app also helps you generate cleaning task schedules for each. All you have to do is mark each task and generate deadlines when the cleaning task is required to be done. If you have a habit of missing out on things when you have dusted your bookshelf and cleaned your AC vents, this house cleaning application will help you out.
Clean My House
The name of the application itself is self-explanatory. This is a free house cleaning scheduling application that enables you to clean and organize your entire house. This phone application will work as a reminder to attain or finish your to-do list of cleaning tasks. Every morning, cleaning my house will give you a notification of the things that need to be done that day. You just need to mark it off after you finish the task. This application also has a customization feature that allows you to customize it and schedule the task as per your requirements. Regardless of your home, this application will help you organize it. If you are one of those people who prefers to organize everything, then a house cleaning application like Clean my house is ideal for you.
Closet Space
Closet Space is perfect for you if you are a super lazy person who hates to clean your home. The majority of people don't feel lethargic to clean their closets or wardrobe. However, this is not a huge task to do. Closet Space is a free accessible application that you can find on iOS or Android devices. This organizer application will enable you to keep your closet organized. Also, this application is created with the interesting trait of mixing clothes. The photos of every piece of clothing can be captured, and the application will display what combination of clothing is perfect. Therefore, if you are confused about what piece of clothing you should wear, you don't need to create a mess in your closet. Just create a schedule of pre-advance outfits, and it will save you time as you won't have to be confused about what to wear. You will find each and everything listed on the application.
Our Home – Chores and Rewards
This application is perfect for families. You have to create a family profile in this application and select a color scheme and cute avatar per your choice. The task categories in this application are not only limited to cleaning your residence; it also has things such as study, creativity, health, spirituality and more. This application also helps you to maintain healthy eating by providing you with an entire grocery section. After your family members join it and the categories are settled, you have your family members entered, and your categories are set, there will be an option to customize tasks and assign them to create a completely tailored home managing experience. Rewards can be added for your particular family members after they finish their household chores. This application is perfect for children and grownups to keep them motivated to complete the house cleaning tasks. 
Tody
This house cleaning application is easy to use and helps you to share household chores on various devices. There are many filter choices on this application that will help you find different cleaning chores without any hassle. Tody evaluates your cleaning mode and prioritizes the chores. Here in this application, there are no haphazard deadlines. You only find due dates and reminders on this application. Tody has the highest rating on the iOS store. It has obtained 4.7/5 stars on Playstore and 4.8/5 stars on the Apple store. The incredible feedback from users of this app makes it one of the best applications for home cleaning schedules. This application lets you share tasks on many devices for your family to accomplish. Whether you want a subscription for family sharing or single-person use, you can find them all in this application.
Do App
If you are looking for a fuss-free and easy-to-use application for a house cleaning schedule, then Do App is the app you should download. All you need to do is make a list of to-do tasks on a virtual note-pad and then mark them off when finished. The application has paper and pen sound effects. This application allows you to create your own customized task list. You can arrange it according to your choice. The application also comes with a color code option for the chores. After you complete your task from the list you made, you just need to tap it twice to tick it. 
BrightNest
If you are lost and confused between all the cleaning applications, then BrightNest is perfect for you. Many videos and articles on how to keep your house organized are available on this app. The moment you install it, you will see questions about your residence. For instance, if there are any babies or pets in your house, and you put the details on the app, it will show personalized videos and articles as per your requirements. There are many useful tagged categories available on the application: green, handy, curious, clean, etc. You can select as per your choice, read or watch them, and deal with the issues in your house.
Flexkeeping Housekeeping App
This application is mainly concentrated on communication in a housekeeping facility or team. If you use this application, you can effortlessly detect the person who is managing the cleaning and which facilities and spaces at a provided time, and appoint the team or every staff member to a specific subtask of house cleaning, such as repairing facilities, polishing furniture or managing linens. This application has the feature of task automation and delegation. It also has automatic translations for words in various languages. It will let you see everyone's chores. You can use this application for free for 1month.
Cleaning Checklist
This application helps you to create your cleaning task schedules properly as it has a dynamic and manageable checklist. It also enables you to see every small thing, including what is left to be done and what is not. Whether it's your bathroom or bedroom, a cleaning checklist will help you easily manage household tasks. This application is so well-organized that there is no need to spend a lot of time. You can clean the mess in your house in less time. Also, you can send your activity to your friends or family so that they can see what you have performed and how helpful the application is. You will see the checklist popping up on your device's screen until the task is completed. Thus, there will be no choice but to complete the cleaning task. The cleaning checklist app is available on the Google Playstore to review the task list.
Dirt free – Smart Home Cleaning
This application has the feature of setting household tasks with differing frequencies. However, it has an efficient twist. There are many features available on this application. With these features, you can read content with cleaning suggestions and tips, keep a record of your home cleaning streaks, and gain achievements with the features. This application also lets you know the percentage of your residence cleaned. If you want to share your residence with your close ones, you have to get a premium subscription to this application. If you want to organize your house more than just yourself for no cost, then this app is not for you. However, if you want to spend on the assistance, you will get some additional fun features.
Unfilth Your Habitat
The majority of us require more than a gentle push to clean our house. If you are also this kind of person, then Unfilth your habitat is the app you should use. The motto of this application says 'terrifying courage for lethargic individuals with messy residences'. The application shows an indication that there's some filth. Some cleaning options include Random Unfilthing Motivation, Random Unfilthing Challenge, and My To-Unfilth List. This app also has an inbuilt timer that offers you a break. However, if you are late to get back, it will loudly tell you to work harder. If you are a lazy person who habitually puts off cleaning the house, then it would be a perfect option for you.
Cozi Family Organizer
If you are in search of a strong to-do list software for the entire family, then Cozi Family Organizer is what you should consider. It has several tools for scheduling your everyday routine. There are options to keep a record of grocery lists, plan appointments and many events. You can also manage the schedule of all units on this application. This application is very user-friendly, and you can make task lists for both grownups and kids. There is no limit to the list number. Users are able to put in a large variety of sections, personalized items, add headers, and more. Cozi family organizer is one of the finest home cleaning applications if you are the type of person who makes food for events or any occasion and is worried about not referring to purchasing the essential ingredients. The application has the automation to convert all items from the formula to the buying cart, which will make it easy for you. The application sends a notice about appointments.
Our Home
You can get this house cleaning application on both iOS and Android devices. This application provides incredible features. You can give chores to many people and share reminders with them too. You can find a point system that makes you like to fight against each other. This application is perfect for children because it will motivate them to get a higher score to defeat something as well as maintain the cleanness of the house. You can even find a grocery list that is accessible in the app. It implies that there is no need for family meetings.
Home Routine
Another incredible house cleaning schedule option is that there is no need for an internet connection to utilize this app. It has the customization option where you can personalize chores and fix deadlines to maintain the time. You can also find a built-in timer trait that gives you that additional push to complete the task in time. There are options to choose from whether you want to finish a specific chore weekly, daily, seasonally, monthly or bi-weekly. There is also a 'Focus Zones' option available. If you prefer to dedicate some days to specific works on that day.
MORE POSTS: 10 Fun Things to Do When Bored at Home for Teens
Conclusion
So, these are the top best house cleaning schedule apps. Nothing feels better than having a relaxing and clean house. However, keeping all the records of your housekeeping chores is not easy. Whether it is dusting the furnishings or dealing with the pile of clothes, these top best applications will enable you to maintain the cleanliness of your house. You can get them on both iOS and Android devices.
MORE POSTS: List of Bathroom Essentials for First Apartment