Best Food Packing List for a Beach Vacation
Last Updated on 1 year by admin
A vacation to the beach means planning breakfast, lunch, dinner, and snacks that you can pack and take to the destination without difficulty. The principle is to keep it simple. While you are eating out, exotic dishes are the best choice. Besides deciding on the dishes, choose what you will have to cook, refrigerate, and grill once you reach there. This blog is a roadmap to preparing a food packing list for a beach vacation. We have also put together what to bring, how to pack, and what to buy upon reaching there.
Count your meals
You decide the number of days you want to spend on the beach while planning for a vacation. Also, count how many meals you have to prepare and for how many people. For example, if you are a family of four members going to the beach for seven days, you will have to prepare 21 meals and 14 snacks for each member. This number seems large, but you will eat out at least once every day. The number of meals that you have to make will decrease like that. Below, we have a menu for seven days at the beach that you can use to take ideas.
It is the day when you arrive at the beach and check into the hotel in the late afternoon. You do breakfast and lunch on the road as you travel. For dinner, you can have a pizza delivered to your room. Use this day to prepare the kitchen for the week. Gather the family and plan everything that you all want to do. Schedule your vacation, list the things everyone wants to do, and find out expectations.
Day one is your first day on the beach. You can prepare cereal, fruit salad, or toast for breakfast, ham & cheese sliders with assorted chips for lunch, and roasted veggies with rolls for dinner. For snacks, prepare Smore's dip.
It is your tour day where you visit the nearby places. You can have a quick breakfast of sausage and cheddar quiche or fruits. Since you are roaming out, you can have lunch at the food market or some famous eating spot. You will probably also have the dinner and snacks out somewhere. Take light snacks like grilled cheese sandwiches for munching.
It is the day when you explore the beach. Prepare French toast & bacon or fruit salad for breakfast, chicken salad, veggies, or crackers for lunch, and oven fajitas, cheese dip, & guacamole for dinner. Make Sopapilla cheesecake for snacks.
It is yet another beach day when you play, explore, and shop around. Make a special big breakfast for this day which includes all the things like sausage, eggs, fruits, biscuits, bacon, casseroles, and cinnamon rolls. Since the breakfast is heavy, prepare a light lunch like fruits
or veggies with dips and pickles. You can make any sweet dish for snacks and then eat dinner out.
It is the last beach day. You can prepare the meals with whatever ingredients you have. You can have snacks at a local ice cream parlor and dinner at a popular restaurant.
It is the departure day. You can prepare a light breakfast like fruit salad so that you do not have to start the journey empty stomach. If you have packed up the kitchen already, order something in your room. Lunch, dinner, and snacks will be on the road, as you travel back.
MORE POSTS: 51 Holiday Travel Safety Tips for 2022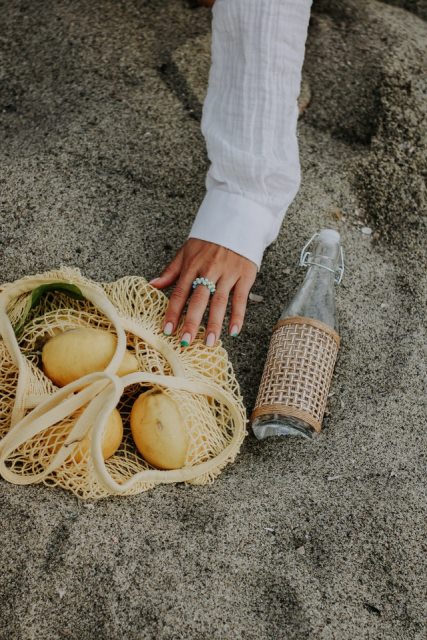 Food packing list for a beach vacation
Here we will be discussing some awesome meal ideas to enjoy at the beach. These are the ones that you can easily pick up and pack.
1. Foods stored in your cooler
These snacks and foods are the heart of the beach food that makes you feel cool and refreshing. Get some big bags of ice for the ice chest and put anything inside that could melt, like chocolates and candies. Here is the list of foods that you can load into the cooler.
Store slices of fruits like watermelon, apples, and pineapple. Other fruits to take along include blueberries, kiwi, and strawberries.
Store vegetables like tomatoes, carrots, broccoli, sliced peppers, and sliced cucumbers.
Do not forget the drinks to make you refreshed on a sunny day. Electrolyte drinks and water bottles are a must-have on the beach. You should also take a box of wine if you are in a group of adults. You can make some honey limeade or ice-cold lemonade to stay hydrated all day. Iced sweet tea is also a good option.
Cheese finds extensive usage in preparing snacks, so you must take it along. Take cheese sticks, blocks, or slices, whatever you find convenient.
Other things to store in your cooler are ice creams, yogurt, popsicles, salami, pepperoni, dips, salsas, and cured meats.
Buy snacks from the nearby grocery store that are easy to find and fill. You can buy chips, crackers, veggie straws, goldfish, fruits, cookies, animal crackers, popcorn, brownies, nuts, Chex mix, nuts, dried fruits, bars, gummies, raisins, pretzels, and beef jerky.
2. Foods that you can bring prepared to the beach
If you have kids, you should have a lot of food to keep the little ones filled. When kids are running around and swimming at the beach, they get super hungry too quickly. You should include loads of snacks according to your vacation days number. There are many things that you can prepare, pack, and bring along with you. Some on the food packing list for a beach vacation are tortilla wraps, fruit salad, pasta salad, hard-boiled eggs, sandwiches, leftovers from dinner, salads, rotisserie chicken, ham, tuna, turkey, and chicken salad wraps. Wrap the chick with cucumber slices, pepper slices, or anything else that you like to keep it fresh for longer.
Grocery list for a week at the beach
You need to prepare a grocery list and buy everything ahead of time. The quantity you buy will depend on the days you spend on the beach. The list that we share here is for a seven-day-long vacation. You can very well add the quantity as per your plan. We recommend buying from an online grocery service, so you do not have to stroll through a supermarket carrying heavy stuff.
First, decide what you will have on the menu. Then, go down meal by a meal while writing down everything you will need. Also, add the quantity of each thing you need in the list, and do not hesitate to buy a bunch extra. Have a look at the groceries list below to get an idea.
1. Fruits & Vegetables
Ten bananas
Six apples
Four cucumbers
Six avocadoes
1 pint of cherry tomatoes
Two lime
A tiny can of crushed pineapple
One white and purple onion
One cilantro bundle
5 lb bag of red potatoes
2 lbs each of grapes, strawberries, broccoli, and carrots
Caesar Salad Kit
Three bell peppers
One bag of mini sweet potatoes
2. Bread
30 flour tortillas
One pkg corn tortillas
One loaf of wide-cut Texas Toast
One box of lasagna noodles
Two loaves of white &wheat bread
3. Meat
1 lb ground turkey
20 oz summer sausage
Two packets of Wright's bacon
Two cans of white meat chicken soaked in water
Pork roast- ½ pound per person
16 oz salami
3 lbs flank steak
4. Snacks
Two bags of tortilla chips and veggie straws
Chocolate chips
Microwave popcorns
Ice creams
Granola bars
Dips and salsas
Big marshmallows
Your favorite flavor of M & M's
One bag each of sour cream onion chips, Doritos, trail mix, and BBQ chips
One box each of wheat thins, peanut butter crackers, nut thins, and Triscuits
5. Dairy Products
Milk
Coffee creamer
Sour cream
Spread butter
American cheese slices
Cheddar cheese slices
Plain Greek yogurt for cooking
Crescent sheets
Biscuits
Butter sheets
Cinnamon rolls
Jarred cheese dip
Cream cheese
Shredded cheese
Cheese cubes
Cottage cheese
2-3 cups of shredded mozzarella cheese
Babybel cheese
Ricotta cheese
6. Drinks
Three big packets of bottled water
Tea bags
Sodas
Pouches of drink mix
Flavored water
Any other drink of choice
7. Breakfast items
36 eggs
Three pop tarts
3 to 4 boxes of cereals
8. Frozen Foods
One loaf of frozen garlic bread
Three pepper and onion blend
Two deep dish pie crusts
Grilled chicken strips
9. Miscellaneous Foods
Peanut butter
A big bag of Splenda
Dips
Any jelly of preference
Honey
Yellow Mustard
Apple butter
Pancake Syrup
Salsa
Roast seasoning packet
Sugar
Cinnamon
Dry ranch mix
Spray whipped topping
Sugar
Coffee
Spaghetti sauce
Pesto
Fajita seasoning packet
10. Others
Coffee filters
Trash bags
Dishwasher fluid
Small laundry detergent
Lighter
Trash bags
Baby powder
Ziplocs
Bathroom spray
Sunscreen
Aloe Vera
Hand wash
Body wash, conditioner, and shampoo
Scrub brush
Band-Aids, allergy medicines, Tylenol
Lysol wipes
Containers for storing leftover food
Paper soap, toilet paper
Garlic powder, pepper, salt
Lighter fluid, charcoal
Napkins, towels, tissue papers, solo cups
Trash bags
Bug spray
MORE POSTS: 8 Best Heat Activated Grill Cleaners for Outdoor Party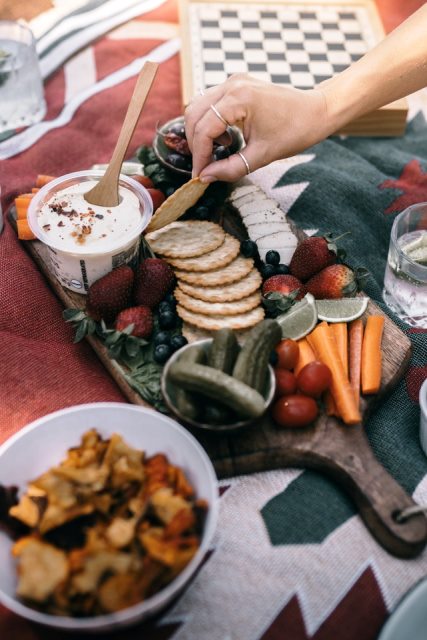 Recipes of the food packing list for a beach vacation
Packing food items for a beach vacation is an easy task. You need to remember a set of rules and a few factors before filling your basket. For instance, put sand for starters. No matter how hard you try and how precautious you are, it ends ups everywhere. The wind on the beach makes sand and salt swirl around. Anything wet attracts sand, and it gets stuck there.
Keep this thing in mind for your next trip to the beach. Some foods hold up better than others, even if you place them inside a cooler. Apart from packing the basics like chips, cookies, and crackers, you will also need something substantial that fills your tummy. Here are recipes for some food packing lists for a beach vacation.
1. Smoked Turkey Sandwich
The Turkey sandwich-filled cheese is a lunchtime classic. You can count it as a midday meal for everyone on the table who eats non-veg. While going to the beach with a group of people, you should prepare 1 or 2 pieces of this, not 10 to 20. Even kids like to have it.
To start, put away the rolls and the bread. Take a big round loaf around eight inches wide, called a boule. You can pick any boule of Italian, sourdough, whole-wheat, and pumpernickel liked by the majority.
These big bread loaves will serve the masses. These prove to be an overly bready sandwich when cooked. With a good dose of carbs, you also get smoked turkey and cheddar, making the meal even better. Take out the soft interior of the loaf after halving the bread and leave the thin-walled crust behind.
The ingredients you need are one large round bread boule, about 8 inches in diameter, 3 to 4 tablespoons of Dijon mustard, 4 ounces of sliced cheddar cheese, 2 ounces of butter lettuce leaves, and 12 ounces of thinly chopped cooked turkey. For preparing this sandwich from the food packing list for a beach vacation, cut the bread horizontally into two halves. Remove the soft interior from each half and save that for
another use. Put mustard in the cut slices. Layer cheddar and turkey inside the hole and top it with butter lettuce. Put the two halves of bread over each other, tightly wrap them with a plastic sheet and then refrigerate it for at least 1 hour or up to a day. Cut the sandwich into small pieces and wrap it again to take it on the trip. You can use the leftovers for about three days.
2. Pressed broccoli and mozzarella sandwiches
Another tasty recipe on the food packing list for a beach vacation is a pressed broccoli and mustard sandwich. The fun part is this sandwich has cute broccoli inside and is not a bad-tasting veggie that is too hard to chew. It is a perfect way to feed children green vegetables in a tasty way.
To make this sandwich, you blanch and sauté the broccoli rabe. The most important part of making this sandwich is the assembly. Prepare the ingredients first and then start cooking to prevent any element from burning. Then, throw broccoli rabe in hot oil containing garlic, toss till it gets soft, and turn off the stove. It will not take more than five minutes.
The ingredients you will need are kosher salt, 12 ounces broccoli rabe coarsely chopped, two large garlic cloves, and three tablespoons olive oil. You will also need a pinch of red pepper flakes, one tablespoon of red wine vinegar, one and a ½ tablespoons of finely chopped drained brined capers, four individual-sized sandwich rolls, 1 pound of fresh mozzarella cheese, and green olives.
To start making this item from the food packing list for a beach vacation, fill water in a large saucepan and boil it. Add a pinch of salt and broccoli rabe to it. Let it cook as you stir it slightly. Drain it, wipe the pot dry, and put it again on high heat. Add two tablespoons of oil, red pepper flakes, and garlic. Stir well for about 15 seconds. Immediately add the boiled broccoli and let it cook for about 3 minutes. Remove the heat and set it aside so that it cools down. Place olives, vinegar, a pinch of salt, and the remaining one tablespoon of oil and stir to combine. Place the rolls and let this mix distribute evenly. Put the cooked broccoli rabe inside the rolls and then tightly wrap each sandwich in a plastic sheet.
3. Mediterranean Chickpea and Feta Wraps
It is a healthy and portable item on the food packing list for a beach vacation. It is an on-the-go meal that you can prepare super quickly. Wraps also fit easily in the budget. These wraps are also full of nutrition and get a flavorful kick from salty feta. The wrap filling consists of mashed garbanzo beans mixed with creamy Greek yogurt and a little tangy feta cheese. You can also flavor it with fresh dill, lemon juice, and garlic. The chickpea mixture holds the wraps together.
Spread the mixture on the tortilla wrap. Add crunchy cucumber sticks, baby spinach leaves, and roasted red peppers, and roll the wrap. These wraps are rich in protein and also contain a dose of heavy vegetables. You can have it for lunch, dinner, or anytime in between.
Let us quickly get to know the ingredients that you will need. The list includes one can of drain garbanzo beans, half cup of plain Greek yogurt, one finely chopped garlic, freshly ground pepper, half tablespoon of salt, and two tablespoons of finely chopped fresh dill. You will also require one cup of baby spinach leaves, one cup of thinly sliced roasted red peppers, and half medium English cucumber.
Take a medium bowl and place the beans in it. Using a potato masher or the back of a fork, mash the beans until most of them are broken. Add yogurt, garlic, feta, dill, salt, pepper, and lemon juice, and mix them well. Divide this mixture into the middle of the tortillas. Spread it into a 2-inch wide band on each tortilla center. Top this up with cucumber sticks, spinach, and peppers. Wrap the tortilla tightly, cut it in half, and serve. You can make these wraps a day before your vacation begins. Just ensure they are wrapped tightly with plastic. So they do not dry out.
4. Roasted sweet potatoes wrap
Another recipe on the food packing list for a beach vacation is roasted sweet potato wraps with caramelized onions and pesto. Partnering sweet potatoes with rich and velvety cream gives them a taste beyond your imagination. A thick swipe of herby pesto will make them even tastier. These wraps make a good lunch. Although this recipe is time-consuming, you can store the roasted vegetables and caramelized onions for almost a week and then prepare the wraps anytime.
The ingredients necessary are six tablespoons of olive oil, three large sweet potatoes, two large thinly sliced yellow onions, three large portobello mushrooms, one pint of grape tomatoes, and two tablespoons of water. You will also need eight large whole-wheat tortillas, half cup basil pesto, Kosher salt, ¾ cup of grated Parmesan cheese, and freshly ground black pepper.
Now let us jump to the recipe of this item from the food packing list for a beach vacation. Start by arranging two racks to divide the oven into thirds and heat it to 400 degrees F. Take three tablespoons of olive oil and one tablespoon of Kosher salt to toss the sweet potatoes. Arrange them in a single layer on two rimmed baking sheets. Roast the sweet potatoes till they become tender and brown around the edges. Cool and transfer them to a large plate. Toss the mushrooms and the tomatoes with one and a half tablespoons of oil and half a teaspoon of salt. Arrange the mushrooms in a single layer on a rimmed baking sheet and the tomatoes on the second layer. Roast them for around 15 minutes while stirring the mushrooms after halftime. Cool them on the baking sheets.
As this process takes place, you can caramelize onions in the meantime. Take a large skillet and heat the remaining one and a half tablespoons of oil over low heat until shimmering. Add onions and half a teaspoon of salt. Cook as you stir every 5 to 10 minutes until onions turn brown and soft. Scrap any fond from the bottom of the pan for about 40 minutes. Add water. So the pan deglazes and allows the moisture to cook off.
Place the tortillas on your kitchen working station. Spread one tablespoon of pesto, and add one cup of sweet potato just below the center of the wrap. Top them up with mushroom slices, tomatoes, and caramelized onions. Roll them up tightly so that the filling does not come out. Repeat it to assemble all the wraps. Cover up each wrap in foil paper. Freeze it and take it along the vacation. Reheat the wraps in an oven or toaster wrapped in foil for about 10 minutes. And then serve them.
Final Words
So, this is all about the food packing list for a beach vacation. We have covered everything from breakfast, lunch, and dinner ideas to grocery lists and recipes. We hope that this information will be beneficial to all the readers. Happy vacation!
MORE POSTS: Hongdae food guide for a first-time traveler