How to Deal with a Messy Child?
Last Updated on 7 months by admin
Some kids are pretty busy, in fact, messier than others. They leave behind a trail full of toys as they make their way through the house. Moreover, they also keep things in disarray or broken around the house. The mother often does the task of cleaning the house left messy by the children. They give a sweet smile to appease everyone around for considering the commotion created by children with a lesser knowing disposition. Below are some everyday things that you can perform to tackle your messy or clumsy child.
13 Ways to Deal with a Messy Child
Giving positive affirmations.
It has been said that words prove potent when a child creates a mess around. Rather than tagging them, you can ask them to help mommy clean the messy room. In this way, the child thinks positive about themselves and segregates what they are doing correctly and what they are not.
2. Offering positive reinforcement.
It is very tempting to scold children when leaving toys around or breaking a vase. However, constantly beating and scolding them might not severely affect them, making them more rebellious. Instead, parents must say sweet words to their children when the toys are kept nicely or while picking up something from the floor left behind by the children. A child always loves positive reinforcement, and it will allow them to turn towards good behaviors rather than being more rebellious.
3. Be a worthy role model for your children.
It would be useless to shout at children for being messy if you are messy yourself. What you do defines what your children will do. Rather than yelling at them, you first learn to keep things in the right place. Being a quality role model for your child is very important for cleaning a messy room.
4. Have a designated place for keeping everything.
You might shout and say, "Clean it up!". However, if your child is not aware of the place to keep the things you asked them to pick up, it would become unnecessary to shout at them. Ultimately, you will prove ineffective in becoming a good parenting model. Organize your house and child's room so that even if things are scattered, they can put them back in wrong places on being told. Moreover, assigning a place for everything will ensure that the toys, books and other things are correctly kept.
5. Communicate with them appropriately.
Educating your child about why messing the room around is not a good practice will take them along to keep their room clean. They will think twice before scattering toys around their room and will take proper care of the mess around. Children will know why causing chaos is not a good practice, and you telling them will also develop a good relationship of reciprocated respect. Try to explain to them how the mess inhibits their movements and learning. Additionally, a clean home and room allow ample space for moving around the house and peace of mind.
6. Characterize a messy room.
If you start by telling them that the room is messy, it won't be enough to communicate an issue of disorganization with the child. Tell them what is dirty and why it is so. It will help them have a clear idea of what you want to tell them and your intentions behind saying so. Moreover, ensure that what you mean to say by "mess "remains similar every time so that there is no confusion between you and your child while communicating with each other.
7. Explain to your child why a messy room is problematic.
Some children do not understand the meaning of cleaning, and thus, they don't wish to clean up their room. As parents, you must make them understand why a messy room is problematic. You can say things like:
If they do not pick up the toys, they will step on them and hurt their feet.
When clothes are scattered around your room, they get wrinkled and look bad.
If your child does not throw the chocolate wrappers, they might attract bugs.
However, be careful not to repeat the same thing repeatedly and get a backfire.
MORE POSTS: How to Reduce Screen Time for Toddlers while eating
8. Declutter your life capacity.
Children grow very quickly. As they grow, they tend to scatter many things like toys, nappy bins or other necessities like the changing table. Instead of storing these things at your house, give them away or sell them. Just keep the things that prove essential for your child in their current age group. It will prove worthy of educating your child about keeping a room clean and letting them know what cleanliness is.
9. Make things fun and enjoyable.
Cleaning time must be a fun time. You can turn on the music and sing loud with your child while cleaning your messy house. Give them their little dustpan and the broom to make the time more enjoyable and fun. Little girl children always try to copy their mom, and they will enjoy pretending their room is their own house which they are cleaning, just like a bing and stable person. Rather than making the time more boring and allowing your children to make more mess as you clean up, do some cheerful activities while cleaning the mess created by your child.
10. Display a star chart.
Children are very fond of star charts. Display a star chart where they can see it. Also, give them a star whenever they follow the regulations, keep the space clean, or pick up the things themselves. When they gather a line of stars, award them with their favorite toy. It is not about bribing your children to keep rooms clean. Instead, it is about teaching them that rewards can be achieved for their actions. It will also help them learn positive behavior and, in turn, keep the room clean.
11. Make utilization of visual reminders.
Some children require reminders to visualize how a clean bookshelf looks upon cleaning. Being parents, you can paste a picture of a clear bookshelf on the wall. You can also paste sticky notes like "Books are arranged from the tallest to the shortest". Another significant thing you can do for your child is a precise checklist. They will tick the actions whenever they are performed. It will help them to organize the room in an exemplary manner.
12. Clean the house together.
Why not allow your child to clean up with you when you clean up the big house. They will also enjoy cleaning the house along with you and will consider themselves productive associates of the family. Another effective method is to make a slot for cleaning the room. As soon as it is over, move on to a fun session with them, like going outdoors or reading books. In this way, while they are indulged in cleaning the room, they will also have in mind the scheduling of upcoming activities. Your children are less likely to drag their feet around and try to clean up the room as soon as possible to move on to the next task.
13. Pay close attention to the study area.
A neat place for doing homework or studying is crucial to help them focus and organize themselves. Ensure that your child's study area is clean, even if it is not placed in the bedroom. You must show your child how to organize homework in separate folders for separate subjects. It will help keep the room clean, let your children focus on their studies, and know the importance of maintaining a messy room clean.
MORE POSTS: How to discipline a 1-year-old who throws tantrums
Final Words
Your child might be messy and mess the room around with toys and other things. But it does not mean that you will scold them and shout at them every time. Though, you might think that scolding them will teach them a lesson. However, children sometimes get arrogant and become more rebellious upon scolding. It is better to take the situation lightly and get a solution for the problems created.
All you can do is organize a study area for them, design proper shelves where they can know to keep things in order and engage with yourself while cleaning the room. It will help you clean the room, but it will also teach your child a lesson about how not to clutter things around and keep the room clean. Moreover, you can also set up to-do lists and tell your child about them so that whenever they clean the room, they can keep on ticking the checkboxes.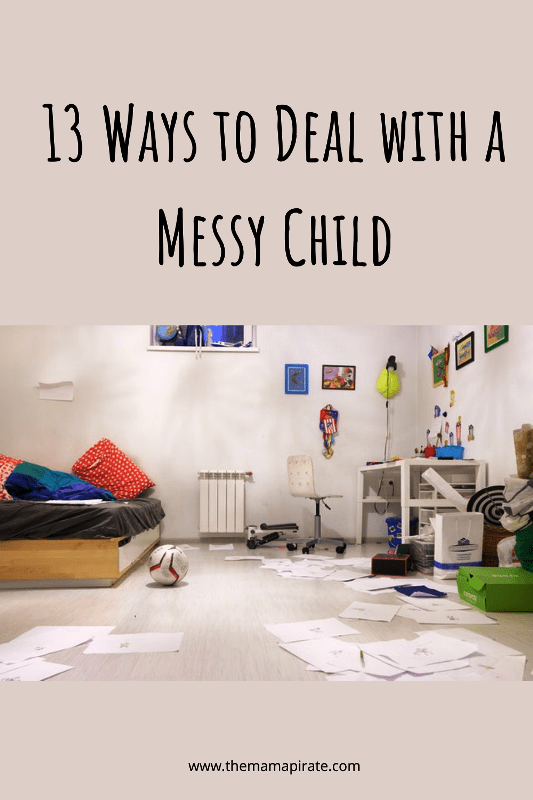 YOU MAY LIKE: