How to Style a Bodycon Dress
Last Updated on 3 weeks by admin
Styling a bodycon dress can be a thrilling fashion adventure, showcasing your confidence and individuality. This curve-hugging garment, known for its sleek silhouette, offers endless possibilities for creating chic and eye-catching looks suitable for various occasions. Whether you're preparing for a glamorous night out, a casual brunch, or a professional meeting, mastering the art of styling a bodycon dress is essential. In this guide, we'll unravel the secrets of choosing the right accessories, footwear, and outerwear to accentuate your figure and express your personal style effortlessly. Get ready to turn heads and embrace your inner fashionista as we dive into the world of bodycon dress styling!
Choosing the Perfect Footwear for a Bodycon Dress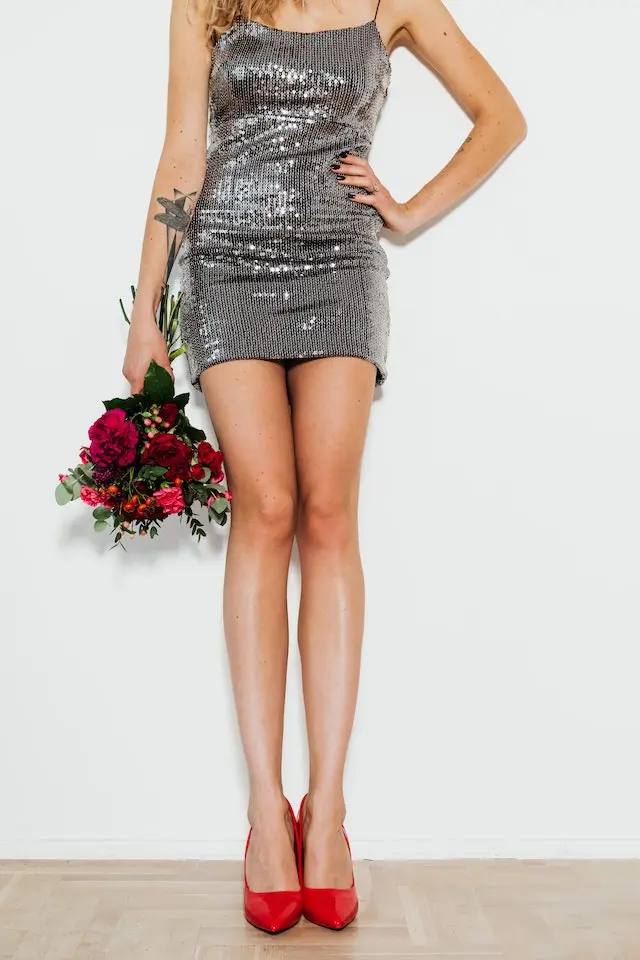 Choosing the perfect footwear to complement a bodycon dress is crucial to achieving a balanced and stylish look. The form-fitting nature of a bodycon dress highlights your curves and demands careful consideration when selecting shoes. Here are some tips to help you make the right choice:
Heels for Elegance: High heels are the classic choice for a bodycon dress. They elongate your legs, improve posture, and create an elegant, feminine silhouette. Stilettos, pumps, or strappy sandals can all work wonders, depending on the occasion. Nude or metallic shades often pair well with various dress colors.
Boots for an Edgy Twist: Ankle boots or knee-high boots can add an edgy and trendy vibe to your bodycon dress ensemble. They are perfect for transitioning your look from day to night and can provide some extra warmth during cooler seasons. Consider experimenting with different boot styles to find the one that suits your dress and personal style.
Flats for Casual Comfort: If you're opting for a more laid-back or daytime look, consider ballet flats, espadrilles, or sneakers. These comfortable options can balance the formality of the dress and make it suitable for everyday wear.
Statement Shoes for Personality: Don't be afraid to make a statement with your footwear. Bold, colorful, or embellished shoes can add a unique touch to your outfit, transforming a simple bodycon dress into a fashion-forward statement piece.
Consider Dress Length: The length of your dress also plays a role in shoe selection. For a mini bodycon dress, heels or ankle boots can elongate your legs and create a balanced look. With a midi or maxi bodycon dress, consider heels with an open toe to avoid overwhelming the outfit.
Color Coordination: Pay attention to color coordination. Neutral shoes can create a timeless and versatile look, while complementary or contrasting colors can add a pop of excitement to your outfit.
Choosing the perfect footwear for a bodycon dress involves balancing comfort, style, and occasion. Whether you're aiming for a sophisticated evening look or a casual daytime outfit, thoughtful shoe selection can elevate your overall appearance and ensure you rock your bodycon dress with confidence.
Choosing the Perfect Accessories for a Bodycon Dress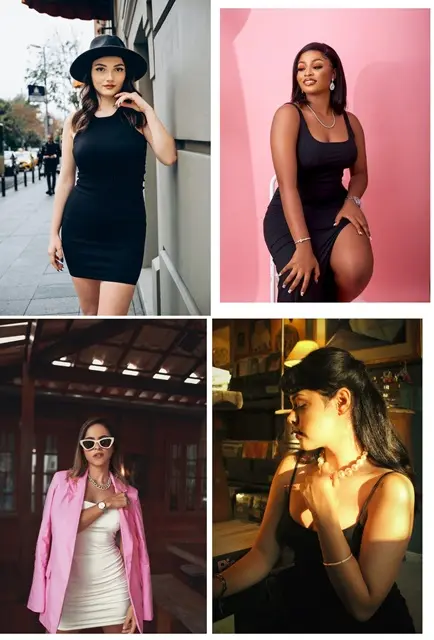 Selecting the ideal accessories to complement a bodycon dress is key to achieving a polished and harmonious ensemble. Since bodycon dresses emphasize your figure, the right accessories can enhance your overall look. Here are some valuable tips for choosing the perfect accessories:
Statement Jewelry: A bodycon dress provides a perfect canvas for statement jewelry. Chunky necklaces, bold cuffs, or oversized earrings can draw attention to your neckline and add an element of glamour to your outfit. Consider the neckline of your dress when choosing necklaces; a plunging neckline might pair well with a pendant, while a high neckline may benefit from statement earrings.
Belts: Cinching your waist with a stylish belt can define your curves and break up the dress's silhouette. Opt for a belt that complements the color or style of your dress, whether it's a classic leather belt, a metallic chain, or a colorful fabric sash.
Clutch or Handbag: The choice of handbag can make or break your look. For an elegant evening affair, go for a chic clutch. During the day, consider a crossbody bag or tote that matches your dress's vibe and color. Coordinate the bag's color with your shoes or other accessories for a cohesive appearance.
Footwear: As mentioned earlier, shoes are crucial accessories for a bodycon dress. Ensure they complement your overall look by considering the dress's length, color, and style when choosing your footwear.
Scarves and Shawls: For cooler weather or a touch of sophistication, drape a scarf or shawl over your shoulders. A lightweight, patterned scarf can add a pop of color and personality to a solid-colored dress, while a shawl provides warmth and elegance.
Minimalism: Sometimes, less is more. If your bodycon dress is already a statement piece on its own, consider keeping accessories minimal. A simple pair of stud earrings, a delicate bracelet, and classic pumps can maintain an understated yet chic appearance.
Hosiery: If you choose to wear hosiery, select the denier (thickness) based on the season and your dress's style. Sheer or patterned tights can add a playful touch, while opaque tights provide warmth and coverage.
Remember that balance is key when accessorizing a bodycon dress. Experiment with different combinations to find what complements your dress's style and your personal taste. Ultimately, the perfect accessories can elevate your bodycon dress from simple to stunning, allowing you to express your individuality and confidence through fashion.
Choosing the Right Undergarments for a Bodycon Dress
Selecting the right undergarments for a bodycon dress is essential to achieve a flawless and comfortable look. Seamless, skin-toned undergarments are your best bet, as they minimize visible lines and provide a smooth silhouette. Invest in high-quality shapewear if you want extra support or shaping. For low-cut necklines, opt for a plunge or adhesive bra to maintain support without peeking out. Thong-style underwear eliminates visible panty lines, while seamless boy shorts work well for those who prefer more coverage. Remember to choose undergarments in a shade closest to your skin tone to maintain the dress's sleek appearance.
How to style a bodycon dress for winter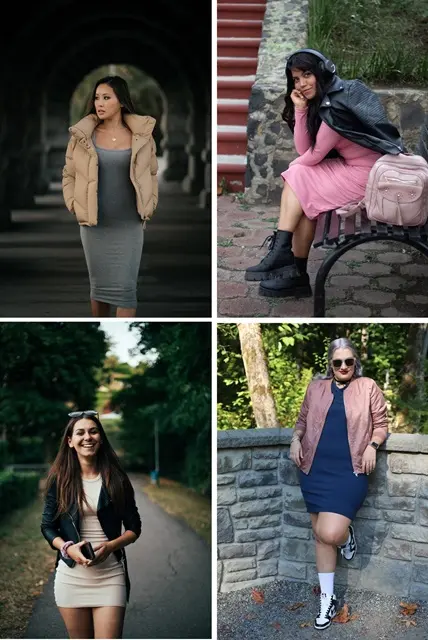 Styling a bodycon dress for winter can be a chic and cozy affair. While these form-fitting dresses are often associated with warmer weather, with a few creative choices, you can make them work even when the temperature drops. Here's how to style a bodycon dress for winter:
Layer up: Start by adding warmth with layers. A fitted turtleneck or long-sleeve top underneath your bodycon dress provides extra insulation. Choose a complementary color to create an appealing contrast.
Cozy outerwear: Top your dress with a stylish coat or jacket. Wool coats, faux fur jackets, or leather trench coats are excellent options for staying warm and fashionable.
Hosiery: Don't forget your legs. Opt for opaque tights or leggings in a color that complements your dress. This not only keeps you warm but also adds depth to your outfit.
Footwear: Choose ankle boots or knee-high boots to keep your feet warm. Leather or suede options work well and add a touch of sophistication.
Accessories: Incorporate winter accessories like a chunky knit scarf, gloves, and a beanie or beret. These not only keep you cozy but also complete the winter look.
Texture and fabrics: Select dresses made from thicker materials like ribbed knits, velvet, or wool-blend fabrics for added warmth and style.
Belt it: Cinch your waist with a statement belt to add definition and a touch of flair to your outfit.
Don't forget the makeup: Opt for deeper, winter-inspired makeup shades to complement your ensemble.
By following these tips, you can confidently rock a bodycon dress in the winter while staying both fashionable and warm.
How to Choose the Right Bodycon Dress for Your Figure
Choosing the right bodycon dress that complements your figure can make all the difference in looking and feeling confident. Here's a guide to help you select the perfect one:
Know Your Body Type: Understand your body shape, whether it's an hourglass, pear, apple, rectangle, or inverted triangle. Different bodycon styles suit various shapes.
Consider Fabric: Opt for fabrics with some stretch, like spandex or elastane blends, to ensure a comfortable fit that hugs your curves without feeling too tight.
Length Matters: Choose the dress length wisely. If you're petite, a shorter dress can elongate your legs, while taller individuals may prefer midi or maxi lengths. Midi dresses are generally universally flattering.
Necklines: Pick a neckline that complements your upper body. V-necks can elongate the neck and flatter larger busts, while scoop necks are great for balancing narrow shoulders.
Colors and Patterns: Darker colors and vertical stripes can create a slimming effect, while bold patterns draw attention. Choose according to your preference and comfort.
Undergarments: Invest in seamless shapewear or undergarments to enhance the dress's fit and smooth out any lines or bumps.
Try Before You Buy: Always try on the dress and assess how it fits your unique body shape before making a purchase.
Remember that confidence is key when wearing a bodycon dress. Choose one that makes you feel fantastic, as your self-assured attitude can enhance any outfit.
Celebrities Who Nailed the Bodycon Dress Look
Many celebrities have flawlessly rocked the bodycon dress look, exuding confidence and style. Kim Kardashian, a pioneer of the trend, often stuns in body-hugging ensembles, showcasing her curves. Beyoncé is another icon who frequently embraces this silhouette, accentuating her hourglass figure. Supermodel Emily Ratajkowski effortlessly combines elegance and sensuality in bodycon dresses. Rihanna adds her unique flair, pushing boundaries with daring designs. Jennifer Lopez, known for her sculpted physique, consistently wows in figure-flattering choices. These celebrities not only nail the bodycon dress but also inspire millions with their fashion choices, proving that this trend is here to stay.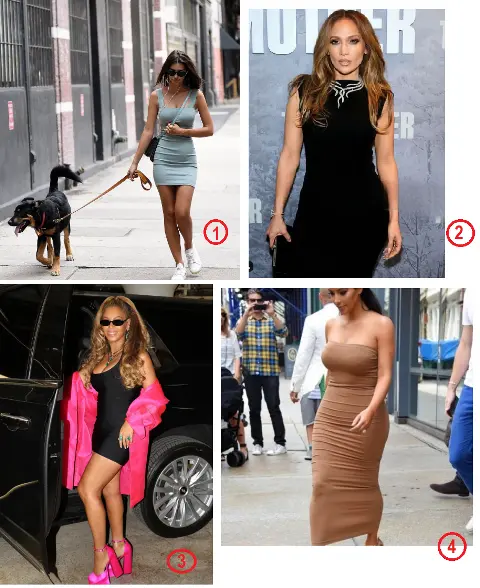 Emily Ratajkowski
Jennifer Lopez
Beyoncé
Kim Kardashian
Final Words
Incorporate these styling tips to make your bodycon dress a versatile and stunning addition to your wardrobe, no matter the season. By layering, accessorizing, and choosing the right undergarments, you'll confidently flaunt your figure while staying chic and comfortable. Embrace your unique style and strut with confidence!
MORE POSTS:
Casual Engagement Party Outfit Ideas for Female Guests
Boho Dresses to Wear with Cowboy Boots