(Last Updated On: November 25, 2023)
You have an invitation to a baby shower, and you cannot wait to meet the expecting parents and offer them a warm hug. Also, you have picked up a charming gift for the glowing soon-to-be mom to wish her the best. But have you sorted out your dress as a guest in a baby shower? Dressing up for a baby shower is a challenging thing since many people are over or underdressed on the day. Also, things get more complicated if you are one of the family members or close friends of the soon-to-be parents. In that scenario, dressing up correctly for the baby shower becomes mandatory.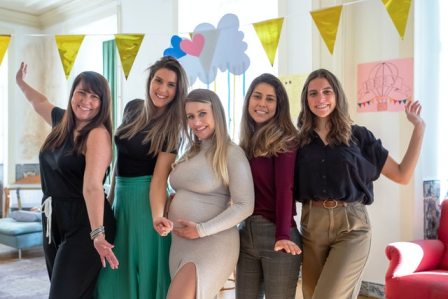 Some invitees overdo their dresses and clothes themselves like a wedding party. On the other hand, many guests often attend baby showers in casual attire. So, if you do not want to ruin the party with your inappropriate dressing, catch up on our blog to know the perfect dress to wear to a baby shower in every season. As we have mentioned earlier, choosing clothes for a baby shower is a tricky task because the formality level varies. So, before selecting an appropriate attire, figure out the formality level.
You can measure it in the form of an invitation. If you receive a mailed invitation with calligraphy and a patterned liner, then it asks you to dress up more formally than an email invitation. So, keeping all these factors in mind, you need to dress accordingly for the baby shower. Are you feeling overwhelmed? Worry not, as we have covered everything about the baby shower attire that will suit your style. So, check out the following sections to be the center of attention in the next baby shower event.
What to wear to a baby shower as a guest in spring?
The spring season offers the best idea for choosing apparel before attending a baby shower event. As we picture this season as a time for blooming flowers and a period of colors, you can get some of the best baby shower outfit ideas in this season. Just select some colorful dresses with excellent floral motifs to mesmerize everyone at the event.
If the invitation and the venue are not formal, you can pick up a flowing maxi dress or a flared midi to attend the baby shower. Pair the dress with ankle boots or sandals. In the case of a casual invitation, you can even put on some appropriate jewelry to flaunt at its best. But, what will you do if the floral or colorful dress does not go along with your style?
Or, maybe the invitation warrants such casual attire. In that case, some out-of-the-box ideas can save you from ruining the outfits. If you are comfortable in tops and trousers, patterned blouses with lace sleeves or minimal embroidery can suit you the best. Wear it with cropped chinos, and you are ready to draw everyone's attention.
You can even wear any blouse with a feminine touch with any variant of formal trousers if dresses are not your style. We all know that staples never go out of fashion. So, even for a baby shower in spring, wear casual attire with a formal fabric to keep it simple and perfect.
Also, if you are more into polished and sophisticated style, pick up classic chambray and pair it with a formal skirt or sleeks. Not only will it look classy, but you will also be comfortable in this outfit.
Lastly, if you are into dresses but do not want to get too fussy. You can pick one in medium length with simple floral motifs and ruffled cuffs. You can even go for one with a high neck and long sleeves to prevent the chilly cold.
MORE POSTS: What to put in a pregnancy care package?
What to wear to a baby shower as a guest in summer?
Just like spring, summer is also a season for colorful dress-ups. But, the heat of this season demands some light fabrics, like- cotton, chiffon, linen, or rayon. Also, selecting the perfect one between an airy sundress and blousy shorts can make you perplexed, especially if the baby shower venue is outdoors.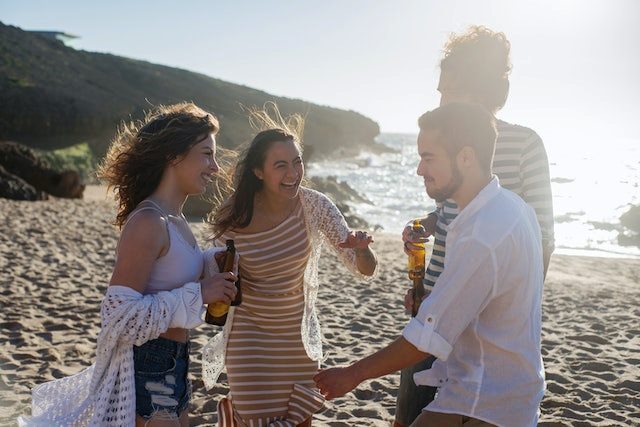 Although this season offers you an opportunity to flaunt in vibrant shades and fun or floral patterns, the chance of overdoing the outfit also rises. But, if the event demands, do not feel hesitant to parade in colors and patterns.
For people with a massive admiration for dresses, a brightly shaded sunny summer dress with buttons in the front perfectly goes with the baby shower event. Select one in a lightweight fabric to feel extra comfy and airy in the sweaty summer season.
If the baby shower event is a backyard BBQ or an outdoor brunch with your family or friends, you can wear something cool, like- rainbow shorts. Also, pair it with a puffed or lacy-sleeve blouse to make the outfit summer-proof.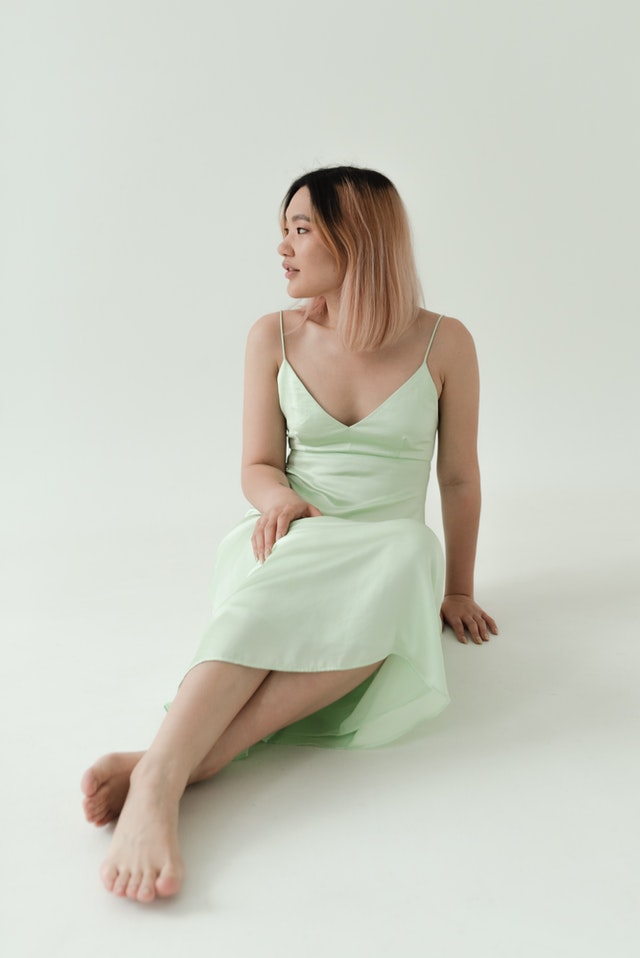 While the airy blouse will keep you cool in the outdoor event in summer, the playful style will perfectly go with the celebratory mood of the baby shower. Are you more into stripes? In that case, you can flaunt a seersucker summer dress to be the center of attention at the baby shower event.
So, a mini striped dress with tied cuff sleeves can make stylish yet casual apparel that suits the event perfectly. If the dress comes with a nipped waist and delicate cover buttons, wear a straw hat with it. A perfect baby shower outfit in summer is with an extra precaution against the sun.
What to wear to a baby shower as a guest in the fall?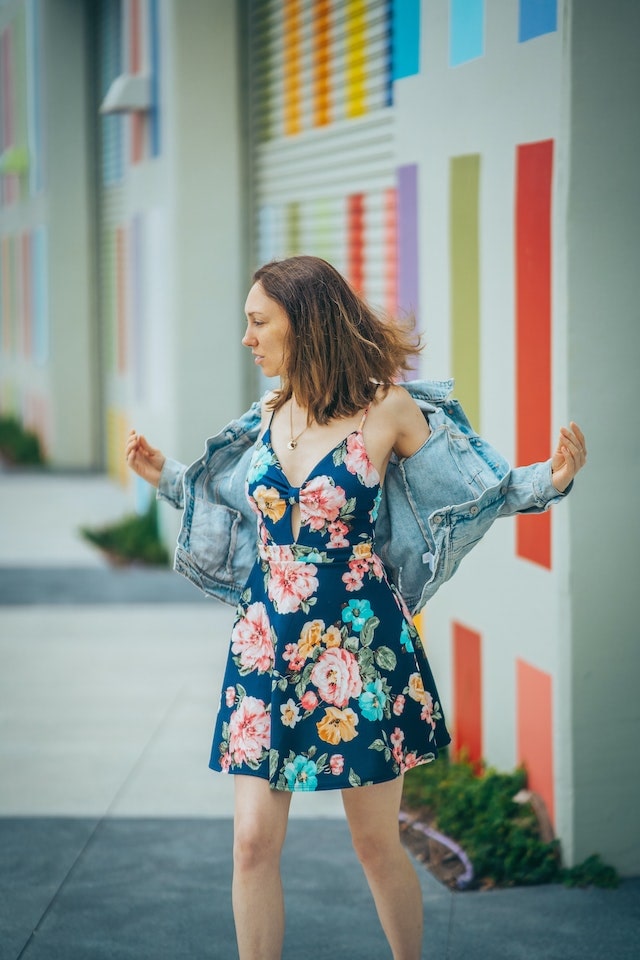 If the baby shower is in a transitional season, choosing a perfect outfit can leave you perplexed. While the summer outfit can leave you cold in fall, heavy wintery apparel does not feel comfortable in this season. So, think about the wide range of weather while deciding on an outfit for a fall baby shower.
Although the heavily layered costume is not a perfect match for this season, go for lightly layered garments for an outdoor event. Try to pick a dress that goes well with a blazer, shawl, or cardigan. Also, the apparel must look stylish even without the added layer of wool.
Blazers and blouses also make a perfect match for a fall baby shower, if you wear a comfy sweater-knit jacket on it to bring a festive mood. Jackets with large patch pockets can save you from underdressing for the event. To include fashion and casualness in your style, you can go for a tie-neck top that even expresses your feminism with ease.
For a casual fall baby shower, nothing suits better than skinny jeans with high heels or boots. Want to become stylish chic with a more effortless outfit? Wear your favorite pair of cigarette trousers with a ruffled blouse, and rock the look with a heeled pair.
Now, maybe you want to wrap your favorite sweater or scarf while attending a baby shower in the fall. In that case, you can curl up in your favorite sweater dress for extra warmth and comfort in this slightly cold season. A little gathering at the shoulder and a cable-knit stitch with a patterned neck border offer a put-together look to the overall costume.
Plus, if you match the dress with a pair of Knee-high suede boots, the baby shower costume will reach the next level. But, are you welcoming your nephew or niece through the fall baby shower? In that case, fit yourself in a flaunting jumpsuit to let everyone know your relationship with the soon-to-be-born member.
You can even step up the game with funny polka dot prints or checkered stripes, puffed or blouson sleeves, and patterned front wrap in the jumpsuit. While the apparel will be a fashion-forward pick, it will even bring a cheery mood on the auspicious occasion.
What to wear to a baby shower as a guest in winter?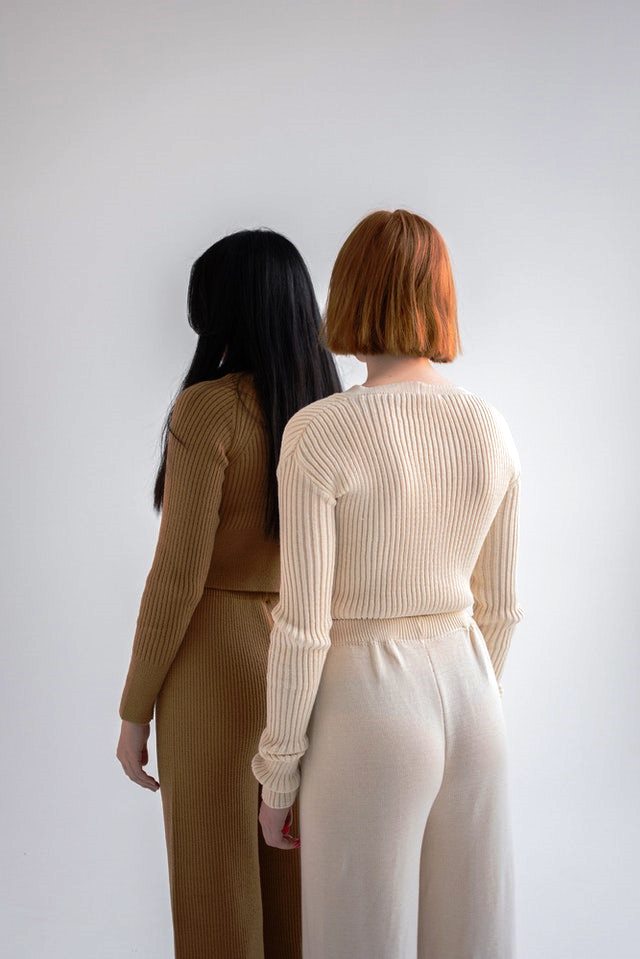 We know how it feels to receive an invitation for a winter baby shower. The shivering cold makes it difficult to show off your favorite and stylish outfit for the baby shower. So, do you have to attend the next winter baby shower while underdressed? Of course not.
You can even smack the event with a pair of denim jeans and leather jackets if you match everything properly. Since layering is the key in the winter baby shower outfit, you can go for a cozy sweater or soft blazer to keep yourself warm throughout the event. Also, pairing these with proper boots and accessories can easily make you a fashionista.
If you feel comfortable in pants, you can look for patterned details to bring a casual look to the outfit. In that case, a unique pattern, silhouette, and formal fabric can take your look to the next level. Winter allows you to play with textures and materials as per your choice.
So, create a juxtaposition of fabric by pairing a cropped sweater blouse with a satin skirt. While the cozy top will make you feel warm in the chilly cold outside, the satin skirt offers a silky feel with a bold look. For fashion-forward chics like you, leopard prints and pleated midis can even do magic with the whole outlook.
Are you looking for casual and stylish apparel for the next winter baby shower? A velvet dress with boho sleeves or an off-shoulder neckline can make you the center of attention in the whole event. While the cushy velvet fabric keeps you warm, this trending material suits every body type correctly.
If you are quite in a hurry and have not much time to dress up for attending the baby shower, the classic combo of plaid blazer and comfy slacks can make you instantly ready to flaunt the cheering look of the event. You can even upgrade the appearance with a contemporary oversized patterned blazer and fashionable jogger pants with a paper-bag waist to avoid looking casual.
MORE POSTS: 10 beautiful baby shower decoration ideas at home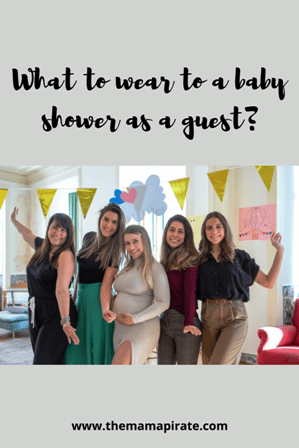 What can you wear as a guest in a virtual baby shower?
The current pandemic circumstances are pushing more soon-to-be-parents to celebrate the baby shower event online. Although many guests try to wear comfy apparel, they will be too underdressed to attend even a virtual baby shower.
So, if you do not want to mess with your overall outlook in the virtual baby shower, put equal effort into planning the costume as you do for the in-person event. Getting correctly dressed not only makes you feel comfortable while attending this online baby shower, but it will also make the guest of honor feel loved.
But, dressing up for a virtual occasion is easy since only your torso gets seen. So, consider wearing stylish yet appropriate upper body wear for the event. A detailed blouse, patterned top, or statement necklace can do most of your work in that scenario.
Still, while selecting beautiful upper body apparel for a virtual baby shower event, consider some factors to avoid any wardrobe blunder. Since you will be on camera throughout the event, avoid wearing anything too tight or with a low neckline. Also, check whether the dress gapes open or the neckline slides down while sitting.
In that case, such dresses can prevent you from enjoying the occasion to the fullest. Plus, camera-friendly makeup can bring the whole look to the next level if you select a bright spot with enough light for sitting. Minimal makeup and stylish upper wear never make you feel left out in an online baby shower, and you can relish the event.
Bonus tips for selecting the best apparel for a baby shower
Maybe you still have some confusion in selecting the perfect attire for a baby shower. In that case, you can consider checking out the following points before picking up an outfit.
If the event demands a specific dress code or focuses on a particular theme, you should consider dressing up accordingly.
If the game involves, try wearing comfortable clothes that you can move smoothly.
Men should also dress up appropriately for the baby shower. Men's apparel for such events needs to be perfectly formal and comfy to avoid any fashion blunder.
Conclusion
Although choosing the best dress for your friend or family member's baby shower is a significant thing, do not get too thoughtful. Remember, through the baby shower, you will welcome a newborn into this world. So, smile and enjoy the day to the fullest. No matter how beautiful your attire is, your smile and joy are everything to add some extra sparks to the significant event.
YOU MAY LIKE:
Best outfits for a baby shower as a guest in 2023