Best Beach Family Photo Outfits to Wear
Last Updated on 20 hours by admin
A photoshoot with all the family members is essential as it is a lifetime memory. Every family must have at least one photo session in their lifetime. You can make the photoshoot worth remembering by wearing different outfits or dressing up in a particular theme. Some people keep it simple by drawing light on them. Whatever way it be, a family photo session is valuable and is preserved lifelong.
A beach is an excellent place for a photoshoot. Think of the beach's beautiful and soft colors in the morning and evening when you decide on an outfit idea. Some of the best base colors are the blue of the sea, the tan color of sand, and the blush pink of the sky. Navy blue and white are complementary colors of the sun-kissed tones.
This article is the best place to gather ideas for a beach family photo session. We will discuss some of the best outfits to help you choose. Do read till the end!
Beach family photo color schemes for outfit
The color scheme can make or break a photo shoot. So, decide on it wisely. Consider factors like location, season, and the number of people photographed to determine the color scheme. Photographers claim that dressing for multiple families can be challenging because more people mean more varying styles. They recommend sticking to 2 to 3 colors for each family to keep things simple and unified. One of the ways to achieve simplicity is by using a complementary color scheme.
Including neutrals in your clothing choices is a good option. It will enhance the color choices and also open up more alternatives. For instance, beige and white are outstanding additions to a color scheme of navy and light blue. Another excellent color scheme is blue and shades of brown. While deciding on the outfits for the photoshoot, you can use accessories like hats, belts, shoes, necklaces, hair accessories, and scarves to add pops of color. If the family dresses in navy and light blue, one member can wear a white sundress with a navy blue sun hat and a necklace to complete the look.
Make sure that you balance the colors correctly with the textures and patterns. This way, members will not end up matching too much. Give a unified and aesthetically pleasing look to the entire family by selecting a balanced approach to colors. Do not make all the family members wear the same clothes. When each member adds their touches to the shoot, it becomes more fun and memorable.
The location applies to photography more than it does to anything else. The location of the family photo shoot is another determining factor in the outfits that you will wear. Choose colors that also go well with the environment. Blue is the most recommended color for a beach photoshoot as it blends perfectly with the bright orange sunset. You will also have to consider the season while choosing outfits for an outdoor photo session.
MORE POSTS: What to wear to a baby shower as a guest
Casual wear for beach family photos
There are endless options for a cute beach outfit. Begin narrowing them by the occasion you want to wear them. Your dresses on the beach with friends should be different from what you wear for a family photo shoot. Look stylish and respect inappropriate attire. Once you know that you are dressing up for a family photo session, the next step is deciding what outfit to wear. What do you want to reflect on in your beach outfit? Get the message out right because our dress speaks for ourselves before we speak.
The final step to your perfect beach outfit is getting all the elements ready and putting them together. Ensure all the accessories go well with the dress and create a cute and stylish beach outfit. We have discussed 21 beach outfits below that contain a variety of looks. You can pick any of these for a family photo shoot at a beach. This resource is something that you can use while dressing up. Let us jump to the primary part quickly and explore all the attires.
Outfit for a beach vacation
If you are going to a beach for a vacation and want to do a family photo session there, then you cannot miss out on this dress. A simple breezy top of light colors like white or blue has little patterned details. Accompany this with classic chino shorts of dark color like black or sea green to match the light color of the top. The look is incomplete without accessories like a hat and sunglasses. You can also wear a bracelet and a boho bag.
Outfit for summertime on the beach
The one thing that almost everyone loves to wear in summer is white shorts. You can wear this outfit for a shoot and then go for a brunch or a bike ride, all in one day. Yes, it is that comfortable. Pair the white shorts with a blue or black spaghetti top. If you get a chance to dip in the ocean, you can wear a bikini under this dress. Wear a hat that will protect your face and hair from the sun's rays. You can add more pops of colors to the attire by wearing a bracelet. Although you can wear denim white shorts, loose ones will be super comfy.
Boho outfit for the beach
Nothing can beat a bikini for the time spent in the sun. If your family shoot takes place on a sunny morning, you can add some pizazz and make it extra boho. Add accessories like a hat, beaded bracelets, and a flowy floral beach cover-up. The floral pattern of the cover-up has multiple colors to match the cohesive look of the beach.
Summer outfit for a beach date
Want to go on a date after the beach family photoshoot? This dress is what you need. You and your partner can have a nice date at the beach. A little dressy, flirty, and cute dress will be perfect. You can also wear an off-shoulder dress as it is in trend these days. Match it with cute strappy sandals, a hat, and a fringe bucket bag.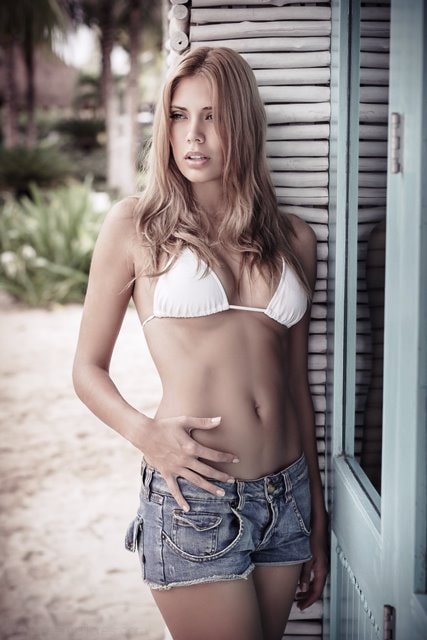 A bright bikini for summer
A tie-dye bikini with denim shorts is a brilliant outfit for a day out on the sand. You can remove the shorts if you fear tanning on your legs. A pair of shorts help in the transitioning periods so that you can get different shots in multiple dresses. You can transition from the car to the beach, the beach to lunch, or grab a cocktail. You can have a sunshine photo shoot by adding a matching bracelet and a sun hat.
A cute outfit for vacation
Always select a beach outfit with arrays of fun prints and blues. The blue color is perfect for a photo shoot on a beach as it matches well with the ocean waves and the sky. Choose two to three distinct patterns that work well together with the color scheme. You can use mixing prints and create a monochromatic look. Add a few more patterns to the clothes using the striped shoulder bag. You can add cute waves to your hair or braid your hair. Braids will keep your hair away from the face and look great with a beach dress.
A mismatched bikini is the best way to use all your bikini sets to the fullest. It will create unexpected and cute combinations. This trick is helpful when you are getting multiple shots of the family photo session and want to look different in each one. Just match each bikini with the decided color code or theme. You can wear the lower piece of the bikini with a frill top and wrap up the legs. Mix bold and solid colors in print, while the other is plain. If done right, even mixing prints can create a unique beach costume.
A beautiful printed dress is simple and stylish in the summer season on a beach. Such a dress goes well with the vibe of ocean waves. A vibrant blue dress will be reminiscent of the sea and the sky. Pair the blue dress with matching blue wedge sandals. Other accessories that you can include are a hat, sunglasses, a lightweight denim jacket, and a fedora. Tie your hair in a simple high or low ponytail, whatever fits your face cut.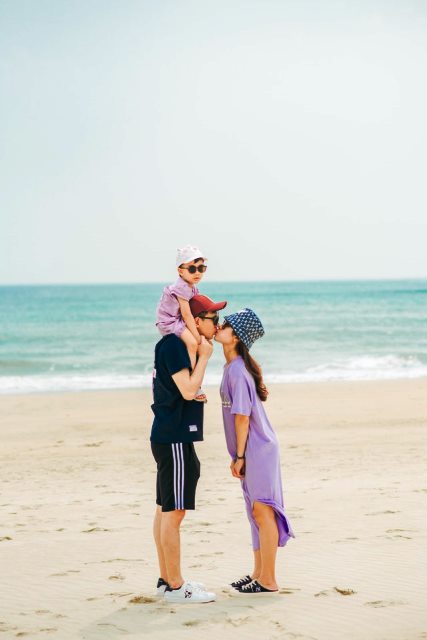 Do you want to feel more dressed up at the beach family photoshoot? You can wear a maxi dress. It is a stylish outfit for the beach. You can wear it with heels or flat sandals, as per the length of the dress. It is not only classic in style but also has the vibes of a beach. Top it up with a stark white top and accordion pleating. A dress with floral, ikat print, stripes, or tie-dye will be lovely.
The idea of a perfect summer bikini is different for everyone. Instead of choosing both the pieces to be classy, buy a pair with a classic top or bottom, and the other piece is stylish. Ensure you are comfortable wearing it in the waters and look good under a beach cover-up. Do not wear something too bold or fashionable to an extent making you uncomfortable.
Another great outfit for a beach family photo session can be a maxi beach cover-up. If you want to wear a bikini but still need something for a cover-up, this is a stylish and sexy choice. These are super easy ways to dress and feel comfortable while walking around on the sand or just hanging out after the photo session. Put on some sunscreen as although it is stylish, it will not protect you from the sun. A beach photo session during the day can give you weird tan lines.
A Cali girl looks for the beach.
An easy beach attire will make you look cool in the photos. Also, these are super comfy, so you can go paddle boarding or hang out at the beach after the photoshoot with your family. You will not feel tired with any number of retakes of the pictures. Leave your hair open or tie them up in a high ponytail to prevent them from coming over your face. To make the look a little classier, you can wear earrings, bracelets, or necklaces.
A cute look for the beach shoot
Want to look the cutest among all the family members? Wear a tank top with crochet shorts, sandals, and a lightweight cropped denim jacket. Wear striped white slippers, sunglasses, and beaded bracelets to complete the look. Leave your hair open by either side-parting or half-clutching them, whatever suits your face more.
Bikinis are an inseparable part of a beach vacation. To make it more wearable on a family photo shoot, use cover-ups. One of our favorite bikini cover-ups is a crochet beach romper. It is made up of net and is super stylish to wear. It looks new and unique. Complement it with sunglasses and a hat. If the crochet is white, you can wear some jewels as color pops to match the scheme with others.
A transitional summer dress
Do you have a hectic schedule on the day of the family photo shoot at the beach? Do you have to board a flight right after the shoot or catch up at another place? In this case, a transitional summer dress is what you need. Denim shorts with a tube top are a perfect match. If the color of denim is light, the tube top must be in a solid color or vice-versa. Pair it with a side bag and a cute pair of sandals. If you want to hit the waves to swim right after the shoot, you can wear a swimsuit or a bikini underneath.
Shorts are the best casual wear in the summertime at the beach. Choose neutrals to go casual and relaxed. You can club shorts with a linen tank top. You can wear a white top with white shorts. The only colors in the entire attire come from the sandals.
You can transform the upper piece of your bikini into a cute top to make a unique look. Having a cute bikini you can wear as a cut-off shirt is outstanding. Wear it as your top to enjoy its pretty and relaxed style. You can pair it with a denim jacket, chino shorts, and a small striped bucket bag. Beaded bracelets, loop earrings, and a necklace will be valuable additions to the outfit.
T-shirts are never out of fashion, even for a beach family photo session. You can wear a t-shirt with blue and white stripes on it. It is a classy item to wear on the sand. You can wear it with denim, crocket, linen, chino shorts, or a skirt. Add a pair of fun sandals to bring out some colors from the attire.
Are you the most stylish member in the house? Then you must reflect on that in the family photo shoot. You can experiment with different cover-ups with your bikinis. Playing with prints is fun. Cover-ups with knotted ends are in these days, which will reflect your personality.
Final Takeaway
Family photo shoots are memorable events, so you should select the outfits carefully. We recommend that all the members should never wear the same dress and be differentiable from one another. Blue is the most chosen color for a beach photoshoot as it goes well with the waves of the sea and the clouds of the sky.
MORE POSTS: What to Wear to a Birthday Party of a Friend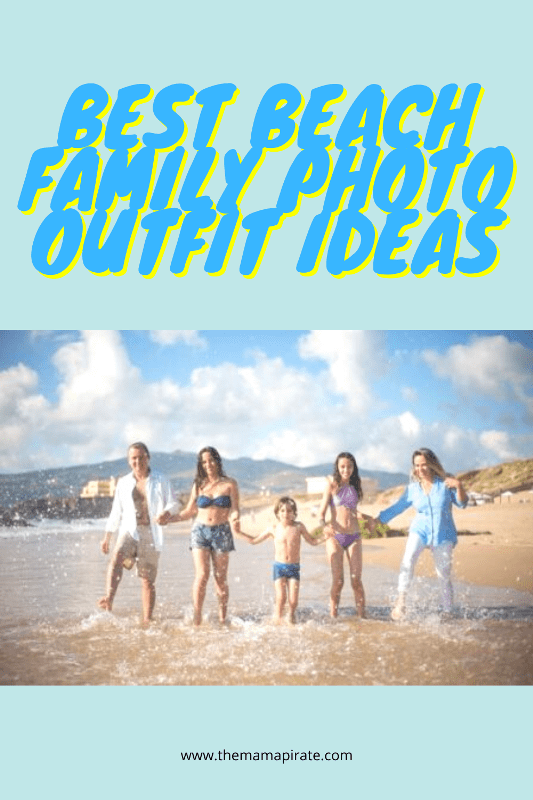 Best Beach Family Photo Outfit Ideas
MORE POSTS: How to Style a Bodycon Dress