10 Best shoe storage ideas for small entryway
Last Updated on 2 weeks by admin
If you have an entryway that is cluttered with the shoes of the family members and you don't know how you will organize them, then you are at the right place to find the optimum solution. A small entryway can be a hassle for keeping the shoes organized. Therefore, you will always need the best solutions for keeping your shoes organized in a tidy manner and having a great look at your house.
This article will cover you with the 10 best shoe storage ideas for small entryways that can keep your shoes organized. Whether it is a new palace where you are organizing an entryway or an old place where you want to reorganize the place, we will get you covered. Thus, quickly read through the shoe storage ideas we have for you and read through the entire article to know about all. If one idea doesn't match, the other one will suit your requirements.
MORE POSTS: 7 Backyard Covered Outdoor Kitchen Ideas for Cooking and Dining
1. Setting Up a Coat Rack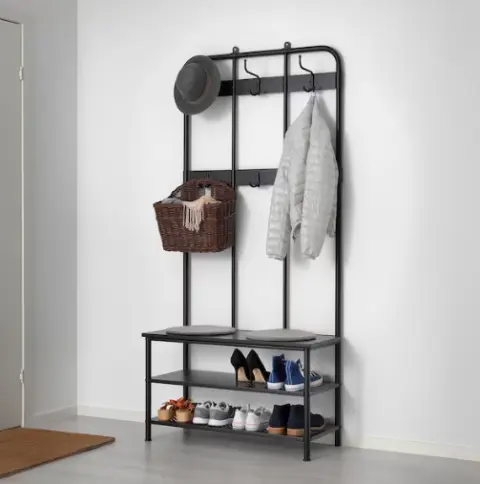 While you might be thinking about how a coat rack can help store the shoes in the entryway, but it can do so, and in a significant amount, it can perfectly keep the shoes organized. A coat rack at the entryway can serve two purposes. You can also organize your coats and pick the right one while leaving for a meeting. At the same time, you can also keep your shoes below on the racks which are placed. You can keep your sneakers, formal shoes, and house slippers while you are leaving. So, a well-designed coat rack can exceptionally maximize the storage results, thereby keeping your entryway organized.
2. Fill Up the Dead Locations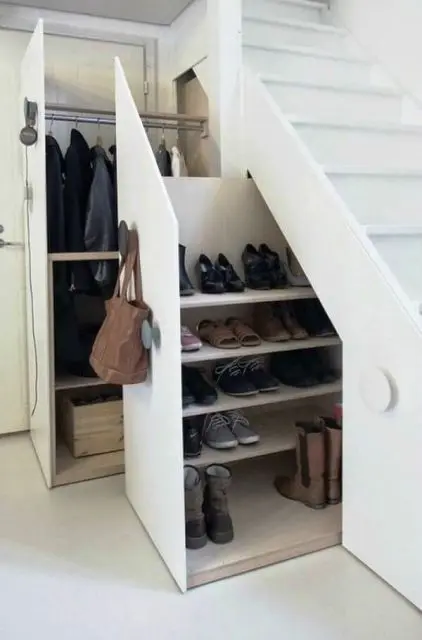 In some houses, there might be a staircase which will lead you upstairs to the second or to the third floor. However, there might be some empty space beside or beneath the staircase, which is not suitable for placing anything. In that case, you can set up a mini mudroom in a horizontal manner where you can keep the shoes of your family members. In that case, the space will also get covered, and you won't have to clutter your shoes in front of the house entryway. This will also keep your house organized. So, instead of keeping up the dead spaces vacant and scratching your head looking out for ideas to make a separate space for your shoes, create a beautiful mudroom kind of storage space in that dead space beside your entryway and store your shoes.
3. Make dividers on any wall.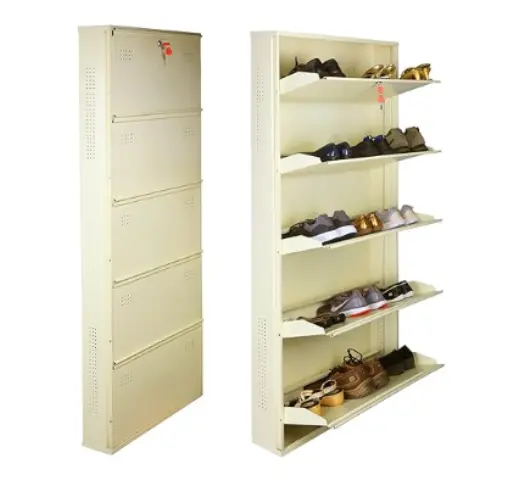 There are many vacant walls in the entryway where there is nothing to be placed. If you have a large house with a large family living inside it, you can simply create a furniture or a wall furniture and place it on the wall that is vacant at the entryway. Also, make sure you make proper dividers in the wall furniture you make on the wall. This can help organize the shoes accordingly. In one space, you can keep the sneakers; in another, you can keep the boots; likewise, you can place your shoes in separate boxes. This is another excellent way of optimizing the space at a small entryway to organize the shoes instead of just keeping them anywhere while you return back from a place. This way, you don't have to find a separate location to keep your shoes.
4. Create a Bench at the Entryway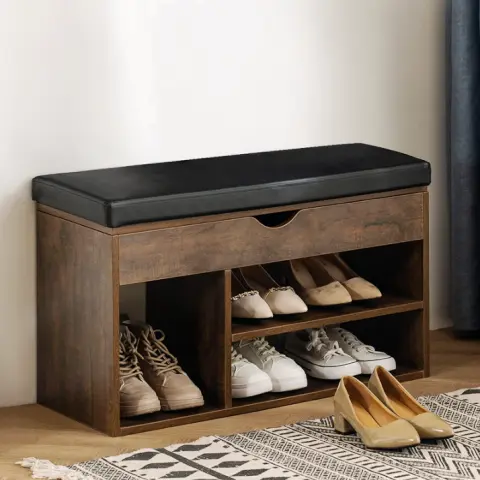 Creating a bench at the entryway with storage spaces beneath it can also serve your purpose. Moreover, this idea can significantly help you store and organize your shoes properly if you have a small entryway. This will not only help you store your shoes but also help you wear them comfortably while you are going out. You can sit comfortably on the bench in the entryway and wear socks before wearing the shoes. Moreover, the bench idea at the entryway also creates a beautiful design that enhances the house's beauty. So, if you are looking for ideas for creating shoe storage spaces in the entryway for your new house or remodeling your old house, then you can consider this idea for yourself.
5. Get some bins at the entryway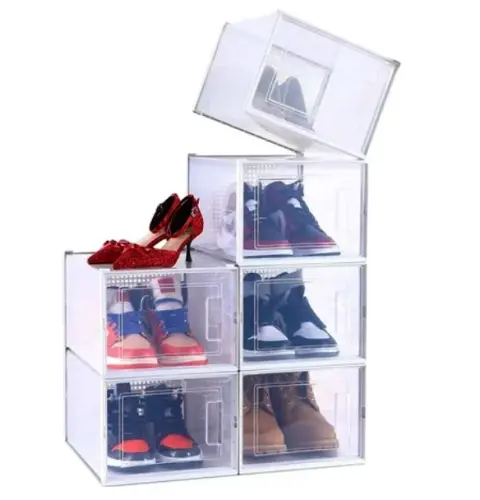 Create a locker system at the entryway of your house to keep the seasoned shoes organized, and get some bins so you can simply use them to store your regular shoes. The bins can be brought from any place, and they don't cost much. So, purchase them from the stores and keep your shoes beneath the furniture in the empty spaces or the boxes that remain vacant. Storage bins are a more enhanced and efficient option for keeping the shoes because they occupy significantly less space, which can be perfect for a small entryway. Also, you won't have to hustle much to get your daily wear shoes. Thus, this might be an optimum option for house owners who are looking for shoe storage ideas for the small entryway of their house.
6. Keep the shoes open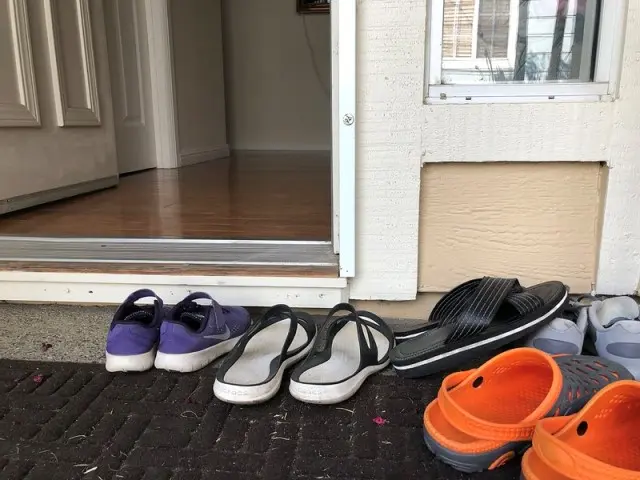 If you don't mind admiring your shoes in your collection, it's better to keep them in the open, beside the entryway. This will save your space and keep your house entryway decorated with beautiful shoes racked up in order. Keep the daily wearing shoes at your reach while those which you don't wear somewhere above. So that you can take them out occasionally and get the daily wear shoes in your reach for regular use. Having the shoes set up open in the front of the entryway, moreover, a small entryway is an excellent and affordable option to set up your shoes. Consider this method if you are planning for some unique shoe storage ideas.
7. Be more practical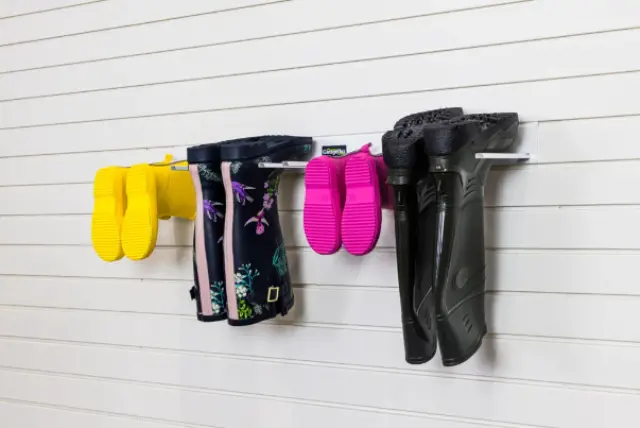 If you have your house decorated with some amazing paints or the walls decorated with wall stickers, then the contrasting colored boots can add a unique essence to your house. Mainly, the larger pairs look more beautiful when they are kept in contrast with the wall colors. Therefore, match the space with the color of the boots and be more practical. Keep them open in front of the lockers or the cabinet that you have placed in your entryway. This can be a great way to keep your shoes stored in your house entryway. Besides the boots, you can keep other shoes placed inside the locker. But keep the boots outside so that it matches the style of the wall decoration that you have.
8. Play with the theme of your house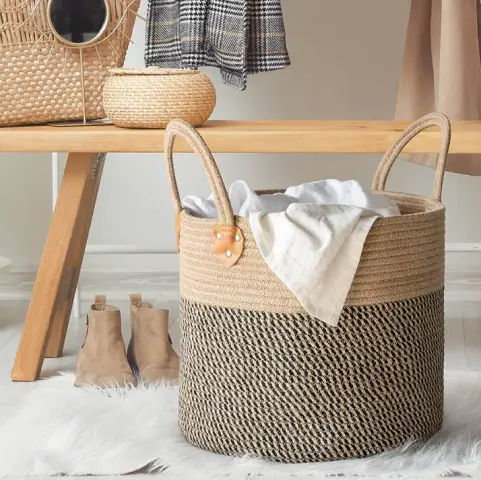 Keep an even theme if you are more focused on the storage of your house, especially at the entryway of your house. If you have a nautical theme on the wall of your house at the entryway, you can go for wood-designed or jute baskets to store your shoes. This will also prevent the cluttering of the shoes and keep the place organized. If you are more of a seaside-inspired person, you can choose this option. Not just the seaside, you can also match the decoration of the entryway according to your vibe. You can enhance your aesthetic and serve your purpose by organizing the shoes.
9. Camouflage the storage space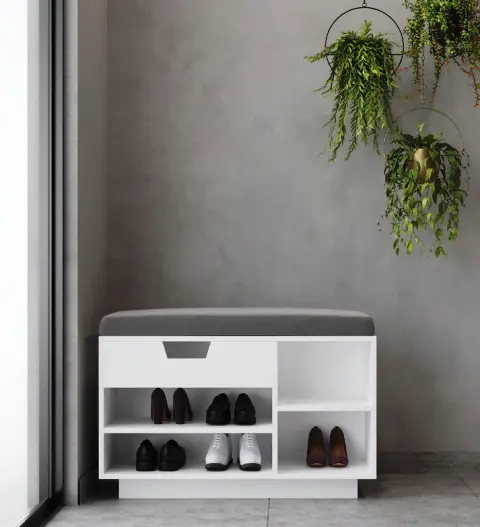 For example, if you have a grey-colored wall in the entryway of your house, then you can get some grey-colored baskets that you can keep in the spaces that are made for storage. Make sure to get a soothing, timeless color that will look more beautiful. Any dark color can damage the beauty of your house. If you can camouflage your storage space with the color of the wall that is there at the entryway, then it can draw less attention to the shoe storage of your house. Therefore, camouflaging the space with amazing color combinations can be an excellent option for storing your shoes and keeping the entryway clutter-free.
10. Recyclable cubbies for shoe storage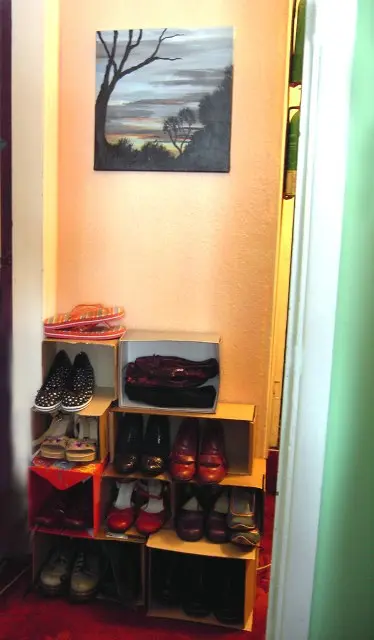 This is a creative option that you can go for while selecting a storage location at your house's entryway, but it can significantly enhance the look of your entry space and also serve your purpose of storing the shoes. You can make separate cubbies from waste materials like rigid sheets or any foldable materials and put them on the wall accordingly. Also, make them in shapes like squares, or circles, or anything else. So that it can look more beautiful. Once they are put up on the wall, you can keep the less preferable shoes on the top while the regular ones are below. Making shoe storage out of recyclable materials is an excellent option for keeping your shoes organized.
Conclusion
While there are different ways to store shoes inside your house, very few of them have solutions for shoe storage in the small entryway of a house. Therefore, to make your task more accessible, we have developed 10 unique ideas that you can implement in your new or existing house to maximize the area at your entryway and keep the shoes organized without cluttering them. This will not only make the space clean but also get more area for walking comfortably in and out of the house. Also, there are some fantastic decorative ideas that you can apply to enhance the decoration and the beauty of your house. Check them out properly, determine the area near the entryway of your house, and implement them to get the best results.
MORE POSTS: