How to turn a full size mattress into a couch?
Last Updated on 12 months by admin
When it comes to creating an attractive sitting room in your house, many options are time-consuming and expensive. However, a mattress, which is present in any normal household, offers support and is often found in chairs, couches, and other furniture. Thus it becomes the most feasible option to convert a full-size mattress into a couch without buying a new one.
We have penned down an easy-to-follow tutorial and explanations of the many kinds of mattresses you can use for your DIY project. It might be unbelievable, but you can use any full-size mattress to make a couch. So do not simply toss your old mattress away! Instead, make it better and more helpful by converting it into a couch.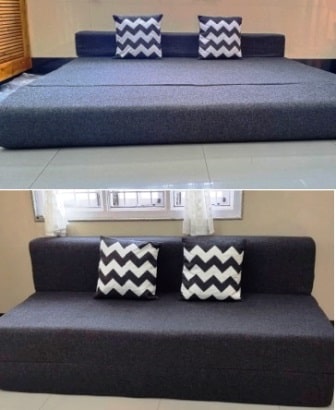 What kind of Full-Size Mattresses Can Be Used to Make a Couch?
Many people ask whether any mattress would work for making a couch out of the same. How about the best kind? If you want to enjoy your new couch, you have to choose the best full-size mattress. After all, there is nothing wrong with relaxing on a soft full-size mattress in your living room. However, a high-quality full-size mattress will be more likely to provide all the conditions for a good night's sleep. You can use the following mattress type for using it on your couch.
● Foam
A full-size mattress, whether composed of memory foam or polyfoam, will provide high padding and soft cradling in a couch. People who like to sit toward the back of the couch rather than on edge will benefit from a foam mattress. The foam will be a welcome addition if you plan to sleep on your couch. That is why it is so popular among the masses to create their couches.
● Innerspring
Spring mattresses are an excellent choice for folks on a limited budget since they are among the most affordable options. When used for making a couch, innerspring mattresses provide continuous support and sturdy edges, making them more comfortable. As a result, you will never feel overheated when sitting or lying down on a couch made of an innerspring mattress.
● Hybrid
There is a good blend of support and cradling provided by hybrid mattresses. With thick foam or latex layers on top, they offer outstanding cushioning and support.
● Latex
Because latex mattresses are so costly, buying one for a couch is not the best use of your money. However, you can turn an old latex mattress into a very comfortable and temperature-neutral couch if you want to recycle it. Those who dislike bouncing mattresses should always steer clear of rubber ones.
Picking a full-size mattress to please everyone can be a challenge if you intend on using it as a guest bed occasionally. A mattress with a medium firmness level is the best bet in this situation.
MORE POSTS: How to make a throw pillow?
Steps to Make a Couch from a Full-Size Mattress
Transforming a mattress into a beautiful couch for your living area is like a holiday for those who like DIY projects. Doing so is not a difficult task, and it will allow you to play with various distinct styles. Here are the steps you must follow to turn a full-size mattress into a couch.
● Collect the materials you need.
First, collect the materials. You cannot accomplish anything until you have the necessary supplies and equipment. Dremel with the fibreglass-reinforced cutting wheel is necessary for cutting mattresses using scissors and hand saws.
You will need a staple gun, sewing needle, and thread, a slew of straight pins, a sewing machine, and pliers to stitch your mattress together. You can also use a thimble in your fingers as protection. You will also need some hand clamps and beeswax for this project.
● Cut the Box Spring
If you have an old couch, it will serve as a starting point for your measurements and estimates. Always keep your tape measure and scalpel at your disposal. Make lines on it where you want to cut through, using both as measuring tools. It is up to you to make the final decision on this. Cut through the cover with your scissors, and re-find the center. Make a mark on the springs to indicate where you want to cut them.
Next, cut the springs with your Dremel tool. If you like, you can also use a hand saw. Of course, you can implement the pliers as a final resort if it does not work. To prevent harm and injury, you can then turn the springs inwards.
Springs can be exceedingly sharp when cut. Thus, be extremely cautious while working with them. In addition, spring-loaded couches are uncomfortable to sit on. Consequently, you can use a rope to secure them to the ground.
● Split the mattress in half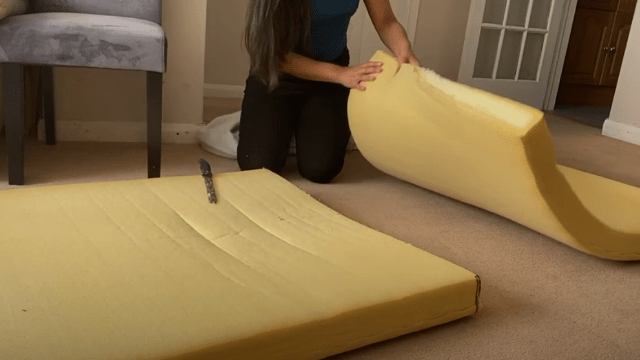 The full-size mattress makes this one a little easier, as there is no wood in it either. Through the same method, cut the bed and the springs simultaneously. Divide the beds into two halves by sewing the ends of each mattress together.
The best way to prevent knots and tangles is to use thread of a short length. Additionally, you can sew the seam to have a backup if anything occurs to the stitched portion of the mattress itself.
● Joining the ends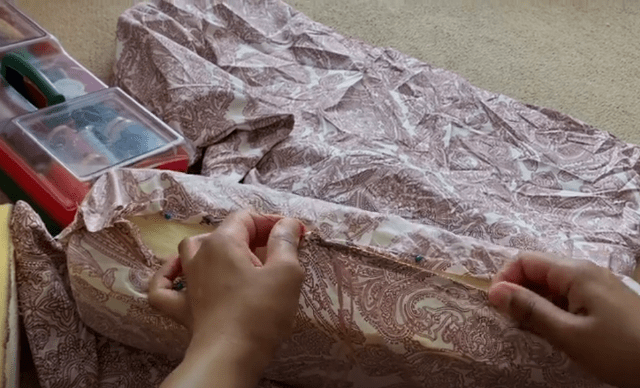 After completing the tricky and time-consuming cutting procedure, you are left with just a few more tasks to do. A couch is never complete without a soft, cozy cover on top of it. You can use a tape measure to mark the whole surface of the fabric before laying it down on the floor.
Ensure that you have taken the couch mattress's sides while taking measurements. Add additional fabric in the region where you want the zipper to be. Use the thread and needle you have used previously to start stitching.
To be sure that you can staple it at the rear and keep it like that for a time initially, you should insert it at the bottom. At last, when you sit or sleep on it, you need to ensure it is securely supported and will not shatter or get ruined. And voila! Your couch is ready to use.
In addition, you may use smaller pillows and cushions to offer more cushioning. If you want to utilize bolster pillows as armrests for your couch, make sure they are well-stuffed to ensure that the arms are well-supported. A throw blanket may complete the look and feel.
Bottom line
As long as your old item is not too broken, you should know how to utilize it. So always keep your old mattress and reuse it on your couch before throwing it away.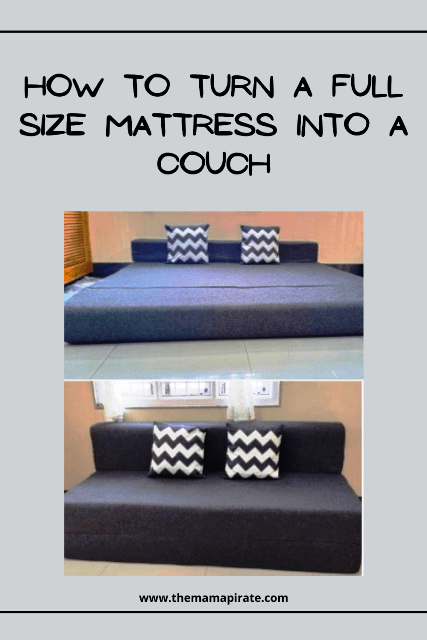 YOU MAY LIKE: