All about my Grandpa Questionnaires and Printables
Last Updated on 1 year by admin
Kids, nowadays, often get a chance to know their grandparents and understand their world. Since they often see their grandpas and grandmas cooking or gardening, they fail to understand that grannies can have their world. Kids prefer to spend time with devices. But, spending time with grandparents, questioning them about their lives, sharing experiences, and knowing their interests- everything strengthens the bond between grandpas and grandchildren.
All about my Grandpa Questionnaires
While grandparents love to share their stories and experiences with their grandkids, kids feel more connected and close to them after hearing the life stories of their grandpas. Since old age often makes our grannies and grandpas feel left out in their families, spending quality time with their grandkids even makes them feel treasured and special. Also, the life experiences of these elderly persons come with some valuable life lessons for the new generation.
Therefore, you can encourage your kids to talk more with their grandpa, share more stories, and question them about their lives and family history. Thus, the family tradition and culture pass through generations. But, what will the grandkids ask? The questions need to be valuable and meaningful to build a strong connection between these two people of different ages. That is why we have penned down everything about my grandpa's questionnaire and even provided some sample questions for better understanding.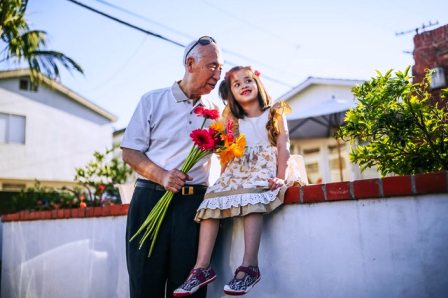 Ways to utilize the grandpa questionnaires
All about my grandpa's questionnaire is for the grandparents. So, you can print out all about my grandpa's questionnaire or handwrite the questions and send them to the grannies as a fun gift. While the all about my grandpa questionnaire offers your kids a chance to know about their grandpas better, the gift will bring smiles and pleasure to the wrinkled face of the grandparents.
If grandpa lives far from your location, you can mail them the questionnaire. But, if they live in your location, do not miss the chance to surprise them with all about my grandpa's questionnaire with some special treats.
Kids can even take the opportunity of video calling their grandpa after mailing them the questionnaire, as it will brighten up the days of grandparents even better. You can even use the questionnaire to assess how much the kids know about their grandpas. So, print out all about my grandpa's questionnaire and let them answer the questions. It will be a fun way to bring these two generations even closer.
Perks of the all about my grandpa questionnaire
The main motive behind doing this about my grandpa questionnaire is to boost the bond between grandpa and grandchildren. Also, knowing each other's stories and experiences brings them even closer and creates a friendly relationship between them.
But, apart from all these, my grandpa's questionnaire offers more advantages, like the following.
Kids learn social skills.
While the little ones question their grandpas and bond with them, they somehow practice vital social skills. How? Since the kids converse with their families, interview their grandpas, ask them questions, read and write, they learn how to socialize with people.
It is a skill that helps them throughout their lives. Also, the all about my grandpa questionnaire helps them practice practical literacy in a fun way.
2. Sharing family stories immortalizes family tradition.
Do you know what fun is yet the best way to eternalize family stories and tradition? You can do it by writing them down and sharing them with the next generation. So, through the all about my grandpa questionnaire, ask the grandparents about their life experiences, stories, the field of interests, and family culture to immortalize them for future generations.
Questions to include in the questionnaire
Although kids can ask any questions they want to their grandpas, selecting some basic questions to help shy kids to initiate the conversation efficiently. Often little kids or children living far away from their grandpas feel shy to start a conversation with their grandparents.
In that scenario, following simple guidance helps kids build the questionnaire and engage with their grandparents effortlessly. So, try to include the following questions about my grandpa's questionnaire for a better engagement.
● Is there any specific holiday tradition in our family? What is your favorite thing to do in the holidays?
● What does your name mean? Did you name me?
● Do you have any nicknames like all of us? Who gave you such a nickname? Is there any special story behind getting such a unique nickname?
● Where were you born and brought up? What did the house look like where you lived as a child?
● Can you tell me one memorable incident from your childhood? Also, tell me everything about that house and town/village where you spent your childhood?
● Who was your best friend in school? What was your favorite thing to do in school?
● How did you spend your pocket money? What was the amount of your allowance?
● As a teenager, did you ever get into any trouble or face a serious issue? How did you cope with it?
● How did you start your career and find your dream job?
● When did you meet grandma? And, how did you two get engaged?
● Tell me your reaction after seeing my mom/dad for the first time?
● Tell me about the moment when you see me for the first time? Also, what is the best thing about being a grandpa?
● What are the differences between being a parent and a grandpa?
● Tell me about the most stressful and joyous moments in your life?
● What is the one life lesson you want to offer me as a grandpa?
These are only some suggestions, and you can add any question you want in all about my grandpa's questionnaire.
All about my Grandpa Printables to download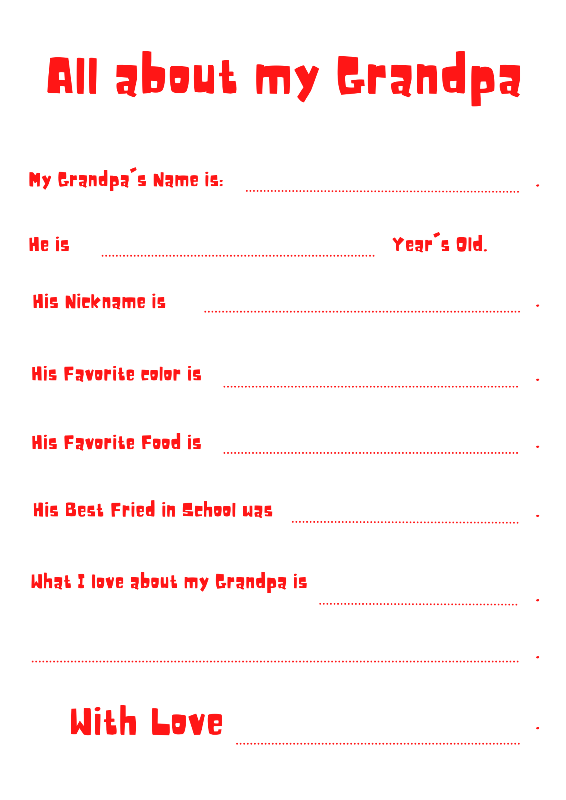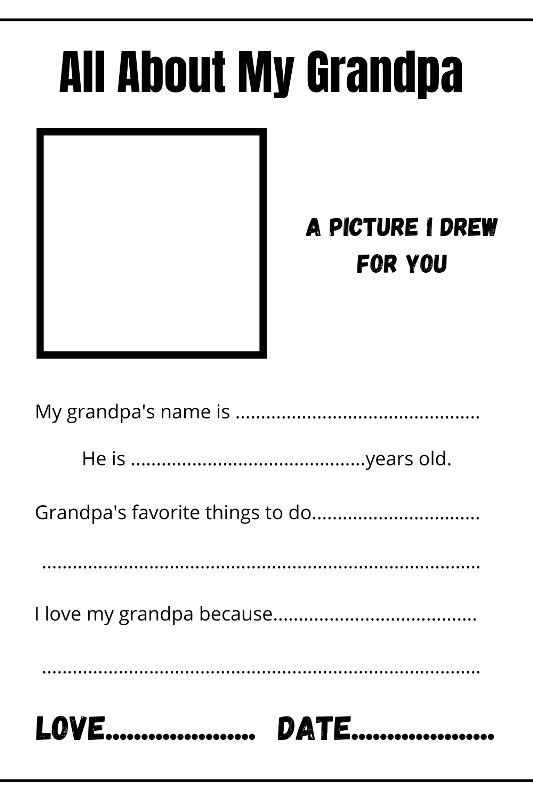 Final words
When it comes to the grandpas, their valuable life experiences, wisdom, and stories from life can inspire a grandkid better than anything. Keeping all these in mind, all about my grandpa's questionnaire encourages multi-generational conversations and helps families make new memories to share in the next family gathering. So, inspire your kids to ask questions to their grandpas to know more about them.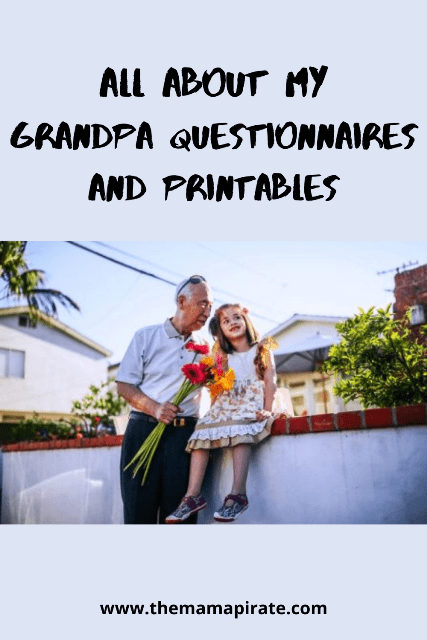 YOU MAY LIKE: