iCandy Peach Double Stroller Review
Last Updated on 1 year by admin
iCandy is known for its style and materials used, especially in the Pushchair world. The company is of British origin. The products are designed and engineered with modern technologies. The product I am reviewing here is the iCandy peach double pram or iCandy peach twin stroller. They also manufacture single and other types of strollers. This one is great for a growing family, no matter whether you just got twins or a baby and older siblings, this iCandy peach double pram can bear up to 55 pounds of weight.
iCandy Peach Double Stroller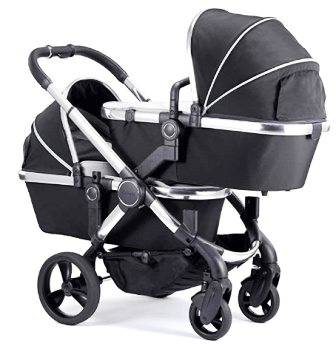 This stroller can be used in two ways(single or double conversion available).
The stroller is suitable for a newborn to a 25 kg kid(suitable from birth using the carrycot).
The weight of the stroller is about 14.9 kg (without the car seat or carrycot attached)
Folded Dimensions: H70 x W60 x L30 cm
What do you receive in the box?
Seat Unit
Elevator
Converter seat
Converter adapter
chassis
iCandy double pram rain cover
You get to choose the colors for your iCandy double pram from the set of four colors. iCandy prams are available to buy according to your requirement. The prams are labeled as Peach, Lime, Orange, and Peach All-Terrain according to their functionality. The most popular one is the iCandy Peach Double Pram.
Now, let's see the features of this iCandy peach double pram.
iCandy Peach Double Configurations
You get a number of ways to set up this iCandy double pram, with toddler seats, carrycots, or even with car seats (you will need to purchase the additional car seat adaptor). Each configuration is well explained in the user manual you get. According to your needs, you can adjust the matching of seat units, carrycots i.e combination can be of the car seat and toddler seat or car seat and carrycot or even two car seats or simply two toddler seats and the punctuation is long. Both the babies can face each other and interact with each other whenever they want, this makes the pram suitable for the kids.
iCandy Peach Double Chassis
It becomes a very important feature to consider while buying the double pram that its chassis is strongly built and has a smooth movement. As told earlier iCandy is one of the top brands in terms of the pram, there is a reason for that, i.e it doesn't compromise with the quality, so you don't have to worry about the strength and movement of chassis, they are purely tested on the ground level. You can easily move with the pram, easily use public transport and carry it through the streets. The design of the wheels is sleek and the spokes make it look stylish. They are not going to wear down anytime soon.
They test the wheels on many different terrains like pavements, cobbles, tracks, gravel, grass, etc and it performed quite well. There is a button to control the brakes. Also, the handlebar is covered with leatherette, making it soft and comfortable to push it around easily. The basket has a holding capacity of around 5kg, thus you can carry things you need easily along with you.
iCandy Peach Double Seat
Another important factor to consider is the seat, after all, it's where the baby will be lying. So it is important that seat units on the double pram don't fall short. iCandy brand has managed to successfully stand on the expectations of its customers. Every zip, stitch, length, the thread is just perfect. You get 10 different color variants with great quality. If we talk about the strength of the seat, it is capable of holding 15 kg each. Both upper and lower seats have the same height of 50 cm. The lower seat is 2 cm slimmer as compared to the main one, which is quite understood as it has to fit into a tighter gap. Your toddler can easily fit and relax in the seat without any issues.
The harness is built of strong material and provides great quality webbing, padded by shoulder and crotch pads. You can adjust the height of the harness accordingly, with a simple click of a button present at the center. It makes the process smooth and luxurious. It makes using this pram easy and comfortable for both i.e baby and parents. The bumper bar is a two-hand affair, as the button needs to be pushed simultaneously. Both bumper bars i.e present on the main seat and carrycot have leatherette covering, making it great for a person to hold on to.
The sun hoods are of fabulous quality, although only extendable to 90 degrees of protection. It doesn't have any sharp clank or click sound, that could wake up the baby.
iCandy Peach Double Carrycot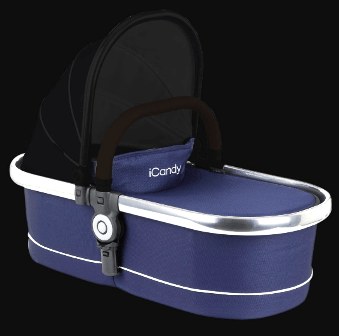 The carrycot comes with a soft mattress and padded sides, providing babies with a comfortable experience. They are of top branded quality, you can access them easily as the apron is made safe by zipping. You can easily reach and grab the carrycot of the chassis as the bumper bar is cleverly angled. The rain covers are very easy to pop on and off and there are separate rain covers for each seat unit. You don't need to purchase them as they come in the box.
iCandy Peach Double Folding
The fold may not seem to be something important but trust me it can be the deal-breaker, but congrats your iCandy double pram can be folded single-handedly. In the beginning, it may be an issue for you to learn how to fold it, but after a few practices, it will become an easy job for you. You will need to learn the mechanism of the pram. If you click the outer ring of the pushchair, the units pop out of the chassis. If you press the central button on the handlebar and give a sharp downward movement, it will fold the chassis. You should keep the babies away while constructing and deconstructing until you become habitual to it.
Conclusion
To conclude the product, I have to say that iCandy is a super brand and its quality is one of the reasons why it has earned this name. They pay attention to each and every detail like zipping, thread, joint, hinge, etc. They have set the expectations too high and they meet them with flying colors. They test their products in almost every possible way to provide the best service. The double pram is available in great colors and the design is also quite graceful. It looks great. I would recommend you buy this pram if you can afford it as it is one of the best out there.
FAQs
Can you convert iCandy peach to a double stroller?
Yes, it is possible to convert the iCandy peach single stroller to a double stroller. For that, you will need an adaptor to fit the new seat. Watch the below video by iCandy on converting a single iCandy stroller to a double.
Does iCandy peach come with car seat Adaptors?
Nope, you will need to purchase separately. You can buy an iCandy Peach Converter adapter from amazon.
What age is iCandy Peach suitable for?
iCandy Peach double can carry a six-month-old child to a child weighing 25kg!
YOU MAY LIKE: