If you are a mother with small kids and travel most of the time like me, well you are most probably using strollers. Strollers are a great tool to comfort your kids at the same time make your hands free. When I went on a Sri Lanka trip with my one-year daughter, I bought this stroller from Amazon and loved it. But, I forget to buy a stroller bag and as a result, I faced many problems.
A stroller bag will keep the stroller dust-free, it also protects a stroller from unexpected showers in a rainy place and snowfall if you live in a cold place. Besides protection, Stroller bags do a great job by providing Extra space for storing extra clothes, diapers, and toys for your kid.
One more thing I like about the stroller bag is that when it goes for Gate Check while flying to a place more often stroller handles and straps get caught up with other luggage, I hate this.
A $20 stroller bag has so many benefits!
Not to mention that carrying the stroller becomes so easy in a bag.
If you plan to buy a new stroller travel bag. There are certain things you should look for before buying a stroller travel bag which I have discussed below.
Things that make a stroller travel bag Best
Compatibility
Research well about your stroller(compact stroller, jogging stroller, egg stroller, double stroller, stroller with a car seat) before you choose the type of your stroller bag. If you have a single umbrella Stoller, do not go for a bag with a double stroller and vice versa. Double stroller bags have generally big space and fit most of the universal strollers.
Storage Pouch
The storage pouch is also important to have on a stroller. Check whether your stroller has a zippered pouch that is conveniently attached to the bag. That pouch can be used to easily fold the stroller bag into it and fit it into a diaper bag when not in use. The best quality storage pouch does not feel bulky when kept in a diaper purse.
Closure system
By closure system, I mean zipper or clamp attached to the bag to close the bag. A strong zipper or a clamp that offers a firm grip is preferable, it makes easy pulling of the drawstrings. If the closure system is good it will prevent the entry of dust and mist.
Easy to carry
The stroller travel bag should be easy to carry on your back. For that, the strips that support the weight should be wide and give comfort on carrying. Mommy who travels a lot and long distances having an easy to carry stroller bag are very important.
Lightweight
The bag should be also lightweight. Usually, a stroller bag weighing less than 15 ounces is preferable.
Durability
Durability is one important factor while choosing a good stroller bag. Durability depends on the building material of the bag and the stitches made on it. I have seen many bad-quality stroller bags getting ripped off just after one-time use.
All the above points are important to look at before buying a stroller bag for travel.
1. OnGuard Stroller Travel Bag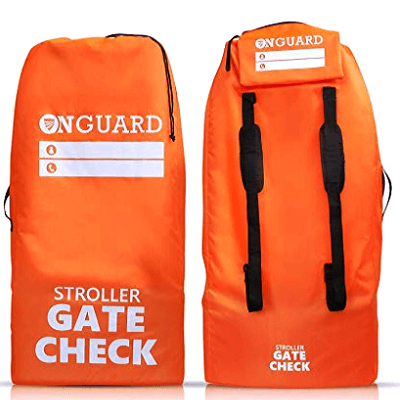 This product is a travel bag for a double stroller. No matter whether you're traveling by air, road, or rail, our waterproof and tear-free cover keeps it safe from scratches, grime, and dirt. Now you can rest easy as you gate-check your stroller or pop it in the trunk of your van.
PROS:
Extra Strong cover protection: This waterproof baby stroller cover by Onguard is manufactured using durable 420D polyester, reinforced seams, and also comes with a secured lock and closure drawstring system. Thus It fulfills the durability feature.
You can fit double stroller here, so you get extra space if you just want to keep a single stroller for clothes.
It comes with 2 wide straps and at the same time its lightweight thus making it compatible and mobile.
You also get a storage pouch here. Thus more space to carry more things on your way to trip.
The best part is they are offering a 90-day replacement or money-back guarantee if you face any problem.
2. Zohzo Stroller Travel Bag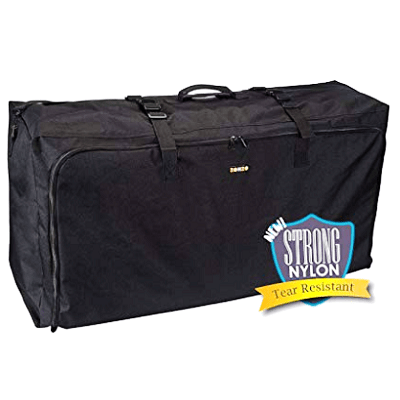 This also supports double strollers. Zohzo stroller travel bag is also an ideal stroller travel bag and has got good customer reviews on e-commerce sites.
PROS:
It is highly durable as it is made of denier fabric construction and is waterproof as well as tear-resistant.
It is compatible as most of the stroller bags can fit in it.
It has padded shoulders with wide straps, making it easier to carry.
It has got good customer reviews, so we can say that it is a genuine product.
3. J.L. Childress Single Stroller Travel Bag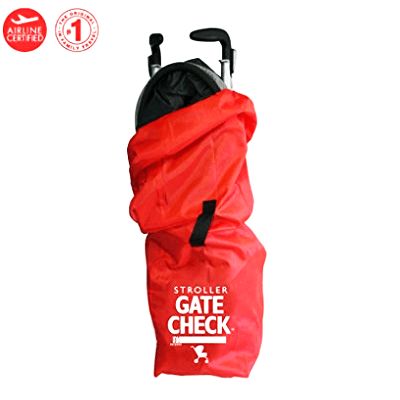 It is another quality product by J.L Childress. It is a famous brand for childcare. It is a rough tough backpack and specially for those careless people out there, who don't hesitate to throw their backpacks or use them for other tasks.
PROS:
This stroller bag protects your stroller from dirt, germs etc while traveling. This bag is airline certified.
It is made of durable, yet lightweight and water-resistant material with double-stitched, providing the strength.
They provide you with a spandex pouch.
It is of compact size thus making it easy to fit in a diaper bag.
One of the best things is its bright red color making it easy to recognize among others.
It is a good product at an effective price.
4. Luvdbaby Stroller Travel Bag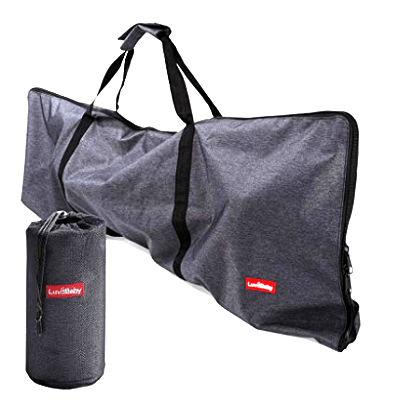 This stroller bag is added to our list because of the good reviews it has been getting. The materials used in making this bag make it more durable and attractive which is also one of the reasons for putting it on our list.
PROS:
It is made with the strengthened 'Denim' colored material which will keep your stroller safe during travel.
The best feature is that it folds into a small pouch and thus you do not need to worry about carrying it as a burden.
The distinctive denim look makes it easy to spot your bag at the time of collecting your luggage.
The buggy bag can also be used as a picnic mat.
It has got more than 200 reviews with more than 4.5 stars out of 5.
5. Bububee 'Elua XL Double Stroller Travel Bag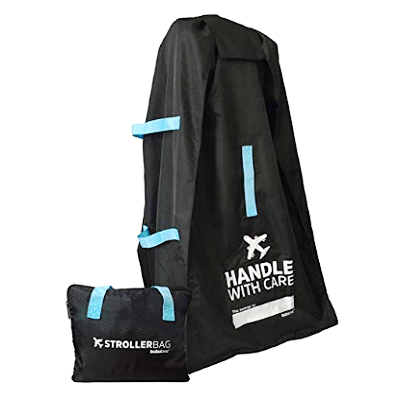 The Bububee 'Elua XL Double Stroller Bag is the best when it comes to convenience because it is big enough to fit a double stroller whether side by side or tandem. Thus making it easier for you to carry double strollers at the same time.
PROS:
This double Stroller Bag is tear & water-resistant with a generous sizing that fits almost every double stroller out there.
The best part is that it has got a 4-step closure system which prevents our bags from opening while being handled at the airport.
You have got 2 padded backpack style straps on the backside, 2 sides carry straps and 1 front handle strap thus giving you 5 carrying options.
One can fold it into a carrying pouch that is attached to the inside of the bag. Thus making it look neat and beautiful.
It has also got very good customer reviews on amazon.
6. Britax B-Agile Stroller Travel Bag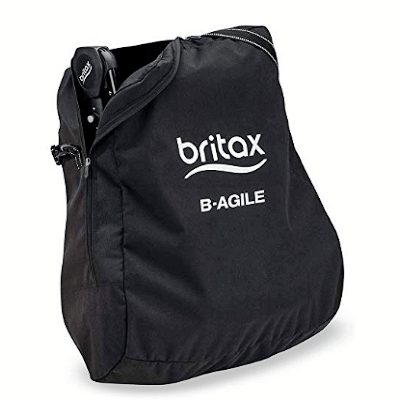 This bag is big enough to fit most of the strollers. You just need to fold the stroller and fit it into the bag, even with the wheels.
PROS:
The bag comes provides you with effective protection from dust, rain and other harmful elements. It is made from durable material like nylon to best suit this purpose.
This bag is very comfortable to carry this Britax B-Agile stroller bag, thanks to the attached backpack straps. The straps are removable and padded which provides you with extra comfort.
It is specially designed for protection from contamination in the cargo bins.
You can fit the stroller in the bag without removing the wheels.
7. COMPONO Stroller Travel Bag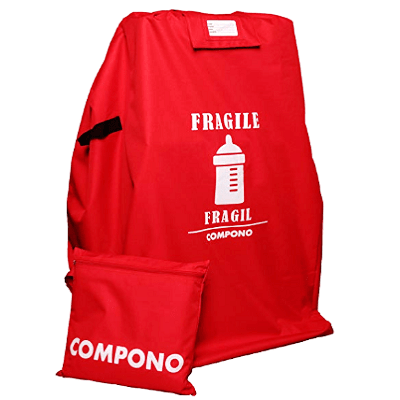 This is a very trusted brand and is ruling this industry for decades. They have designed the bag from the blend of a polyester hybrid and sturdy nylon which offers you guaranteed protection from rain, dust, etc.
PROS:
The best part about COMPONO is that it assures all their customers a 100% money back guarantee if they are not completely satisfied with their product.
They provide you with the extra lining of water-resistant material which is a plus point during rainy conditions.
The bag has two handles on the side which makes it easy to lift weights.
It comes with a padded shoulder string and another strap at the pack, which can be used according to your best convenience. The straps are double-stitched to enhance durability.
CONS:
The only con is that it is a single stroller travel bag, so large strollers don't fit in this bag.
8. Bob Single Stroller Travel Bag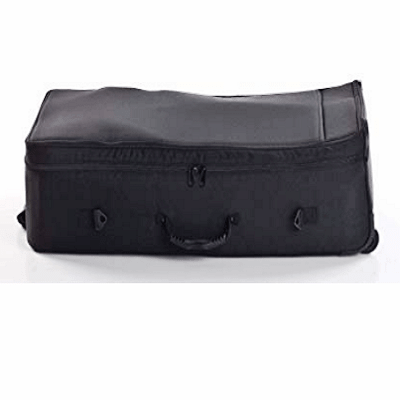 This is a quality product and has got many good reviews mostly because of the amazing look it has got.
Features:
This bag fits most of the single strollers available out there.
The company has provided several strap provisions inside to hold the stroller in place as the bag moves.
The look of this bag is like a suitcase and the appearance is very beautiful.
9. Gate Check PRO Stroller Travel Bag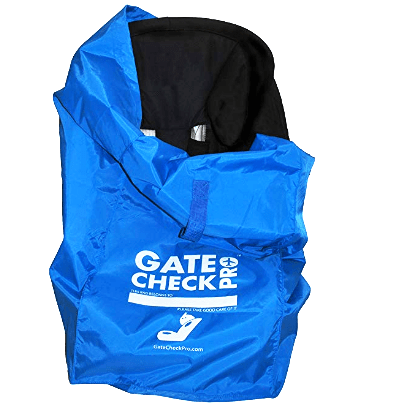 The Gate Check Pro Extra Large is one of the best bags for double strollers presently out there.
PROS:
If you will use a single stroller, you will get enough space to carry clothes, diapers, etc.
The bag is developed using premium ballistic nylon material, therefore, it is sturdy and can endure the odds during your travel.
The straps are padded and adjustable, which provide you with comfort and convenience.
Your both hands will be free thus making it easier for you to carry babies.
The company also provides you with the full money-back guarantee for a lifetime if you encounter any problem.
10. VolkGo Stroller Travel Bag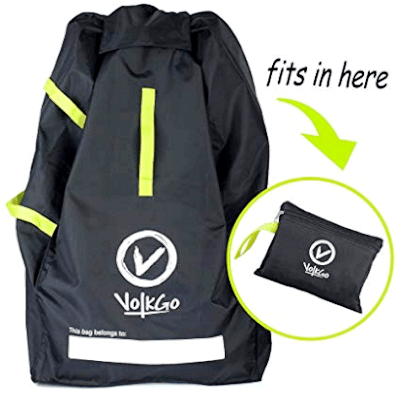 This Stroller Travel Bag is ideal for Airplane Gate Check. This is made up of nylon and helps in keeping the bag germs free. Also, the material makes it scratch-proof.
PROS:
This nylon bag is ideal for dusty airport terminals as it is duty-free and doesn't need much care.
This travel bag is hygienic and robust enough to oppose scratches and punctures. Also, It is waterproof thus helping you during the rains.
You have got backpacks like straps thus making it easier to carry around on your shoulders.
You can fold it into a small pouch.
Best stroller travel bag with wheels
Stroller travel bags with wheels make it easy to stroll the bag in the airport. Carrying a heavy stroller bag on the back or shoulder can be tiresome. While buying the stroller bag with wheels you need to check for the quality of the wheels. Good quality wheels with metal rings may last longer than simple plastic ones. You should also know about the stroller that you are going to carry in. All stroller bag does not accommodate big size stroller or double-seat stroller. Do some research before buying.
11. Emmzoe Wheelie XL Stroller Travel Bag with Wheels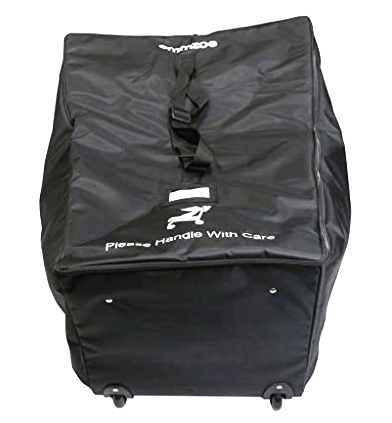 Not required to carry your heavy stroller bag as a backpack, just wheel your stroller bag in the check-in gate at the airport. Emmzoe wheelie XL is a universal travel stroller that fits most brands' strollers. Its 36" x 26"x 18" dimensions can easily fit strollers from UppaBaby, Bugaboo, Chicco, Britax, Baby Jogger, Graco, Joovy, Peg Perego, Keenz, and more.
PROS:
Made with high-quality water-resistant nylon fabrics and double stitches of the stroller handle improve the stroller life.
The stroller has Double lockable zippers that have holes to lock the zippers for extra security.
The front of the bag has a blank box to write your name on the provided card or you can insert your own business card for easy identification at the airport luggage claim.
12. Emmzoe Wheelie Umbrella Stroller Travel Bag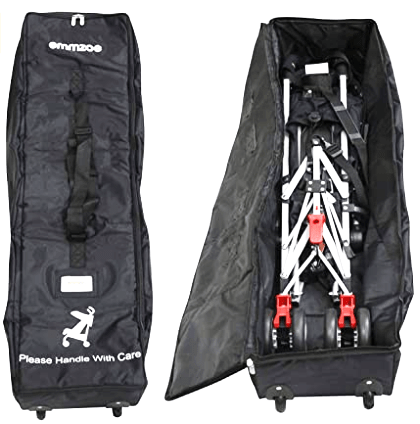 This stroller travel bag is designed to fit any umbrella style foldable stroller for easy airport checking and luggage claim at the airport. The waterproof nylon fabric of this stroller bag protects from dirt, dust, and wet conditions. Emmzoe Wheelie Umbrella stroller bag is designed to fit most brands' umbrella-style strollers.
PROS:
Easy to carry wheel enabled stroller bag made with robust waterproof nylon fiber.
The ball bearing wheels of the stroller bag provides smooth riding.
Zipper holes provided for extra security.
A front blank box provided for writing your name to easily identify at airport luggage claim.
Final Words
One important piece of information that I forgot to share with you is that If you have a stroller bag, chances are you will have an easy time at the customs department. Most airlines provide an extra baggage allowance for car seats and strollers. Take advantage of this!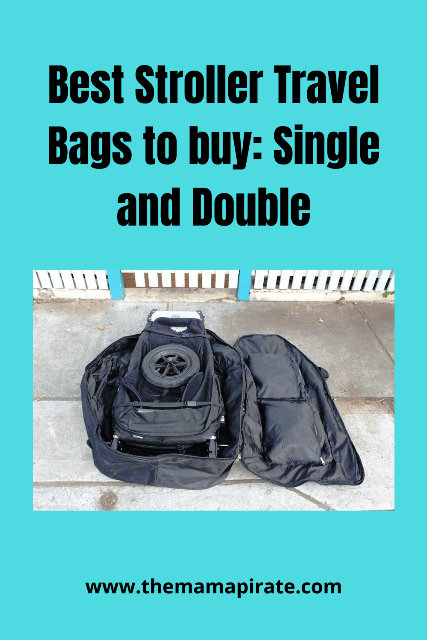 READ MORE POSTS: