Prams are the baby carriages and the short term for "perambulator" which means one who walks leisurely. They are popularly called prams in the UK. In the US, they are called strollers. Different methods of baby transport like infant car seats, portable bassinets, strollers, slings, backpacks, baskets, and bicycle carriers are also used by many people.
Why do you need a double pram?
Pram is a baby transportation method that makes it easy for parents to carry their child from one place to another place. This way mothers become free from babies attached to them all time. Prams can be bought single or double depending on the need of the parents. A double pram makes it convenient to carry two children at once.
List of double prams/strollers for newborn and toddler
Baby Trend Sit N Stand Double pram
Two children can sit, one in the front and one in the back seat. When the back seat is removed, converts to a sit-n-stand pram. Comes with three trays one for parents and two for the children with cup holders.
This double pram can hold up to 80 pounds of weight. 40 pounds by each seat. Built with 5 points child-resistant safety harness.
PROS

CONS

1. Sit N Stand double pram for newborn and toddler.

2. A Foot activated rear brake for easy handling.

3. Easy to fold and unfold.
1. Under storage is a little small and narrow for two children.
Graco Modes Duo Double Pram
Graco Modes Duo can hold two children with 40 pounds each. Beautiful design with 5 points harness. It comes with a storage basket at the bottom, 5 cup holders so that the whole family enjoys.
Handling the pram is also easy as it provides locking front swivel wheels for increased maneuverability. Both the seats can be reclined and removed.
Attaching a car seat is easy with a one-step click to connect feature of the Graco prams. This pram/stroller is easy to fold and store with one hand.
PROS

CONS
1. Click Connect provides a one-step, secure attachment of infant car seat to stroller.

2. Easily accessible brakes make stopping and going again, quick and easy.

3. Locking front swivel wheels give superior maneuverability.

4. The stroller folds using just one hand, with seats on or off.
1. Could have a little big sizes of the seats.


Joovy Caboose Too Ultralight Graphite double pram
The lightweight double stroller that can hold two children with a total weight of 90 pounds. The front seat accommodates a child 3 months old to 45 pounds and it reclines to 3-positions. The rear seat can hold a child 2.5 years old and up to 45 pounds, it also has a canopy to protect the child when sitting.
A pocket to keeps keys and important things and two cup holders provided for parents. The universal adapter of the stroller can connect most brand's car seats.
PROS

CONS

1.Stable and Safe Stand-on Platform, Linked Parking Brake.

2. Universal car seat adapter fits most major brands.

3. The rear seat is a full-sized seat that can recline and accommodate children younger than 2 1/2 years old.

1.Little short to keep the feet comfortably on footrest.
Double prams for newborn and toddler side by side
Baby Trend Expedition Double Jogger Stroller
This stroller is designed to hold children from 6 months old to not tall more than 42 inches. Both the Seats recline in multi-positions and comes with 5 points safety harness.
Front wheel is 12 inches and rear wheels are 16 inches tall. Locking front swivel wheel gives easy handing while on road.
Baby Trend Expedition stroller also comes with a large storage basket and covered compartments and parent tray with cup holders.
PROS

CONS

1. Pneumatic bicycle tires.

2. Lightweight, sturdy construction.

3. Locking front swivel wheel.
1. The front-wheel jiggles a little.
Kolcraft Cloud Plus Lightweight Double Pram
A-friendly lightweight pram weighs only 23 pounds. Kolcraft Cloud Plus Lightweight Double pram is built with 5 point safety harness and it can accommodate up to 80 pounds of weights in total. This lightweight double stroller is best for travel with children.
The parent tray has two cup holders, the child trays with one cup holder in each are removable. Two easy to access storage baskets to keep baby's necessities.
PROS

CONS

1. Three Tier, Extendable Canopies with Peek-a-Boo Windows.

2. Dynamic front Wheel Suspension for a Smooth Ride.

3. Convenient, Self-Standing Fold.
1. Maneuver could have been better.
Cheap double prams for newborn and toddler
Delta Children City Street cheap double pram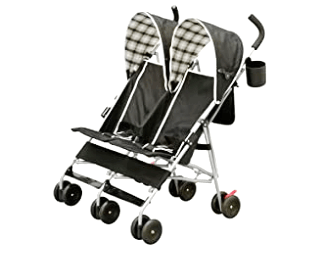 Lightweight affordable double pram made with good quality fabric. One cup holder for parent, two storage bags at the back. It is so compact that can come through a 30-inch wide door. This pram has 360-degree swivel wheels which can be locked and 3 point safety harness.
PROS

CONS

1. Affordable price.

2. Compact and light design.

3. Locking front swivel wheels.
1. Three points safety harness.
Jeep Scout Double Pram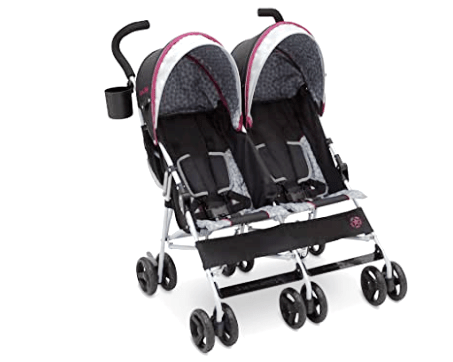 This cheap double pram costs less than $100, still one of the best double prams to buy. Extendable canopy, multi-position reclinable seats, two rear canopy bags for storage, Parent cup holder comes with Jeep scout double pram. Wheels are with the suspensions and the front swivel.
PROS

CONS

1. 5 point safety harness with soft shoulder pads.

2. 5.5 Inches wheels with front swivel and suspension system.

3. Reflective material that ensures you and your children can be seen at night.
1. Wish more reclined seats.
Double prams for newborn and toddler with car seat
Having a car seat with your pram is extremely important. You do not want to wake your baby up sleeping in the car to put in the pram and move somewhere. A car seat makes this easy. Just attach the car seat where your baby is sleeping to the pram adapter and move on without disturbing the baby's sleep.
Baby Trend Sit N Stand pram with Toddler Infant Car Seat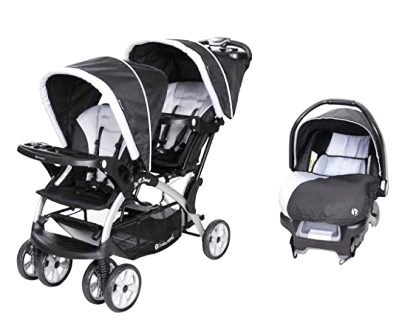 Double stroller that allows multiple position for the riders. Your child can either sit or stand in both front and rear seat. Both the seat are designed to attach car seats.
Built with 5 points safety harness and a canopy to protect your child. Can be folded and unfolded with one hand.
The car seat designed with safety features like EPS energy-absorbing foam and an adjustable 2-panel canopy.
PROS

CONS

1. Double pram with 5 points safety harness.

2. Car seat with EPS energy-absorbing foam and an adjustable 2-panel canopy.

3. One-handed fold design and foot-activated rear brake.
1. There is not a lot of space down at the bottom
How do you attach a car seat to a double pram?
Attaching a car seat to a pram is easy if your pram has a universal car seat adapter that accommodates most brand's car seats.
In some double prams need to remove the front seat to comfortably reach the adapter and the canopy needs to push back. Then, just attach the car seat to the car seat adapter. Graco has designed one click connect to easily attach a car seat to a pram.
Push pull Double stroller wagon
WONDERFOLD X2 Double Stroller Wagon
Perfect for kids to stroll at the park or at home in this 5 points safety harness wagon. Parents do not need to worry about carrying baby, diaper bag, and other necessities while going out.
Push and pull stroller, push handle's height is adjustable and pulling handle's spring bounce design makes easy accessibility.
Wonderfold x2 is made of tough 600D polyester fabrics. It can hold up to 150 pounds of weight which is way high than other double pram can hold.
The UV protected canopy is removable if needed. It is spacious to keep a lot of things. You can use the wagon for carrying sports items and camp items when your children grow out of it. I would surely recommend someone to go for this one-step fold and unfold double stroller wagon.
PROS

CONS

1. Made for heavy-duty.

2. Can be used for Multi-purpose and long-lasting.

3. User friendly with one-step fold and unfold.

4. Can stroll with both pull and push.
1. No cup holders for parent and children.
Evenflo Pivot Xplore All-Terrain Stroller Wagon
Spacious, easy accessible basket for keeping baby essentials. This wagon can be strolled in any terrain. You can push or pull just by flipping the handle.
Canopy with UPF 50+ protects children from harmful rays and canopy is reversible to give two colors. Two cup holders are also included for children.
PROS

CONS

1. All-terrain wheels can be ridden anywhere.

2. Decent space for keeping baby essentials.

3. Designed with a Push and pull flippable handle.

1. Canopies could have a little high.
Also Read:
Best Backpack with Baby Carrier
10 Best stroller travel bag to Buy
Summer Infant 3D Mini Convenience Stroller Review
The Best Stroller Bags for Travel in 2020
31 Must have Items for Traveling with Baby
Bottom Lines
Double prams are necessary if you have more than one child less than three years old. You can make them sit or sleep while you enjoy the morning in the park. These double prams come in different size, color and design. Researching about them before buying is very important.