Women's Waterproof Sandals With Arch Support for Traveling
Last Updated on 4 years by admin
A women traveler has to face chaos during a trip. If she is a mother than She thinks of her child as well. Rushing to the airport to take flights, enjoying a beach walk in Goa, walking on a mud road in southeast Asia; your sandal should fit with the environment. I face such unheralded happenings many often when I travel with my kids.
Sometimes the shoe heel will tear off, my feet skin peel off, sometimes my shoe breaks down and Whatnot.
It is also important that what you wear should fit your toes, comfortable and support natural motions of the feet.
A lot of things may happen during a trip. Psychological and mood changes during periods on a trip add fuel to the chaos. That's why some preparation should be done to minimize problems during traveling.
In all these circumstances if your sandal is not comfortable to wear and if it is not waterproof then traveling becomes hell.
Advantages of sandals with arch support
If you have flat feet or overpronation feet, sandals with arch support and help you walk with more natural motions.
Plantar Fasciitis is the inflammation of a thick band of tissue that connects the heel bone to the toes. It is seen in women who wear high heels and work for long hours.
when you wear footwear that provides stability and has the proper medial arch support. Birkenstock and Finn Comfort have footbeds which provide superior arch support.
OOFOS Unisex Ooriginal Thong Flip Flop Sandal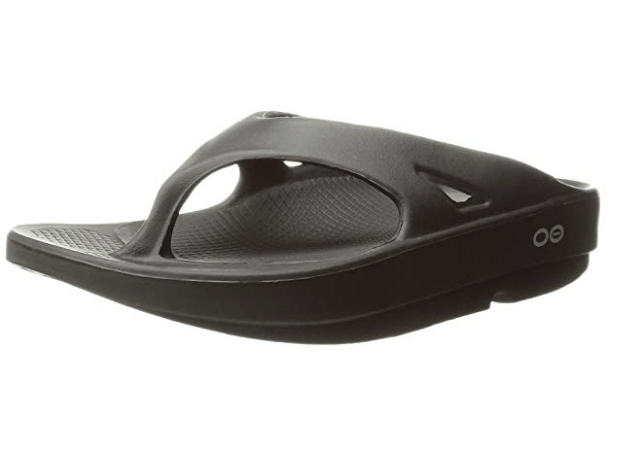 This sandal is for both rainy and summer days. You do not have to worry about walking a long distance as it has a one-inch thick heel to comfort your feet.
OOFOS is creating comfortable sandal with a patented footbed which cradles your arches to reduce stress on sore feet, ankles, knees and lower back.
You can choose the sandal color from black, yellow, blue, pink, grey and red.
The sandal has a thick synthetic heel which provides comfort to the feet. This machine washable sandal is very light. You will not feel wearing a sandal at all.
The built of the sandal is made such a way that it cradles your feet arches. You will feel more natural moves to your feet.
The foam used in these sandals is made 100% from fabric which makes them long-lasting.
Keen Women's Whisper Sandal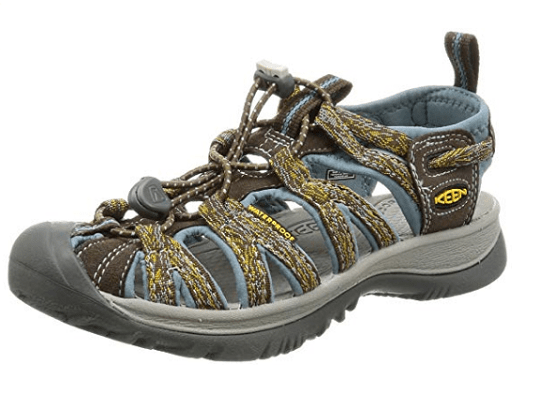 This is my favorite sandal and I recommend this sandal for every women traveler.  Keen Women's Whisper Sandal will protect all surrounding of your feet.
Fits easily and you can adjust according to your comfort. While traveling we rush to places and sometimes a hit on the toe. But after wearing this sandal you do not have a worry at all.
This sandal is made from 100% polyester and the heel is of rubber. The rubber heel gives support to your heel bone.
The design of the footbed gives excellent arch support and cradle the natural contours of the foot.
As made of Hydrophobic mesh lining, dirt can be washed off easily.
This sandal comes with different colors which you can choose.
Skechers Women's Reggae-Rasta Flip slop Sandal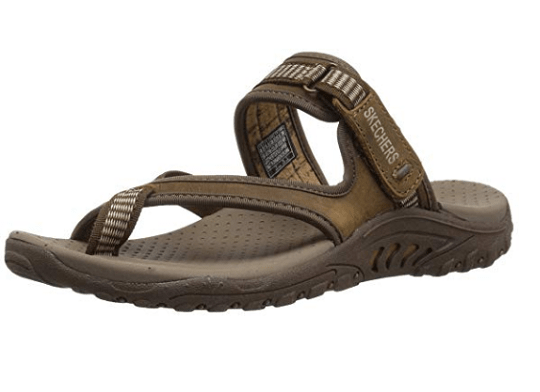 This sandal also has great arch support comforting your ankle, heel, and toes. The sandal is not totally waterproof, but still can be worn during rainy days.
One con of this sandal is perforated footbed, which may cause discomfort in some. Otherwise, this sandal with an adjustable strap on top of the foot gives a custom fit.
The hydrophobic fibers of the sandal make it waterproof. This sandal is strong and durable.
Teva Women's Tirra Athletic Sandal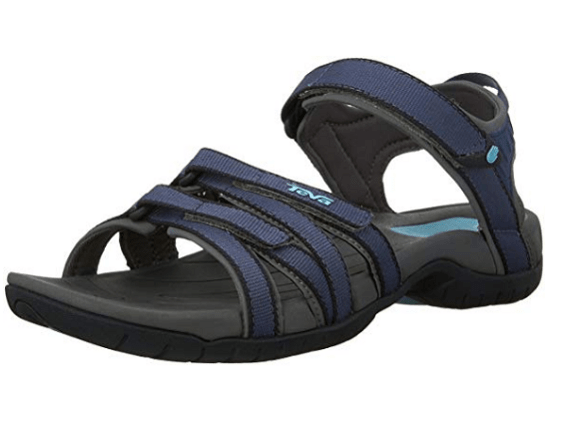 I absolutely dread trying to find sandals that one can actually walk comfortably in, but that still look Cute on! In years past, I have literally spent thousands of dollars for sandals that were supposed to be "top of the line," but none of them came close to the COMFORT, SUPPORT, and FEMININITY of the Tirra Teva sandal!!
Two adjustable straps at the footbed and 3rd one at the top of the foot provides a nice fit. The adjustable straps fit perfectly no matter if you have a wide or narrow foot.
I have worn this Tirra Teva Sandal during my trip to Cambodia, Bali, India.
You will be impressed with the arch and heel support this sandal has.
DAWGS Womens Arch Support Z shaped Sandal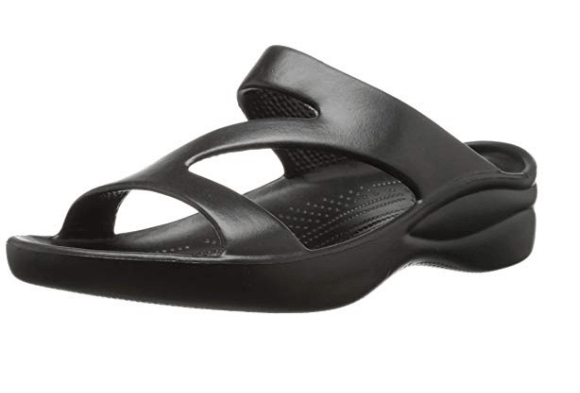 This Unique Z shaped strap sandal with 1.25-inch thick heel supports your feet very well. The footbed is also about half-inched thick proving comfort to the sole. It is super light that you will hardly feel any weight.
Do not go with its cheap look, this z shaped sandal unbelievably comfy. It has good support and structure. It can be worn in wet seasons too.
Also Read: 31 Must have Items for Traveling with Baby
Final Thoughts
If you are a woman who travels extensively will love these sandals. They are Waterproof, rough and tough Sandals. Can last any weather conditions.  With Arch Support bands the sandal to the natural motion of feet.
When Sole of the sandal is made of either Foam or rubber gives extra comfort to the heel. You can choose one of these which meets your requirement.