A lightweight compact stroller fits in anywhere. This stroller has many premium features for you and your kids. It has a stylish black frame, compact fold, a storage pouch, and dual cup holders.
It comes in three colors blue, grey and pink. I find the blue one more stylish than the others.
Excellent stroller for traveling alone with a baby
This stroller is lightweight, maneuverable with one hand, and easily collapses. It automatically locks into the folded position and easily unfolds with one hand (I just use my foot to secure it in the open position). I can comfortably pull and push the stroller on rough surfaces.
Considering the child safety they have made both the front and back wheels each to lock individually in place so your kid doesn't roll downhill. 
Features
Lightweight Compact Fold
As it is just 15 pounds, easy to carry on a stroller bag while traveling. The compact stylish black frame easily folds making it more for mommy travelers.
It literally comes into my backpack so I do not have to carry a separate stroller bag.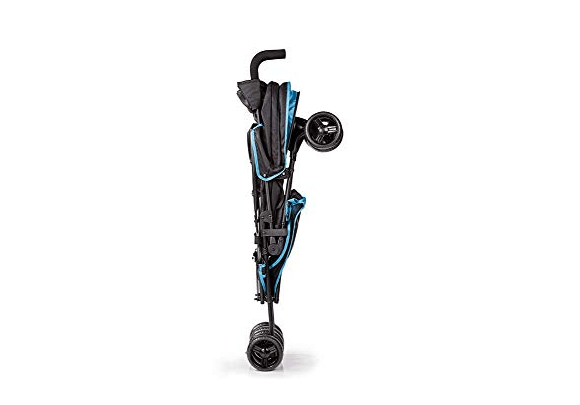 Sun Protective Canopy
The canopy has flip out sun visor for UV protection from the sun's harmful rays. You do not have to worry about your kid's sensitive skin as this stroller has a UV protection layer.
Storage Space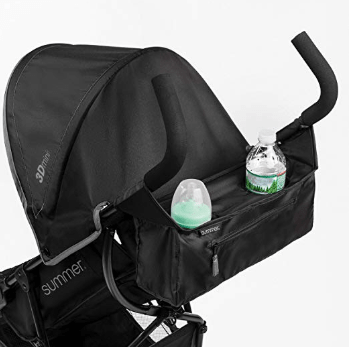 This mini stroller designed with a double drink holder that's got a zipper compartment. Cup holders are perfectly designed and keep things steady when traveling. In the zipper compartment, you can keep your valuable things safe. Considering a mini stroller for kids this stroller has a lot of space for storage.
Support and Comfort for All Babies
Summer infant 3D mini convenience stroller has a 5-point safety harness with padded straps which gives extra security to your naughty one.
Your baby can enjoy a full multi-step recline that will allow him/her to relax in a position that works best for him/her. I personally found this feature to be amazing as I know how difficult to make a baby to sit in the same position. Now I can change the position of my baby when he naps without disturbing.
Pros
Lightweight and compact.
Multi-step reclining for comfort.
UV protective canopy.
Good infant support.
Wheel locks.
Cons
Handles are Little shorter for a tall lady.
The Storage basket could have more space.
Conclusion
The Summer Infant 3D Mini Convenience stroller is definitely a good baby buggy. This is so compact with many features that you just won't find another kids stroller like this.  The adjustable 5 point harness with padding makes it perfect for child safety. I would surely love if they included more storage spaces at the bottom.