21 Best Indoor Play Equipment for Home
Last Updated on 3 weeks by admin
Getting youngsters to use their excess energy is challenging, but the outdoors can be a parent's greatest friend. But outdoors is not always a viable option. What should you do when it is too dangerous to let the kids play outdoors instead? Your kids may still have fun and learn new things at an indoor playground, no matter what the weather is or whether there is a pandemic. If you are searching for an excellent indoor playground for your kids, check out our recommendations. They are great for developing essential abilities, including hand-eye coordination, social and fine motor skills, and physical fitness.
Knowing which option is best for your kids amid a sea of choices may be challenging, and we get that. When shopping for one, it is essential to think about stability, ease of assembly and disassembly, and more. If you want to ensure that your kids have a good time, you can learn more by looking at the list of indoor play equipment for home.
MORE POSTS: 10 Fun Things to Do When Bored at Home for Teens
List of best Indoor Play equipment
Let us now look at the list of the best indoor play equipment below.
1. Toy Crawl and Climb Activity Play Set by ECR4Kids
You can arrange the soft and austere SoftZone Climb and Crawl Playset from ECR4Kids in several ways. Children like having the opportunity to alter the appearance of their playground equipment frequently. Once youngsters finish playing, it is simple to clean up.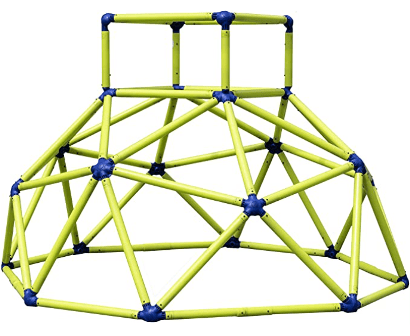 2. EezyPeezy Monkey Bars Tower of Fun
The EezyPeezy Monkey Bars Climbing Tower is great for youngsters aged 3 to 8 and will surely be a hit with the whole family. This one is designed for indoor use and has a removable top, a sturdy frame that can support up to 150 pounds, and a broad, stable base that will not roll over. The double-lock spring mechanism and disconnector tool make assembly of this indoor playground a breeze, taking about 30 minutes or less and providing peace of mind for your child's safety.
3. Jumbo 4-To-Score Game
Create fun and stimulating environment for your children to learn in with the Jumbo 4-To-Score, a life-size version of the classic 4-in-a-row game. It is made from sturdy yet non-toxic materials so that kids can play with it without worry for years. With this ring-dropping game, you can bolster children's gross motor skill development, critical thinking, physical play, and social interaction. Suitable for children aged three and up, they can play with this timeless indoor play equipment at home, inside and out. Its durability and resistance to the elements make it a breeze for parents to set up.
4. Indoor Jungle Gym with Panda Playground
The Panda Playground brings the great outdoors inside without taking up much room. There is no need to sacrifice playtime convenience for storage space, as you can fold up this product neatly when unused. It has six different activities in one, so it will keep your kids entertained for a long time.
5. LAEGENDARY Saucer Swing for Kids
The LAEGENDARY Colored Web Swing is the perfect way to encourage enjoyable learning with your kids when they develop physical, emotional, and cognitive abilities. Its foam-padded grips and a swivel can accommodate a variety of swing types. The 40-inch yard swing, which comes with all necessary hanging hardware and can support up to 450 pounds once assembled, is an excellent addition to any indoor playground.
6. Play Ball Climber by Step2 (with Slide)
Little ones learning to walk or run will love the Step2 Play Ball Fun Climber as much as those already nimble on their feet. Younger children may hone their fine motor skills by picking up and dropping the balls into the labyrinth, while older children can learn about STEM subjects like physics via the ball drop function. Many toddlers can enjoy this Step2 activity center at once. It has components that foster motor skill development, STEM education, social development, and more.
It has everything you need to stimulate play and exercise at home like a swing, plastic gymnastics rings, a trapeze bar, a ladder made of wood and rope, and a knotted rope used for either activity. The indoor play set is built to last and fits through regular doorways, and has passed rigorous safety tests to ensure it meets all ASTM regulations for indoor play equipment at home. The steel used in the construction is of industrial quality, and the whole thing has a weight capacity of 300 kg.
Your indoor playground would benefit significantly from including this slide playset since it serves many purposes like ladder climbing, sliding, and basketball shooting. If you want your child to be active and develop better coordination, this is the one for them. Its solid construction and sturdy, load-bearing capability make it safe for youngsters to play with, even when unattended. All it takes is a few stout nuts to put it together. This toy is made from high-quality, non-toxic HDPE plastic and has a nonslip design with anti-skid steps, making it ideal for young children.
9. SSBRIGHT Sets of 25 Multi-Colored Kids Climbing Handholds
All the climbing holes on this wall are designed with children in mind, so they are of the proper size and have a textured surface that makes them easier to grasp. Assembling a climbing wall on a flat, smooth surface within a home takes a few minutes. So, if you want to encourage physical development like strength, balance, and stamina in young people, this is for you. You can utilize different colors and shapes to create challenging games, beautiful patterns, and stimulating learning for children of all ages. The rock grips are constructed of BPA-free plastic, both sturdy and safe for kids to use. They are of ideal size and form for their developing hands, have no jagged edges, and offer a comfortable grasp.
10. PLATPORTS Kids Rocking Horse Rocking Chair Seesaw
It is a great gift idea for kids since they can play with it indoors or outside. They will enjoy hours of fun on the soft and sturdy molded plastic chairs, all while improving their coordination and balance using this indoor play equipment for home. The foam grips are comfortable, and there is a bar across the bottom to keep your legs from dangling. The toy is rust-resistant when taken to the garden and is CE certified for optimal kid safety, surpassing ASTM Safety Standards.
11. Pop2Play Amazing Folding Slide for Children
Pop2Play is an innovative method for children to play indoors without making a big mess, and parents can create it with the help of parents. It is the first of its type, and can turn any room into a fun play space, then collapse for simple storage. The slide is much more durable than standard cardboard, thanks to innovative Strong Fold technology, which enables cutting-edge folding on reinforced cardboard. It is fun and safe for kids up to 50 pounds. So you can bring your 2-5-year-olds without worry.
12. TopNew 6.6 Ft Climbing Rope Ladder for Kids
Kids above the age of three can confidently climb this Rope Ladder. Children can safely enjoy hours of climbing pleasure with this ninja ladder. Stability is ensured with a high-strength nylon rope and six sturdy plastic rungs. The ladder's anti-rust clasp makes setting up a breeze. You can use it in conjunction with a swing set, treehouse, playhouse, jungle gym, or anything else. The 6-foot rope ladder collapses down for convenient stowage.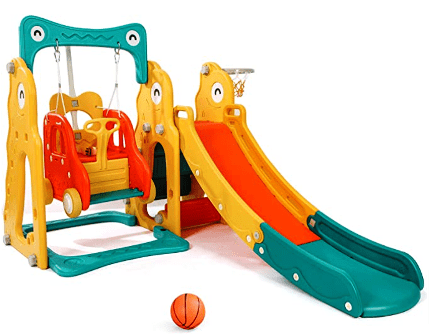 13. Aneken Toddler Swing Set with Four Slides
This multipurpose set includes a basketball hoop, a swing, a nonslip climber, and a slide. The basketball hoop is mounted on the slide's side panel to provide your kids with more opportunities to shoot hoops and develop their athletic skills. All the pieces are of the right size for toddlers' hands. It is a great way to practice those all-important fine and gross motor skills while having a great time. Furthermore, the slide comprises ASTM F963-17 and CPC-approved, odorless, non-toxic PE.
14. Goodevas Children's Triangle Ladder
The triangular climber is appropriate for children aged 1 to 7. The manufacturers have used Oak wood and no chemicals to construct this indoor climbing tower. You can use a ladder both inside and outdoors. Due to its ability to improve balance and motor abilities, it might be a great addition to children's gym playgrounds. The five locking positions of the foldable Toddler ladder mean that you can use it for a wide range of games and activities. This wooden ladder folds up easily for storage or transport and will be a hit with the kids.
15. Wedanta Gymnastics Wall Gym
Natural wood, both kind to the touch and easy on the eyes, was used to construct this multipurpose gym to fit in with any decor without compromising style or convenience. It also includes the hardware necessary to install it firmly into a wall made of wood or concrete. This kind of gym wall bar is manufactured to the strictest standards of dependability and safety. The universal home gym has everything your children may want to stay in shape while having a great time.
16. Happy Motte Rock Wall Climbing Holds
The Happy Motte Rock Wall Climbing Holds are composed of high-grade plastic with an anti-fading substance, so their brilliant quality lasts long without fading. These climbing holds are constructed from robust materials and have a well-thought-out design making them suitable for usage in both indoor and outdoor settings. This indoor climbing gym has rock climbing grips in five colors and three shapes to help your child develop strength, balance, agility, and flexibility while having a great time.
17. Avenlur Indoor Climbing Structure of the Playground
Your kid and their pals may have a great time together on this toddler climber, making it the perfect addition to an indoor playground. Children benefit significantly from the indoor play equipment for home climbers in terms of their physical development, athletic training, body strength, critical thinking, and social bonds. A Swedish ladder, slide, rope ladder, climbing net, wooden swing, and a rock climbing wall are all included in this versatile kit.
18. Playground Swing Set with Non-Slip Seleware Finish
Most kids spend most of their time swinging. So ensure your indoor playground includes a sturdy, safe swing seat. No special hardware is needed to attach the swing set to the chain. You will only require hooks. A bright yellow plastic coats the 65-inch chain, and an armrest makes swinging safer. Thus, your kid can play without worrying about getting their fingers or hands pinched. This design has been granted a worldwide patent for its creative nature.
19. Bundaloo Bouncer Seesaw Rocker
The typical 3-year-old can easily use one of these 6-foot-long inflatable seesaw rockers. There are two grips on the central barrel, one for each rider. Whether inside or out, you can set up this blue-green seesaw on any level surface. The rockers are composed of robust, tear- and puncture-proof PVC. They can last through even the roughest play sessions in your living room or backyard. A few minutes are necessary to set this up using a regular air pump. The seesaw has two seats, and the backrests ensure that your kids will not be bouncing about throughout the ride.
20. Unicoo Swing Set with Slide for Kids
If safety is a top priority, you can rest easy knowing that the American Society for Testing and Materials and the Consumer Product Safety Commission has tested and approved the Unicoo Toddler Slide and Swing Set. This colorful swing set is safe since it is constructed from HDPE, a high-quality and long-lasting raw material. In addition to its sturdy triangular shape, broad base, fallibility with water or sand, built-in swing, smooth edges, and non slip steps, this toy is safe for kids to use while playing. Kid-friendly and straightforward to scale, these stairs are perfect for a day of climbing and sliding fun. The height- and weight-adjustable children's swing is an excellent addition to your indoor playground.
21. Indoor Playground Gym for Kids by Pegas
The Pegas Children's Indoor Home Gym is perfect for encouraging physical activity and fostering fitness in your kid, which is crucial for their development and health. It is one of the best indoor play equipment for home. The apparatuses in this set comprise a gymnastic ladder, a movable horizontal bar, gymnastic rings, a trapeze, rope, horizontal bars, a hole snake, a shield basketball, and a swing. It comes in several hues, from yellow and green to blue and yellow, and you can install it in the voids between floors and ceilings. To further ensure your children's safety while playing, the device has been granted a patent and complies with all applicable criteria of the State Standard.
MORE POSTS: Best Learning Games for 18 Months Old
What makes the best indoor play equipment?
Let us now check out the factors that make the best indoor equipment below.
When deciding on the best indoor play equipment for a home for your kids, you should consider the equipment's features and the ages recommended for play. It is a precautionary step to safeguard the safety of your children and their potential playmates on the indoor set.
The next thing to consider is how big the indoor playground is and whether it will fit in your home. Double-check the room's dimensions, including the ceiling and the length and depth of the intended installation. Ensure the outdoor playground equipment is appropriate for the weather if you wish to have it in your backyard.
Finally, it would be best if you chose an indoor playground that is enjoyable for your kid and convenient for you to use. Easy assembly, maintenance, and stowing away are concerns you should have. You should choose components that your kid will like playing with, such as slides and swings, and you have the choice of using either plastic or wood according to your tastes.
FAQs
How might an indoor playground benefit a child's growth and development?
A piece of indoor play equipment for home is suitable for kids for several reasons. Children's imaginations and inventiveness benefit greatly from time spent playing inside. Your kid will benefit much from time spent at an indoor playground, whether they use their imagination to build forts, castles, or spacecraft. A child's motor abilities, ability to overcome anxieties and capacity for social interaction may all benefit from its use. There are several ways in which a youngster might benefit from playing in an indoor playground.
How can I ensure their safety if I take my children to an indoor playground?
As a parent, knowing what your kid needs from an indoor playground is essential. To ensure your child's safety, you should monitor them and take the appropriate measures. The indoor garden stability will improve by maintaining it on a solid, flat surface. Another thing you can do is examine whether the playground equipment needs to bolt down. Another factor to consider is the indoor playground's conformance with established safety standards.
Summing it up
Creating indoor play equipment for home is an excellent method to encourage your children's physical activity and healthy habits. Furthermore, they aid in developing children's physical and social abilities and stimulating their imagination and creativity. Think about how big it has to be to fit in your current living quarters before making a final decision. The safest indoor playgrounds for kids are the ones that are simple to set up, keep clean, and put away when not in use.
MORE POSTS: Best Playroom Ideas for 10-Year-Olds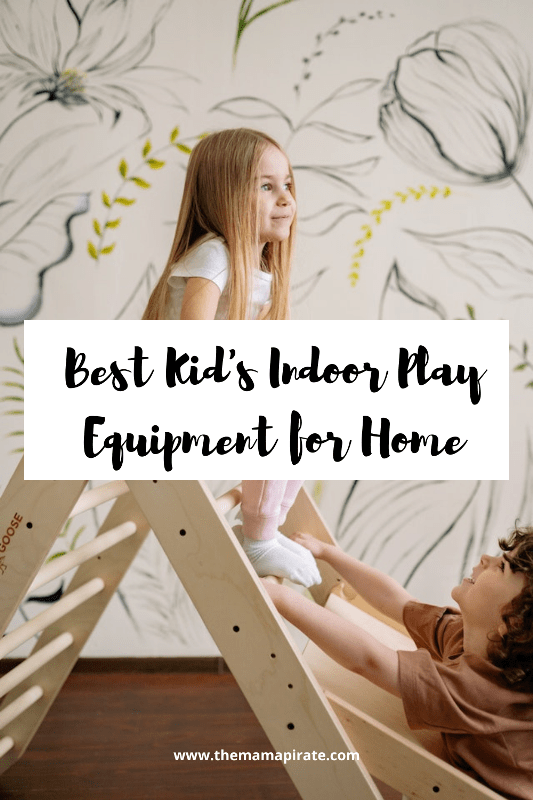 [convertkit form=3500187]