(Last Updated On: October 5, 2022)
Saving money is a vital part of life to fulfill many wishes. But you might think saving money is a daunting task which is not. There are several ways you can save more, like when you use promo codes and rebate apps while shopping. But you have to change your lifestyle approach to reduce the expenses. 
In my opinion, saving money is also essential for housemakers. Though taking care of our children and other household chores are the primary responsibility, our additional duty is also managing the finances. Whether you want to choose to work outside or have a profession, saving money is crucial to take care of your dreams and your children's well-being. That is why when it comes to the matter of saving money, you must understand the expenses. Based on my point of view, learning those will help you in saving money more. You must also know the importance of saving money. It is one of the best economic practices you can adopt. So, do you know why saving money is significant? Well, below I have explained the reasons behind saving money. So, let us check them out.
12 Reasons to Save Money As a Housewife
1. Offers security to life
No one can predict the future, so save your money for the security of your family. You must know how you will manage everything if you do not have savings. Besides, if you lose your job, then how do you handle the daily expenses? All these questions will never leave you peacefully. That is why make a concrete plan of how to save money to get a long-term secure life.  
2. Savior in emergencies
Accidents are sudden and often lead to emergencies throughout life. It results in spending more money beyond our imagination. So, we have to save more as having a generous amount of money can act as a safeguard against any emergencies. So, secure your forthcoming life by creating an emergency fund to diminish additional stress. 
3. Offers independency
Saving money offers freedom. You will get complete liberty to fulfill your dreams, your child's future, and more. But one of the most prominent reasons to preserve money is to present yourself with the choice to pursue a profession you cherish. With a decent amount of cash, you do not have to worry about the income, and you can proceed with your dream occupation with ease. 
4. Makes life cherishable
From my perspective, we must save cash for enjoyment purposes. Entertainment must be a vital part of our life. Without it, we cannot cherish our life. That is the reason you should always set aside a little money to have fun with your family. If you have savings, you can do this without any tension of harming your finance.  
5. Reduce the stress
The primary importance of saving money lies in stress reduction. If you do not have future savings, you will suffer insomnia, tension, and several other hindrances that will make your life a living hell. Hence, saving money is necessary to bypass these issues. After all, you do not want to spend your hard-earned dollar on some unwanted health hazards.
6. Financial legacy
Many people save money to leave a financial legacy. Did you ever imagine that if you died the next day, what kind of monetary legacy would you be leaving behind for your family? What will the people around you do if they do not have enough savings? You must think about those and save money whether you are 25 or 80 years old. Remember that the way you utilize your earned money will determine its effects on your family. So, cut down on your unnecessary expenses and save money to offer a healthy and peaceful life to your loved ones.  
7. Helps to carry out the events
Human life is full of expensive events. Be it your wedding or the birth of your toddler, each of them needs money. So, to avoid any unnecessary financial situations, form a savings fund to carry out the events with no worry about the expenses. 
8. Promotes better education
In recent days, it requires a lot of money in child education. Be it school or college, your children's education might burn a hole in your pocket quickly if you do not have any savings. So, begin saving dollars so that you can pay for your kids' learning. 
9. Allows to help others
One of the vital importance of saving money is that you can help others financially. If you preserve your money, you can invest it in a charity and become a part of social work. But if you do not have any savings plan and want to donate dollars to them, the contribution will be limited as you have to pay it based on your income or annual salary. So, if your target is to assist others, you need to start some savings.
10. Fulfills every longing
Saving money helps in fulfilling every wish of yours. Being financially prepared means, you can purchase anything starting from SUV cars, and TVs to luxurious houses. Additionally, you can travel abroad as well. So, if you want to roam around your city in an expensive car or visit Paris or Rome, keep aside a few dollars to fulfill every dream. 
11. Decreases the burden
If you are a homeowner, you can understand the importance of saving money more as you have already experienced many operating costs that come with the new abode. Need to spend on expenses like repairing and remodeling the home essentials, buying necessary furniture, expensive power bills, and many more. So, without a proper cash flow, you cannot provide the required money, and it will perform as a burden on your shoulder. That is the reason why it is always advisable to save a few bucks to fix or update something. 
12. Diminishes the financial risk
 There is unpredictability and risk of a financial loss if you want to start your business in the future or want to invest a lump sum amount in anything. But with a savings plan, you can minimize the risk. So, it is always better to save money before you decide to invest in anything.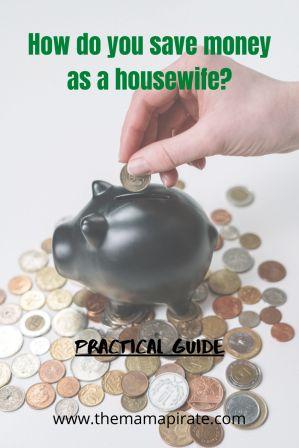 11 Ways to Save Money As a Housewife
So, after going through the above segment, you will have enough knowledge about the significance of saving money in your life. But when it comes to saving money, you might get confused and inquire about the ways of saving money. It will be more if you are a home-staying person or housewife. So, go through the below segment, as I have shared a checklist that will explain several tips and guidelines on how to save a decent amount of money. It will help you to be financially secure and can live peacefully also. Thus, with no further delay, let us check out some ways of saving money below. 
1. Prepare a budget or account statement for the necessities.
Preparing an account statement will assist you in several ways. You can peep into all the expenses and find where it goes. You can also reduce unnecessary expenditures and control overspending. So, it is beneficial if you make a list of all the necessary items for each month. Also, write down the events where you have used the money. List down everything from maid salary, car insurance, food cost to several other expenses. In case of another spending, write it as miscellaneous expenses. Preparing the entire list of expenses will assist you in making savings and thus reduce wastefulness. 
2. Determine what you want and what you require
According to my experience, it is one of the trickiest ways to save a few bucks. Having a better understanding of what you want versus what you require might help your savings. For example, never go for an expensive car just because your neighbor has purchased it or do not spend on home remodeling if it is still new. All these things will reduce unnecessary expenses and help you to keep aside some dollars for savings. 
3. Invest some cash
If you want to grow your savings more, you can invest your precious money in fixed deposits and other kinds of investment options. One of the most beneficial funds alternatives is health and life insurance. You will get multiple advantages for your family's future from both of them. But it is always advisable to consult an expert if you are not used to or do not know anything about these processes.
4. Shop purposely 
As a housewife or woman, we all always enjoy shopping. As a result, you purchase unnecessary things and burn your savings. Some women prepare a list of needed items and go shopping. But in the end, they came back with things that are not present in that listing. So, to save more, you should buy only the essentials. Irrelevant spending cannot offer you the option of saving a few bucks. 
5. Pay by cash only
Whenever I went shopping, I used to pay by credit or debit card in the initial days of digitalization. But after a few months, I noticed that I have no control over the expenses. So, always pay in cash rather than a card to save more. It might seem peculiar, but you can control excessiveness if you avoid card payments. But why so? When you pay in cash, you can control the spending by checking where you used the money. On the other hand, you will have no idea and control over the expenses if you pay by card unless you verify the account statement. So, to save a generous amount of money, avoid cards when making payments. 
6. Compare and purchase the items.
Though comparing requires time and energy, the output is beneficial. You should compare the items from various websites or offline shops to get them at a reasonable range. So, before you make any purchases, check several eCommerce sites. You will not only get your coveted products at a much more affordable rate but can also keep aside a few pennies for savings. 
7. Goal-oriented savings
While saving money, you should do it by maintaining a specific target. For instance, when you want to purchase your dream car or go on a foreign trip, you should save money based on these purposes. Besides, set up saving goals for your child's education and other life events. Setting up a saving goal will help you determine how much time and money you will require to fulfill a specific purpose. 
8. Save money by maintaining your lifestyle.
Many people save money without taking care of their health. They avoid eating expensive foods and do not visit doctors if they suffer from any illness. They think that it has no impact on their savings. But they are wrong as this unhealthy practice gradually produces several health hazards and leads to increased spending on medical bills. So, it is necessary to maintain a healthy lifestyle to save a handsome amount of dollars. On top of all, make a health insurance plan to control reckless spending on medical bills. 
9. Use offers and discounts carefully.
In the era of digitalization, humans have become accustomed to online shopping. Many shopping platforms give discounts on our favorite things to tempt us. Therefore, we unnecessarily spend on several random items. For example, when you bought a product of 50 dollars at a 50% discount, hence saved 25 dollars on this. The sale prompted you to get it. In the end, you have lost 25 dollars that you can add to your savings. So, order the products by letting your temptation be to the side. 
10. Control the power bill
Controlling the power bill will also offer you a chance to save money. You only have to turn off the lights when they are not in use. You can change your lighting into LED bulbs as it will assist in reducing electric consumption. All these will help you decrease the power bill, and in the end, you can save some more.  
11. Save regularly 
As a housewife, you must look for alternatives to save money. Adopt several DIY tasks like torn clothes sewing, garden mowing, laundry, and many more. Nowadays, many malls and online shopping sites offer buy-one-get-one options. So, you can take advantage of it and reduce the shopping cost. Besides, try to reuse the leftover food and prepare some delicious snacks for them. You can promote less food wastage which will lead to saving more by avoiding buying ready-made snacks. On top of it all, cut down the expenses on purchasing clothes. By keeping the above things in mind, you can save a few dollars regularly.
Bottom Line
To conclude, saving money is a practice, and one can get used to it over time. As a housewife, your primary objective is to get started and be alert about your money utilization. Besides, understand the importance of savings and read the above tips. If you are already performing it, then this article will be another push for you. But if not, then begin it today to secure your family's future. Always remember that if you lay one brick, you can make an entire building one day. So, as a responsible mom, make your children learn the importance and tricks of saving money. It will help them to acquire a healthy habit for their future!
Read more posts: