13 Best I Love My Mom Quotes and Sayings
Last Updated on 3 weeks by admin
Moms are incredible. They see all but say very little. Our mothers dedicate their whole life without any complaint and have very little expectation. Their love, care, and attention are unlike any other. So, as a son or daughter, sometimes you must make her special with no occasion. You do not have to wait for Mother's Day to show your love towards her. You can make her feel like the most loved person by offering her some quotes on any day, be it her birthday, mother's day, any occasion, or whenever you want. So, let the most loving and caring woman in your life understand how much she means to you by showering love and gentle words.
But when we want to show our affection towards our mother, we have lots of enthusiasm when we write. Several thoughts gather in our minds, and we get confused in the end. We do not find inspiration or appropriate words to express our emotions to her. So, to help you with these hindrances, we have incorporated numerous mom quotes that will assist you in finding perfect words for any circumstances. Go through the below section as every quote has something special, share it, and pay tribute to the most amazing woman of your life with a heartfelt note.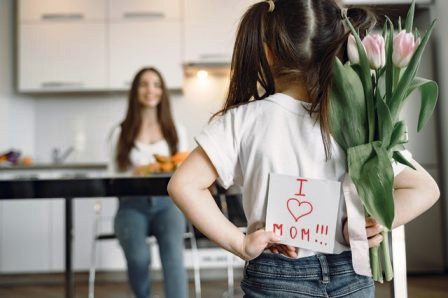 "I love my mom" quotes from a daughter to a mother
You can never compare any relationship with the bond you share with your mom as a daughter. After all, she is the reason behind your birth and has left no stone unturned to provide you with a secure life. So, as a child, you must treat her, especially as she deserves respect, gratitude, and love for all she has done for you. Just write a simple sentence and share it with your mother. You will notice how happy she is after getting it. But while writing, you might not find the right words. That is why in the below segment, we have shared some sayings to help you. My beloved mom, I love you from the core of my heart. You are the person behind my strength, happiness, and success.
Hey mom, your love for me is undoubtedly a treasure. You are always there for me through thick and thin. So, today I want to say I love you more than anything else in this world.
Loving mommy, I know you started adoring me before my birth. Thanks for bearing so much pain and making the sacrifices for me. You are my idol and everything in this world.
As women, we have many secrets to share. Thank you, mother, for being my friend, philosopher, and guide. Without you, I cannot overcome all the hardships. You are the soup of my soul. I love you.
Dear mom, you are the best chef in the universe. Nothing tastes better than your handmade foods. No one can be like you.
I can never express my feelings for you in a few words. But you are the most important and special person in my life. I want to be a warrior like you who fears nothing and always fights for my family's well-being.
Hey mom, you are the first person who held my hands whenever I felt lost and devastated. I am the luckiest seed that you ever planted. I love you, and no one can be like yours.
"I love my mom" quotes from a son to a mother
Some say there is nothing beautiful like the bonding of a mother and her son. So, as a son, make her feel special with some happy quotes to celebrate the relationship between you and your mom. Therefore, if you are looking for the best sayings, read the below section. Here you will get multiple quotes for the most amazing woman of your life. Loving mother, you gave me the reason to live. You gave me your soul, unconditional love and made many sacrifices to make me happy. I can never repay you for all this. I love you, and you are the best mom I have ever seen.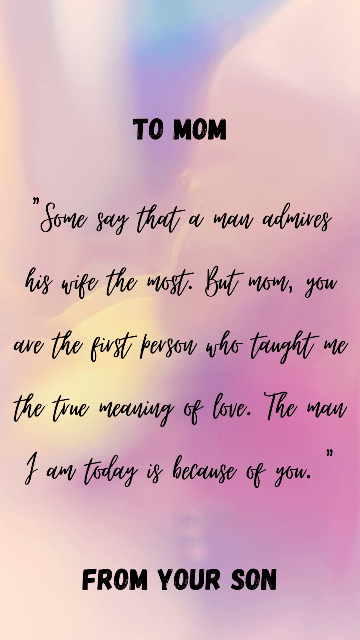 Some say that a man admires his wife the most. But mom, you are the first person who taught me the true meaning of love. The man I am today is because of you.
Hey mom, you are my first friend, best friend, and forever friend. It does not matter how much you scold me, and no one can take your place ever. I love you, and I want you to be with me always.
This writing is for what you have done for me and all the unspoken words. You were always my backbone, mom, and protect me like you protect your soul. I owe you for everything.
You have filled my entire life with your unconditional love and sufferings. I have failed in many things, but you have always had faith in me. You are undoubtedly the most astonishing person. I love you, mom.
You know, mom, I told my friends that I believed in love at first encounter. Do you know why? Because when I opened my eyes for the very first time, I saw you and fell in love with your smiling face looking at me.
Though it's Mother's Day, there has not been a single day when I have not loved you in my life. I love you, mom, and the bond we share is unbreakable.
Hey mom, I have lost my words as I love you more than any words can express.
Conclusion
To sum up, we can say that no matter how old you are, your mom is your world to you. You cannot compare the one-of-a-kind relationship with your mother. So, let your mother feel extraordinary with some beautifully intricate sayings for all that she does. You can write these quotes on a card or make a frame with your mom's picture with the quote. So, whether you are a son or a daughter, the above sayings will assist you in expressing your love and affection towards your mother.
Read More Posts: