11 Things to do in Destin Florida with kids at night
Last Updated on 4 weeks by admin
When the sun sets over the picturesque shores of Destin, Florida, the fun is far from over, especially when you're exploring this charming coastal town with your little ones. Destin transforms into a vibrant playground after dark, offering a plethora of exciting activities and adventures perfectly suited for families. From enchanting beachfront bonfires to thrilling night-time mini-golf, Destin has a kaleidoscope of options that will keep your kids entertained long after bedtime. In this article, we'll unveil a treasure trove of family-friendly nighttime adventures, ensuring your nights in Destin are just as memorable as your sunny beach days.
Let's discover the Family Things to Do in Destin Florida at Night.
1. HarborWalk Village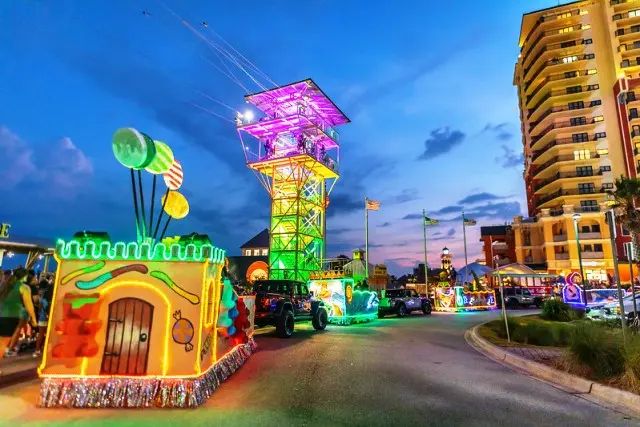 Nestled along the emerald waters of Destin, Florida, HarborWalk Village is a bustling hub of family-friendly nighttime activities and entertainment. This enchanting waterfront destination offers an array of experiences designed to delight visitors of all ages.
Start your evening by strolling along the HarborWalk's vibrant boardwalk, where you'll encounter street performers, musicians, and captivating views of the harbor. Consider embarking on a family pirate cruise or dolphin-watching adventure, which depart from the marina, providing thrilling experiences while showcasing the area's natural beauty.
As night falls, HarborWalk Village comes alive with live music at various venues, offering everything from rock and country to jazz and reggae. You can also enjoy interactive magic shows and face painting for the kids, ensuring everyone is entertained.
When hunger strikes, dine at one of the many waterfront restaurants serving up delicious seafood and other culinary delights. Cap off your evening with a visit to the HarborWalk Village's boutiques and souvenir shops, where you can pick up mementos to remember your unforgettable family night out in Destin. HarborWalk Village truly encapsulates the spirit of family-friendly nighttime entertainment on Florida's Gulf Coast.
2. The Track Family Fun Park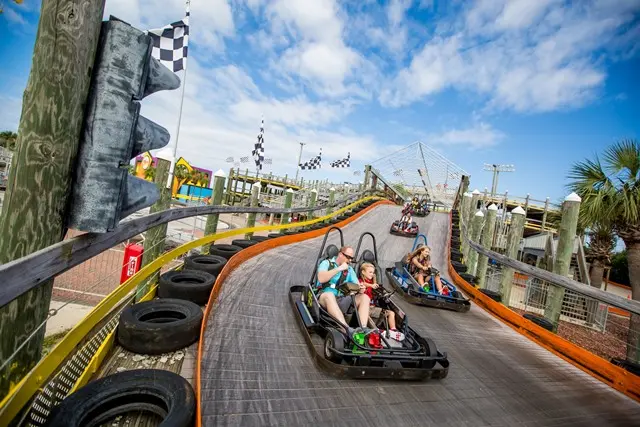 The Track offers a thrilling array of nighttime activities designed to create lasting memories for kids of all ages. As the sun dips below the horizon, this family-friendly destination transforms into a captivating wonderland of entertainment. Mini-golf enthusiasts can challenge their skills on the illuminated, whimsically themed courses, while go-kart racers can rev their engines under the dazzling lights of the track.
For those seeking a more adrenaline-pumping experience, the arcade games and bumper cars come to life as the neon lights dance in the background. The excitement doesn't stop there, as young adventurers can climb aboard the Skycoaster for an exhilarating flight through the night sky. And, of course, the nostalgic charm of the Ferris wheel offers breathtaking views of the Gulf Coast under the stars.
With a backdrop of laughter and the scent of cotton candy in the air, The Track's nighttime activities for kids are a magical blend of fun and enchantment, ensuring an unforgettable evening for families seeking endless entertainment and cherished moments.
3. Destin Commons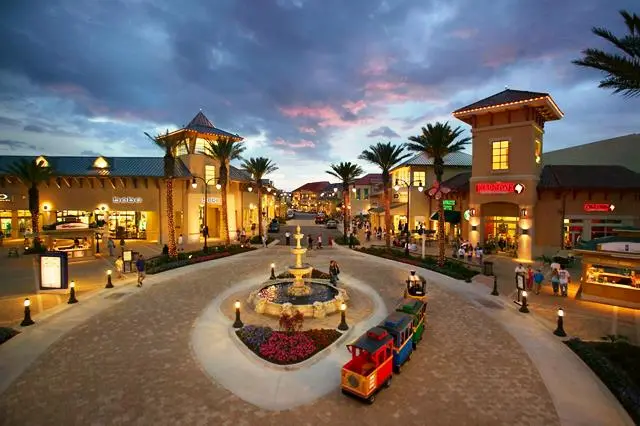 Destin Commons, nestled in the heart of Destin, Florida, is a premier shopping, dining, and entertainment destination that caters to families with kids, day and night. During the day, this open-air lifestyle center offers a unique blend of upscale boutiques, popular retailers, and a variety of dining options to satisfy every palate. Families can enjoy shopping for fashion, home decor, and beach essentials while also indulging in delicious meals at one of the many restaurants.
As the sun sets, Destin Commons transforms into an enchanting nighttime wonderland perfect for families. The centerpiece of the evening experience is the interactive dancing fountain, where kids can cool off and be mesmerized by a choreographed water and light show. Live music and entertainment often grace the outdoor stage, creating a festive atmosphere. For those looking to catch a movie, the state-of-the-art AMC theater provides an excellent option. Plus, a selection of sweet treats and dessert spots ensures that families can end their night on a delightful note. Destin Commons truly shines as a hub of family-friendly nighttime activities along the Emerald Coast.
4. Southern Star Dolphin Cruise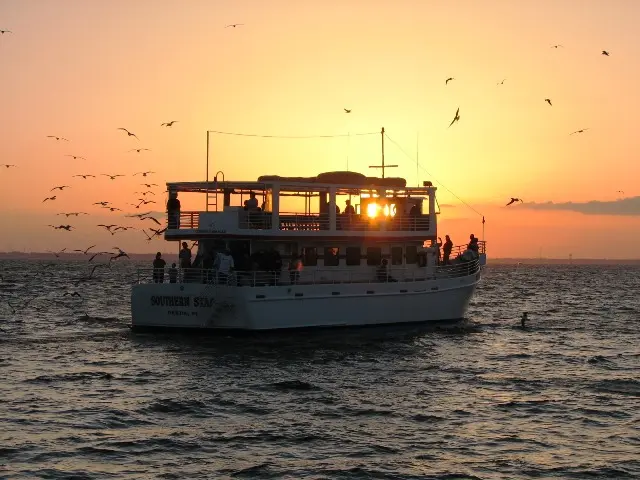 The Southern Star Dolphin Cruise in Destin, FL, takes on a magical quality when experienced at sunset, making it an enchanting family activity for kids and parents alike. As the sun dips below the horizon, casting hues of orange and pink across the sky, the excitement on board grows.
Children's faces light up with wonder as they spot playful dolphins in the golden-hued waters of the Gulf of Mexico. The tranquil evening setting creates an ideal backdrop for these intelligent marine mammals to showcase their acrobatic skills. Kids can watch in awe as the dolphins leap and swim alongside the boat, offering an up-close encounter with nature's wonders.
Captained by a crew well-versed in the local marine ecosystem, the Southern Star also provides educational opportunities for young minds. Kids can learn about the dolphins, other marine life, and the importance of preserving these habitats for future generations.
A Southern Star Dolphin Cruise at sunset is a magical blend of nature, education, and family bonding, creating cherished memories that will last a lifetime.
5. AMC Destin Commons 14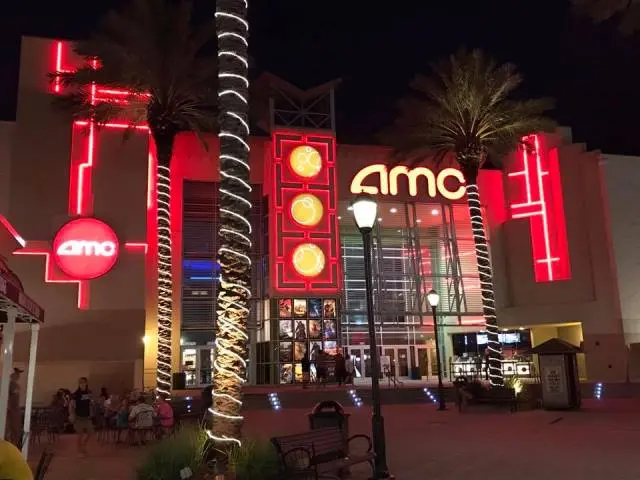 Movie nights at AMC Destin Commons 14 with kids are a delightful experience that combines family entertainment and cinematic magic. Nestled in the heart of Destin Commons, this theater offers a perfect setting for a memorable outing with your little ones.
The excitement begins as you step into the modern and comfortable theater. With plush seats and a giant screen, it's an immersive experience that captures children's imaginations. The kid-friendly amenities, such as booster seats and child-sized concessions, ensure their comfort throughout the show.
What makes AMC Destin Commons 14 truly special is its diverse selection of family-friendly films. From animated adventures to heartwarming tales, there's always a movie that caters to kids of all ages. And the fun doesn't end with the movie itself – the arcade and concession stand offer a wide range of snacks and games to keep the excitement going.
So, whether it's a weekend outing or a special occasion, movie nights at AMC Destin Commons 14 with your kids promise to be filled with laughter, joy, and the magic of the silver screen. It's an experience that creates lasting memories for both parents and children alike.
6. Wild Willy's Adventure Zone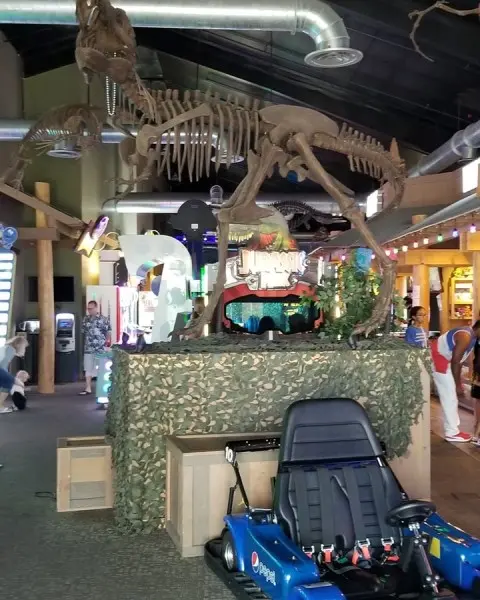 Wild Willy's Adventure Zone transforms into an enchanting wonderland when the sun sets, making it an ideal destination for family night-time fun. As darkness falls, the vibrant neon lights and glowing attractions create a magical atmosphere that captivates kids of all ages.
Start your adventure with a round of glow-in-the-dark mini-golf, where the putting greens come alive with vivid colors under blacklights. The entire family can challenge each other's skills while immersed in the whimsical glow of the course.
Next, head to the arcade, where the excitement continues. Kids can compete in various video games, win tickets, and trade them in for fantastic prizes. The excitement of hitting the jackpot is infectious and keeps the young ones entertained for hours.
Cap off the evening with a thrilling ride on the high-speed go-karts that zoom around the track under the starry night sky. It's an adrenaline-pumping experience that will have everyone laughing and cheering.
Wild Willy's Adventure Zone at night is a fantastic playground of endless entertainment, ensuring that your family creates lasting memories together in a captivating and safe environment.
7. Gator Beach – The World's Greatest Alligator Park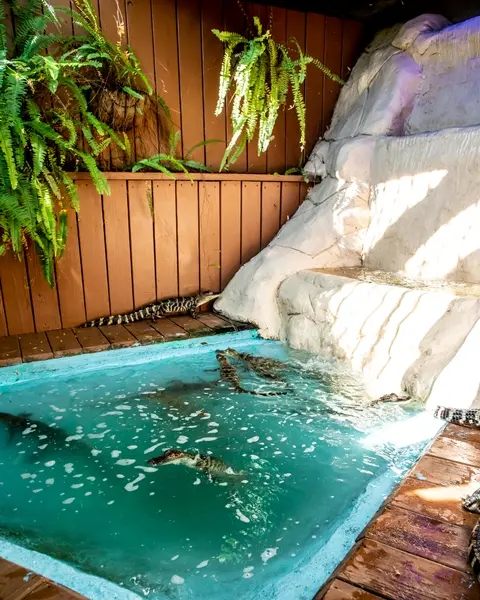 Gator Beach in Destin, Florida, is an exciting and educational destination for families with kids. This unique attraction offers a thrilling opportunity to get up close and personal with one of Florida's most iconic creatures: alligators. Kids of all ages will be captivated by the chance to observe these magnificent reptiles in a safe and controlled environment.
Gator Beach is not just about passive observation; it's an interactive experience. Children can participate in live feeding shows where experienced handlers demonstrate the power and agility of alligators. It's an educational adventure that teaches them about the local ecosystem and the importance of preserving these incredible creatures.
The facility also boasts an array of other animals, including turtles, fish, and snakes, providing even more learning opportunities. And if your kids are feeling particularly brave, they can even hold a baby alligator!
With its combination of excitement and education, Gator Beach in Destin is the perfect place for families to create lasting memories while fostering a deeper appreciation for Florida's diverse wildlife.
8. Navarre Beach Marine Park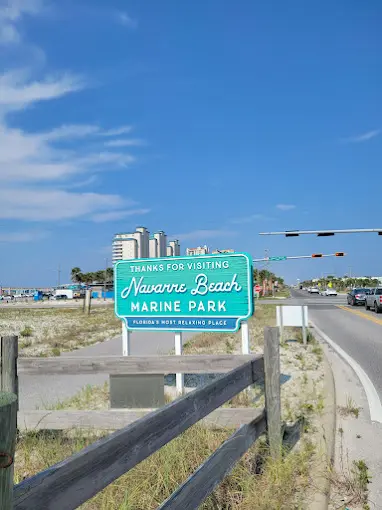 Navarre Beach Marine Park is an ideal destination for a family outing with kids, offering a unique blend of educational and recreational experiences. Located on the picturesque shores of the Gulf of Mexico in Florida, this coastal gem boasts a plethora of opportunities for young explorers.
Children can embark on a captivating journey through the park's nature trails, where they'll encounter diverse ecosystems teeming with native wildlife. The park's educational programs and interpretive centers provide insightful information about marine life, fostering a love for environmental conservation.
For those seeking adventure, Navarre Beach Marine Park offers opportunities for kayaking, paddleboarding, and snorkeling, allowing kids to engage with the marine environment firsthand. The park's pristine, white sandy beaches are perfect for building sandcastles and enjoying family picnics.
Moreover, the park hosts various family-friendly events and workshops throughout the year, ensuring that children have an immersive and fun-filled experience while learning about the importance of preserving our coastal ecosystems. A day at Navarre Beach Marine Park promises unforgettable memories and a deeper appreciation for the natural world among young and curious minds.
9. Fat Daddy's Arcade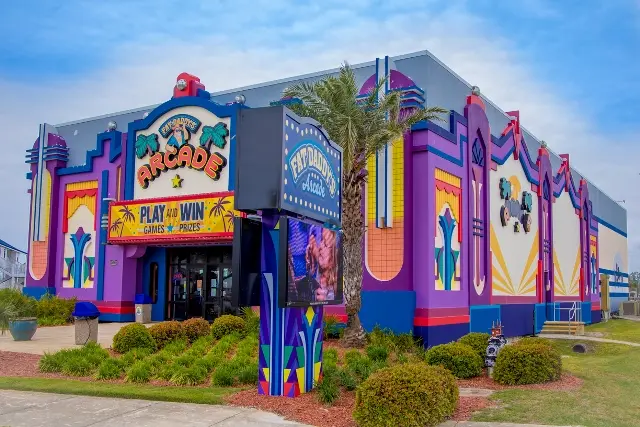 Fat Daddy's Arcade transforms into a magical wonderland for kids at night, igniting a whirlwind of laughter and excitement. As the sun dips below the horizon, the neon lights of this amusement oasis spring to life, casting an enchanting glow over the eager faces of children. With a cacophony of electronic melodies and the buzz of activity, it's a sensory playground like no other.
Children eagerly clutch their tokens, their eyes dancing with anticipation as they approach an array of captivating games and attractions. Skeeball lanes beckon with promises of coveted prizes, while flashing screens lure players into immersive video game adventures. The air is filled with the clinking of coins, the victorious cheers of young gamers, and the aroma of popcorn and cotton candy.
Parents watch with delight as their children immerse themselves in a world of innocent fun, their faces illuminated by the kaleidoscope of colors. At Fat Daddy's Arcade, the night becomes a canvas for unforgettable family moments, where joy knows no bounds, and the memories created are cherished for years to come.
10. Uncle Buck's Fish Bowl and Grill
Uncle Buck's Fish Bowl and Grill in Florida is a family-friendly destination that offers a unique and entertaining experience for kids of all ages. Located within the Bass Pro Shops Outdoor World in Dania Beach, this establishment combines the excitement of bowling with the allure of an underwater-themed adventure.
As soon as kids step into Uncle Buck's, they are transported to an underwater wonderland. The bowling lanes are designed to resemble the bottom of the ocean, complete with whimsical sea creature sculptures and vibrant coral reefs. It's a visually stunning environment that captures children's imaginations from the get-go.
Aside from bowling, Uncle Buck's offers a diverse menu that caters to kids' palates, with options like burgers, pizza, and seafood baskets. Plus, there's a dedicated game room and an underwater-themed bar area where families can relax and enjoy the unique ambiance.
Uncle Buck's Fish Bowl and Grill is more than just a restaurant and bowling alley; it's an immersive experience that guarantees a memorable outing for families with kids in Florida. So, whether you're looking to celebrate a special occasion or simply spend quality time together, this underwater oasis promises a fun-filled adventure for the whole family.
11. Big Kahuna's Water and Adventure Park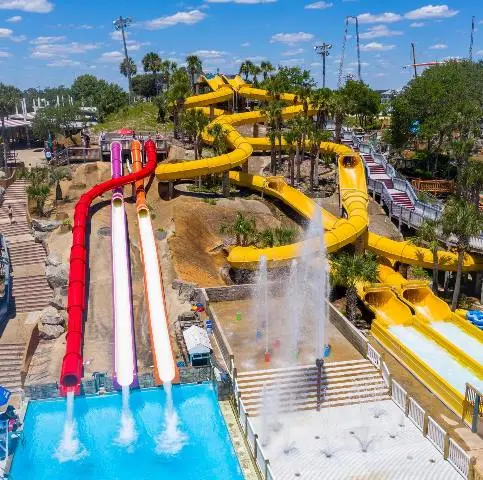 Big Kahuna's Water and Adventure Park is a haven of aquatic and thrill-seeking fun, but as the sun sets, it transforms into an equally captivating destination for kids with its array of nighttime attractions. The excitement doesn't wane as dusk falls; instead, it reaches a whole new level of enchantment.
Kids can navigate through the enchanting Adventure Park, where illuminated pathways lead them to thrilling rides and games. Mini golf courses glow with neon, challenging young putters to conquer the night. The wave pool takes on a magical quality as it sparkles under the moonlight.
For those seeking a dose of adrenaline, the water slides are open, offering heart-pounding adventures in the dark. The lazy river becomes an ethereal journey through illuminated tunnels, creating a sense of wonder for kids and parents alike.
Big Kahuna's Water and Adventure Park nighttime attractions for kids ensure that the excitement carries on long after sunset, creating unforgettable memories under the stars. It's a place where the fun never sleeps, making it the perfect destination for families seeking adventure and enchantment after dark.
This site is open till to 5 p.m. only.
11 Things to do in Destin Florida with kids at night
HarborWalk Village
The Track Family Fun Park
Destin Commons
Southern Star Dolphin Cruise
AMC Destin Commons 14
Wild Willy's Adventure Zone
Gator Beach – The World's Greatest Alligator Park
Navarre Beach Marine Park
Fat Daddy's Arcade
Uncle Buck's Fish Bowl and Grill
Big Kahuna's Water and Adventure Park
MORE POSTS: 19 Fun Things To Do in Dubai With Family