(Last Updated On: October 23, 2022)
Maxi dresses are one of the favorite and go-to dresses for women. Its comfort and versatility always keep the style in trend. You can find a maxi dress for various occasions like attending a party, chilling out on a beach, or going for a night out. 
Accessorizing will be the cherry on the cake, and your shoes are the most crucial part of your outfit that will adorn your look. So now, the question comes, what kind of shoes go best with the maxi dress? We have explored all the shoe options that will look best with your maxi dress.
Technically, there are several options available for footwear, which can make your selection even trickier. So, it is better to select footwear according to the occasion. Because going with any pair of shoes does not make sense, you need to strategize your outfit to look captivating and become the center of attraction at the party. Just like the occasion, your shape, color of the dress, and fabric also have a significant role in deciding your footwear. 
Factors to consider while deciding the footwear
Below we have discussed some factors to consider before deciding on a pair of shoes for a maxi dress.
While selecting the height of footwear like stilettos or flats keep the following three factors in mind:
Length of the dress: Your dress hem should neither rise above your ankle nor trail on the floor.
Your body shape: you can look short and wide after wearing a maxi dress. So, going with heels is the best option to make your profile slenderer and lengthen.
Height of the footwear according to the occasion: Select a pair of higher heels if the occasion is formal. Otherwise, flats are the best option for a casual party.
You can wear a Maxi dress on various occasions. So, it is significant to accessorize according to the occasion to look perfect. The shoes you pair with your maxi can transform your whole look for different occasions.
The event location has a vital role in determining your outfit. A pair of footwear might be perfect for an outdoor event but becomes uncomfortable for indoor occasions. The best example is an open-toe sandal, which we have discussed later in this article.
You cannot ignore comfort to make your outfit glamorous. Comfort should be your priority before buying any footwear or apparel because you will never look your best if you are not comfortable with your attire. 
A person should not break the bank for a pair of shoes. You should never purchase a shoe that is beyond your purchase power. Do not get disheartened if you have a small pocket size, as there are still a variety of options available in the market with fantastic and aesthetic designs or patterns.
While buying a pair of shoes for a particular event, it is crucial to consider the dress color before deciding on the shoes. Match the color of your dress and shoes to make the outfit more captivating. If the color of your attire and shoes does not match, your dress might not look as compelling because of the color clash.
MORE POSTS: What to wear to a baby shower as a guest?
Types of footwear with a maxi dress
Footwear can turn around your outfit and add instant glam to your personality. Often, shoes are a significant factor in creating a positive impact of your persona on others. So, never compromise on investing in a good pair of shoes to adorn your look. Following are some suggestions to pair with a maxi dress. But it is always better to try them in person before purchasing them.
You can pair any casual flat sandals, like a simple slider or gladiator with any maxi dress, especially in the daytime. Unless you are on the beach, do not wear flip-flops because they catch on the hem of your maxi or any long dress. Remember that clunky or Birkenstock sandals look good in an earthy, bohemian ensemble.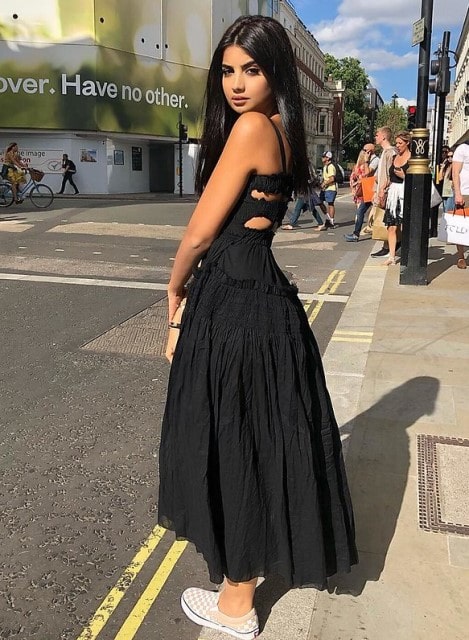 If you want a casual and comfy outfit with your maxi dress, pair it with sneakers, flats, or sandals in the daytime. The low profile of this footwear gives you a comfortable feel and outfit. You can go with combat or cowboy boots to get out-of-the-box attire. 
Flats like modern mules or ballet shoes offer a great look with a maxi dress. The style of ballet flats makes them a perfect choice for a feminine look. On the other hand, mules have a powerful effect on your dressing.
Stilettos are the favorite of many people, wearing a maxi dress as they show off your ankle and foot's arch and make you look more slender than usual. Stilettos are usually black or red and look good at night parties or occasions.
Peep-toe shoes add height to your outfit and make your look longer. These shoes are a good choice with a maxi dress if you want to look a bit longer than usual. Always be mindful of the color of your footwear. They should always match your dress. Try to ignore flashy patterns or colors to keep your look aesthetic with your maxi.
One of the most prominent and famous shoes with the maxi dress are round toe, closed toe, or closed heel, Mary Jane. The best part of these shoes is that you can wear them without socks and closed derby shoes, they do not irritate.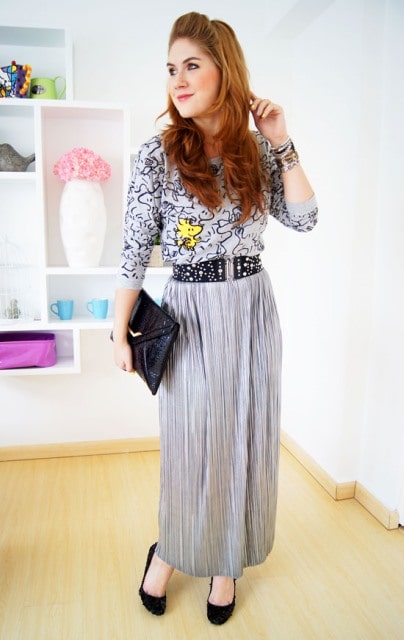 Pumps go well with a maxi dress for all kinds of occasions. There is no better option than pumps to elevate your outfit with their captivating leather design and elegant heel. As mentioned above, do not forget to match your dress with a pump color to get the best dress.
You should never consider pumps in the summer season, but they are never a poor option if you want to wear them. We recommend buying a neutral color pump so the color does not clash with your maxi dress while pairing them. Check the different heel heights as per your comfort before buying one. Otherwise, an uncomfortable outfit will never get the best out of your personality.
These shoes are regular ones worn by women during night events and clubs. Pairing them with a maxi dress will make you look more fashionable and gorgeous. You can wear platform shoes on numerous occasions, including professional, casual, or social events. If you want to present yourself more stylish in an event, then go with platform shoes, as the shape of the shoes makes them attractive and stylish.
Like stilettos, ankle straps are also a good choice, if you want to show off your legs and ankles. For ankle straps, you can either go with a neutral or flashy design. If you choose a flashy design, remember that the color of the footwear and dress might not match while pairing them. They also add an extra bit to your outfit and get the best out of it because of the straps wrapped around your foot.
The height of these heels is perfect, matching a maxi dress. The heels' height makes you a bit taller and more elegant. The best part of these heels is that they are very comfortable while walking, and you can accustom the heel height to various heights according to your preference. You should consider a stiletto or platform if you want more height in your outfit. But they do not give comfort like kitten heels.
The simplest and easiest way to pair up footwear with a maxi dress is chunky heels. Chunky heels give you a simple yet attractive look, and you can put minimal makeup with chunky heels to look gorgeous.
You cannot miss wedges on the list of the best shoes to pair with a maxi dress. The footwear looks fabulous with a maxi dress, especially when the heel is at least four inches tall and its toes are open. Wedges also help you maintain your balance while walking on an uneven floor. No other shoes have the prowess to maintain balance like wedges.
Looking for a perfect height sandal? Cone heels give you an ideal height for a maxi dress. Their peculiar and enthralling patterns go well with an aesthetic maxi dress to make you look gorgeous. Remember, this sandal might be uncomfortable to walk, especially if the temperature is high. So, it is better to opt for this pair in the winter.
These are the best outdoor option, as they give a formal look to your outfit. Mules can go in any dress. You do not have to worry about the colors because they match any dress color. So, this shoe must have a space in your shoe rack. They also look great with a maxi dress, and their grip sole ensures you do not slide on the floor.
The best colors for mules are black and white because they are neutral and give a natural look to your outfit. As mentioned above, this shoe pairs with any dress or skirt, but with a maxi dress, they look exceptional. The height heel is best for walking in the sun or sand throughout the day.
Sandals are generally comfortable to walk and also open-toe sandals ensure proper ventilation. But in the winter seasons, if the event is at night and is outdoors, you should avoid wearing open-toe sandals. The cool breeze at night may make you feel cold. During the morning or afternoon hours and on summer days, the sandal is a great choice with a maxi dress. The footwear leaves space for the air to ventilate to make it more comfortable.
Open-toe sandals give an alluring vibe with a maxi dress and give a long look to your legs. You can pair them with a maxi dress on several occasions, like professional, casual, or any other event.
This footwear has ultra-high heels, and you can wear it with a maxi dress to add more glamour to your outfit. Consider bold patterns or jewel tones for leaving a maximum impact. You can also opt for sensible and fun patterns or colors to keep your feet happy throughout the day. To get an edge in your outfit, wear a slashed hem maxi and pair them with statement shoes.
Trainer's shoe is a classic option to pair with a maxi dress. They give a sporty and classic vibe to your outfit. They look fantastic with maxi and offer good support for the feet and ankles.
If you have a limited pocket size and do not want to break the bank when purchasing a pair of shoes, then Mocca shoes are the best choice. Moccasins are durable, comfortable, and manufactured with the right amount of material so that you and your feet feel fresh. You can consider buying two pairs of Mocca if you love them. 
One pair to wear after work if you plan to go out at night and the second pair to wear all day long. Its classic pattern and design make it a good match with any of your dresses, like maxis, shorts, and skirts. The shoes are not restricted to a single color so, you can wear numerous dresses.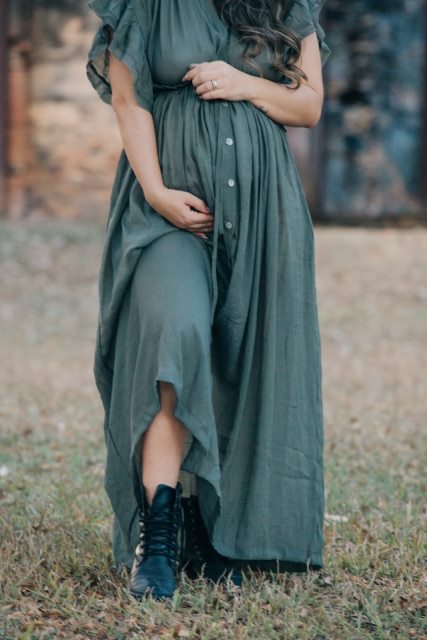 Cowboy boots are considered the most appropriate footwear to pair with a maxi dress. A Maxi dress with cowboy boots can take your outfit to a higher level. The shoe is not only limited to the winter season but you can wear it in any season. Remember to wear a boot of a nude color when pairing cowboy boots with a maxi dress. The 5-inch height of the cowboy boots makes it a perfect match with a maxi dress.
Oxford and Brogues are also good options with a maxi dress. You can wear oxford with a casual dress, while on the other hand brogues go well with a formal outfit. These two footwears emphasize and enhance your style. Oxford shoes generally go with any attire and help you to get a versatile look because of their numerous varieties of colors. They are classy and bring out a different personality within you. Try them out for a change. 
Footwears are a crucial part of a person's outfit, so you should never overlook them while dressing for an event. The perfect footwear selection is as essential as choosing a dress because a poor dress can vitiate your efforts. So, always pair your maxi dress with appropriate footwear to look more pleasant. 
Always try to purchase neutral color footwear. So its color does not clash with most dresses. Going with a flashy color can limit your options. So it is better to go with a shoe that pairs nicely with different dresses. This makes your shopping more cost-effective, as you will not have to buy various footwear for various dresses.
Conclusion
These were some best footwear options to match your maxi dress to make you look more captivating and gorgeous at any event or party. It is also vital to keep all the factors in your mind that affect your footwear shopping. So, we advise you to go with a style that makes you feel confident and brings the best out of your personality. At the end of the day, it is how you present yourself that matters the most. We hope this article helped you to decide the best footwear for yourself to pair with your maxi dress.
MORE POSTS: What to Wear on a Birthday Party of a Friend?