What to Wear on a Birthday Party of a Friend?
Last Updated on 1 year by admin
We all have some exciting moments in our lives for which we wait and crave for. And one among those moments is attending the birthday parties of our friends. It is undoubtedly one of the most longed for and fun-filled events we can have in our lives. It is full of enjoyment, spending quality time and making memories with the people we consider close to us.
But, we often face one common dilemma before our friend's birthday party. And that is, what should we wear for the event? The very relatable questions that strikeout minds are, should we wear formals? But instantly, we discard that thought, as we all know it is our friend's birthday party, so formal and friends do not complement each other. But then should we wear casuals? Again, our mind discards the thought because it is a birthday party and people will be coming at the end.
So, what to wear? You need not worry anymore because we have listed the best advice and recommendations about what you should wear for your friend's birthday party. The following discussion has all the answers to all your questions. So, let us start with the discussion without allowing the dilemma set for no longer!
Tips for dressing up for your friend's birthday party
There are a lot of factors that come together to make a perfect and suitable outfit for your friend's birthday party. It depends on how formal the occasion is, who the attendees are, what the others will be wearing, and many more such aspects. So, now let us look into some of the tips and advice that can help you dress perfectly for your friend's birthday party.
Is the party a formal one?
Birthday parties can vary. Some parties can be very formal. Like the birthdays when your friend is stepping into his adult years, their 18th birthday party. Or, it can also be their 21st or 25th or any such memorable birthday parties, where generally the celebrations are larger and more formal than other birthday parties. In contrast, some birthday parties can be casual, where a close-knit group of friends will come.
Thus, the outfit must be according to this factor. If the birthday party you are attending is a formal one, and you know that it will be a grand celebration, you must wear something formal. It would broadly reflect your elegance at the party, and you will also be completing the environment of the birthday party. And for casual parties where only a close group of friends are invited, it is best to opt for everyday wear. Anything comfortable and light yet fashionable will significantly complement the atmosphere of the simple party. When you dress, depending on the nature of the party, it brings out the aura of the party in you.
Who is invited to the party?
The perfect fit for your friend's birthday party also depends on the people who will attend it along with you. It leads to the factor of how formula the party is. When you know that only you and some of the close friends from your group, or just some general friends and relatives are to come to the party, it is best to opt for simple and casual wear. It means that the birthday party will be a simple one, instead of anything grand. So, wearing formals or anything bold can result in you becoming eccentric.
On the other hand, when you know that the party will include not just the close friends, but many other people, that is, the party will be a great one, it is best to opt for something formal and sophisticated. It denotes that the party, too, will be a formal one. So, dressing according to the attendees of the party also determines the perfect fit.
Is there a theme for the party?
One of the latest trends in today's world is themed parties. One throws parties where the people who are invited have to choose an outfit based on the theme. Or, if you are invited to your friend's birthday party, where there is a theme, you must follow the theme and dress accordingly. Not following the decided theme often reflects adversely on your part. So, try your best to dress according to the party's theme to which you are invited.
What else is in trend today? Yes, it is the trend of flaunting aesthetic looks. The aesthetic outfits are more towards neutral looks. So, if you want to look elegant yet simple at your friend's birthday party, choosing an aesthetic look is the best option. To dress aesthetically, you must select the right shades. The most common shades include cream, beige, lavender, sea green, and light and subtle pastel shades. The accessories also play a very significant role in this look. Integrating silver or gold chains with minimalist earrings is the best complementary or mandatory accessory to this look. You can also include things and tote bags for a better and more style to your look.
MORE POSTS: What to wear to a baby shower as a guest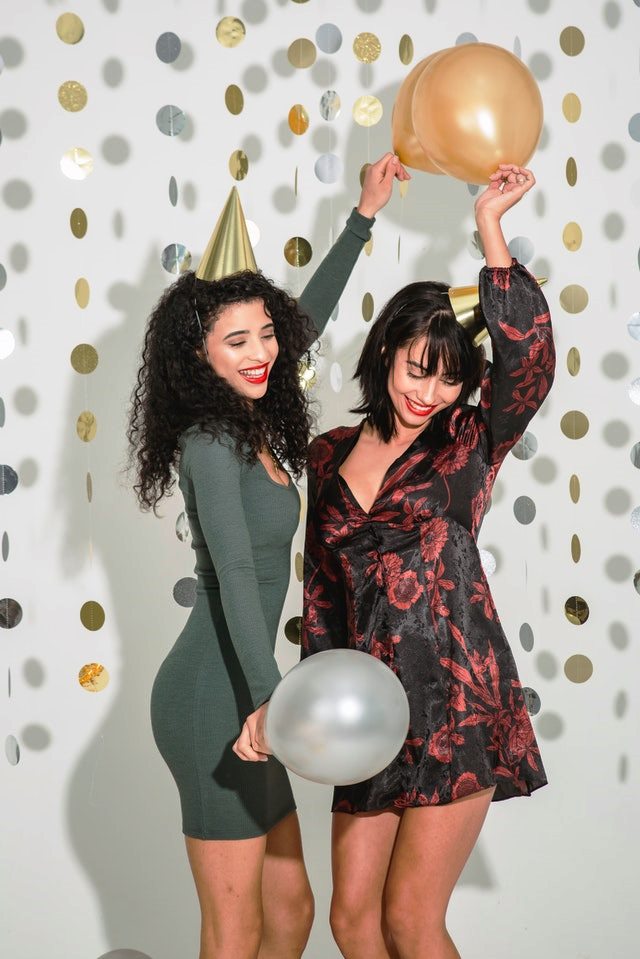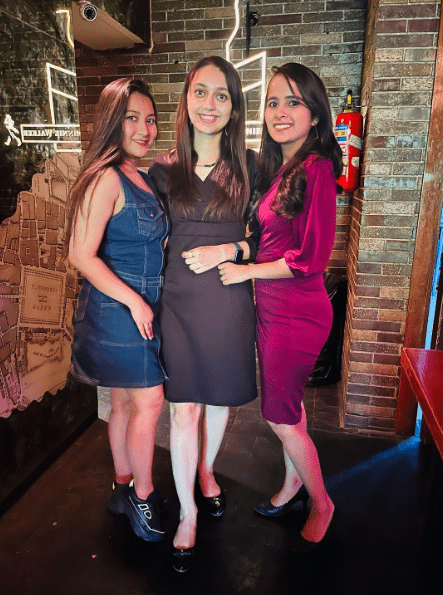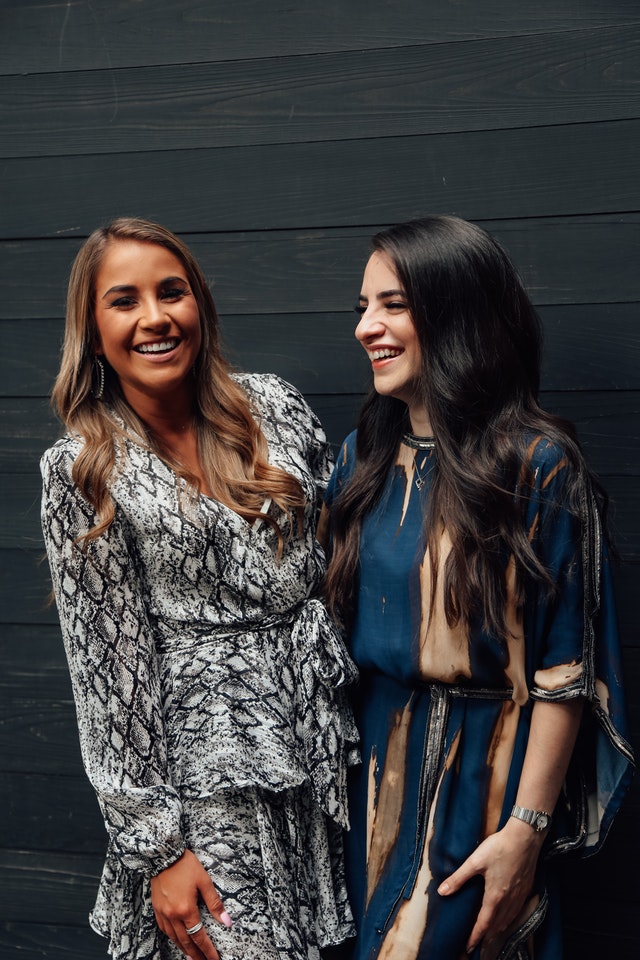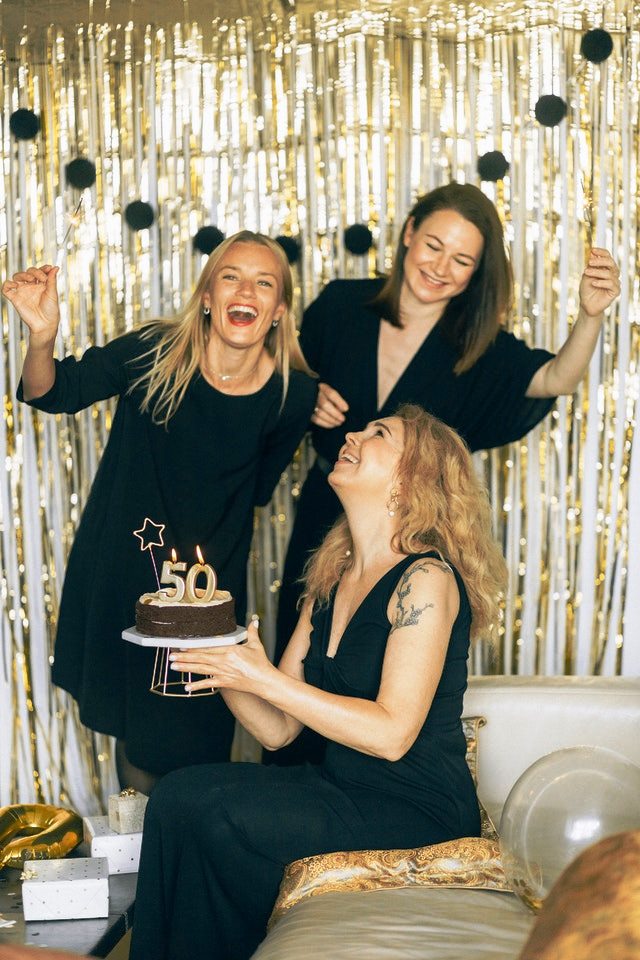 What are the three most neutral outfit ideas for a friend's birthday party?
Some of us want to be on the safe side and dress up in the most neutral way possible. So that we do not look too formal, nor do we look too casual. It is the best idea for the instances when we are not fully aware of what the theme and nature of the party are going to be. So, sometimes, it is best to dress neutral. And here are the three ways to dress neutral for your friend's birthday party.
● Wearing a suit, blazer and shirt fall dressing up in the formal category. So, how can you make it neutral? Replace the pants with a pair of jeans. And omit the blazer entirely. The shirt will give a touch of elegance and formal wear, whereas the pair of jeans and the absence of the blazer will reflect the form of casual wear. Thus, it will neutralise and balance your whole look.
● Wearing a fitted dress with heels makes it a formal look. But, when you opt for flowy dresses, with a jeans jacket and some casual flats on your feet, it gives you a neutral look. The jeans jacket adds the formal wear element. At the same time, the flow of the dress gives a casual sense to it. You can also add heels to your outfit for a little more formal touch.
● Wearing an A-line dress with a simple hair-do is one of the most effortless ways of rocking a neutral yet elegant look.
How to dress uniquely for your friend's birthday party?
When some of us want to dress neutral, some want to stand out and look as unique as possible. And there are many ways to look outstanding in the best possible way. So, let us discuss the different tips that will help you dress uniquely at your friend's birthday party.
● Add a bold element to your outfit. It can be a statement bag or a purse. A purse or a bag can look unique when it has a unique color, shape or size. Adding such an element to your outfit will surely turn heads.
● You can also try out some unique looking shoes, and they can be bold high heels or any other such footwear. A great example can be rocking boots with a dress. We all know that a dress and a pair of boots can not unimaginably go together, but when you do wear them with each other in the right complementary shades, they will definitely make you look stunning at the party.
● Playing with colors can be fun and a unique element for your outfit at your friend's birthday party. There are many ways to use colors as a factor for standing out with your outfit. One is that you can go monochrome. It means you can use a single color with different shades for your outfit. Black and white are the most common monochrome hues. Although they are pretty tricky to style, this is the best way to look unique if you want to look impressive. Also, you can add a mix of different colors to your fit. And when you choose this idea, remember to choose vibrant colors. This element and idea will undoubtedly turn heads towards you at the party.
Conclusion
We hope now you no longer have to figure out what you should wear for your friend's birthday party with difficulty. We have offered all the tips and advice for every kind of situation. Whether the party is a formal one or a casual one, whether you want to stand out with your outfit or want to stay neutral, we have given every trick and tip for dressing up perfectly for your friends' birthday party. So, now, worry no more and dress perfectly to enjoy the best and the most memorable times with your friends at your friend's birthday party.
YOU MAY LIKE: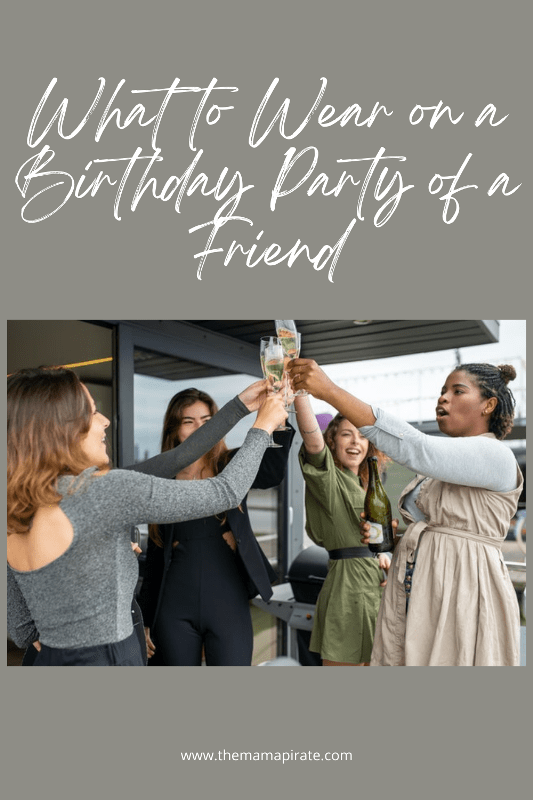 What to Wear to a Birthday Party of a Friend?