Is it Worth Buying Baby Jogger City Mini GT2 Stroller?
Last Updated on 1 year by admin
Purchasing a new baby stroller is similar to purchasing a new vehicle. You should ponder some of the same inquiries for yourself: How well-built is the suspension? Can the stroller handle different types of terrain? What is its approach to turns? What sort of storage does it have, too?
With all the available — and frequently pricey — models, purchasing a baby stroller can seem like a choice that is just as significant as going to the car dealer.
MORE POSTS: What should a baby wear in a car seat in winter?
What is Baby Jogger City Mini GT2?
For the past few years, Baby Jogger City Mini GT has become one of the most well-liked and highly rated single strollers. It makes sense given that it has so many practical features, including an expansive canopy, adjustable handlebars, a quick fold, compatibility with infant car seats, and wheels that can operate on almost any surface.
The stroller was recently updated to City Mini GT2 and underwent a redesign. Baby Jogger City Mini double stroller is also available in the market for twins.
One more crucial aspect is that it is reasonably priced. I'm giving you the most thorough and in-depth review of this product in this article.
Baby Jogger City Mini GT2 Review
Let me go into more detail about the features that this stroller has. I'll use models that were launched between 2016 and 2022 because they appear to be very similar. However, over the past few years, a number of significant updates and enhancements have been made, which could have an impact on your choice of the Baby Jogger City Mini GT model.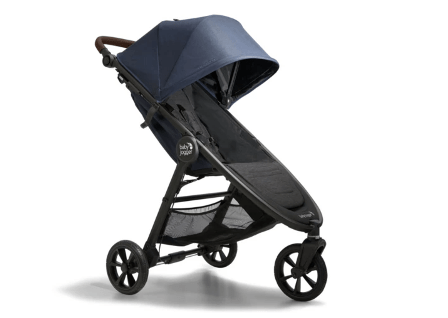 You will receive a Baby Jogger City Mini GT stroller with a standard seat, suitable for newborns who can already sit up straight and have developed neck and head control, irrespective of the model you select (about 6 months old). With a 65 lb weight limit and a 26′′ maximum head height, it can undoubtedly be used as a stroller for a big kid or young child who is tall for his age.
When it happens to come to seat fabric, there are obvious differences between the Baby Jogger City Mini GT and City Mini GT2 2022. The padding on the old model is made of nylon fabric. The fabric on the new stroller is smoother and softer (I believe it to be a synthetic jersey material). How well does using the stroller change as a result?
The jersey-type fabric needs to feel softer and nicer against the skin of the baby, though the nylon fabric appears to be simpler to wipe clean.
To give the baby a safe and comfortable ride, the 5-point harness strap has padded covers as well. With the older model, I've heard some parents are concerned that their children as young as 4 and 5 can open the harness with ease. It's something you ought to be mindful of. However, I haven't found any complaints about this problem with the most recent model.
Although the lowest position of the backrest is not completely flat, it does allow for a child to nap comfortably while strolling; I wouldn't suggest using it for newborns. Use the strap and buckle to adjust the seat's back position.
The seat can be lowered with one hand, but it requires two hands to raise it. Since 2016, all iterations of the Baby Jogger City Mini GT have used the same reclining system.
Although some parents find it less convenient and the mechanism is not particularly inventive, it is not a deal breaker.
All models have a vented top on the seat, which is excellent for providing additional ventilation on warm days. It has a retractable cover that you can use to close it on chilly days.
On the City Mini GT 2016 and City Mini GT, there is also leg rests and footrests for aging or taller children, but they are not adjustable. The adjustable calf rest on the newest Baby Jogger City Mini GT2 2019 is a significant improvement. During nap time, the child can raise their feet. I'm glad Baby Jogger had also finally included it because it's a really helpful feature.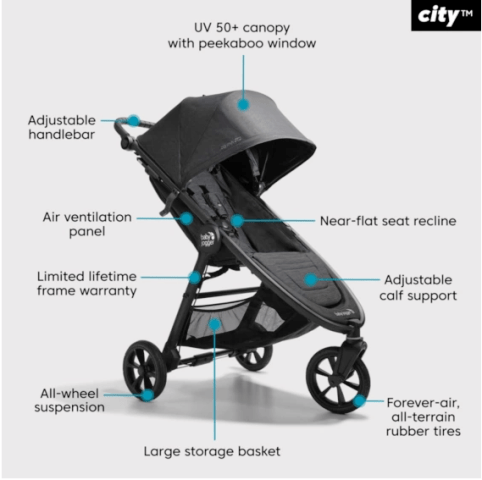 Brakes, Manoeuvrability, And Wheels
The Baby Jogger City Mini GT is a piece of cake to push and handles corners like a pro because of its relatively small size and three-wheel construction. The City Mini GT performed admirably in the lab tests. it rides smoothly on a variety of surfaces, such as gravel, grass, and over curbs, and is simple to steer with one or two hands.
One of the parent testers mentioned that the stroller's size made it excellent for navigating crowded city streets and public transportation, but opinions on how user-friendly it was when transportation was crowded, especially during rush hour, were mixed. The good news is that the rubber-coated foam tires on the City Mini GT were rated highly by parent testing teams from different product magazines, and the front wheel—which has some cushioning disqualification is locked in place for improved riding over uneven terrain.
This stroller has an adjustable handle that can be turned up or down by pressing 2 options on either side of the handle, making it comfortable to push regardless of your height. The majority of the parent agreed that the padded handlebar felt comfortable in their hands, and one mother observed that despite a 10-inch difference in height between herself and her husband, they could both conveniently push the stroller.
The brake on this stroller is easy to operate. It only takes your hands to engage and disengage the brake, protecting your toes from the feared scrape of the hand brake during sandal season. Flip up the lever just below the handle on the side of the stroller's field of view to lock. Pull the lever up and toward you to release the brake, then fold this same lever down and parallel to the frame to release.
The Baby Jogger City Mini GT has a pretty good canopy for a small stroller. The parent testers all strongly agreed that the canopy offers excellent protection from the weather, including sun and rain, and they had no worries about their children overheating due to the fabric. However, because your child's lower legs and feet will be exposed, you should consider purchasing a weather shield (purchased individually) for rainy days and sunscreen for warmer climates. There are two sizable peek-a-boo windows in the canopy for when you want to check on your child, but it's important to remember that the Velcro closures and the audible blow of fabric when you open or close the canopy could wake a light sleeper.
Strollers do, in fact, get dirty. While the canopy is usually spared the worst of the abusive behavior, the seat covers occasionally need to be washed. All of the parent testers consented that spot-cleaning the canopy and seat fabric was simple, but the Baby Jogger City Mini GT seat cover can be taken off and thrown in your washing machine on a cold-water cycle with mild detergent when a quick once-over just isn't cutting it. Unsnapping the fabric from the frame, unthreading all straps, and taking out the backing board from the seat are all required to remove the cover.
Baby Jogger City Mini GT2 Car Seat and Accessories
The majority of the parents who tested the Baby Jogger City Mini GT thought the storage basket beneath the seat was on the smaller side. Some parents had trouble getting their diaper bag into the basket, while others had trouble getting it out. But with a smaller stroller, this is a typical trade-off. You can store your phone and keys in a convenient zippered pocket in the canopy, and Baby Jogger also sells a "parent console" with two beverage owners and a center pocket that can be mounted to the handlebar for more storage. A bug cover, bumper bar, and a swing-out tray are additional add-ons that can be left in place when the stroller is rolled up.
If you plan to use the Baby Jogger City Mini GT as your primary stroller right away, you'll need to spend money on either a bassinette or car seat adapters so you can use your infant car seat to convert the stroller into a travel system.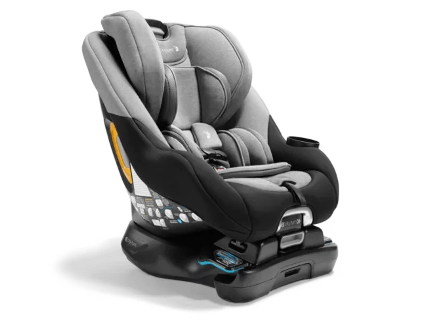 A good harness is essential for safety, and you shouldn't have to struggle each time you buckle your infant into or remove her from the stroller. The Baby Jogger City Mini GT's five-point harness was intuitive to use and had a responsive buckle that felt secure.
Pros of Baby Jogger City Mini GT2
a large canopy provides abundant shade
TWO obscure windows
Deep reclining for a comfortable nap
Vented seat top for additional airflow on warm days
appropriate for older and taller children (even 4 and 5-year-old)
adjustable handlebar to accommodate parents of varying heights
Very agile, easy to push and steer by one hand
Wheels move easily over a variety of surfaces.
On grass and gravel, shock absorption performs admirably.
Everlast sting tires
within just a few seconds fold with one arm.
Thanks to the compact and flat fold, it's simple to store and transport in a small car trunk.
Easy-to-clean textiles
Cons of Baby Jogger City Mini GT2
A diminutive storage basket
Additional purchases are required for attachments and accessories (such as a bassinet or car seat adapters).
When folded, it is unable to stand by itself
MORE POSTS: Best Stain Removers for Leather Car Seats
Final Words
For urban parents to look for a reliable everyday stroller that can easily navigate busy pavements and is small enough to put in the trunk of a car or bring along on vacation, the Baby Jogger City Mini GT is a good choice. The majority of the parent testers felt that this stroller offers good value, and they gave it good or very good ratings for both quality and usability. The City Mini GT also received a resounding endorsement from testers, who all agreed that they would buy it for themselves and suggest it to other parents or parents-to-be. It should come as no surprise that they all agreed that this urban-friendly stroller merits the Today's Parent Approved label. I am pleased with its sturdy frame, high-quality fabrics, and incredibly straightforward, small fold.
It's a practical substitute for SUV-sized strollers, which might have more storage space for diaper bags or groceries but take up your whole front hallway and are difficult to maneuver public transportation.