DIY TikTok Party Decoration Ideas
Last Updated on 1 year by admin
Nothing compares to a party theme that follows the most recent fashions! Unique and Cool Party Ideas are especially Popular with Tweens and Teens.
If your children are Tik Tok addicts. Short, user-created videos of jokes, dances, and other enjoyment are the newest social media craze.
The ideal TIK TOK party can be a lot of fun to throw! I have developed these DIY TikTok Party Decoration Ideas to assist you in organizing yours. so that you can throw a memorable party. The ideal theme for either a boy or a girl is a TIK TOK party.
TikTok is currently among the most well-liked party trends because it is a huge social media success and a global phenomenon.
This post is for you if you or a child spends a lot of time on TikTok! Her friends will enjoy celebrating and making new social media videos. Backgrounds for their videos should include amusing backdrops and balloons. So that the girls can sing along to their favorite songs, and set up a karaoke machine. Send enjoyable birthday favors to all of your guests.
MORE POSTS: 10 Baby Shower Party Favor Ideas for Boy
Tiktok Party Theme Ideas
Check out the amazing DIY TikTok Party Decoration Ideas I've compiled to assist you in planning your TikTok party!
I have suggestions for cakes, dessert tables, party decorative items, and so much more.
1. Video invitation from TikTok
With this editable video invitation, you can get everyone pumped for your party. Make a customized video, then send it to your loved ones via email, iMessage, WhatsApp, or messenger.
Girl Birthday Tik Tok Party Decorations
The transformation of a regular space into a party atmosphere is one of the best aspects of a birthday celebration. I also guarantee that your tween or teen's guests will adore the fun, glamorous, and unique decorations.
Purple, Black, and Silver are the featured colors in the personalized Tik Tok party theme. These, in my opinion, are Wonderful Colors for a Glittery, Elegant Birthday Party for a Girl.
Use black, metallic gold, or silver for the tablecloths for a truly exciting Tik Tok party space, and then add pops of color and glitter with the plates, utensils, as well as other party supplies.
For the color scheme, pay attention to the central party table. Consider an accompaniment with a balloon arch, metallic streamer curtains, or among your hanging canvas banners.
Backdrop For Party Photo Booth
The ideal backdrop for setting up karaoke or taking photos and videos at a party. 5″ x 7″ vinyl backdrop with holes for hanging in each corner.
Bluetooth allows compatible devices to preview digital audio wirelessly. USB connectivity for recording performances and playing songs you've previously saved
Make a backdrop with tik-tok balloons for your birthday celebration! Black Happy Birthday Balloon Banner, 12 Pieces 11′ Pink, Black, and Blue Balloons, 2 Tik Tok Balloons, and Pink Shimmer Curtain are mostly included in the kit available on the market
Concert Lights And A Disco Ball
With the LED party lights, you can easily convert your party area into a dance floor.
Kit For A Music Balloon Garland
With a balloon garland kit, you can add a lot of impact to your pictures and videos. 135 matte balloons in 3 different colors, 4 foil balloons in the shape of music notes, 1 balloon tape strip, and 1 adhesive dot.
2. Tik Tok Party Snacks
You can prepare a few mouth-watering and simple desserts, foods, and treats for a Tik Tok party. There's nothing too complicated, I promise—I adore hacks and quick and easy party foods!
Theme treats that incorporate the party's theme colors are some of the easiest to make. Implement these colors into the food if your party colors are purple, black, and sparkly silver or gold.
A few foods, such as purple grapes, blackberries, blueberries, and carrots, are naturally purple and ideal for snacking. There are also a lot of purple lollipops and candies that could be organized into a lovely arrangement.
Often, colored icing can be used to decorate cakes, biscuits, or cupcakes. Black or gloomy purple frosting, though, should be avoided because it can discolor visitors' mouths and teeth.
Instead, add glamorous color to tasty baked goods by using purple, black, as well as glittery sprinkle variations. As an alternative, you could also get something Simple & Delicious from your neighborhood baker.
Making a Tik Tok Party Cake sounds like fun to me! You can go for the Simple No Bake Number Birthday Cake with Lollies, but use the Tik Tok Symbol instead of a number!
Finish off the cake for your birthday. Add a personal touch by adding your name and birthday. Handmade low-shed glitter card cake topper with a white reverse. arrives safely fastened to a bamboo skewer suitable for food. Size: 6″ x 5″.
Everyone always expects a birthday cake to amaze them.
This really is the case with the TikTok logo and musical notes on this pink and aqua ombre birthday cake.
Tik Tok Birthday Cake With Headphones
A birthday cake with tiers or headphones is so much fun.
A huge cake with headphones is everything that a TikTok fan could want: it is covered in tiny musical notes, has headphones on top, and is embellished with a sizable TikTok logo.
Cupcakes are a universal favorite, and these are no different.
Make sure to top each one with pink, white, and turquoise frosting and a sparkly TikTok logo to decorate it.
Cake pops are a popular party food as well.
The ones listed below are ideal for a party with a TikTok theme. Each one is vivid pink and can have a stick with the TikTok logo on it.
What else could a TikTok user want?
TikTok-themed Krispie Treats are yet another entertaining party food to offer at your birthday celebration.
Your Krispie Treats will look better if you insert a cake pop stick or even a straw before dipping them in white, black, pink, or blue cocoa. Decorate them with fondant stars and the TikTok logo.
Wow! If you enjoy donuts, you shouldn't miss the awesome donuts, which were inspired by TikTok. They look absolutely stunning on a plate, and your guests will gobble them up in no time. Use pink or blue frosting and top them with sprinkles in the TikTok color if you want to make your own.
3. Party Activities on Tik Tok
Even though DIY videos are the focus of Tik Tok, I believe some DIY plans are ideal for a Tik Tok Party!
Have some simple party snacks that you typically prepare in advance and services for young children. However, teen or tween girls would probably enjoy making their own No Bake Iced Biscuits, Chocolate Spoons, or Easy Children's Party Treat Wafers for the camera.
Dancing to Tik Tok videos or attempting to replicate a well-known Tik Tok recipe, hairstyle, or fashion trend would be other exciting activities. Only make sure you have the necessary supplies on hand!
Allow older girls to give one another makeovers even as watching a movie or listening to music for a truly glamorous Tik Tok party. I truly hope your birthday girl has as much joy.
Favorite Tiktok Starbucks Cup item
You are aware of how much users enjoy showcasing their favorite Starbucks beverages on TikTok. Therefore, Starbucks TikTok cups are the ideal party favor for a TikTok fan! Your visitors will enjoy drinking their high-end coffee beverages from them!
Booth For Photos In Tiktok Theme
You should use a TikTok photo booth frame for your pictures. Your visitors will enjoy playing around and showing off their dance moves. Your photos will be even more unique with this frame.
Challenge Party Game Tiktok
Who will become the next TikTok celebrity? With this party game, you can test your family and friends. Take photos and upload lip syncs, dances, and dares with more than 100 cards that contain more than 200 challenges. The enjoyment will go on.
4. Tik Tok Sleepovers
Nothing beats a good time with your girlfriends. For your guests to take home after the party, set up some huts with some blankets and pillows as well as a variety of other TikTok treats that serve as party favors.
The amazing balloon garland is amazing, and I especially love the disco ball balloons! When your guests are perfecting their newest dance moves to their favorite songs, they make the ideal party decoration!
These teepees with black and white stripes are ideal for a TikTok sleepover.
You really can't go wrong if you put some awesome pink, black, or blue pillows on each mattress and provide your guests with other TikTok-themed items.
5. Labels for TikTok Party Favor Bags
In order to create TikTok party favor bags that you'll want to fill with treats for your guests to take back home, you can get some fantastic TikTok-themed tags that you can stick on paper bags. Each box should have a big pink bow that can be customized.
MORE POSTS: How to Make Dividers for Chest Freezers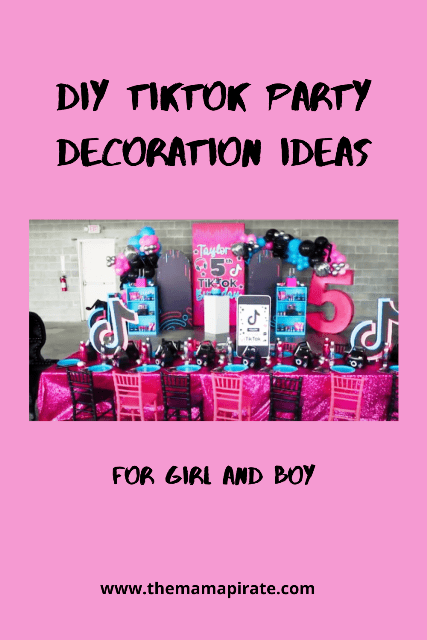 YOU MAY LIKE: