15 Best Potted Plants for a Shaded Porch
Last Updated on 5 months by admin
A porch is a shade fixed to the front of the house for resting. Plants can be kept in hanging pots under the shade of a porch to enhance the beauty of the place. Plants should be bushy and shouldn't grow long. Generally, plants like Ferns and Philodendron are great for hanging baskets.
The best hanging plants for a shaded porch are Portulaca, Lobelia, Chrysanthemum, Petunia, Ferns, Hostas, Sedum Morganianum, Dwarf Lavender, Impatiens, Trailing Pansies, Calibrachoa, Sweet Alyssum, Begonia, Lantana, Geranium, Verbena.
Tall growing plants are not preferable as they may touch the shade. These plants also should grow well under shade and should be easy to grow. If you live in a cold place, choose those that grow well in temperate regions.
Best potted plants for a shaded porch
Portulaca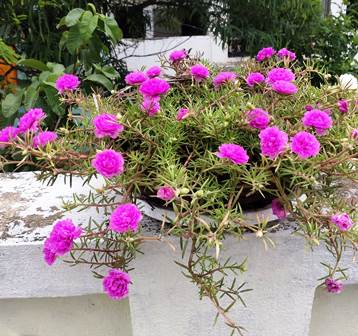 Also called Purslane, they are mostly found in tropical and temperate regions. There are more than 100 species of portulaca found in different parts of the world. Some portulacas are edible and used as medicine by local folks. Popular portulaca varieties for growing in pots are Portulaca Umbraticola, Portulaca grandiflora, Portulaca calypso, and Yellow Portulaca.
2. Lobelia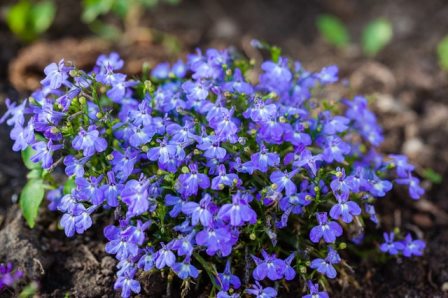 Lobelias are flowering plants with a large number of species found in tropical and temperate regions. All the species have two-lipped tubular flowers, each with five lobes. They look very beautiful in hanging baskets. Popular species are Lobelia erinus, Lobelia siphilitica, Lobelia tenuior, and Lobelia tupa.
3. Chrysanthemum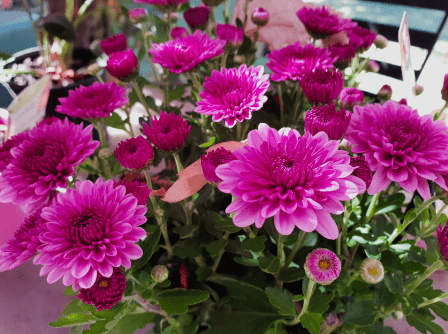 These flowering plants are native to East Asia and Northeastern Europe. Chrysanthemums are perennial plants with vivid compound inflorescences. They are one of the easiest flowering plants to grow in containers.
4. Petunia
Petunias are flowering plants of South American origin. They have about 20 species in total. Popular petunia varieties for porch shade hanging baskets are Cascadias Rim Magenta, Limelight, Fortunia Early Blue Vein, Mini Rose Blast Pink, Prism Sunshine, Purple Pirouette, Potunia Plus Red, Wave Blue, Sweetunia White Merlot, Suncatcher Pink Lemonade.
5. Ferns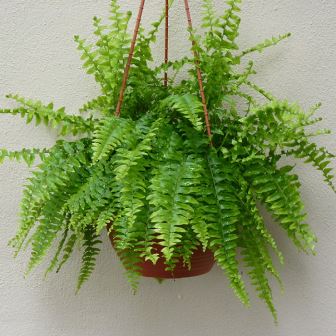 Ferns are water-loving plants that grow well in shades. They produce by spores instead of seeds. Some popular ferns for growing in containers are the Grey Ghost Fern, Lady Fern, Hart's Tongue Fern, Staghorn Fern, Delta Maidenhair, Hen And Chickens Fern, Kangaroo Fern, and Bird's Nest Fern.
6. Hostas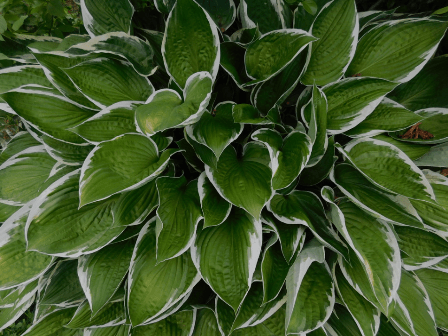 They are one of the easiest perennial plants to grow with less care. Hostas come in different foliage sizes and shapes. The deepness of the green color of the leaves also varies from variety to variety. This plant can grow in shade and under sunlight, suitable for hanging pots.
7. Sedum morganianum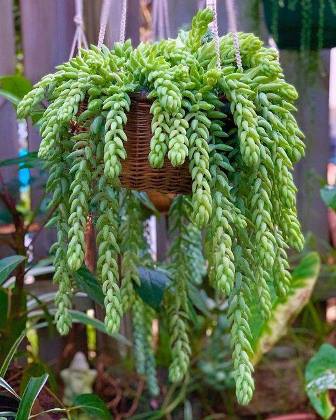 Also known as Donkey Tail or Burro's Tail. It is a succulent that can grow well in harsh drought regions. The fleshy gray-green leaves of the plant cover the stems giving a tail appearance. You need to be careful if you are living in an extremely cold area.
8. Dwarf Lavender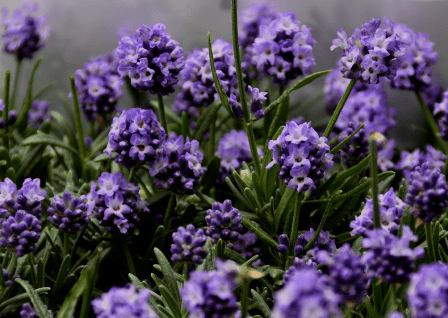 The dwarf lavender plant is small and compact and good for containers. It has a beautiful vibrant purple-blue-colored inflorescence. This plant loves sunlight and grows best in the coastal regions.
9. Impatiens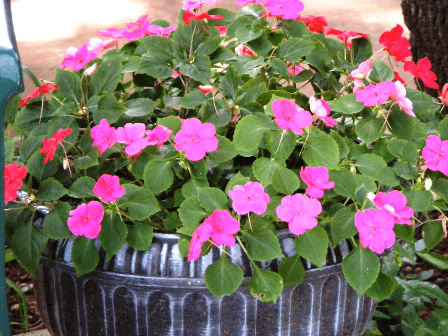 Impatiens are one of the Best potted plants for shade porch. They can be grown from seeds and cuttings. Impatiens are annual or perennial herbs and require good rainfall throughout the year, you will need to water the plants frequently. The flowers on inpatients are vibrant colors from white, and pink to red.
10. Trailing Pansies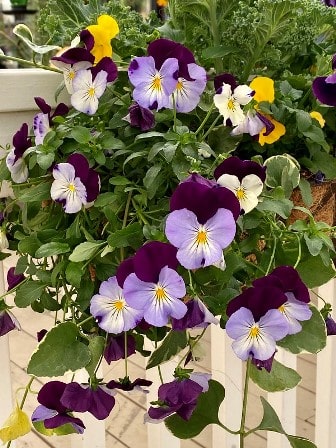 Some varieties of Pansies can bloom throughout the year. As the name says Trailing Pansies can easily cover an area if not removed. They are chosen by most gardeners as they need very little maintenance.
11. Calibrachoa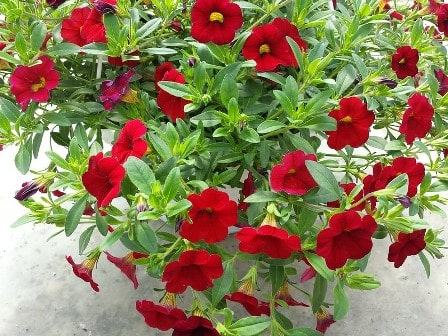 They are also called as "million bells" or "trailing petunia". Calibrachoa is a perennial herb that can produce violet, blue, pink, red, magenta, yellow, bronze, and white color flowers. They can grow under shade and needs to be watered frequently.
12. Sweet Alyssum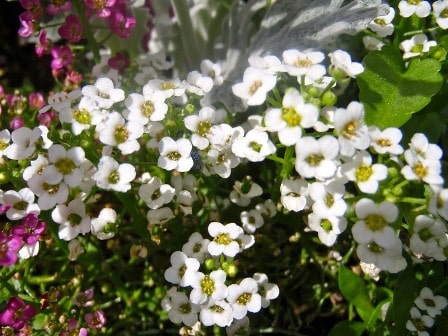 Sweet Alyssum grows very fast and covers the garden quickly. It can be grown in cold climate regions. The flowers of the plant are having small colorful four petals. They are native to Europe, during summer heat the flowers die off and again bloom in fall.
13. Lantana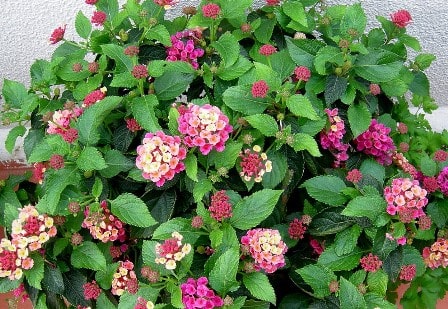 Trailing varieties of lantana are best for hanging baskets. They have multicolor flowers that last long. Lantana requires less care once it grows to full size.
14. Geranium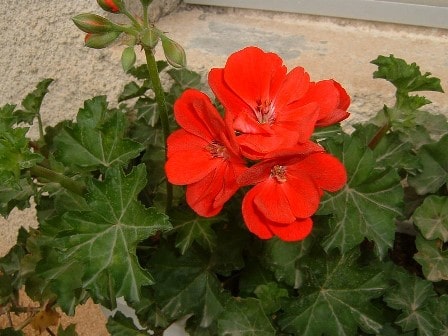 They are commonly grown in indoor and outdoor hanging baskets. They can grow under shade but needs well temperature for blooming. Deadheading is important for new blooms.
15. Verbena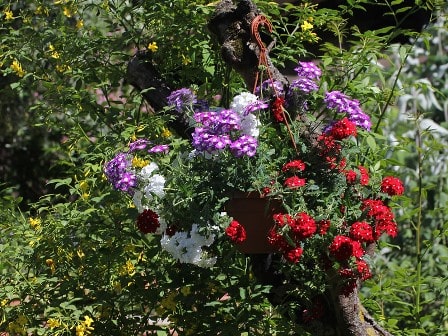 Verbena can bloom during hot summer too. Annual verbena is best for hanging pots as it requires less water. Deadheading is important to get more blooms from verbena.
Final words
The above-mentioned Best potted plants for the shaded porches are easy to grow. Generally, plants for the porch should be bushy and should grow under shade. Plants like Ferns and Philodendron are great for hanging baskets.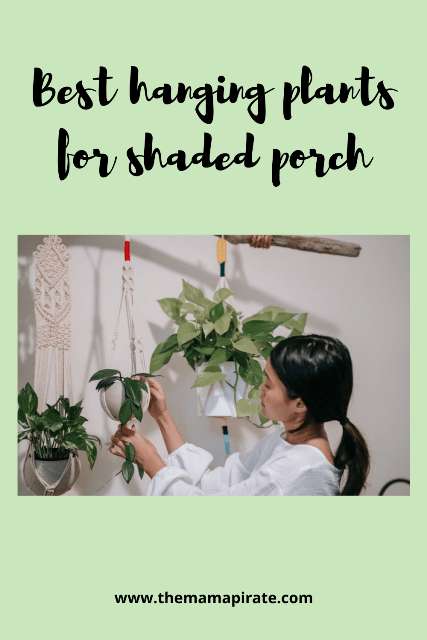 15 Best Potted Plants for a Shaded Porch
YOU MAY LIKE: