(Last Updated On: April 7, 2023)
If you love flora and fauna, a window box cascading with colorful blooms is a sure dream. Imagine how beautiful the scene of your house will be with window boxes positioned at the front of your window. The floral scents will capture the breeze of your home, rejuvenating every time you pass by. Isn't all this so appealing?
Window plantation is the solution if you do not have outdoor space for plants. These plants are perched directly on the outside of the window, letting you feel and enjoy nature. Let us explore window boxes more.
Best Plants for Window Boxes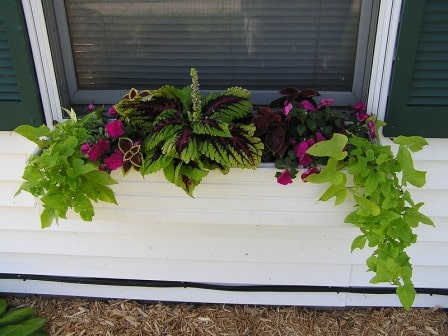 Do you love gardening but regret not having an outdoor space? Do not worry, as window boxes will give you a mini garden feel at your home. There is no thumb rule as to what types of plants you have to include in your DIY window box planter. However, consider the time of year and location before the plantation. For the summer season, grow zinnias, petunias, and geraniums, and in the other half of the year, try mums, pansies, and purple fountain grass.
The selection of plants based on season can be cumbersome. So here we have brought on some plants that you can grow all year round. You will only have to rotate the plants in the boxes, so you have something growing throughout the year.
Golden Sword Yucca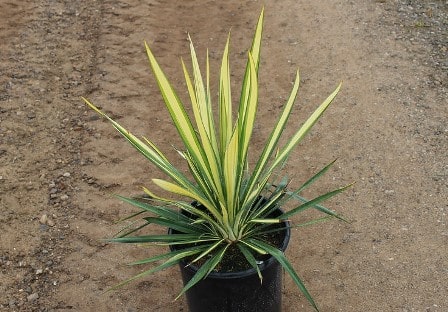 It is a grass-like plant often seen in containers and is a hardy plant that grows all year round without much maintenance. Mostly, it is grown along with petunias as a beautiful centerpiece and is sold as decoration in the winter season, around Christmas. So why not grow your decor? It is an evergreen plant that grows all year round, and no seasonal rotation is required. Although it grows two to three feet high, its leaves are only two inches wide. This small width makes them grow in containers with ease.
Golden Creeping Jenny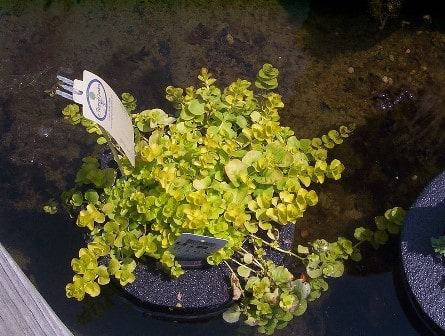 Golden Creeping Jenny is an excellent choice that you have to plant once and then enjoy year after year. This beautiful perennial evergreen plant changes its color throughout the season. So one day you will have pink flowers and the next day you can expect them to turn purple. It grows not just inside the containers but trails over the edges as well. Its height is two to four inches, and its width is 12 to 18 inches. It might seem to be a spreading plant, but it grows slowly. You will easily control it once it spreads, which will only enhance the beauty of your window boxes.
Blue star juniper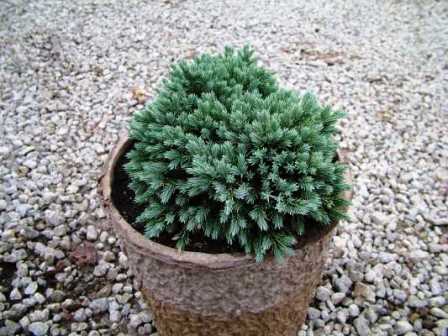 Blue star juniper is a colorful plant that sits low in the container. It grows slowly and acquires a height of only three feet and a width of one to two feet. The slow growth ensures that you need to prune it occasionally and brings down the required maintenance. It comes under the category of evergreen shrub with long and slender needled leaves. If you do not want a plant that spreads much and grows across all your windows, then blue star juniper is a perfect choice in this case.
Ivy
Ivy is a rapidly growing plant that will soon fill its box and return year after year. Plant ivy can grow in all window boxes and then add bursts of seasonal choices amidst the ivy. It will give a nice appearance to your mini garden. The leaves come in different colors, varying from yellow to dark green. You can choose plants with one feature or a mix of features accordingly as you want more colors or fewer. Also, plant features will depend on the climatic conditions at your place. Reach out to any local nursery near you to identify which variety of ivy will grow the best at your location.
Bergenia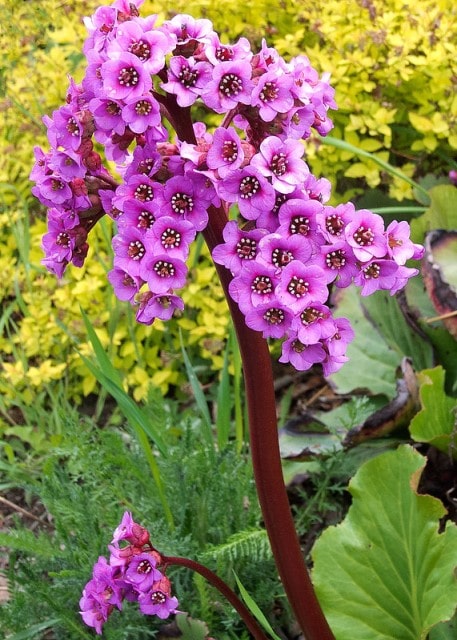 Grow bergenia if you are thinking of keeping large window boxes. This plant is not suitable for small containers like wooden boxes. Its green leaves and pink flowers blossom in the early spring. The glossy leaves and flowers spread quite a lot and thus need sufficient space to grow properly. This plant blossoms well in partial and full shade. It is a perfect plant if you want an overhanging setup. It remains green in winter and purple or bronze during the fall season. The color variations ensure to add another level of beauty to the window boxes garden.
Fuldaglut Sedum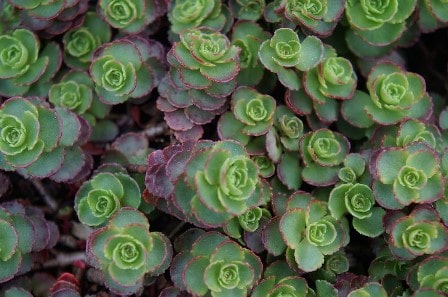 This plant is another option that will add colors to your mini garden. The leaves turn deep red during the winter months. Plants grow in the summer season, lasting for about a month or longer. You can use a width of 10 to 12 inches to cover the surface of the window box. It works very well with plants that flower in late spring and early summer. During the summer season, flowers will add colors to your scene, and then in winter, the job will get done by the leaves.
Sweet Potato Vine
Many varieties of this plant do not flower. It grows well at all locations and thrives during the summer heat. In winter, it shows trailing foliage of colors ranging from green to purple. The vines of this plant are about 6 feet high and spread in boxes without difficulty.
Coleus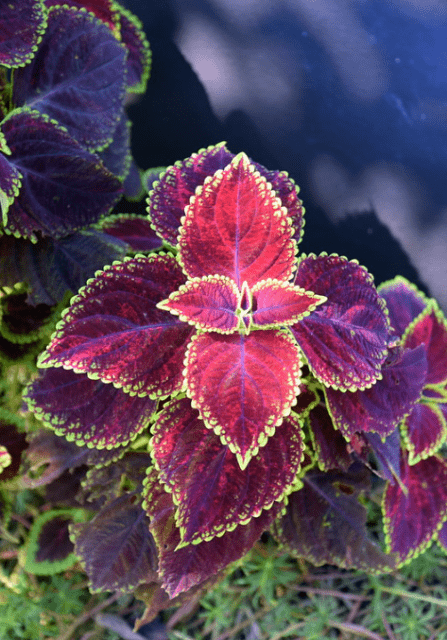 You can grow coleus with other flowering plants. It grows without the hassle and adds exceptional texture to the flowers. Sometimes after planting the flowers, there are many spaces left in the boxes. Coleus is the perfect way to cover such spaces. It acts as a filler and adds a visual appeal to the base of flowers. Its leaves come in shades of green, pink, and purple, contrasting well with the grown flowers. Coleus is a versatile plant that grows equally well indoors as well as outdoors. You can also grow some vails of it as an indoor plant.
Licorice Plant
The licorice plant is another filler option in your window boxes that add a subtle appeal when planted with other colorful flowers. The silvery-white leaves give this plant a unique appeal. It grows partially in low sun and needs less maintenance. It has fuzzy leaves that not only look pleasurable but also keep garden pests away. This feature of keeping pests away is one of the primary reasons for planting it with flowers. You can pair this plant with shrubs in pots as they act as an outstanding complement to each other.
Snapdragon
This plant is known for attracting hummingbirds. It is an upright flower with many bright colors like yellow, orange, red, white, and pink. Flowers grow in clusters and have blue to green foliage. These flowers will grow in partial to full sun and when planted in well moist soil. To get the most benefit out of their tall appearance, plant them in the rear of a flower box. The flowers store sweet nectar that attracts hummingbirds and bumblebees.
Vinca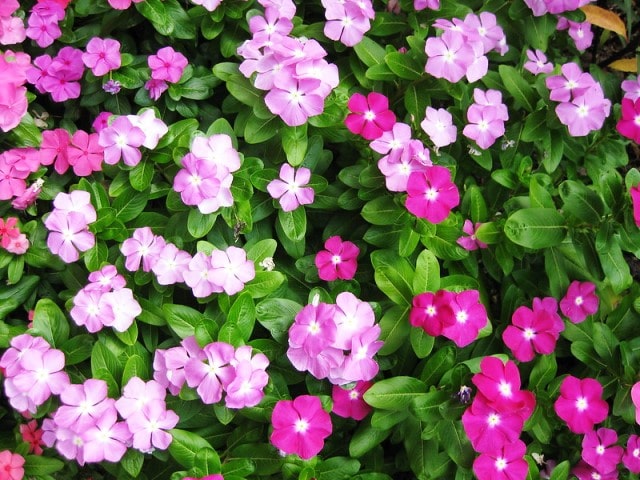 Vinca flowers have a delicate array of glossy foliage and bright flowers. Flowers bloom from summer to fall. The height of this plant is nearly eight inches, so they cover a good amount of space in the window box. Flowers have different colors like pink, purple, red, and white. It grows best in summer and is drought tolerant. Vinca can survive even the hottest days of summer without water, making it a low-maintenance plant. There is no other plant like vinca that gives big blooms at such low care. If you are a beginner gardener, then plants are good to start with. It will provide continuous dainty giving your garden a pleasant feeling and gardening experience.
Marigold
Marigolds are easy to grow flowers and give a great filling texture to your window garden. These flowers give vibrant splashes of colors varying from yellow to orange to red. The scent of these flowers is pleasurable to the human nose but acts as a repellent to insects, thus protecting other garden flowers. Marigold is another low-maintenance flower category that does well as a backdrop in a window box.
Window boxes are not only for flowers. Although many people grow only decorative plants in these boxes, you are free to grow other plants. Other plant choices can be small gourds or pine boughs. You can also grow edible herbs like basil, oregano, thyme, and chimes. Get yourself a mini organic plantation by growing leaf lettuce, kale, spinach, and green onions.
Final Words
Plants for window boxes are not limited to the options mentioned here. To decide how many plants you want to include in your mini garden, check the size of the planter. The general rule is to include four plants for a 12-inch planter, six plants for a 16-inch planter, and so on. It ensures proper spacing for the roots to grow. We hope that you will pick some plant options from this article for your window box. Happy gardening!
Read more posts: