(Last Updated On: August 13, 2023)
Whether it's 2022 or 2023, you can always count on leather jackets to remain fashionable. In my opinion, leather jackets are ideal for women like myself who enjoy expressing their personality through their style. Various leather accessories such as purses, bags, boots, and shoes also help you stay in line with current fashion trends. These items provide a distinct appearance and set you apart from others in a crowd. [Best Leather Conditioner for Jackets]
Keeping leather jackets in good condition is not a simple task. They cannot be treated like other clothing items that can be worn and then stored in the closet until the next use.
If you would not take care of it, it would start getting cracks, stains and molds. Believe me, you wouldn't look good in a stained jacket. You don't need to worry as I am going to cover every essential topic in this post, starting from How to keep your jacket clean to the Best Leather conditioner for jackets.
How to keep your Leather Jacket clean?
Before we get into the ways to keep your leather jacket clean, we would need to find out the type of leather in which your jacket is made. Most commonly there are these six types of materials:
Cowhide
Calfskin
Deerskin
Goatskin
Lambskin
Bison
Once you know the type of your jacket. Following are the methods to keep your leather jacket clean.
1. Washing your jackets
When washing your jacket just keep in mind not to use any hard substances and too much water as they will harm the quality of the leather by drying it out and making it stained.
You can use a mix of dish wash soap and warm water, and use this to gently wipe out the dirt on leather using a soft cloth.
2. Hanging it gently
As you know, your jacket easily gets wrinkled if not kept properly. So it becomes a necessity that you hang your jackets well and gently. Another point is that you need to keep your jacket in a place where it can breathe. Otherwise, it will develop an odor. Also, the place should be moisture-free.
3. Softening the Leather
After washing it becomes very important to keep your leather soft. As jackets get dry fast. So this is where Leather conditioners come in handy.
What is a Leather Conditioner?
A leather conditioner is a very useful product when it comes to keeping your leather jackets in good condition. It has the following advantages:
Cleans the Leather: It gets below the dirt and filth of the surface and removes it. These conditioners are specially made for leather, so there will be no issues of damaging the leather.
Makes your Leather strong: The chemicals that conditioners are made of, bind the leather together thus providing strength and durability.
It preserves the leather: It keeps your leather soft and moisturized thus saving it from being dry and getting cracks.
List of Best Leather Conditioners for Jackets
I am sure, now you are ready to check some of the Best leather conditioners available out there. I have provided the links to all the products, for convenience.
Also Read: Women's Waterproof Sandals With Arch Support for Traveling
1. Leather Honey leather conditioner
Leather Honey is one of the oldest leather conditioners available on the market. They are in existence for more than 50 years now and still ruling. That's the reason why most people trust this brand. This conditioner was patented by a small family-owned business in the USA. Even after all those years they still use the same formula. This is a conditioner for people having different leather items too like car seats, shoes, and bags among others.
Once applied, this conditioner lasts about five months on your leather. It keeps the leather moisturized which helps in enhancing its flexibility, and appearance, and also strengthens its water resistance quality. The chemicals used are safe for the user's hands also odor-free and silicone-free. Thus it is a great product that gives great results for almost every leather item you use it on.
This conditioner gets absorbed quickly on leather, if used in the correct amount there would be nothing left for you to wipe, but still, if there is some residue left then just wipe it using a soft cloth.
Pros:
Non-toxic, odorless chemical.
Safe for hands
100% satisfaction guarantee, otherwise refund will be provided
This will last for more than 5 months
Cons:
It gets absorbed too fast.
2. Weiman leather cleaner and conditioner
This leather cleaner can be used on any leather item and works perfectly for each item. When used on car seats, it will make them soft and also leave a beautiful smell behind. Also, doesn't require any special efforts when cleaning as you just need to wipe and it's done.
Not only it will help in maintaining the correct moisture, but it also reduces any fading, cracking, or dulling. It is formulated using unique ingredients. It is ideal to be used on almost every leather product.
Pros:
Comes with a Fresh Scent
Reduce fading and dulling
Maintain moisture
Cons:
Doesn't last long.
3. Chemical Guys Leather Cleaner and Conditioner
If you looking for a Leather conditioner that performs well and at the same time is quite affordable then Chemical Guys leather cleaner and conditioner is the perfect match for you.
It uses a special formula that makes your leather quite soft and also you don't have to worry about drying out your leather or getting it dirty. One of the benefits is that it comes with a spraying option, thus you don't have to worry about applying more or less. It also leaves no residue when applied thus you don't have to worry about the cleaning.
Pros:
uses pH-balanced formula
Gives a good odor
Both Cleaner and conditioner are included
Wipes away easily with a soft cloth
Lack of residue
Cons:
It may stain any cloth it touches
4. Trinova Leather Conditioners
This conditioner cum cleaner from TriNova will not only keep your leather and vinyl products free of dirt, oil, grime but also from tough stains. The formula is a perfect blend of natural ingredients and a high concentration of active products.
There is enough quantity for giving you a long shot. This product comes with a lifetime guarantee of satisfaction, which right there shows how confident they are about their product. If you don't want to compromise with quality and at the same time look for an affordable price. This product is perfect.
This product is 100% safe to use and offers a long-lasting effect.
Pros:
Offers a long-lasting effect
100% safe and reliable to use
Affordable comparatively to others
Cons:
It takes time to dry
5. KevianClean Leather Cleaner and Conditioner
This product will do both i.e cleaning and conditioning for you, thus saving you money. This product is made of a light formula. Which makes it easy to apply with a soft cloth. When applied in the correct amount this product removes dirt and grease, increases dye absorption on leather, and maintains the shine of your leather.
If you are looking for saving money and don't want to spend much on cleaner and conditioner differently then this is the best product for you. This product is completely safe for you and the environment too. Its main feature is that it increases the water-repellence quality of the leather and also protects the leather from UV rays.
Pros:
Offers value for money.
100% satisfaction is guaranteed.
Made with organic materials, thus it is totally safe.
Easy to apply
Cons:
Mainly used in cars
Doesn't work well for synthetic leather products.
6. Cadillac Leather Lotion for jackets
This is one of the best Leather lotions on the list, especially for jackets, boots, and shoes. It comes with a perfect formula and promises to prolong the life of your leather products. Cadillac brings back the glossy effect of the oils used during tanning. This way your leather products will always be shiny.
It will remove any water spots or strains present on your jackets, and at the same time ensure that the leather doesn't crack. This is a wax-free lotion, thus wouldn't harden your leather products. Cadillac lotion will ensure that all your leather products look as good as new as long as you apply it frequently.
So if you are ready to spend some money on leather lotion then you should go for this product.
Pros:
It increases the life of your leather jackets.
The glossy effect is brought to your jackets.
Made with a wax-free formula.
Doesn't crack your leather.
Cons:
The price could have been better.
7. Lexol leather conditioner for jackets
This product comes with one cleaner and conditioner in the pack. Can be used for any leather apparel, leather furniture, leather shoes and leather accessories. Lexol Conditioner leaves no greasy residue after applying and it does not contain any harmful silicon ingredient.
Pros:
Silicon Free does not leave any greasy residue.
It comes with 2 Microfiber applicator sponges.
Cons:
It smells very sharp after application.
Final Words:
So these were our top 6 Best Leather conditioners for jackets. I hope you liked the list. If you have any queries feel free to comment below.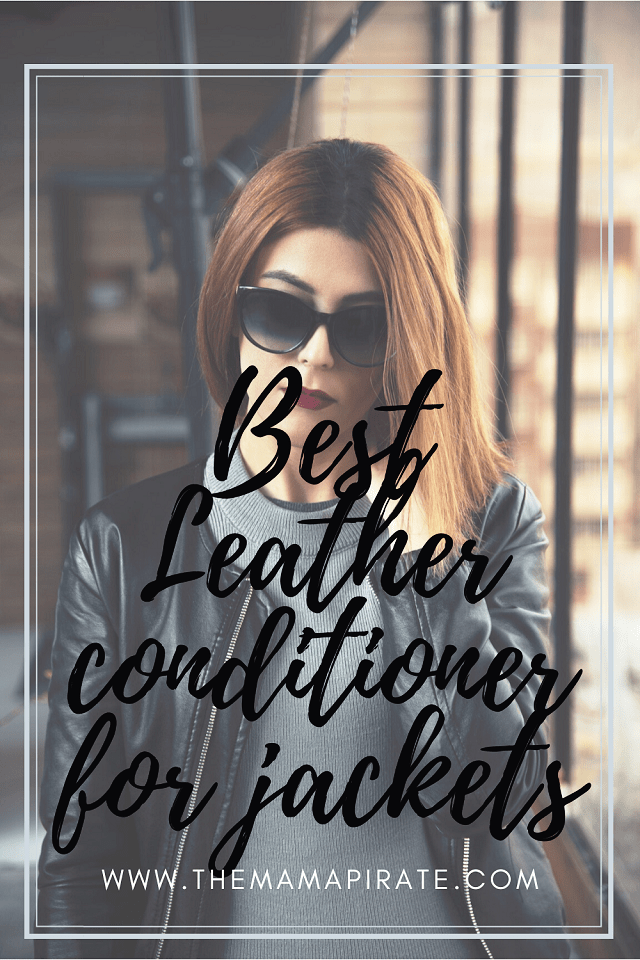 YOU MAY LIKE: