Top 10 DIY Backyard Projects to Transform Your Outdoor Space!
Last Updated on 1 month by admin
Are you looking for ways to transform your outdoor space into a captivating oasis? Or maybe you just want to upgrade it?
Well, no matter the case, we have got your back!
After all, having an outdoor space is a blessing in itself. From enjoying nature's beauty to relieving all your stresses or spending some quality time with your family and friends – they certainly play quite a big role in our lives.
So, does this transformation come with a lot of hassle and money investment?
Not really!
With the right DIY backyard projects, every work will seem super fun, easy, and, most importantly, affordable. A dream come true, indeed! Let's take a look at ten such D.I.Y projects that can uplift your outdoor space.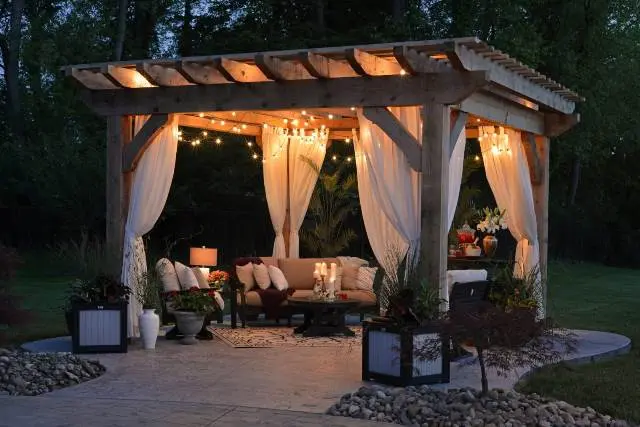 DIY#1 Making a Birdhouse
Love the sweet sounds of chirping birds or maybe watching them live their lives to the fullest?
Your wish is granted!
By making a birdhouse, you will be giving them a cozy place to settle in and sing with their melodious voice.
And guess what? If you want to involve your kids, then this DIY project can be one of those woodworking ideas for children that can help them learn about this lovely craft.
Not only are they fun, but at the same time, they are also super easy, which your child will simply love working with!
From picking the right design to cutting the wood, painting, and carefully assembling the pieces, each of the steps comes with an adventure. Last but not least, while making their birdhouse, you will feel a certain kind of connection with our marvelous feathery friends. Once you set up the birdhouse, you will be having feathery visitors showing up, every now and then.
DIY#2 Building A Backyard Firepit
Next up, we have the backyard firepit. They are undoubtedly one of the cozy places for gatherings, stories, and of course, the marshmallow toasting.
In other words, it is a place where you will get to spend the most quality time with your friends and family. And thus create memories that will last for an eternity!
Besides, if you live in a colder area, then having a firepit will provide you with the exact warmth and comfort you need to relax. Plus, they are a great way to enjoy the outdoor area throughout the year!
So, how to build one?
Firstly, select a desired location, away from any kind of flammable materials, like trees, bushes, or low-hanging branches.
Next up, mark the perimeter using a spray paint/marker and then start digging a hole up to 6 inches deep inside the perimeter. Once the digging is done, fill the hole with gravel till it becomes level.
Now for the second ring, begin stacking the bricks/stones around the outer perimeter and continue doing it till you get the height you want. Keep an allocated space for igniting the fire in the center. Once completed, fill the bottom area with sand; this, in return, will help to insulate the heat while preventing any ashes from escaping.
DIY#3 Creating A Natural Waterfall
Having a natural waterfall in your outdoor space is like bringing the magic of nature right to your doorstep. Besides, they are pretty simple to make as well.
All you have to do is find the perfect spot, preferably at the corner or maybe at the center. Afterward, you must gather some materials, like stones, a water pump, and tubing. The best is to pick stones that match your backyard.
Once all the settings are done, it's time to connect the water flow. Make sure to keep the water pump in a hidden place by adjusting the flow rate to create the melody you want.
And as the final touch, you are free to add aquatic plants or showcase any kind of creative flair to your mesmerizing creation.
DIY#4 Planters Along The Fence
Do you have a fence? Well, it is time to color it with the color of nature.
Didn't understand?
We are talking about making the planters, my friend!
They are one of the best things to infuse life and vibrancy into your outdoor space. How to do it?
The process is quite simple. First, select the plants that you are thinking of planting. Bright blooms can be a good option to go for in this kind of scenario!
The more vibrant in colors the flowers are, the more colorful your fence will become. You can also use repurposed wooden crates and pots or even mount plants at different heights to increase their beauty.
After planting, all you have to do is wait for the magic to happen during the blooming season. Your fence will get a total makeover, along with increasing the beauty of your space to a whole new level.
DIY#5 Outdoor Movie Projector
Want to turn your plain yard into a cinematic paradise?
The outdoor movie projector is the one to go for!
From letting you enjoy your favorite film in the open air, they just set the bar for a movie night. Once you have experienced the enjoyment of an outdoor movie projector, there is literally no turning back, as you will always find yourself wanting to watch it in the open space rather than on your couch.
What to do?
Just grab a white sheet or a projector screen, and then lay some comfy cushions or maybe lawn chairs, and connect the screen to the media source. Ta-da! All ready for a new experience!
Be it a romantic, action, or animated movie – you can watch everything. And to make things more interesting, feel free to invite friends and family, along with making some arrangements for popcorn and drinks.
DIY#6 Creating A Backyard Herb Garden
Are you a culinary person? Or maybe just adore the idea of including a pinch of freshness in your dishes? If that matches you, my friend, then creating a backyard herb garden is the one for you!
From improving your cooking skills to adding a serene touch of greenery – having a backyard herb garden has its own perks!
Whether be it aromatic basil, parsley, or zesty mint – you can plant anything!
However, make sure to pick a sunny space where the herbs will get the optimal sunlight to grow and develop properly. Here, you can use either easied beds or hanging planters.
And in case space is a concern, you can opt for vertical gardening using repurposed things. Another key point to note, make sure to label each herb and take care of them as necessary to ensure full growth.
To track the progress of your plant and ensure they develop healthily, there are several free plant care app for iPhone. Try using one!
DIY#7 Path In The Garden
Does your lawn have a faded area where the grass just won't seem to grow?
No need to get upset if that happens, as you can always create a beautiful garden path in that space.
Besides, garden walkaways are a beautiful addition to any kind of yard that can hide away all the rough patches with total elegance. They are also super easy and convenient to do.
All you have to do is get some paving stones, gravel, or wood planks. Lay them in a pattern as you desire. To make it look more marvelous, you can sprinkle some pebbles or colorful flowers alongside the pathways so that whenever you take a stroll, you get to smell and see those beautiful-looking flowers dancing in the breeze.
What a great scenario to even think about!
DIY#8 Built-in Seating Area
These DIY projects may seem a bit challenging. However, with the right equipment and procedure, it will become a piece of cake for you.
Besides, look at the bigger picture!
From offering a cozy area to spend an afternoon reading your favorite book or gathering with your friends and family for a warm conversation – a built-in seating arrangement has a lot to offer.
To create such a space, first, pick the design that you would like to go for. The best is to go with attire that will blend in with your outdoor space. However, then again, it's totally up to you.
Next up, gather some high-quality wood, cushions, and a table to set up. Once you are done assembling all the things, it is time to relax and create some joyful moments!
DIY#9 Building A Raised Garden Shed
Want to add more character to your backyard space?
Build a raised garden shed and solve all your problems!
From improving the quality of the soil to getting you better drainage, building a raised garden shed has a lot to offer!
Plus, with a raised shed, you will get plenty of space to store your pots and shovels. No more messing around with things!
To build one, determine the location and size of the shed. Make sure it is a sunny area. Afterward, cut the lumber to the desired sizes and then assemble them all together using screws/nails to ensure proper stability.
You can also add a layer of cardboard/landscape fabric at the bottom of the bed to avoid any kind of weeds and grass from growing. And for the bonus hack, evenly distribute the soil and water them regularly.
DIY#10 Installing Outdoor Lightning
Outdoor lighting is one of the most awesome ways to transform your space. From creating a warm and inviting atmosphere to increasing safety by brightening the pathways and other dark areas – they work like magic!
And for the best part, they are incredibly easy to install.
Be it solar-powered lights or low-voltage systems – there are several options to choose from. And you don't need to be an expert electrician to set them. Instead, a few basics are enough to do the trick!
How?
First things come first; pick the kind of outdoor lighting you want to go with.
Next, measure the area length where you will install them and then start securing the lights in position by attaching them to screws/hooks – drilled into the walls or trees. If needed, you can even use extension chords to connect the lights to the power source. Easy-peasy!
Wrapping Up
There you have it – the top ten DIY backyard projects to transform your outdoor space!
Each of the projects mentioned above is super easy and affordable. And with the right planning and work, they have the ultimate power to breathe new life into your outdoor space.
While starting, the work may seem like a lot to do, but with time, you will feel more confident, and once the work is done, the satisfaction is just on another level. So, why wait?
Let's make a beautiful heavenly abode for relaxing and spending time with our family and friends. Happy DIY-Building!
MORE POSTS: 28 DIY Outdoor Shower Enclosure Ideas