How To Clean White Airforce Ones At Home?
Last Updated on 2 weeks by admin
White airforce 1s look stylish and elegant on any outfit. But dirt and stains are easily noticed on their surface. So, most people avoid wearing them on any occasion or holiday.
But you don't need to sacrifice your look because of dirt accumulation on your shoes.
The article discusses various methods on how to clean white airforce ones at home. So, keep reading the article to learn about different cleaning methods for making your shoes look good.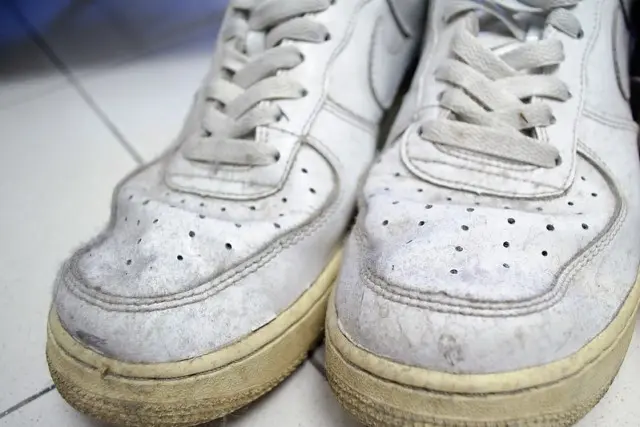 How To Clean White Airforce Ones At Home
Method 1: Clean White Air Force Ones By Hand
1. Remove Shoelaces From Your Shoes
You must first remove the shoelaces from your shoes and keep them on the side before cleaning. Now you need to slide down a shoe tree inside each shoe. The primary purpose of sliding shoe trees is to prevent the shoe's fabric and plastic from damaging during washing.
Well, if you don't have one, then don't worry. You can slide newspapers on both shoes and keep washing.
2. Use Shoe Cleaner
Buy shoe cleaner from any nearby store or from online. Now take a container and add two cups of shoe cleaner to it. But if you don't have a shoe cleaner, you don't need to panic. Take 2 cups of water in a container and add one spoonful of detergent powder.
3. Soak Your Shoelaces
Dip your shoelaces in the solution described in the second step. Well, there are various ways to clean shoelaces. But this is the easiest and most effective way to clean shoelaces.
4. Clean Your Shoes With A Soft Brush
Take a brush that has soft bristles and dip it in the solution. Then brush gently on the shoes. Drag back and forth almost on all areas of the shoes to remove all possible dirt.
The cleaning solution is not poisonous or will not harm you while cleaning. But you can wear gloves if you like when washing your shoes.
5. Use Hard Bristle Brush
If you still find your shoes dirty, use a stiff bristle brush for cleaning. Dip the hard bristle brush in the cleaning solution, scrub back and forth, and cover every area of the shoes to clean appropriately. Do scrubbing at least 2-3 times so that your shoes look clean from all sides.
6. Clean All The Stain Marks On The Shoe
Now it's time to clean all the stains on your shoe. Take a clean towel and dip it in the cleaning solution. Then rub it gently on the stains of the shoe until the stains don't go away. It will take almost 5 minutes to remove all the marks on your snake.
But if your shoes are torn, and the inside layer is visible, you cannot remove the stains from the shoe.
7. Wipe Shoes with a Towel And Allow It To Dry
Now dip the used towel in warm water, take another towel, and wipe the shoes to remove all the soap solution. Rub it in almost all parts, including the shoe, heel, and tongue.
Allow the shoes to dry in a shaded area of your home. But the place needs good ventilation so the shoes will dry quickly.
After 24 hours, keep your shoes under the fan or near the window so they will dry completely. But don't keep it under the sun because it can damage your shoes.
8. Wash The Shoelaces
Wash the shoelaces you have dipped in the cleaning solution with fresh water and hang them on your clothesline.
MORE POSTS: 8 Best Heat Activated Grill Cleaners for Outdoor Party
Method 2: Clean White Airforce Ones In The Washing Machine
You can choose this cleaning method if you want to clean your shoes urgently. However, don't wash your shoes more than two times a year in the washing machine; otherwise, it will damage their leather.
Well, here is a step-by-step procedure you need to follow if you want to clean white airforce ones in the washing machine.
1. Take Out Shoelaces And insert Shoetrees
Take out the shoelaces from your shoe and then insert shoetrees inside your shoes. The shoetrees prevent your shoes from shrinking in water.
Your shoetree may rust while washing your shoes in the Washing machine. But it is available at an affordable price, and you don't have to worry about it. The best thing is these shoetrees are preventing your shoes from deteriorating.
2. Put Your Shoes In Washing Machine
Now put your shoes in the washing machine and a few old white clothes or towels. Washing with other laundry clothes will prevent the shoes from hitting the machine. Use the laundry detergent for washing your shoes in the machine and allow it to run.
3. Allow The Shoes To Dry Completely
Your shoes will be completely wet at the end of the washing machine cycle. You need to make it dry. So keep your shoes in the shade and well-ventilated place for almost 24 hours, and then keep them under the fan or windows to dry completely.
However, don't keep your shoe in a humid environment because it can promote mold on your shoes.
Also, don't use a blow dryer to dry your shoes because it can deteriorate the leather in your shoe. It can even shrink it.
Keeping your shoes in direct sunlight can also make them dry and shrink. So, it's best to keep it in a shaded place.
MORE POSTS: How to Clean Mold Off of a Leather Jacket
Method 3: Clean White Airforce Ones By Using Apple Cider Vinegar
1. Add Apple Cider Vinegar Into Luke's Warm Water
Take a container with lukewarm water. Add one-half cup of apple cider vinegar into it and mix them properly.
2. Rub the Shoes With A Brush
Take a brush and dip it in the solution. Then gently scrub almost all areas of the shoe. It will help in removing stains on your shoes.
3. Allow Your Shoes To Submerge In Soapy Solution
Now submerge your shoes in soap solution for almost 30 -60 minutes. It will remove all possible dust and dirt from the shoes. Don't dip in soap solution for a long time because it will damage the leather of your shoes.
4. Wipe The Shoes With Damp Cloth
Take a damp cloth and wipe all the surfaces of the shoes.
5. Allow The Shoes To Dry
Now allow the shoes to dry in the shade, well-ventilated place for almost 24 hours. After that, lay your shoes under a fan or window for some hours so that they will dry completely.
MORE POSTS: 8 Best Pet Hair Remover for Car Carpet
Method 4: Clean White AirForce Ones With Baking Soda
1. Take Vinegar, baking Soda, And Water
Take a bowl of cold water and add one tablespoon of baking soda and two tablespoons of white vinegar. Mix thoroughly till the baking soda is wholly absorbed in water. You can put half a tablespoon of taking hydrogen peroxide in place of vinegar.
2. Rub The shoes With an Old Brush
Take an old brush, dip it in the prepared solution, and rub it on your shoes. You need to repeat it two to three times for good results.
3. Wipe The Shoes
Wipe the shoes with a damp cloth and allow them to dry for almost 24 hours in a shaded place at your home.
How do you deal with stubborn stain marks on white AirForce?
A non-gel toothpaste can work wonders to clean stains on your white air force at home. You must apply the non-gel paste to your shoes' stubborn marks or stains. Then take an old toothbrush and make it wet by holding it under water.
Gently rub the areas where you have applied the non-gel toothpaste. Rub it till the stain does not appear on the shoes. Take a damp cloth and wipe over the surfaces of the shoes. A gel toothpaste may leave marks on your shoes. So, it's better to avoid it.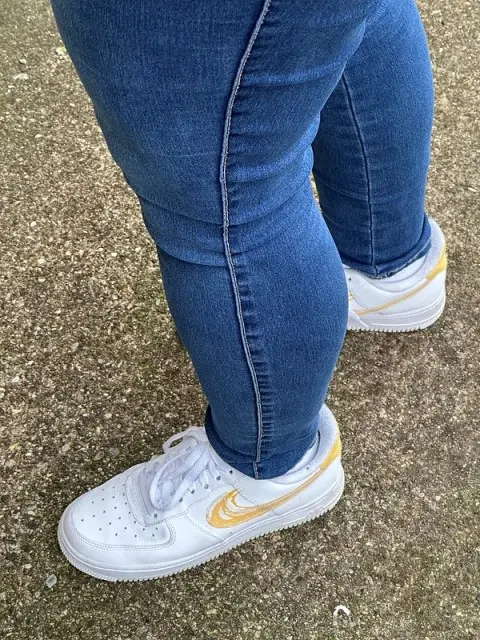 How To Remove Unpleasant Odours From The Airforce Ones At Home?
Take a container whose size must be the size of your shoes.
Put your shoes inside the box.
Take a bowl and fill it with at least one cup of baking soda.
You can keep some baking soda inside the shoes to eliminate the unpleasant smell.
Keep the bowl inside the container.
Close the container and don't open it for almost 48-72 hours.
The baking soda dramatically helps neutralize the odors.
After 48 -72 hours, wash the shoes either by washing machine or by your hand.
Your shoes will be neat and clean and have a pleasing odor.
Conclusion
Airforce ones become dirty within a short time. But you don't need to get worried about it. You can follow any of the above methods and clean your white airforce ones within 24 hours.
We thank you for reading this article and if you have any queries related to cleaning air force ones at home, then ask us in the comment section. We will be glad to answer your queries.
MORE POSTS: 14 Best House Cleaning Schedule Apps of 2023