We all are stuck in our homes waiting for the coronavirus pandemic to end. For many of us, it's the time when we give time to self-improvement and things we love to do. If you love growing plants and caring for plants. Then, believe me, it's a great time for you to take your home gardening skills to the next level.
I wrote this post for those who are home gardeners and those who want to learn about gardening. In this post, I will introduce you to some of the Best Pruning Shears that you can use for pruning Indoor plants.
It doesn't matter whether you are a newbie gardener or growing plants for years, a pair of good sharp shears will save time for you. Especially when you are growing plants like woody flower plants, delicate herbs, thorny bushes, it's best to have a nice set of shears that last long. A good shear is that is sharp, durable, and comfortable to use, that can cut a branch, stem without any difficulties.
Pruning shears are useful not only for Indoor plants, even if you have plants in a greenhouse, backyard garden, carport, porch, etc it will be quite handy in shaping the plants. Shears can be used to remove dead leaves and stems from the plants. It makes plants look more bushy, healthy if you trim them from time to time.
MORE POSTS: How to grow a coconut tree from a store bought coconut?
List of Best Pruning Shears for Indoor Plants
After a lot of online research and talking to various gardening experts, I have come up with this list of the best pruning shears for indoor plants that will make cutting and shaping plants easy. I have considered features like durability, sharpness, cost, etc while making this list.
These shears are easy to use and will save your fingers from cramps and aches after using them for a long duration. You may have experienced the pain when growing delicate orchids, indoor roses, and the level of patience, concentration it takes can be devastating. People with health issues like arthritis prefer tools like these as these tools make it easier for them to take care of houseplants.
Here is the list of the 5 Best Pruning Shears for Indoor plants.
TABOR TOOLS Pruning shear for flowers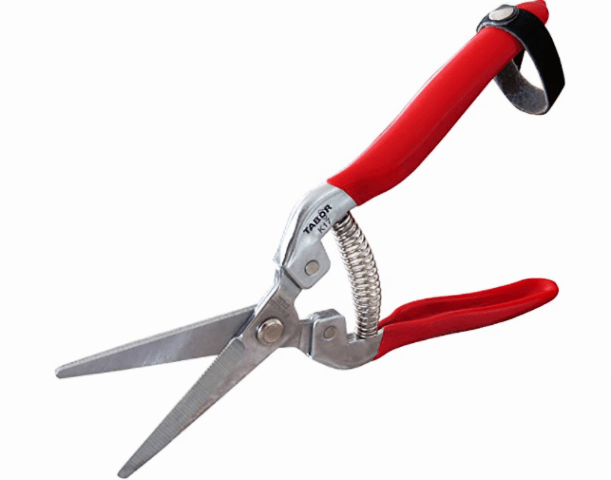 If you want to keep your flowers beautiful so that when you wake up it gives you a fresh scent then you definitely need an excellent pair of trimmers. It is necessary to keep your fresh-cut flowers or potted plants free of dead leaves and stems.
The Tabor Tools trimmers have a slim, straight edge to cut through the thick foliage of plants. A special thing about these cutters is that they come with a straight-down design on the stem instead of a bypass design that goes around the branch. The tight spring in the pruners helps you by reducing the efforts, you need to clamp down.
PROS:
Closer is made of leather.
Heavy durable spring minimizes the gripping efforts.
To keep your hands comfortable and anti allergic, the outer material is made of plastic.
Lightweight design makes it easy for long use.
You can use it perfectly for collecting fruit.
The blade is made of non corrosive stainless steel.
Thin, tapered blade design of the pruner makes it easy to cut rose without cutting the stem.
CONS:
Screws may rust with time and cause sticking.
Not forged.
My Statement:
The long blades of the shear help to reach flowers and fruits easily. Also, handles are quite comfortable to use even for long use. I think this product is a lifesaver for gardeners.
Mockins Pruning Shear for indoor plants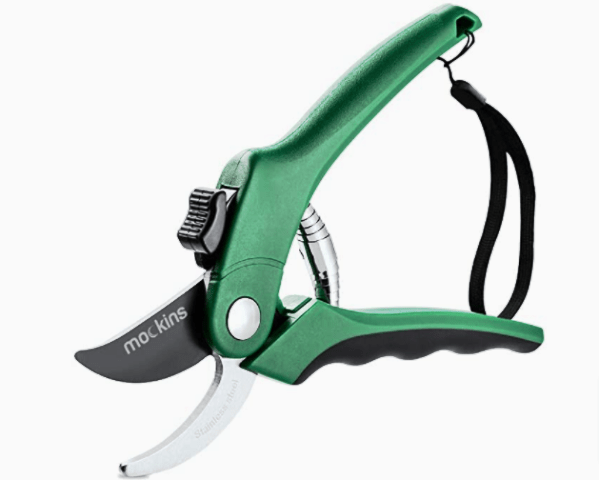 This pruning shear is known for its comfortable grip. This pruner is good for the persons that are suffering from arthritis. So if someone close to you has gripping strength issues, then Mockins outdoor pruning shear is the best for her. The mockings cutting tools have a great design and a professional build quality for extensive use. It doesn't matter whether you are an experienced gardener or an amateur, you can use these pruners comfortably.
A covered spring is provided in the pruner to give you heavy recoil thus saving you from scissoring action to operate the cutters and this also reduces the force you need to cut through thick stems of plants. Handles are made of stainless steel and a rubber cover is provided to provide a better grip.
PROS:
A safety lock is provided to avoid damage.
Thick stainless steel material is used for manufacturing.
People with arthritis and other gripping problems can also use them quite easily.
Easy flip safety lock on the top of the cutter is a big help.
Easy to trim flowers, deadhead plants and even collect fresh herbs and fruits.
Rubber cover over handles reduce shock.
CONS:
Blades does not close completely.
My Statement:
The Rubber grip of the share is a winning feature of the product and keeps hands from slipping. I would recommend this someone who is old with shaky hands.
Fiskars Pruning Shear for indoor plants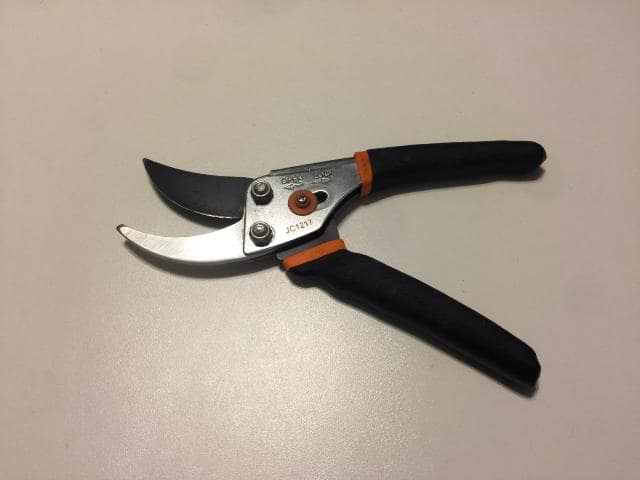 This is one of the best pruners available out there. The handles come with a thick grip and make it very comfortable to use for crafts, herb gardens, dead-heading, and more. Fiskars pruning shear comes with an orange safety lock that prevents the blades from moving and this prevents accidental cuts, tears, and damage. You can easily cut through branches up to four to eight inches thick using the large jaws of the pruner. If you have rubber trees or any other tropical plants then these will be quite awesome to use. A non-stick coating is provided to protect the cutter from rust.
PROS:
Bypass cutting style makes it easy for you to cut through the thick branches and flowers.
Orange safety lock keeps the blades closed when you are not using it.
You can make cuts up to four eights inches thick.
Gumming and seizing is prevented using a protective coating.
Made up of steel frame with machine grinding and corrosion-resistant material.
These pruners have a self-cleaning notch for sap.
CONS:
Do not have big spring for easy cutting.
My Statement:
Fiskar is giving a durable pruning shear at an affordable price.
Gonic Professional Quality Pruning Shear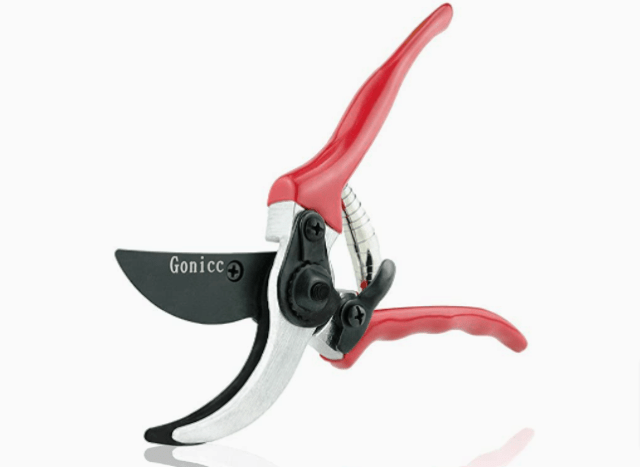 This pruner should be considered for cutting big size plant branches. If you are growing rubber plants, palms then it is necessary for you to have a pruner with a largemouth. When you cut thick stems, good grip force and good design are must-needed features. You get a single body construction design and contoured handles. The built material is quite strong and tough. You can feel that the metal frame is durable and can cut branches of any size. Sap groove is also provided to prevent blades from getting jammed.
PROS:
Sap notch is provided.
These pruners come with super fine finishing.
Having light weight helps you to use it for a longer duration.
Handle covers allows you better grip and thus prevent accidents due to slipping.
Strong spring action.
A safety mechanism is also integrated.
CONS:
You may need to adjust the blades before using it for the first time.
My Statement:
A pruning shear with sharp blades and nonsticky surface, comfortable handles for long usage.
ARS Rotating Handle Hand Pruner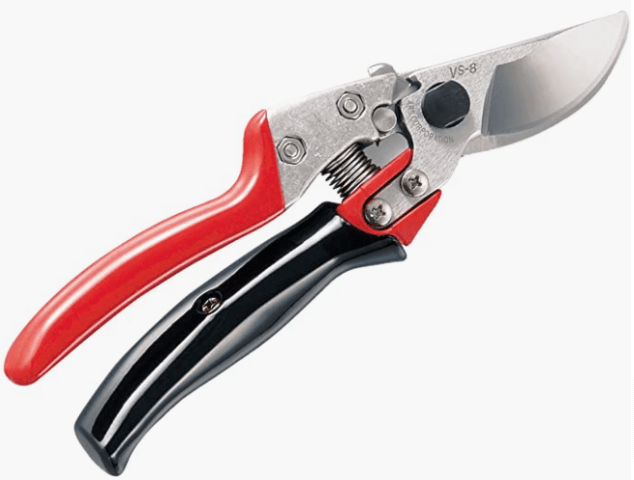 ARS is a Japanese brand, they make excellent quality stainless steel pruning shears that last long. The sharp blades of this pruner will not disappoint you while cutting thick branches. You get a single body construction design and contoured handles. The handles come with a thick grip and make them very comfortable to use.
PROS:
These pruners come with super fine finishing.
Handle covers allows you better grip and thus prevent accidents due to slipping.
Rotating handle to reduce stress on the hand.
With the help of a unique latch lock you can perform single hand operation easily.
CONS:
It can be heavy for some users.
My Statement:
All in one pruning shear that can be used for indoor or outdoor gardens.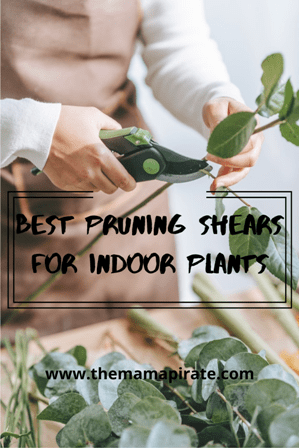 YOU MAY LIKE: