10 Best Push Toys to Help a Baby Walk
Last Updated on 12 months by admin
Now that your baby can stand on his own two feet, your little one is grasping the coffee table, couch, chair, or anything else you name. Now, it seems as though they will be able to take those first hesitant steps. As the little one moves from point A to point B, they will practice their balance and learn the spatial logistics of placing one foot in front of the other with the assistance of a walking toy. Walking toys are also called Push Toys.
For each parent, seeing their child take their first step is a priceless experience. Most newborns start waking shortly when they become one year old. But others may need an additional couple of weeks to master the skill. It is the time of year when most parents contemplate purchasing a baby walker for their children. In this article, we have reviewed safe push toys to help babies stand and walk, encouraging their milestone development and making them active.
Best Walking Toys for 1 Year Olds
Below is the list of the 10 Best toys to help babies stand and walk.
1. Sit-To-Stand Learning Walker from Vtech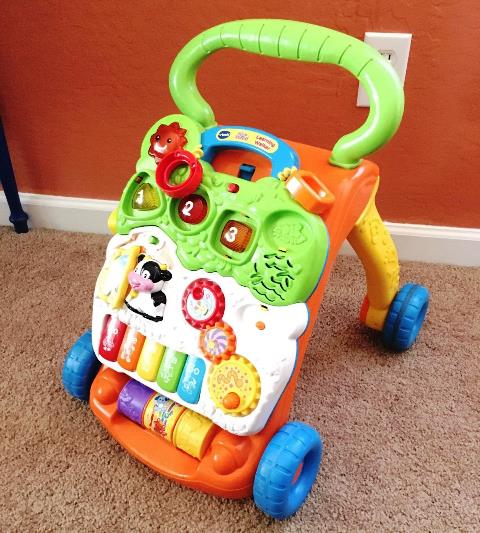 Baby can play piano, use the phone, sort shapes, use the rollers, press the light-up buttons, or sing along to the music on this popular sit-to-stand toy. The stroller incorporates an adjustable speed control on the four wheels. To use it as a floor toy before learning to walk, you can remove the play panel. It is a fascinating toy for developing babies' gross motor abilities and creativity due to its vivid colors, adorable creatures, and more than 70 songs. In addition to these aspects, it also has the following features which make it one of the best toys to help baby walk:
A detachable play panel for floor play or on-the-go enjoyment.
Playing musical notes and inspiring creativity are two of the features of this walker's five piano keys.
Your child can develop fine motor abilities by using the walker's colorful spinning rollers, three form sorters, and three light-up buttons.
The enjoyment of role-playing is enhanced by the use of a phone.
The walker's wheels have an adjustable two-speed control switch. So it can adapt to your child's evolving demands.
Frustration-Free Packaging in a basic brown box, making it easy to open.
[su_button url="https://amzn.to/3xzH82r" target="blank" style="flat" background="#febd69″ size="10″ center="yes" radius="0″]Check Price on Amazon[/su_button]
---
2. Pinkfong Baby Shark Melody Walker from WowWee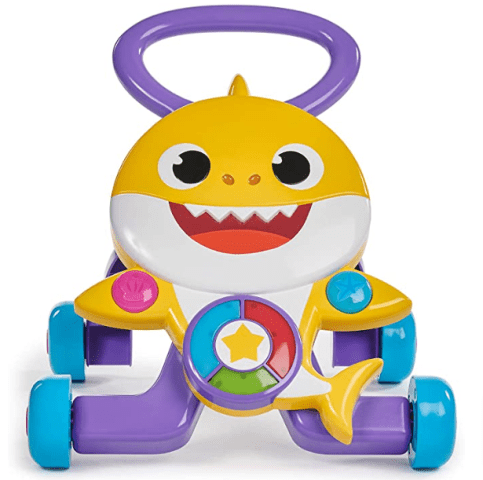 You can put up with your child humming along to "Baby Shark" on repeat if this push toy is what they are looking for. When the baby is out, they can listen to the classic song, and when the baby arrives, the music stops. If they want to restart it, they will have to take another step. As a bonus feature, it has five musical buttons that light up and play music when the baby presses them (albeit only one plays the whole song). With the sturdy four-wheel base of this toy, it can support even the new walkers. The attributes which make this product one of the best Walking Toys for 1 year old are:
Your child will enjoy using this Baby Shark Melody Walker to move, sit and play!
The Baby Shark Song will end when your kid cannot walk to encourage them to keep going. The music will continue whenever they are back up and running.
Play music by pressing the buttons! You can select songs from the five buttons that are present (including the full-length Baby Shark song)
The 4-wheel base assists your youngster in maintaining their balance.
Learn to use your muscles and senses to the fullest extent possible.
Batteries and volume control are present in the purchasing price.
[su_button url="https://amzn.to/3xyJQ88″ target="blank" style="flat" background="#febd69″ size="10″ center="yes" radius="0″]Check Price on Amazon[/su_button]
---
3. Musical Infant Walking Toy Me Zebra Walker from Fisher-Price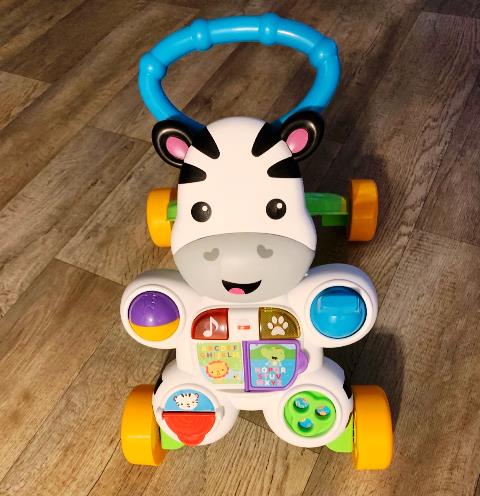 This friendly zebra is a toy that spins, twists, flips, lights up, and encourages your youngster with remarks like, "Keep going!".The baby can play with this in its normal sitting posture. With its wide wheelbase, this toy is perfect for pushing on carpets or hardwood floors. It features some of the most intriguing activities, making it one of the prominent push toys to help babies stand and walk. They are:
Many hands-on activities, interactive books, and light-up buttons to push for sing-along songs and phrases are present in this programmed toy.
Walkie helps the baby take their first steps and keep going with amusing words, music, and noises. 
The 4-wheel base and easy-to-grasp grip make the baby's first steps more stable.
Includes all you need to know to get started with the ABCs and 123s!
You can improve your baby's fine motor abilities with numerous active finger exercises.
It can trigger gross motor abilities through activities, such as standing, walking, and reaching.
Music, lights, textures, and bright colors attract babies' attention and aid in the development of the senses.
[su_button url="https://amzn.to/3MckLnw" target="blank" style="flat" background="#febd69″ size="10″ center="yes" radius="0″]Check Price on Amazon[/su_button]
---
4. Sit-to-stand Toddler Toy, Wood Walker by Radio Flyer
Many parents have expressed concern that their children's walking aids move too quickly, particularly for those who are just learning to walk. The Radio Flyer wagon "resist push" function is what parents love most. It helps their baby learn to stand on her own two feet. The toy offers a smooth and steady ride due to molded wheels with grip treads. Additionally, this toy's bumpers protect furniture and walls from getting scratched or ripped. When not in use, implement the traditional design as a lovely toy box. You can also take apart the stake sides, composed of wood. You can carry up to 35 pounds in this bag's cargo area. Being one of the best toys to help a baby walk, it has the following advantages:
Resilience clickers on the Classic Walker Wagon help novices gain confidence and stability. The clickers' resistance prevents the product from moving too rapidly.
Using a furniture-friendly bumper safeguards your house while teaching your child to walk. Using this circular bumper can help keep your walls scratch-free.
You can use the Classic Walker Wagon as a toy chest. For creative play at home or on walks, your child may keep their favorite toys close at hand in a toy box.
[su_button url="https://amzn.to/3OhPEcb" target="blank" style="flat" background="#febd69″ size="10″ center="yes" radius="0″]Check Price on Amazon[/su_button]
---
5. Sit-to-Stand Ultimate Alphabet Train from VTech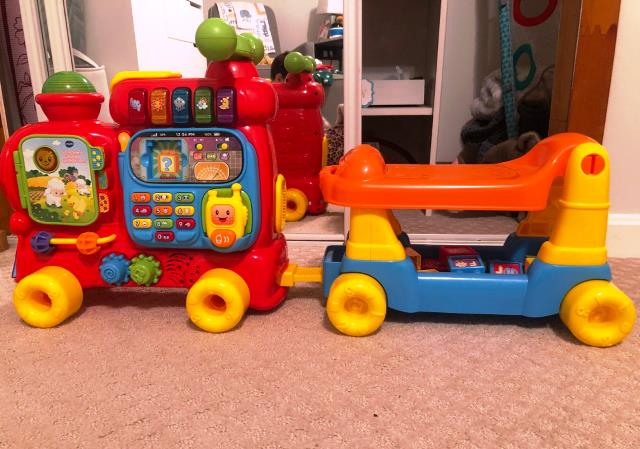 This sit-to-stand toy will keep the baby entertained for hours. Gears to turn, buttons to press, piano keys, storybook pages, and more are all included in this toy. This train has 13 double-sided letters and blocks tallied as they fall down the chute. It will help your young one learn to read and count. There are more than 100 tunes, melodies, noises, and phrases to select from. As if that was not impressive enough, you can use the toy as an infant seat, stroller, riding toy, and even a wagon. It is one of the best toys to help a baby walk and has the following attributes:
You can use the toy train as a floor toy, a ride-on, a baby walker, or a pull-toy wagon. Your child can load it with toys as they become older.
Ten activities are present in this educational toy, including a narrative clock and gears. A total of 13 double-sided alphabet blocks teach the alphabet and develop fine motor abilities.
[su_button url="https://amzn.to/3KQvNP3″ target="blank" style="flat" background="#febd69″ size="10″ center="yes" radius="0″]Check Price on Amazon[/su_button]
---
6. Alligator Chomp and Clack Wooden Push Toy and Activity Walker by Melissa & Doug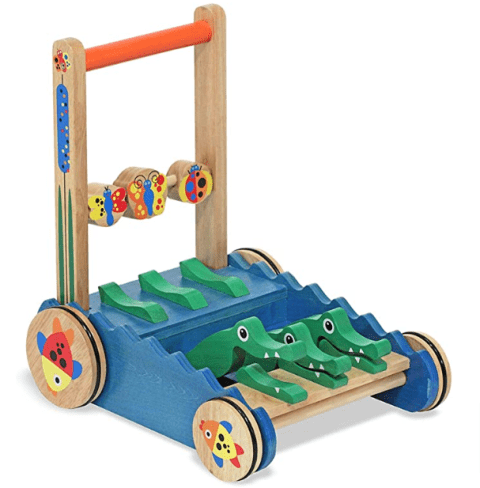 Even with non-skid wheels, this wooden push toy is speedier than its plastic counterparts, making it a better choice for walkers rather than toddlers just starting. Alligators' soft clacking as they "walk" will be a hit with babies ages one and up. Parents will enjoy that it tells them that their child is on the move without being too bothersome. Spinny toys adorned with butterflies, ladybugs, and wheels painted in baby-friendly hues, are also present in this toy. A few of its distinguishing characteristics are as follows:
Alligator Push Toy by Melissa and Doug is a wooden activity walker for infants. Three chewing alligators, fish on the wheels, and whirling butterfly and ladybug beads adorn this work of art.
A high-quality alligator push toy is constructed following precise manufacturing requirements. As a result, it is suitable for children older than 12 months.
When pushed, this toy emits a soft clacking sound. It encourages the development of gross and fine motor skills and hand-eye coordination. It is one of the best toys to help the baby stand and walk.
Suitable for children 12 months and older, this toy is an excellent present. When it is time for some hands-on fun, nothing can beat Melissa & Doug's First Play Wooden Elephant Rocking Stacker.
Melissa & Doug has been designing imaginative and creative toys for children for more than 30 years, and NBC News has dubbed their goods "the gold standard in early childhood play."
[su_button url="https://amzn.to/3rtVvBy" target="blank" style="flat" background="#febd69″ size="10″ center="yes" radius="0″]Check Price on Amazon[/su_button]
---
7. Push Walker to Toddler Scooter: Zoo Unicorn by Skip Hop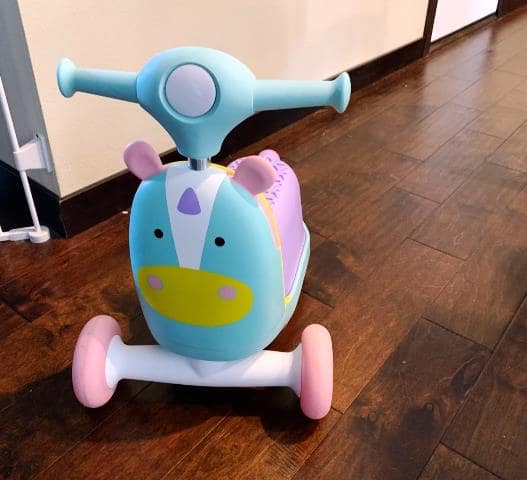 A Skip Hop stroller will make you fall in love with their diaper bags even more. At this price, you will receive a lot more than one toy. Originally a walker, it transforms into a seated ride-on toy when you flip the container over. Finally, it can also transform into a mobility device.
Is there a third benefit? Even if your kid grows, you may adjust the handlebar to maintain it at the proper height. In addition, it is one of the toys to help baby walk, which stands out because:
Skip Hop's three-tiered toys will keep your child entertained for a long time. Playing with a Ride-On Toy is a fun method to improve balance, coordination, and motor skills.
Stage one is for children who are just learning to walk and encourages them to push and pull a wagon—a perfect place to store their favorite toys. The wagon's storage tub transforms into a seat for ride-on operation in the second stage.
Are you ready for the third stage? Just take off the seat, raise the toddler-friendly handlebars, and go for a ride! The front button will activate a light, a buzzer sound, and other sound effects as they speed around the neighborhood.
It includes a handle for a suitable position while standing.
[su_button url="https://amzn.to/3McJWGA" target="blank" style="flat" background="#febd69″ size="10″ center="yes" radius="0″]Check Price on Amazon[/su_button]
---
8. Toddler Wobbler Toy for Newly Mobile Toddlers from BRIO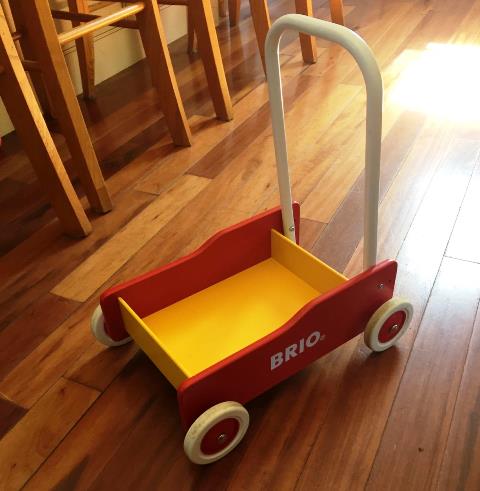 The beechwood construction of this simple push toy is sure to please minimalist parents. You do not need batteries to operate since it runs on baby power. You can position the handle straight or incline it based on when your baby is ready to start pulling himself up. It will be fun for your little ones to carry their favorite toys. You do not have to worry about scuffing up your flooring. Thanks to the wide rubber wheels and the adjustable brakes. It also has the following significant features:
Rubber non-skid wheels help keep the Toddler Wobbler under control without damaging the floor. An adjustable handle and brake allow it to grow with your child. A vivid, glossy paint job covers the beech wood's natural grain.
Early walkers will love it. Your child can learn to balance while walking with a toddler wobbler.
Suitable for children. All the toys meet all applicable safety requirements. The makers design safe toys for children to play with.
[su_button url="https://amzn.to/3Ofh4PZ" target="blank" style="flat" background="#febd69″ size="10″ center="yes" radius="0″]Check Price on Amazon[/su_button]
---
9. Shopping Cart Push Toy Bright Starts Giggling Gourmet 4-in-1 Shop 'n Cook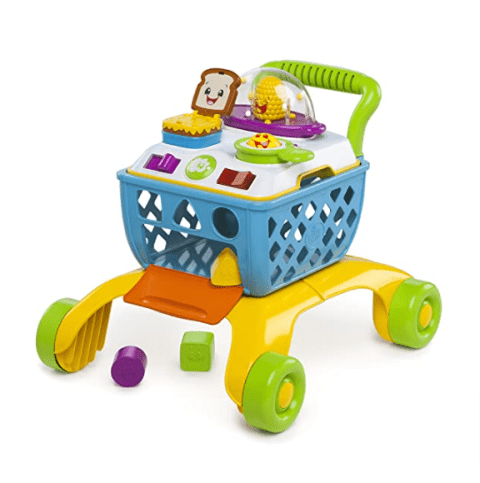 As an activity center that "grows with me," your baby will get a lot of mileage from this sit-to-stand toy. As a sitting toy, your child may use the detachable stove until they can walk. Pop-up sandwiches and buttons are sure to make him laugh. To make this toy a sturdier option for the infant, you can place a stove back in your supermarket cart and lock the wheels. Having large, robust legs helps the child maintain balance as they learn to walk. To keep them moving, the popcorn will "pop" every time the baby takes a step. They can use it as a toy shopping cart when you take off the stove. The following are some of its notable features, making it one of the most amazing push toys to help babies stand and walk.
This action toy grows with your baby. So you can have hours of shopping cart fun together. Shop 'n Cook Walker from Bright Starts Giggling Gourmet Collection features four stages of play: 
The cooktop is removable for sit and play
The cart legs lock in place, so the cooktop becomes a stationary activity table
When the baby begins to toddle, the wide, sturdy legs are perfect for learning to walk
The popcorn pops as the baby pushes the cart along. 
You can remove the cooktop to expose a shopping cart that your child may use when they become older. 
The sandwich comes up when you press the lever. Spin the egg roller or the light button for sizzling noises. Shape sorting fun with three different shapes is present. In your baby's toddler years, the cart is full of smiles and fun. It will be a playtime favorite for your young shopper. Make use of mild soap and a moist towel to clean.
[su_button url="https://amzn.to/382J4Ww" target="blank" style="flat" background="#febd69″ size="10″ center="yes" radius="0″]Check Price on Amazon[/su_button]
---
10. Smart Stages by Fisher-Price Laugh & Learn With Puppy Walker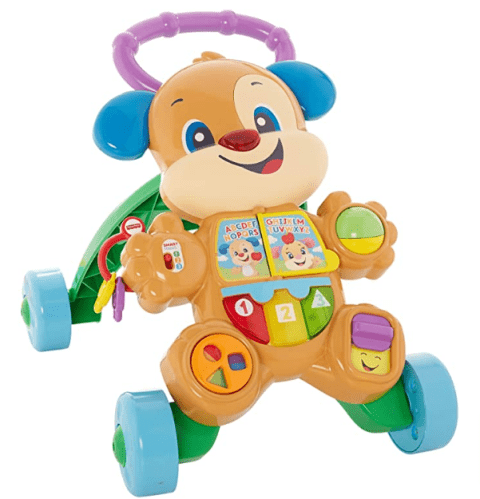 The puppy's light-up nose, piano keys, roller, spinner, and flip pages will help your child learn the alphabet, shapes, colors, numbers, Spanish words, and more. You can use this toy for a six-month-old baby as a sit-and-play toy. After they are on their feet, the handle's sturdiness will help the baby take the first tentative steps. This walking toy develops fine and gross motor abilities and teaches cause-and-effect. Let us look at some of its distinguishing features which make it one of the must-buy toys to help babies walk:
Learn with a puppy and a sis walker in the assortment (separately available).
As a baby develops, there are two ways to play: sitting and playing and standing or walking.
Encouragement and upbeat music will keep your little one moving forward.
A non-slip surface: Sit and walk or stand and play as your baby develops.
Easy-to-grasp grip aids with baby's initial steps by providing stability.
[su_button url="https://amzn.to/3OhcEYM" target="blank" style="flat" background="#febd69″ size="10″ center="yes" radius="0″]Check Price on Amazon[/su_button]
---
When purchasing a Push Toy for a Baby, what should one keep in mind?
Consider the following aspects before purchasing toys to help the baby walk.
Adult walkers are stand-up toys, and walking toys are no different. However, unlike adult walkers, they come in bright colors and have amusing attachments. Toy walkers are distinct from actual baby walkers. You should scrutinize the walker's use at all costs. Thousands of youngsters wind up in emergency rooms each year due to walkers. Walkers can cause falls and drowning. 
When buying toys to help the baby walk, parents should look for massive toys. To avoid choking, toys and other segments should not be small enough to fit in an infant's mouth. Avoid toxic chemicals, thin plastic, loose stuffing, button batteries, high-powered magnets, and toys containing bean-like pellets. If in doubt, consult the product's age rating, which should be present in the product description.
When your baby grows a little older, you may want to consider getting toys to help the baby walk to transform into a floor play or even a table. You might be wondering how to walk a toy on a carpeted or wooden surface. Be aware that certain toys are better suited for specific surfaces. Within a few months, your child can master several significant abilities that aid in their development as learners, vocalizers, movers, and players.
Participation in an Exercise Program
Toys that stimulate physical exercise may help children develop their motor skills, self-control, and social skills. When buying toys to help baby walk, consider balls, push-and-pull toys, or ride-on toys.
Different Types of Push Toys for Baby to Walk
Below are the different types of toys you can buy for your baby for walking. 
Toys the babies can walk on
Only a few of the many walking toys to help baby walk on the market are safe for your child. Toys that allow children to stand from a sitting position are one of the best options you can choose. From 9 to 12 months old, your youngster is likely to be practicing standing. When it comes to sit-to-stand toys, there are usually two purposes in mind: Sitting or standing, the baby may play at any angle.
These will let your child stand and eventually walk on his own. Pushing these toys helps your child gain strength, balance, and self-confidence to keep going. Imagination sparkles when babies pretend to mow the yard or go groceries shopping just like you. To avoid tipping, look for a toy with broad wheels.
Children aged one and above can cruise on a scooter or a tricycle with a seat by pushing on the ground with their feet.
FAQs on Toys to Help Baby Walk
Below are the most commonly asked questions that you can check out.
Are walker toys good for babies?
To begin with, newborns can use a walker to pull themselves to standing, which is a vital step in learning to balance and walk. Make sure you obtain a high-quality walker. A push-along walker is just another fantastic piece of furniture for infants since they always want to use you or the couch to pull them up at the beginning. Make sure you are there to prevent the walker from tumbling over.
Second, since they are not seated in the walker, they can regain their footing if they fall. Their spine and hips might get damaged if they are left hanging from the walker. The muscles and strength required to walk and maintain one's balance gets developed, when sitting alone. For one thing, newborns can see their feet, which is essential for walking.
2. Do walker toys help the babies to walk?
An expert's opinion is that push toys provide your little one a sense of direction and control while also educating them about potential hazards. Your youngster may choose to push the box rather than the toy itself. To help them build the necessary muscles for walking, you should encourage your baby to push everything they can reach with her hands.
End Takeaway
Watching your kid take those first steps is one of the most rewarding experiences a parent could ever have. If your child is beginning to walk, you can buy a baby walker. It will aid in their motor development and allow them to start walking sooner. There are several choices in the market that you must examine. Consider the advantages and disadvantages of all these toys to help the baby stand and walk before purchasing the best possible newborn walking toy for your kid.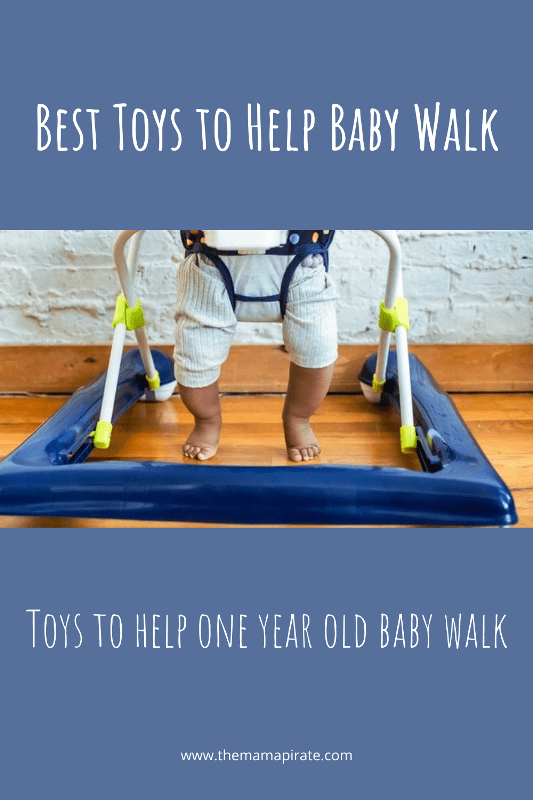 10 Best Push Toys to Help Baby Stand and Walk
YOU MAY LIKE: