(Last Updated On: April 3, 2022)
Puzzles are beneficial for preschoolers to develop their fine motor skills. By two years they should be able to play simple puzzles. Jigsaw puzzles are the best puzzles for preschoolers to spend time at home. The lists of puzzles I share here are sea animals, terrestrial animals, transport vehicles, construction vehicles, dinosaurs, and more.
1.Sea Animals wooden Jigsaw Puzzles for Preschoolers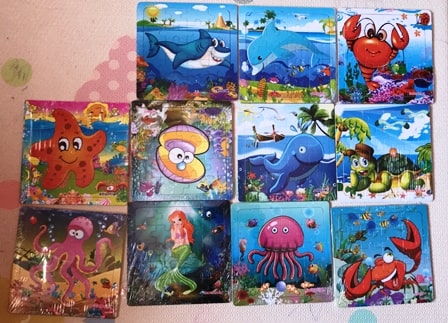 Is your kid love sea animals? Sea animals are the keeper of the marine ecosystem. We have seen sea animals like octopuses, sharks, sea horses, and turtles in movies. These animals are beautiful to watch and it will a lot of knowledge for the kids.
The pack comes with many sea animal theme jigsaw puzzles that are Mermaid, Whale, Lobster, Shark, Shell, Dolphin, Starfish, Jellyfish, Goldfish, Octopus, Tortoise, Crab. These eco-friendly puzzles are safe for kids with rounded corners.
2. Vegetable and Fruits Theme wooden Jigsaw Puzzles for preschoolers
It will be a great idea to teach your kids about vegetables and fruits using puzzles. These puzzles are made of wooden, so are tough and eco-friendly. The pack comes with unique puzzles made on vegetables and fruits. The puzzles are well printed on both sides which makes them comfortable for kids. They also provide a bag to store the puzzles, so that no pieces go missing.
3. Vehicle wooden jigsaw puzzles for preschoolers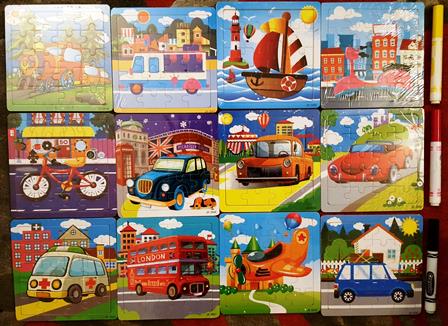 Kids love vehicles and play with vehicle jigsaw puzzles. These are durable wooden puzzles, printed nicely on both sides. Because of their small size, the puzzles are easy to carry anywhere in the provided bag. This puzzle will develop the thinking and learning ability of a child.
4. Melissa & Doug Construction Vehicles Wooden Jigsaw Puzzles for preschoolers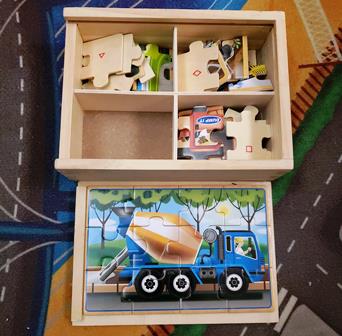 This puzzle is best for boy kids that love playing with construction vehicles. Puzzles are of 12 pieces and in a box, four such puzzles are packed. It is no wonder why these puzzles are long-lasting as they are made of wood. The printed artwork on the puzzles is of top quality.
5. Melissa & Doug Dinosaurs Wooden Jigsaw Puzzles for preschoolers
Melissa & Doug is a popular brand for making kid's toys for a decade. The quality of the jigsaw puzzles is amazing and the printed artwork is awesome. In a box, you will get four different dinosaur puzzles to play with.
6. Aitey Terrestrial Animals Wooden Jigsaw Puzzles for preschoolers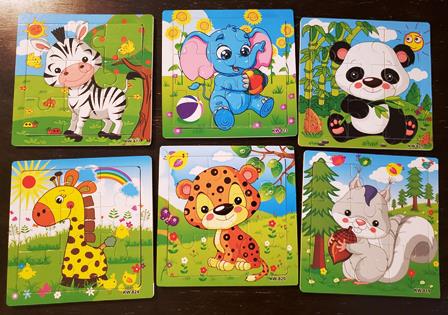 Kids will love these cute-looking terrestrial animals. The quality of the puzzles is not as great as Melissa and Doug's puzzles. The printed paper gets peeled off easily. Still, a good simple 9 pieces jigsaw puzzle for kids to learn about animals.
4 Free online jigsaw puzzles for preschoolers
Besides, wooden or cardboard jigsaw puzzles, kids can also play online puzzles for free. It is recommended to use a child lock before handing over any electric gadgets like mobile phones, iPads, or laptops to kids.
Easy beautiful-looking Jigsaw puzzles for kids. You will be amazed to see the collection of puzzles. They have thousands of puzzles to play with.
On this website, free jigsaw puzzles are available to play with. But, puzzles present here may be difficult to play for a preschooler. They have literally an infinite amount of jigsaw puzzles.
Puzzles present on this website may be difficult to play for a preschooler. This website has a ton of jigsaw puzzle collections, for example on Christmas, animals, easter, etc.
This website also has thousands of puzzle collections. They have categorized some puzzles into easy, random, animal, and landscape. Free to play, but frequent ads on the page may disturb the player.
Final words
Jigsaw puzzles are a great way to develop fine motor activity in a preschooler. Kids should be encouraged to play puzzles as puzzles also enhance the thinking ability of a preschooler.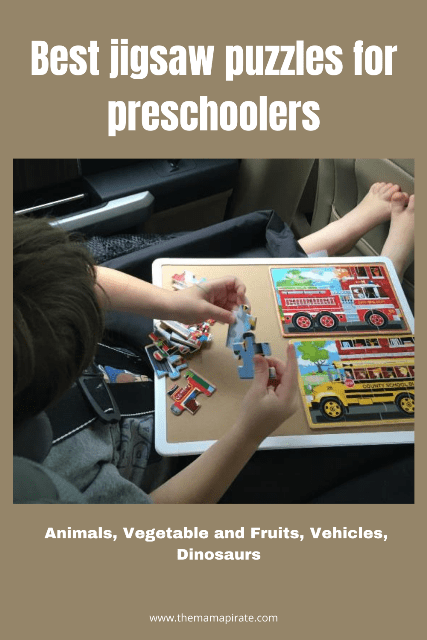 10 Best jigsaw puzzles for preschoolers
YOU MAY LIKE: