33 Best Gift Ideas for the 27th Birthday
Last Updated on 1 year by admin
Is it someone special's 27th birthday, and you have no idea what to give them? Some people are picky about their choices, and you have to fulfill their wishes on the D day. Get them something that they will love. What is a perfect 27th birthday gift? What birthday gifts will they like? Do not fear or think too much. We will help you get a gift for them that they will like, will be helpful for them, and above all, solves a problem in day-to-day life.
27th birthday gift ideas for him(boyfriend)
Your boyfriend or husband deserves the best birthday gift. Thus, here are some awesome gift ideas, and you can choose one to present to him on his 27th birthday.
1.Gift set if he likes to travel
A travel gift idea is outstanding whether he travels for work or just for fun. The set has a nice insulated tumbler to keep the morning coffee that he can drink till he refills it after lunch. After lunch, he can drink something refreshing from the hip flask. A survival knife comes in handy that he can use while vacationing at the lake or camping with the family. He will love all the elements of this set, and it will be an ideal birthday gift for him.
2. Google Daydream VR set
Virtual reality is super popular today. Gift your husband or boyfriend virtual gaming, immersive video experiences, and exploration with his own VR headset. This Google daydream VR set is compatible with Google Pixel smartphones, so he can enjoy watching Netflix, playing unique VR games, and much more. Do you think it is an out-of-the-world birthday present for him?
3. Man Cave Sign
Does your boyfriend want his man cave? Get him a customized man cave sign on his birthday and get him started. After all, it cannot be official without proper decor. He will love a thoughtful gift, and you are supporting his dream. You can theme all of his gifts around his man cave: new TV, a lounge chair, a foosball table, a mini-fridge, and much more.
4. A poker set
Another great birthday gift idea is a poker set. He can have a great time with his friends on his birthday with this present. This personalized and classy set will make playing cards a blast. He will enjoy playing the game on his birthday and other days. He will be thankful for a gift that helps him create fun memories to cherish forever.
5. Motorola fitness watch
Remember the times when everyone wanted a Motorola watch? Their smartwatch is no different. This brilliant watch will track the heart rate while sleeping and exercising. He can
get calls, text messages, and even use GPS on this watch. The brightness of the screen is adjustable for optimal display. Sounds cool, right? Guys love gadgets, and he will be thrilled to get the latest tech gadget on his 27th birthday.
6. A new hobby to pursue
Many guys like to collect stuff like ticket stubs, cigar bands, bottle caps, shotgun shells, and more. You can give him a cool shadow box where he can keep his collection and show it off to others. You can customize the box by engraving his name and birth date. He no more has to use the top of his dresser or shoe box to keep the collection.
7. Coffee gift set
Does your man talk about his Keurig as much as he discusses video games? If yes, then a coffee set is an excellent gift idea for his 27th birthday. This set contains a classic coffee mug and a stainless steel travel carafe. Both the items can have his name engraved. He can bring his coffee to work in one container and not leave his desk to refill it. The coffee will stay piping hot throughout his workday because of the double-walled and vacuum-insulated carafe.
8. PlayStation 4
A new video game or a gaming console is a perfect gift for video game lovers. He can enjoy classic games such as Grand Theft Auto V, Red Dead Redemption, or the newest fan favorite. PlayStation 4 is a sophisticated console because of its BluRay player, 1 TB of storage, wireless controller, and customizable platform. Gaming does not have any age and makes it more fun.
9. Original Star Wars Collection
Gift him an incredible collection of episodes I-VI on Blu-Ray if he loves Star Wars. He will watch his favorite Sci-Fi series on the digitally remastered version as if it were made today. Be prepared for a binge-watch because he will want to see it as soon as he opens it.
10. Custom cutting board
Get him a custom hardwood cutting board if he loves to cook. He will live this thoughtful and personalized gift for him. He will get a dedicated area for seasoning, chopping, and prepping. He will love this handsome cutting board, whether he is a professional or an amateur. It will also look great in the kitchen.
11. Grill king
Get him this BBQ tool set so that he feels like royalty on his birthday. He will be fascinated to get these high-quality tools out of the customized box and use them for grilling burgers, sausages, brats, or other food. This gift will make him feel like the King of the Grill. It will make him feel like the most outstanding griller, and he will appreciate this gift.
12. Cards against humanity game
It is a crowd-pleaser game. The hysterical cards in here will make your boyfriend laugh his pants off. It is a perfect birthday gift for a boyfriend with a sense of humor. Everyone can play this game at his birthday party or any other occasion. You can make even better card combinations by using various expansion packs.
13. Apple AirPods Pro
Be the best girlfriend by gifting him AirPods on his 27th birthday if he has not got a pair.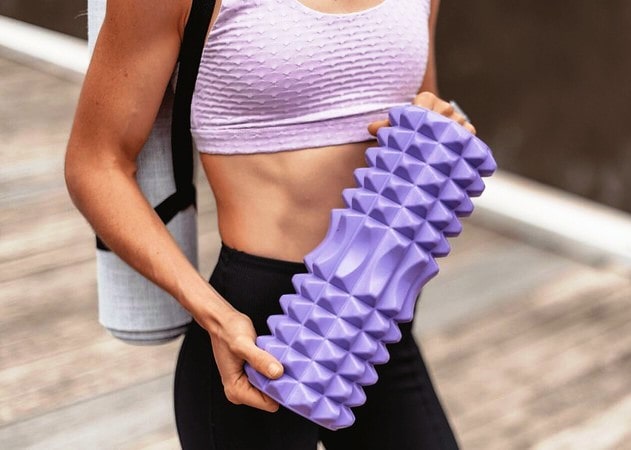 14. Vibrating Foam Roller
A vibrating foam roller will take care of his muscles. It is textured and can lessen the risk of injury during weightlifting, preparing for a marathon, or require some pain relief after sitting all day long at a desk.
15. Sunglasses
A good pair of sunglasses is always a great gift idea. Ban aviators have the power to elevate any outfit. You can also order with prescription lenses.
16. A suitcase
A lightweight suitcase is a super gift that your guy can use while traveling. Get him a handy and lightweight bag, which he can carry for most airlines.
17. Scalp revival stimulating therapy massager
Everyone loves a nice scalp massage. Your husband or boyfriend can use it to get a good shampoo lather or a relaxing head scratch. He can have a massage even when you or no one is around with the help of this gift.
18. Temperature control smart mug
A heat-regulating coffee mug is a great gift idea for coffee lovers. It can be connected to his phone and keep the coffee hot consistently through the app.
27th birthday gift ideas for her(girlfriend)
Finding great gifts for women seems trickier each year. Gifting her something that she likes and is not boring is a challenging job. This list of gifts is a perfect blend of practical, thoughtful, and unique items. Here are some stand-out ideas for all the ladies:
1.Birthday box
This gift has a birthday party inside a box. She will love eight different beauty-related birthday gifts. Send this delightful box of goods and say happy birthday with panache.
2. French Macarons
It is a festive gift box containing macarons in 15 different flavors. They are composed of the highest quality ingredients, mostly imported from France. Yes, a gift wrapped in French butter. It is a perfect gift idea if your girl is a sweet tooth.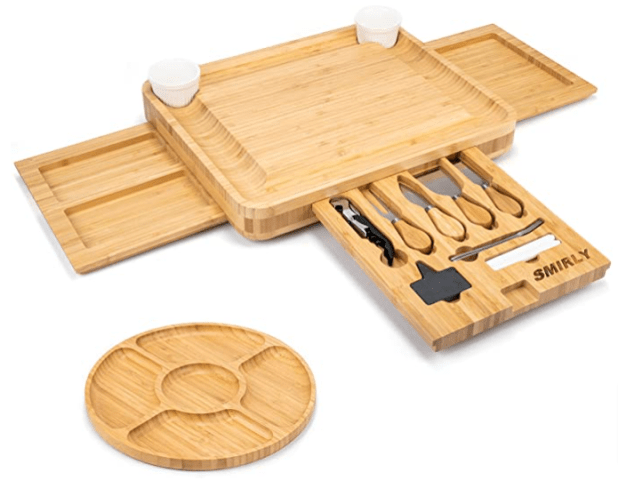 3. Cheese Plate
It is a wooden cheese board containing four knives and four bowls to hold and slice different types of cheese and charcuterie. Your luxurious parties will get a different twist with this. The guests will enjoy sitting at your beautiful table setting with mouth-watering food.
4. Travel jewelry case
If your girl loves jewelry and you do not know how to buy stones, do not take a risk. Instead, get her a box to keep her jewelry. The box will have different compartments for rings, necklaces, earrings, and all her jewelry. You can get it personalized by engraving her name written over the box. All the stones will be safe while traveling.
5. Fitbit Activity Band
An activity band will give you a complete picture of your health. It tracks footsteps, sleep, and the distance when you walk and get your calories burned. You will earn active zone minutes as you progress towards 150 minutes of heart-pumping activity and use 20 different modes to track goals.
6. Monogram Kate spade necklace
You can have any monogram in a Kate Spade New York pendant necklace. Your girlfriend will be delighted to get this gift on her 27th birthday. Choose a meaningful initial on a shiny, gold-plated pendant suspended from a delicate chain.
7. Bose Soundlink 2 speakers
Bose is a Bluetooth speaker with a good sound, and it comes in many different colors. She can listen to her favorite songs by connecting the speakers to her phone. She can carry it with her just anywhere because it is light and compact. Listen to music while cooking, going out, or doing any household activity. The battery life is up to 8 hours, has a built-in microphone, and is water-resistant.
Girls love to take showers, and it can be great fun with music. If your girl loves to listen to music everywhere, she goes, give her a Bluetooth speaker that she can take in the shower. These mini portable speakers are waterproof and come with a suction cup that she can attach to the shower wall or hang.
9. Kindle
Gift her a Kindle if she loves to read books. It is a perfect on-the-go reading tool because of its compact and lightweight features. It has a glare-free display, long-lasting battery life, and adjustable brightness so that she can read whenever she desires.
10. Mosser Glass cake stand
A handmade glass cake stand can elevate her baking accomplishments. You can also add a glass dome which will keep others from sneaking a taste ahead of time.
11. Customized birthday star map
Celebrate excellent moments starting from the day she was born to all the memories that you share. Gift this outstanding map to the birthday girl and turn her special day into a stunning art print. These prints utilize scientific technology to create an accurate map of the stars from that special night. It comes in various sizes and a range of customizable options.
12. Infinity scarf
You can use an infinity loop scarf during the cold months of winter. You can simply put it over the head and wear it around the neck. Your girl will look great without any adjustments in several different styles. It is warm as well as comfortable.
13. Bose Noise-canceling headphones
If your girl works in an open-plan office, this gift can be a life-saver gift for her. This cancellation device can completely cut down the chaos around her. She can then listen to her favorite music, audiobook, or podcast with no distractions. It has up to 20 hours of battery life that will last throughout her workday and workout.
14. Spa birthday box
It is a gorgeous gift box for her. The box is full of beauty, bath, and relaxation gifts. The box is packed with goodness and contains a card stock print carrying your personalized message for her.
15. Apricot honey tea body butter
The jar has eight ounces of deliciously scented body butter. It is a whipped body cream made up of a velvety goat-milk formula that seeps right into the skin. It leaves a dusting of irresistible apricot and honey tea scent.
Final Statement
A birthday gift must be both meaningful and helpful. This post enlists researched birthday gift options for your special ones, considering price, practicality, and sentimentality. We hope you will find the perfect 27th birthday gift for the special person in your life.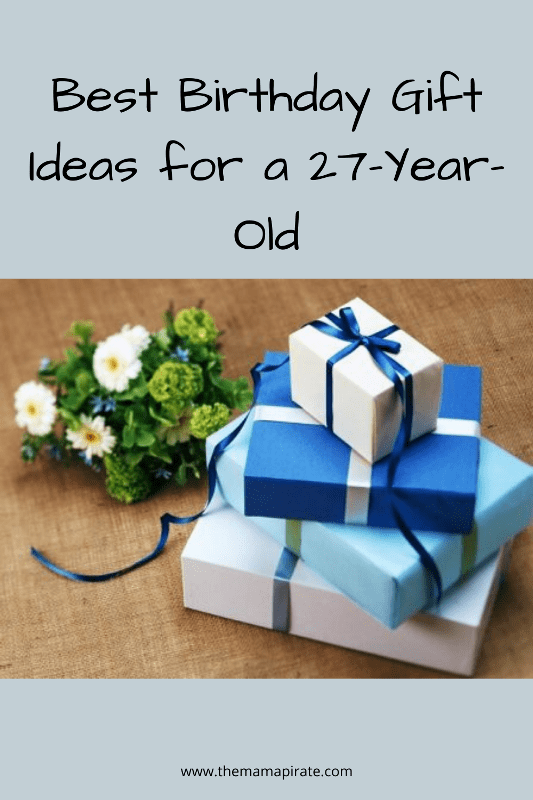 33 Best Birthday Gift Ideas for a 27-Year-Old
YOU MAY LIKE: