Unique "Wedding Baskets for Bathroom"- Ideas
Last Updated on 4 months by admin
From essential wedding items to other necessary stuff, wedding baskets are one of the most helpful things. You can also give your guests something extra with a bathroom basket if you have one. If you follow some wedding basket ideas for bathrooms, it can be your ideal helpmate. A bathroom wedding basket is nothing but a box or a basket. You can place it in the reception venue bathrooms with a sign. It is helpful as you can store items like sanitary products, toiletries, first aid items, and others in these baskets. You can put on footwear also to assist your guests with any emergencies they might have.
So, wedding bathroom baskets might seem like a small thing. But it can be a thoughtful touch that your guests will surely appreciate. After all, a well-prepared and properly organized wedding bathroom basket will ensure that your guests feel comfortable and assured all night long. After researching bathroom wedding basket ideas, you can fill all the essential items in this basket that your invited visitors might need.
But now, the biggest question that might pop up in your mind is what things you can add to these baskets. Well, there are multiple products you can include in the bathroom box. You will get many bathroom wedding basket ideas that helping you with your problem. However, remember to fill the basket with essential items to make the box memorable. Besides, you should also be well-prepared by organizing all the necessary products before the big event.
So, now, you might be looking for some help. If that is the case, you are in safe hands, as we have listed below a few wedding basket ideas for bathrooms to help you with this. That is why we have put together a few tips to help you while creating your wedding bathroom baskets. Hence, without further delay, let us delve into those ideas now.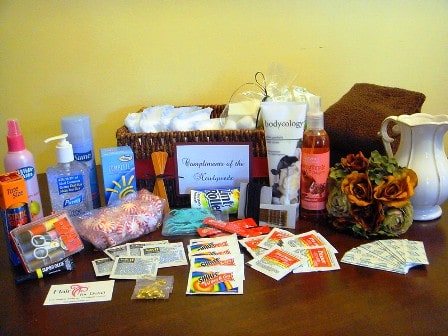 MORE POSTS: What to write on a Baby Shower Card for a girl
The essentials of a wedding bathroom basket
Some of your guests will carry personal items like deodorant, feminine products, breath fresheners, and others at your wedding. Bringing all these things is a hassle for them, and you also need to provide a separate place so that they can keep those items. That is why a wedding bathroom basket comes in handy, as you can give your invited people access to essential staff. So, you need to ensure that your wedding bathroom baskets include the below items.
Deodorants and perfumes– If you find small bottles in the travel section of a supermarket, you can buy these to keep everyone smelling fresh. But you should not purchase multiple large-size bottles.
Lip products – Guests often like to use Vaseline or lip balm. So, you can keep some small packs of such lip products, especially in the ladies' basket.
Hair combs or brushes – This is another must-have item in the basket. Small disposable combs are helpful for your guests. Thus, keeping some combs or brushes is perfect for wedding bathroom baskets.
Shaving foam and aftershave lotion
Mouthwashes to prepare for the greetings
Feminine products for unexpected issues
Hand sanitizer wipes to keep hands clean and reduce the spread of viruses and bacteria.
Tissue packs for sneezes
Hand lotion
Dental floss
Baby powder for sweaty feet
Contact lens solution
The first-aid necessities
While having fun, you or your guests might experience many situations when you might need some first-aid staff. It is more necessary if you are having a destination ceremony. That is why before the big day, you should include the emergency kit as a bathroom basket idea for the wedding to help your guests if they face any injury.
Band-aids- These are a must as wedding Shoes might not always go together. So, a couple of band-aids in the basket can help your guests enjoy your wedding without any foot problems.
Hair elastics– A small pack of hair elastics can be advantageous for girls while dancing. It is so because whenever they get sweaty on the dance floor, they start searching for these items. Hence, it is another crucial product you can keep in the wedding basket.
Antiseptic wipes for unexpected scrapes or cups
Blister guards for all dancing people
Pain-relieving medicine
Medicine for upset tummies
Cough drops during cold and flu season
Medicine for allergies
Hand Sanitizer
Eye drops
Floss picks
sunscreen for outdoor events
Party feet gel cushions
Rennie or indigestion tablets
Tweezers
Eye contact solution
The wardrobe necessities
Irrespective of whether you are inviting your guests to a destination wedding ceremony or a small party in your house, a bit of dressing is normal. In that case, a wedding bathroom basket is necessary. You might be wondering why. Unfortunate rips and spills might happen with your guests on your special day. But if you have some wardrobe items in the bathroom basket, you can easily protect them from accidental embarrassment. So, you should include the below things among your bathroom wedding basket ideas.
Stain remover pen for stains
Mini sewing kits for unexpected rips
Mini scissors for loose thread
Body tape to keep everything inside the dress.
Safety pins
Mini lint rollers – A mini travel lint roller is an essential item, as it helps people clean up dresses.
Clear nail polish
Bobby pins
Hairspray
Nail clippers
Superglue
Double-sided fabric tape– This is a pricey item and will help your guests in many ways in emergencies. So, keep some tapes in the bathroom basket.
Sewing Kit
Earring backs
Nail glue
Shoe polish
Makeup tools and kits
You can keep some makeup kits and tools for girls so that they can dock up with a touchup and not bother about their looks in your wedding ceremony.
Foundation
Mascara
Matt Powder
Blusher and bronzer powder
Hydrating Mist Toner
Lip-stick
Lip balm
Mini mirror
Nail polish remover pads
Nurofen or Panadol
Cotton pads and Q-tips
Clear Eyes
So, you have learned about some handy stuff that you can add to your bathroom basket ideas for weddings. Besides, to help you more comprehensively, we have penned down below some items for your other guests.
For the gents
Assorted fabric plasters
Hair gel
Cologne
Hand cream
Antiperspirant spray can
Packs of tissues
Mints and chewing gum
Throat lozenges
Medicines
Lint roller
Sunglasses
Antibacterial hand gel
Toothpicks
Contact lens solution
Anti-static spray
Trimmer
Shaving cream and razor
A pen for stain removal
For the ladies
3-4 nail files or emery boards
Nail polish
Face wipes
Safety pins
Sewing kit
Needles
Tampons
Tissues
Sanitary pads
Hairspray
Hair elastics or bobbles
Hair grips or bobby pins
Sunscreen
Antibacterial hand gel
PartyFeet
Perfume
Hand cream
Tights
Earring backs
Some additional products
There are some extra things you can add to your wedding basket. Though these are not compulsory, if you want to add some humor to your big day, the below items are helpful. All these items will enable you to create a bit of a personalized touch that will make some of your family members and friends feel much more special. The things include-
A manicure set with a note for the next couple who is about to get married
Diapers and baby wipes for the little ones
Condoms for the single folks who are ready to mingle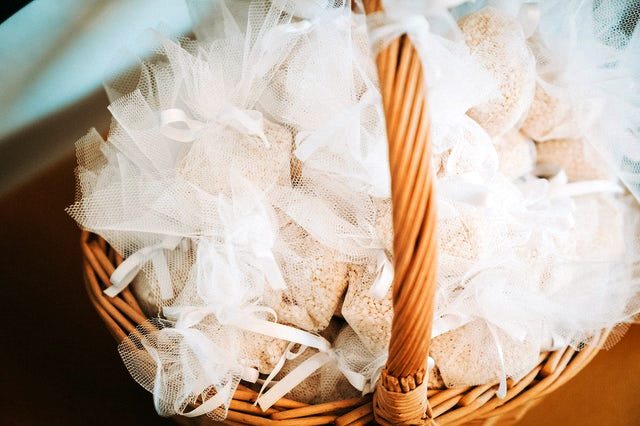 MORE POSTS: What to wear to a baby shower as a guest
Vital tips for creating the wedding bathroom basket
So now, you have a piece of comprehensive knowledge about what to include in your wedding bathroom basket. But knowing this alone will not complete your task as you need to keep in mind a few tips. These tips will help you create a perfect and more beneficial wedding basket. Here, we have provided some primary tips you should consider while including any item in the basket.
While planning to fill a wedding bathroom basket, you should never forget about the container. You need to purchase a simple yet spacious basket with enough space to keep all these things. But it is not that you need to buy an expensive basket. You will get many affordable ones that can easily hold these staff. Besides, make sure that the basket is not too large or small. Hence, grab yourself a stunning basket first, and then fill it with the above things. You can select any of the following baskets according to your wedding theme.
A picnic basket for a backyard or garden wedding
A transparent vanity basket for a minimalist or sleek wedding
Old crate of wine for a rustic-themed wedding
A floral container for a tropical beach wedding
2. If you want to keep wedding bathroom baskets, you should separate them on a gender basis for the ladies and the gents.
3. Your guests will come with their kids. In such a case, you should avoid putting medicines in the basket. You can leave the pills at the reception and leave a little note in the baskets that define where your guests will get the medicines if they need them.
4. Like the above, you also need to keep glue, scissors, nail cutters, needles, and other such items out of reach from kids. For this, you can again put a note in the basket.
5. Take care of the quality of these items and never waste your hard-earned money by purchasing fancy stuff. It is so because your guests will never check the brand and use the products if it is an emergency.
6. Collect free product samples before putting the gift items together in the basket. They are free and will give you an idea about the quality.
7. Always ask family members or bridesmaids to assemble and organize these wedding bathroom baskets with you.
8. Always keep in charge of restocking the items for the guests. Someone should check the basket throughout the function and restock it as soon as the supplies finish out.
9. You can also create take-home or end-of-evening gift baskets for your guests that will contain everything to get them ready for the night, like wipes for make-up removal, sheet masks, flip flops, and more. It is a way to appreciate their presence on your special occasion.
MORE POSTS: 11 DIY Succulent Favors for wedding party
FAQs related to bathroom basket ideas for wedding
Below we have answered some commonly asked questions about wedding bathroom basket ideas.
1. What kind of wedding bathroom basket should you select and purchase?
Though there is no need to spend a lot of money on baskets, you should select one that matches the aesthetic of your wedding ceremony. Besides, you need to purchase a standard size so it can hold all the essential items that you need to keep for your guests. Some people add their marriage details and decorate the baskets with fresh flowers.
2. Should the women's and men's bathroom baskets have different items?
It is entirely up to you. You can keep two baskets specifically for men and women, or make a common one. But it is always advisable to separate them, as some women's essentials might overlap with men's and vice-versa. But if your budget does not permit it, you should avoid purchasing duplicates of each item for men and women.
3. Is there any item you should avoid including in the basket?
There are no such things that you need to avoid including in the wedding basket. But as discussed before, kids will come with their parents, and as a result, you need to avoid including harmful products like nail cutters, scissors, certain medicines, and other things in the basket. Therefore, it is always best to play safe and add only the essentials.
Final Takeaway
So, these are some of the essential and helpful items that you should include in your bathroom basket ideas for a wedding. These things will help your guests remain calm if you need some small things. But we will always suggest you be prepared beforehand and gather all the necessary items in one place. In this way, you can easily add those things to the basket and do not need to bother about them on the big day.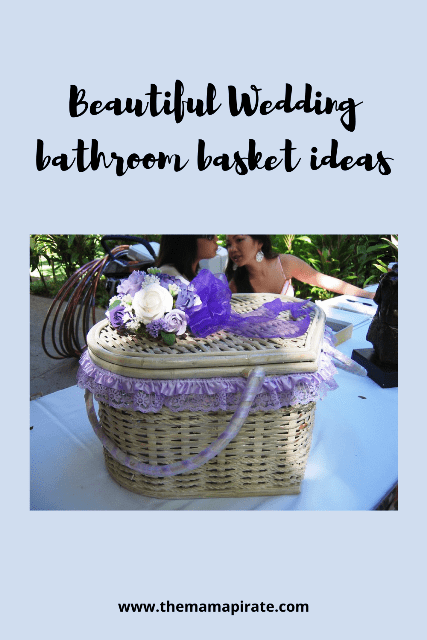 Wedding baskets for the bathroom
MORE POSTS: