How to End a Letter to a Friend in Different Ways?
Last Updated on 4 months by admin
Do you want to tell your friends that you are missing them? Letters are a great way to eradicate any communication gaps. However, not all people know how to sign off properly. It can be a more daunting task if English is not your native language. Ending a letter is simpler than you think. Just summarize the entire letter content in a paragraph.
It is important to collect the right words to end any letter correctly. Here in this article, you will find phrases, closing words, and sentences, using which you can finish your letter suitably. Just follow up till the very end.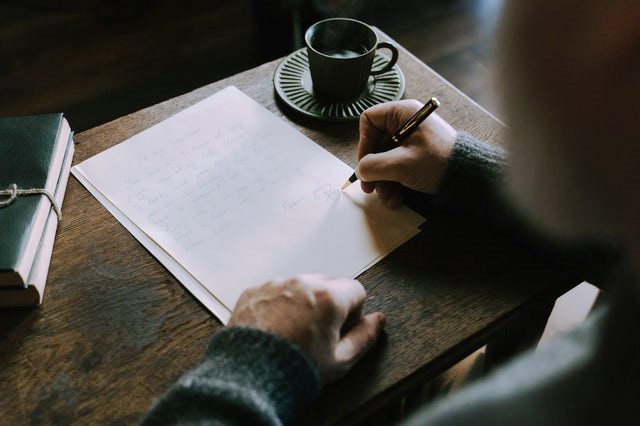 MORE POSTS: What to Write in a Baby Shower Card for a Girl
Ways to end a letter to a friend
You can add a concluding paragraph in many different ways. Here are some of them:
Method One: Add a concluding paragraph
Wrap up all your words. The ending paragraph must be a signal that you are sending the letter. In an informal letter, the final para mainly consists of how you would love to hear back from them, how you would like to receive their letter, or how you will be glad to see them soon. You can always use phrases like hope to see your friend soon, "Waiting for your letter!", and "Come soon to meet me!".
● If you want to convey a vital message or want your friend to remember something important, then write that in the end. In this way, that information will remain fresh in their minds as they finish reading your letter.
● End the letter on a positive note. Write something good at the end that people will love to read. People must feel glad after reading your letter. But yes, if you are sharing bad news with them, it is not at all a good idea to end on a cheering note. Therefore, use the best of your judgment. You can write phrases like I will plan a visit to your place soon, come soon to meet me, cannot wait to see you!, and I am so happy for our reunion.
Method Two: Pick up a closing line
● You can use a simple word like love for a close friend. This is a classic way to end a letter that will make the other person feel loved. Some more variations you can use our love always and with love.
● Use words like fondly and affectionately for a good friend. These words can be a substitute for love and carry the same message of affection. It gives your friend a glad feeling. Other words you can use are hugs and your.
● For an acquaintance, choose as always or kind regards. Using words like love, fondly, yours may not be appropriate for a person who is not a close friend. Other options that will work well are until next time, warm regards, and as ever.
● If you will meet your friend soon, then using the phrase See you soon will be appropriate. This is a simple and direct way of ending the letter on a positive note. You can use words like, see you on Sunday, and see you shortly.
● Write gratefully if you are thanking your friend for something. A thanking letter can end with thankfully yours and gratefully yours.
Method Three: Give a directive closing
● End the letter by taking care to let your friend know that you are thinking about them. It will show your friend that you are concerned about them. Other words that will work here are taking it easy, kind thoughts, and many more.
● Use sentences like have a good day or have a great weekend to wish your friend.
● If you are also sending a gift along with the letter, write enjoy. This word will tell your friend about the gift, and they will have fun with it. You may include a greeting card, a bookmark, or any small gift.
● To tell your friend that they are amazing, you can write stay as you are. This is a sweet ending that conveys how much you like your friend. Other variations are that you are awesome.
● If you are writing the letter to know about your friend's health, end the letter with being safe. You can also use this word when your friend is traveling alone. Other words you can use in this situation are to stay safe and look out for yourself.
Method Four: Use a postscript and a signature
● Always use a comma after the closing. You might have seen a comma after the ending of many letters. It is emphatic in doing so. Using an exclamation mark is a substitute. You will write the ending as Love, Stay safe, Stay as you are!, Affectionately, and more.
● Skip a line and add your signature. Your first name is sufficient in the signature because you are writing the letter to your friend. If the person receiving the letter calls you by a nickname, you can also use that. Leaving a blank line and ending with your signature is also a common way to end a letter.
● Have you forgotten to write something in the letter? No worries because you can write a postscript. Postscripts are written after your signature by the acronym P.S. Originally, this was written in a handwritten letter, which the writer forgot to mention in the early parts of the letter. You cannot write something by going back in a written letter because there is no space left. Although, this is not the case in typed letters. One can always go back to add on to still use it. Space is not an issue in emails and typed letters, but P.S is a way to add more fun or directive to the letter.
● For example, if you want to taunt that your friend does not write to you often, you can say, P.S. You should write back to me soon!. Another alternative can be P.S. I hope you will get this letter before meeting me.
How to end an informal letter to a friend
The letter's conclusion must clarify its purpose. Some people repeat the most important bullets of communication. Others give instruction or call to action. The last paragraph is perfect for expressing appreciation, kindness, gratefulness, concern, and more. Some people end the letter with an expression of feeling.
Here are some best examples in which you can send an informal letter:
Sending my love to _
I hope that you are fine and are doing well!
Give my regards to _
Write back soon. Cannot wait to hear back from you!
Looking forward to seeing you again!
See you soon
With love, with affection, or with love and kisses
Let me know your plans
Stay safe!
How to end a letter with love to a friend?
The most general ways of closing a letter to a friend are love, fondly, best love, take care, affectionately, and more. If you know the person to whom you are writing less intimately, you can use as ever, as always, all the best, and more, depending on the kind of relationship that you share with the other person.
We often use the word regards in a business or professional letter. It is a way of being impersonal as well as polite. In the business context, this word is helpful for the closing paragraph. People also use variations of this word in an informal letter to a friend. For instance, you can write warm regards and best wishes. These words make a connection to the people with the other content of the letter.
Informal letters are flexible in their conclusion. Prescribing a single term is tricky because it will depend on the letter's purpose, your relation with the person, and your writing style. Ending the letter with love is not forceful, and it will depend on how the other person perceives it. People sometimes confuse it for the romantic overture, but many friends too use it.
Funny ways to end a letter to a friend
If you want your friend to think that reading your letter was worth it, then ending it funnily is a great idea. Here are some examples:
There are many things to tell you, but you will not be able to bear it now.
The number of times a day I almost send that.
Inform me if you do not get this message.
Stop reading this message while walking.
Ps, I found the perfect place to leave the body.
No regards
Do get all your co-workers neutered and spayed.
By the way, you can look back and spot me.
Insincerely yours
Smell Ya Later
Later Loser
Do not reply
I am not waiting for your reply
Summing it up
Letter writing is a common topic, yet people mess up. Concluding a business letter in an informal letter or ending it in a too-personal sign-off, then your business deals can get at stake. Your reader might end up feeling confused. Similarly, concluding a letter to a friend with a formal word is also not a nice gesture. We have shared several examples of ending a letter to a friend above. This list is not exhaustive, and you can always be more creative and unique. So, select a word that matches your writing style.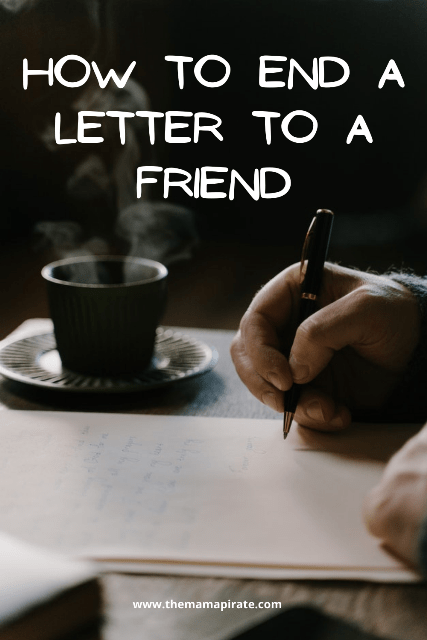 YOU MAY LIKE: