(Last Updated On: November 18, 2023)
Mexico in North America is famous for its cities, culture, cuisine, and beaches. There are even resorts where you can have fun activities with your kids. But if you are a beach lover, then you must visit Mexico. It is a paradise for people who want to spend most of their time on the beach.
But finding the perfect beach in Mexico is quite a daunting task. Choosing the best beach in this country can make a massive difference between a mediocre vacation and a memorable vacation.
We have listed the ten best beach vacations in Mexico for families. You can visit these beaches for an unforgettable experience with your loved ones.
Best Beach Vacations in Mexico For Families
The beaches in Mexico have stunning scenery. Whenever you listen to Mexico beaches, various things come to mind, like stretchable sand, swaying palm trees, water sports, and many other fun activities.
The Pacific Ocean surrounds Mexico on the west, and the Gulf of Mexico covers it on the east. Hence, you will find various beautiful beaches on both the coastlines along with different unique places like the Yucatan peninsula.
So are you planning to visit our Mexico and enjoy the beautiful beaches and put your tow down in the white golden sand? If yes, we have listed the ten best Beach vacations in Mexico for families.
1. Playa Paraiso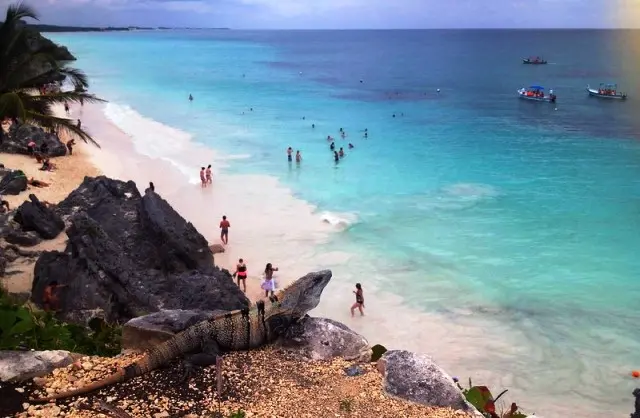 Playa Paraiso is one of the best sandy beaches in Tulum. Tourists from all over the World visit this beach. Hence, it is always full of people, kids, and volleyball players in every season.
This beach is famous for its sand, water, and numerous exciting activities like snorkeling or scuba diving. You can have a full, relaxed day on this beach by booking an oversized bed, umbrella, tables, and chairs in advance.
You will find accommodation facilities near this beach, like hotels and apartments, which provide good service at affordable rates. 
You will also find some good restaurants near this beach which provide incredible cuisine like lobster and tortillas. Some of the restaurants are listed below.
Kitchen Table is quite a famous restaurant near this beach for seafood grills and stuffed avocados. All the food items in this restaurant are prepared with some creative ideas and prepared uniquely.
If you want to have a romantic dinner with your partner, then visit the MiAmor Restaurant near this beach. You can have delicious French cuisine by seeing the stunning sea view.
If you want to cold beer along with seafood, then you can visit the Santa Fe restaurant.
We are listing some of the spa and yoga studios near the Playa Paraiso.
Yaan Wellness Energy Healing Spa
This place is quite famous for aromatherapy massage, which will help to relax your body and mind completely.
Mayan Clay Spa and bathhouse
This place is quite popular for clay therapies.
So, after relaxing the entire day on the beach, you can book any apartment or hotel and stay there. The next day, you can rent a bike and visit the nearby areas, including National parks.
2. Mahahual Beach, Costa Maya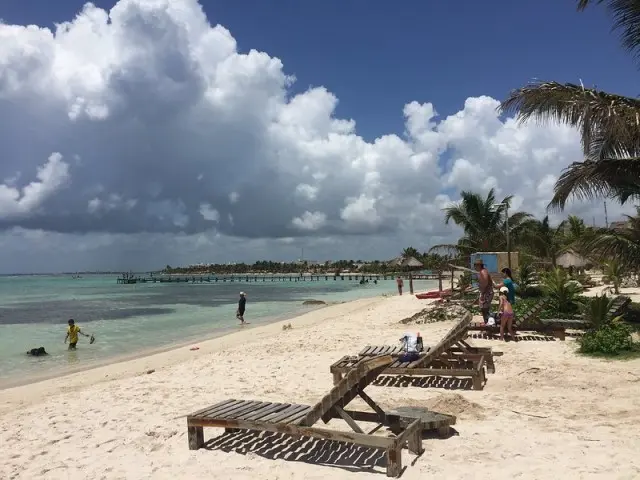 Do you want to have fun on a Beach in Mexico? If yes, then visit Mahahual Beach. You can not only enjoy basking in the sun but also have a drink and have a good massage by the local people.
It is truly a paradise that attracts a lot of people everywhere Worldwide. There are tall palm trees that will blow air when you walk along the shore.
There are various fun activities you can do on the beach, like swimming, boat riding, or snorkeling. The snorkelers can observe wooden sunk ships by staying on the water's surface. You can even see turquoise water by going through Kayak.
 You will see various souvenir shops near the beach selling handicraft products. You may buy these products by negotiating the price.
Apart from these activities, there are various restaurants from where you can have delicious cuisine by enjoying the view of the sea.
If you don't like to stay in the busy beach area for a long time, you can go towards the main road of Mahahual to explore the area.
3. Playa de Los Muertos, Puerto Vallarta
Los Muertos is quite a famous beach in the city of Puerto Vallarta. This beach is also known as the beach of the dead. Some people say that most of the shipwrecked mariners died on this beach, while other people say that local people killed pirates who had come to this place for gold and silver.
Well, whatever the reason, this beach attracts many people from all over the World throughout the year. There are various fun activities which you will find here for children. 
So, if you are having a vacation in Mexico with your kids, then you must visit Playa de los Muertos.
The hustle and bustle of people is consistent in every season. But still, you can find an excellent place to sit and bask in the sun or enjoy street food like grilled fish, shrimp, and cucumber with seasoning of salt, chili, and lime or a tuba drink.
There are various restaurants and bars just on the front of the beach where you can find a good atmosphere and delicious international cuisine. There are even spa shops nearby to complete body and mind relaxation.
There are various musicians in the evening hours on this beach, which can make your day memorable.
So overall, this beach has a stunning view of the Pacific Ocean, which you can enjoy with your loved ones.
4. Playa Las Animas, Puerto Vallarta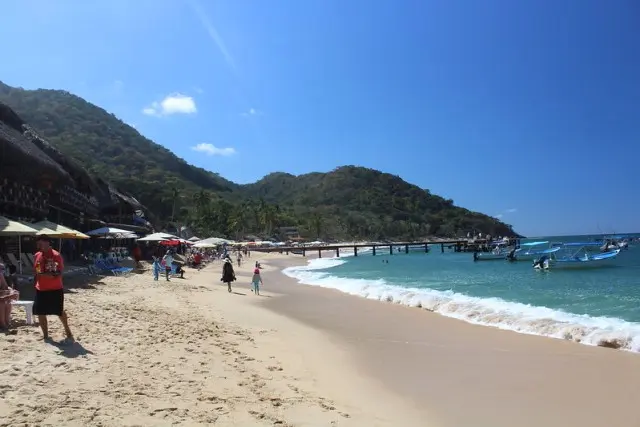 You must visit Playa Las Animas when you vacation in Puerto Vallarta, Mexico. You can go to his beach either by water taxi or by boat. 
You have to reach Boca de Tomatlan either by car or by taking the help of any public transport. You will get there boat or water taxi service to the Playa Las Animas beach. 
The boat trip will take almost 30 minutes to reach the beach. During the trip, you can see the stunning view of the mountains that surround the bay. If you love hiking, then there are trails where you can go with your family, from Boca de Tomatalan to Play Las Animas.
Once you are there in Las Animas, you can see beautiful restaurants which face the sea. You can find a good restaurant and have incredible cuisine. You can have a refreshing cocktail or seafood in some restaurants. But they may charge you higher than anticipated. 
So, you must bring enough cash for this purpose. Remember, some hotels and restaurants only pay on a card near this beach. If you want to stay for one or two days, there are various resorts near the beach.
The primary attraction of this beach is crystal clear water with colorful fishes in the sea and two miles of sand. 
The waves of this beach are not too big, and hence, it is a safe place where you can enjoy with your family and kids. 
There are various fun activities like paragliding,jetskies, or a ride on a banana boat, which you can enjoy with your family and have a memorable experience.
There is Las Animas Adventure Park, where you can do ziplining and water slides. Any people can visit this park, and the best thing is that it has no age restrictions.
5. Medano Beach 
Medano Beach is one of the most popular beaches in Cabo Sano Lucas, a city in Mexico. Tourists and local people always occupy this beach. So if you want to enjoy the beach but don't want the hustle and bustle all around, then visit early morning or late night.
It is considered a safe beach, but the tides can sometimes be relatively high. So people are usually advised to go inside the sea with life vests.
There are countless fun activities that you can do in Medano Beach. We are listing some of them below.
The calm water on this beach is perfect for people who want to swim. Again, the stretchable sand of a few miles is a good place for sunbathing.
You can have various water sports like paddle boarding and snorkeling.
You can have incredible meals or refreshing beverages in hotels, bars, and restaurants near the beach.
There are various shops near the beach where you will find distinguished gifts and souvenirs. You can buy to remember about the visit to this beach.
So overall, Medano Beach has almost everything or any person. You can enjoy natural beauty, play watersports, or enjoy local food.
6. Playa Olas Atlas, Mazatlan
Playa Olas Atlas is the next famous beach in Mazatlan, a city in Mexico. This beach is well known for high waves.
 So swimming on the beach is mainly done by experienced people. If you love to do surfing, then you must visit the Playa Olas Atlas. Kids can have their toes dip in the water and enjoy seeing surfer riders.
The sunset view from this beach is quite stunning. If you want to see this view, then visit this place mainly in the evening.
There are various restaurants and bars near the beach to enjoy local food. The music from the bars can make you dance all night.
The local people of Mazatlan are amiable and helpful. They will help you find restaurants or the best hotels near the Playa Olas Atlas.
So this beach is surrounded by a fantastic atmosphere and good people, which can be a reason for visiting this place.
7. Santa Maria Beach, Cabo San Lucas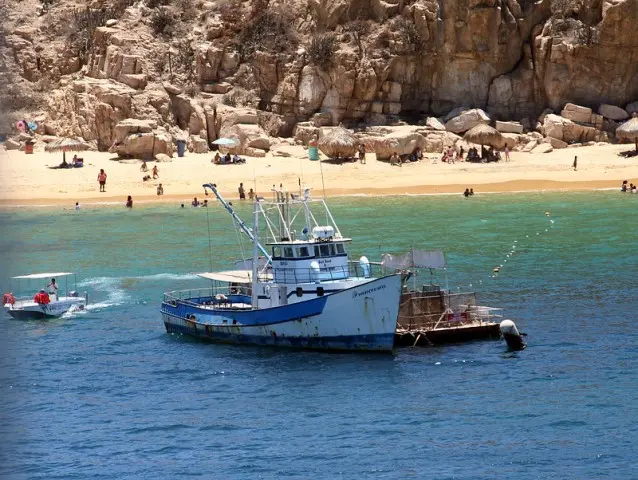 Santa Maria Beach is almost 11 kilometers away from Cabo San Lucas. If you love to do snorkeling or want to experience the World under the water, then you must visit this beach. 
You can see various colorful fish like yellow porkfish and damselfish while going underwater.
If you are lucky, then you can see humpback whales either taking a rest in the sand or swimming.
Santa Maria Beach has mighty rocks on both ends. These rocks prevent the water from getting rough, and thus, it becomes a great place for swimmers.
You will find a lot of restrooms and showers in most of the places on this beach. But this place is famous for having a lot of toilet paper in the toilets. So be prepared for it and bring enough toilet paper from home.
You will not see many vendors giving you rent for chairs or lounges. But overall, this beach is good for snorkellers and scuba drivers. 
8. Chankannab Adventure Beach Park ,Cozumel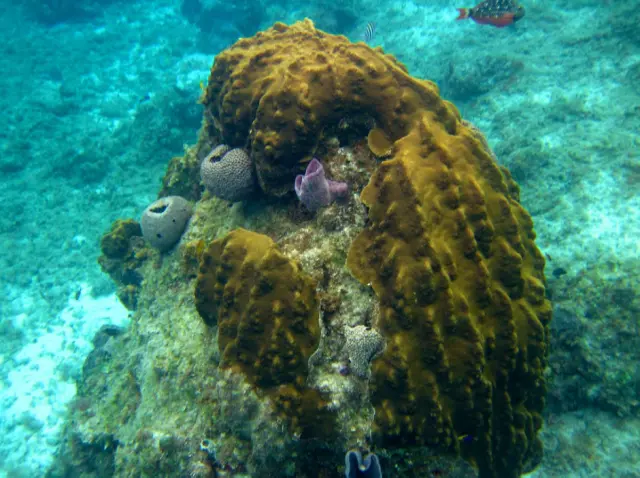 If you have traveled to Mexico with your family, you must visit Chankannab Adventure Beach Park, Cozumel. It is present inside the Cozumel's National Reef Marine Park. 
You will have endless activities in this park to enjoy with your loved ones, like snorkeling, diving, or sea trekking. Experience snorkelers can see corals, sponges, tropical fish, and other animals underwater. 
If you know how to swim, then you can swim and then relax on the sandy beach. Children can play on the sandy beach and have a lot of fun. There are even some exciting activities in this park meant for kids. The best thing is that the park doesn't charge a penny for children below six years of age. 
You can have a buffet lunch by enjoying the sea view when hungry. 
Chankannab National Park is not limited only to snorkeling or beach. There are other things which you can even do in this Beach park-like walking into a Botanical garden or crocodile Exhibition.
9. Cancun, Quintana Roo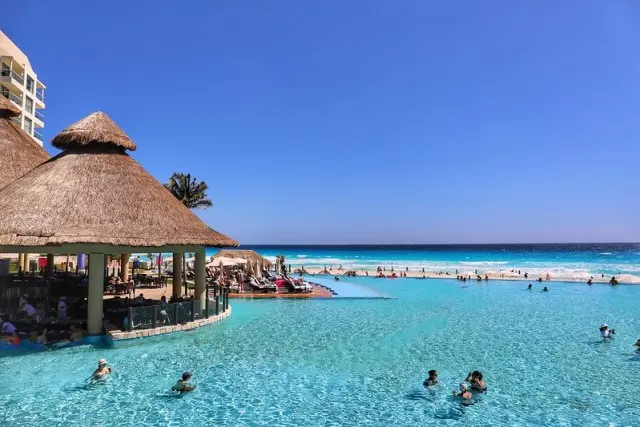 The beaches of Cancun are famous for its white powder sand. The sand consists of crushed corals and remains cool throughout the years. The water remains usually calm and hence perfect for various water sports and swimming.
You can see various bars and restaurants near the beaches of Cancun, which offer International cuisine.
The resort city is even famous for its lively clubs. If you don't have kids, you must visit these clubs at night with your partner to enjoy. The city never sleeps at night.
However, we are listing some of the beautiful beaches in Cancun.
The white sandy beach of Costa/Playa Mujeres is quite stunning. You will find a lot of palm trees on the beach. The water is shallow and calm and, hence, ideal for swimming.
Playa Del Nino is a small public sandy beach. The clear, calm sea is perfect for swimming. You will find public toilets in many places on the beach.
 Additionally, if you want to have sunbathing, then there are palapas in many places on the beach. There are various restaurants near the beach where you can have delicious local food.
Playa Perlas is a small sand beach where you will find a lot of public toilets and palapas for sunbathing. The water is calm, but it's not clear due to algae. So we will not recommend here for swimming. You will not find any vendors selling food on the beach.
Playa Linda is also famous for its white sandy beaches. The clear waters are perfect for swimming. 
Playa Langosta is a sandy beach that has clear turquoise waters. You will find many tourists and local people on weekends. There are various restaurants and bars near the sea where you have a delicious meal or a refreshing drink.
Playa Tortugas is a white sandy beach that remains usually crowded with people. The beach usually doesn't remain clean as there is always hustle and bustle. 
However, the water is generally calm and clear and perfect for swimming purposes. Kids can even play in the water.
You will find various restaurants, grocery stores, and bars near the beach. But you will find less number of parasols and loungers in this location.
10. Sayulita Beach In Mexico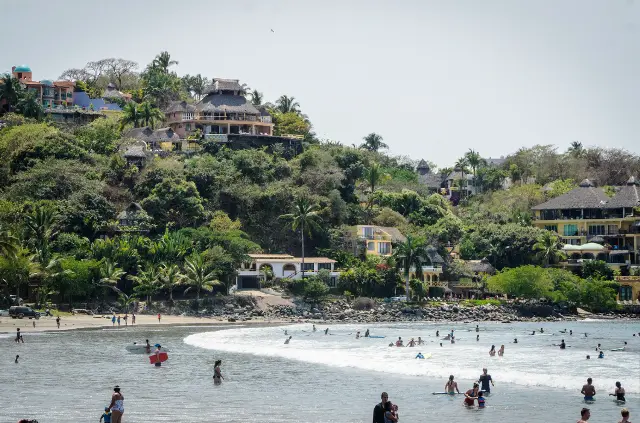 Sayulita is the next beach which you can go to with your family. It is present on the Pacific Ocean coast and is a paradise for any people visiting this beach. The crystal clear water, sand, and fantastic scenery are just mindblowing. However, what makes this beach different from others is its surf culture and good hospitality.
Apart from that, you will find various fun activities you can enjoy with your family, like paddle boarding, hiking, fishing, and many more. There are multiple restaurants near the beach where you have delicious meals. Again, you can listen to music at live events or bars near the location.
Conclusion
Visiting a sea beach is a paradise in Mexico. The beautiful scenery, stretchable golden sand, and indulging in various water sports will just make your day. You can even enjoy eating local seafood near the beach. We have listed above the ten best beaches you can enjoy with your family in Mexico. 
We recommend visiting Mexico Beaches mainly in December and April because of the mild temperature. However, if you like high temperatures, you can visit Mexico in summer. 
There is one advantage of visiting Mexico in summer, i.e., there will be fewer crowds on the beach. The hotels will also provide you with accommodation at a low cost.
Anyways, thank you for reading this article. If possible, share your experience in the comment section after visiting Mexico Beach with your family.
MORE POSTS:
Best Beach Family Photo Outfits to Wear