Backpacks are the best way to carry stuff while traveling. They are light and easy to carry on your back which makes them popular. Backpacks are available for all sorts of activities. For carrying books for students as a school bag, for travelers carrying clothes, for office employees to carry a laptop, for new parents to carry a baby.
A baby carrier is used to carry a baby without any difficulty. Baby carriers are easy to handle and most of them get folded into a bag. I have already reviewed some awesome baby carriers in my blog.
If you are a new mom it is hard to carry your baby in your arms and do all work. A baby carrier makes hands free, but when traveling by flight, train, car you will need a backpack. What if that backpack also has a baby carrier, you will find it very useful. Some baby carrier backpack also comes with an additional bag to keep other baby stuff like diaper, towel, tissue. Consider the following points before you buy a baby carrier backpack.
Deuter Kid Comfort child carrier backpack alternative
Material
The material of the baby carrier is important for the comfort of the baby. Soft but strong strips will support the baby and the parent with ease. Never neglect the material of the carrier. An aluminum frame adds added safety to the carrier. Padded strips reduce the pressure on the back and shoulder of the parent.
Dimension
Dimension is also an important aspect to look at while buying a new backpack baby carrier. A growing child will need an adjustable baby carrier. The fixed-size carrier will not accommodate as the child grows.
Durability
The durability of the carrier depends on the material of the carrier. Nowadays most of them are made of poly and aluminum. A good quality baby carrier lasts for many years till a baby grows to a toddler.
Weather Protection
Some baby carrier provides all-weather protection, while some are only for sunny days. Waterproof baby carrier backpacks are also available for rainy and snowy weather.
Best Child Carrier Backpack Comparison Table 2022
| | | | |
| --- | --- | --- | --- |
| Product | Dimensions | Weight | Price |
| 1.Luvdbaby Backpack Baby Carrier | – | 6.4 pounds | |
| 2.Osprey Packs Poco AG Plus Backpack Child Carrier | 29 x 15 x 17 inches | 8.2 pounds | |
| 3.Chicco SmartSupport Backpack Baby Carrier | 18.1 x 18.9 x 30.7 inches | 6.5 pounds | |
| 4.ClevrPlus Deluxe Backpack with Baby Carrier | 9 x 30 x 12 inches | 5.2 pounds | |
| 5.Baby Toddler Hiking Backpack with Baby Carrier | 68x24x34 CM | 5.5 pounds | |
| 6.Kelty Journey PerfectFIT Signature Series Backpack with Child Carrier | 28 x 15.5 x 22 inches | 6 pounds | |
| 7.phil&teds Parade Backpack Child Carrier | 23.6 x 6.7 x 11.8 inches | 4.41 pounds | |
1. Luvdbaby Backpack Baby Carrier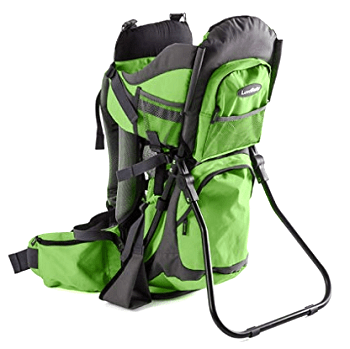 Started by three Irish brothers, this company has been making exceptional quality baby carriers. With a baby carrier, your hands remain free and show them what you see through your eyes when going hiking. The baby cockpit has loads of adjustments to make sure they are sitting securely and comfortably.
Specifications:
Padded cocoon with safety straps and stirrups.
Multiple pockets+One Insulated pocket for Bottle.
Included a foldable diaper pad for on the go changes.
Waterproof and made of hiking material.
Pros
All weather hood protection whether shinny or rainy day
The mesh back provides ventilation and reduces sweaty backs
Adjustable stirrups to keep their little feet from dangling and kicking you in the back
Cons
Instruction menu is not helpful
Stich is weak at few points
2. Osprey Packs Poco AG Plus Child Carrier Backpack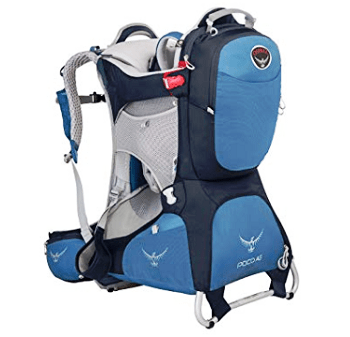 Adjustable stirrups offer leg support that prevents circulation deprivation. Removable drool pad is washable, Side mesh pockets to quickly store things when in a rush, Toy attachment loops keep playthings close are a few things worth mentioning for a new mom. The integrated sunshade is easily collapsible and stows away when not in use. Torso length adjustment offers a comfortable and custom fit.
Specifications:
Made of Nyon and Aluminum.
Harness and child seat is surrounded by a fully framed and padded Cockpit for safety.
The adjustable Hip belt offers 5 inches of extension on each side for a comfortable ventilated custom fit.
The integrated sunshade is easily collapsible and stows away when not in use.
Pros
Child seat is surround by a fully framed and padded Cockpit for safety.
Adjustable stirrups offer deluxe padding.
Side mesh pockets and Toy attachment loops.
Cons
Hipbelt design could have better
Also, Read: 10 Best Stroller With Footmuff For Toddler
3. Chicco SmartSupport Baby Carrier Backpack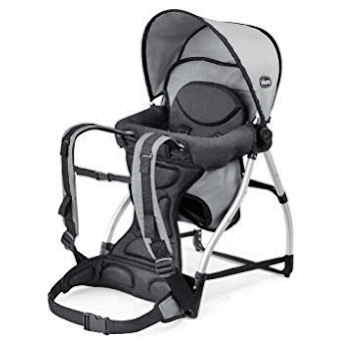 The Chicco Smart support baby carrier backpack is the smarter way to carry growing children. A multi-position seat provides adjustable support and a padded backrest and 5-point harness offer comfort and security. Plus, an adjustable canopy supplies shade from the sun. For parents, a Lightweight aluminum frame, with padded waist and shoulder straps and energy-absorbing lumbar, helps reduce strain on the back and shoulders. The unique shape of the lumbar is designed to increase airflow and provide ventilation for more comfortable adventures together.
Specifications:
Padded, height-adjustable seat with a 5-point harness
Lightweight aluminum frame
Padded, vented lumbar support
Adjustable, padded shoulder and waist straps
Built-in kickstand
Pros
Multi-position seat supports growing children so you do no have to buy new one as your child grows
Lightweight aluminum frame makes it light and secure
Lumar strap absorbs all the engery of the harness
Cons
Shade does not cover sufficiently
4.ClevrPlus Deluxe Baby Carrier Backpack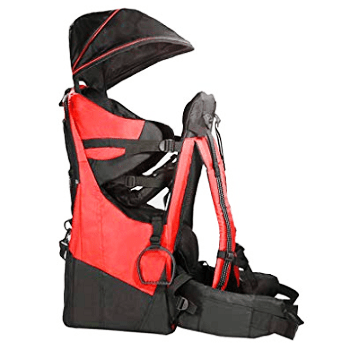 ClevrPlus Baby carrier Backpack is made of 600D oxford cloth and a light metal frame. The straps and hip belt are comfortably padded and the carrier features energy-absorbing lumbar padding that allows easy air circulation and makes it secure.
Specifications:
Lightweight and comfortable
Extra-large storage areas
Adjustable to a growing child
Protection from sun and rain.
Pros
Comes with an additional Child Backpack.
Sun/Rain canopy can be easily removed at anytime.
5-Point Harness Seat Belt.
Large storage space in the bottom of the carrier.
Cons
Padding could have more thicker.
Hip strap needs improvement.
5.Baby Toddler Hiking Baby Carrier Backpack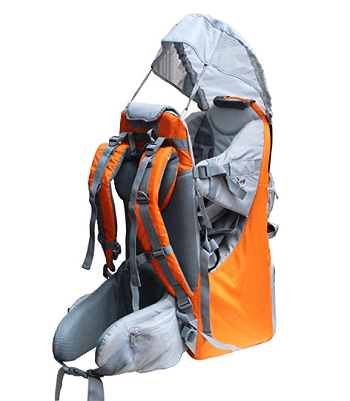 Baby Toddler Hiking Baby Carrier Backpack is one of the best baby carriers present in the market to buy. This backpack is specially made for parents who love outdoor activities like hiking, camping. It has every safety feature to care for your child while hiking. It can be sued for a sunny, rainy, or snowy day. The 600D oxford cloth makes it super strong while bolsters make it comfortable.
Specifications:
The canopy can be easily removed or folded back out of the way.
Multiple pockets including two water bottle pockets.
Thick comfortable seat.
Thick padded shoulder pads and bolsters.
Pros
Can be used while hiking, camping.
Multiple pockets for storage.
Material: metal frame,600d oxford waterproof cloth.
Cons
4-point-safety belt (could have 5 point safety belt)
6.Kelty Journey PerfectFIT Signature Series Child Carrier Backpack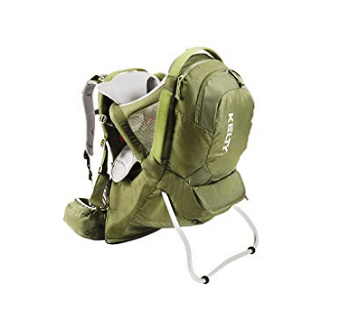 Kelty Journey PerfectFIT baby carrier is made of 420D poly into padded straps which adjust comfortably to the male and female body, the strong aluminum frame makes it more secure, the big zippered pocket has many internal small pockets to keep extra things for your little one.
Specifications:
Five-point adjustable child's harness.
Padded aluminum roll cage offers added protection.
Designed for adventure activities.
Pros
Multiple grab handles to carefully lift, shift, and set down the child carrier.
Zippered hip belt pockets keep water, snacks and phone readily accessible.
Integrated Sunshade.
Approved bu U.S. Marine.
Cons
A little bulky
Not ideal for big child
7. phil&teds Parade Child Carrier Backpack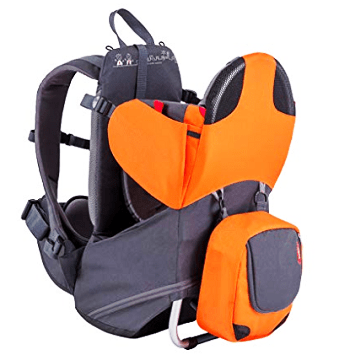 This cute-looking baby carrier backpack is compact, folds flat, waterproof, freestanding with aluminum frames, supports up to 40 pounds. Padded shoulder and hip belts are soft and supportive.
Specifications:
Active-ergo fit harness system with padded shoulder & hip belts are easy and comfortable to wear.
Made of tough, washable, waterproof, high-grade fabrics.
Includes detachable mini backpack, drink bottle storage, pocket for keys.
Internal aluminum frame & stand allows it to be freestanding while you load up and easily folds into small size.
Pros
Compact Fold Flat for storage
Comes with a Detachable Mini-Backpack
Made of High Grade Fabrics
Air-tech ventilated & molded mesh do not let to sweat
Cons
Pricey
Pouch design could have better
Also, Read: 10 Best stroller travel bags to Buy
Final Thoughts
While buying a baby carrier you should be cautious. Baby carrier which causes discomfort and block the airway of the baby should be avoided. Many times it happens that the baby falls down in the sac in the c position resting nose and mouth on the back of the parent, this is dangerous to let the baby fall and block the airway.
You should keep checking the baby's position while hiking for a long. Never let the baby's chin go down and prefer a carrier that keeps the baby straight.
All baby carriers are not usable in all weather conditions. Choose a baby carrier having a good shed while going out in sun and during rain use a full waterproof baby carrier.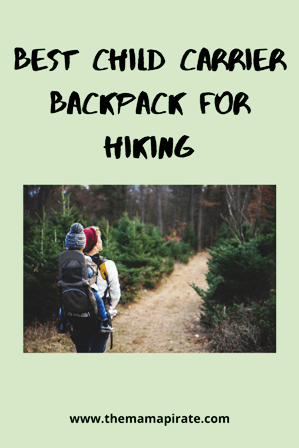 READ MORE POSTS: